Applications
Share torrents and control their download to the maximum with bitcomet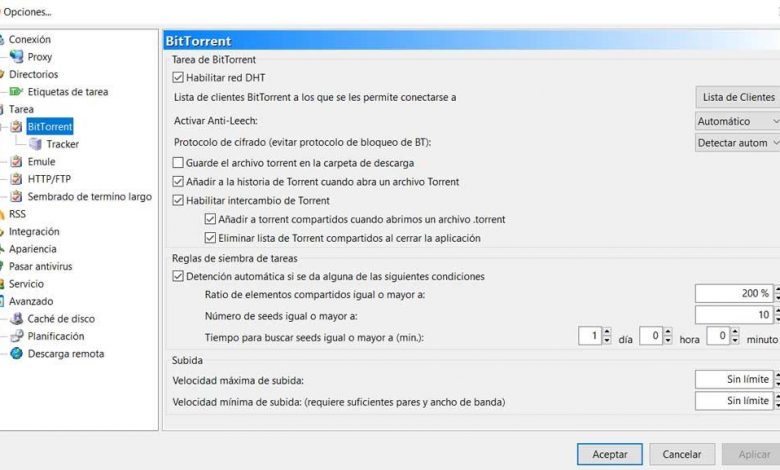 There are several solutions when it comes to downloading files of all kinds that we can use on a day-to-day basis. One of the most common is direct download from web pages, but it is not the only one. At the same time we can use the P2P networks that have been so popular for years, for which we use certain clients such as BitComet.
And it is necessary to bear in mind that at present, this is one of the most common systems when it comes to sharing all kinds of files between users. This is something that has been carried out for years around the world and used the popular P2P networks that are sure to be more than familiar to most of you. For those who do not know them, we will tell you that currently the most widespread are those that specifically use the popular Bittorrent protocol . This is the most used and widespread today and is used by most software clients.
For this reason, in these same lines we are going to review one of the most popular clients based on this same protocol around the globe. Specifically, we refer to BitComet, one of the most used clients for many years. Of course, when we talk about terms such as Bittorrent or P2P networks, many of us associate the use of these file-sharing systems with piracy. It is true that there are a good number of users who use this protocol to exchange protected content between them via P2P. But this is not their only function, as they are used in many other environments.
What BitComet offers us after installing it on the PC
For example, this is the case that concerns us at the moment with BitComet, a powerful program for the exchange of torrent files . At this point we will tell you that the infrastructures should not be confused with the specific software or the operating protocols that we use. While BitComet, like the rest of the clients, are totally legal, some of the uses are not so legal, but that is up to the users themselves. In principle you have to know that these P2P networks are used by many to exchange personal information between several people.
Well, to install this software and put it into operation, we do it as with any other program. Of course, we must be attentive in the process as such, since if we are not careful, the program also installs the Avast antivirus, something that may not interest us too much.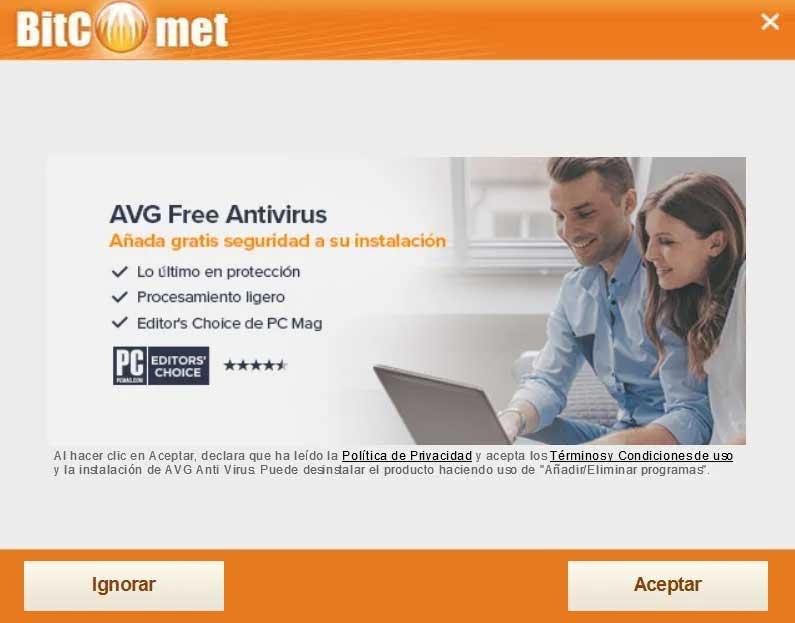 Of course, once we have installed it on the computer, we find a user interface very similar to that offered by the rest of torrent clients. In this way, we find an intuitive user interface that presents everything necessary for us to manage the uploading and downloading of the files that we are commenting on. But how could it be otherwise, in turn it presents us with a series of integrated functions with which to optimize and customize its operation.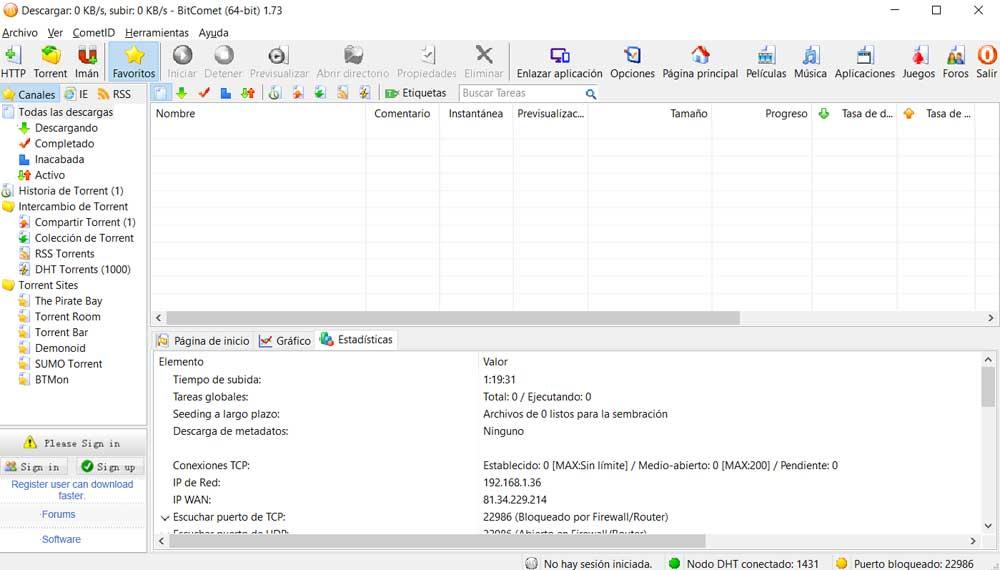 First steps with Bitcomet
To give us an idea of ​​the simplicity of operation that these specific applications present us, that is something we see when we start using the client. In this way, to start downloading one of these torrent files, just drag the file as such to the central panel of the program. This is something we can do directly from Windows Explorer , for example. From that moment on, the download will start automatically.
On the left side of the main interface of the program, we find a series of sections that will help us to better manage downloads. In this way we can directly see the torrents already completed, those that we share, those that are in process, or direct accesses to some torrent websites. On the other hand, at the bottom, we find information about the file itself in several tabs . For example we see a Statistics section where we will find very useful data about the download that we have selected.
We will also tell you that interacting with each of these files uploaded to BitComet is also very simple. Just click on it with the right mouse button to access the program's context menu .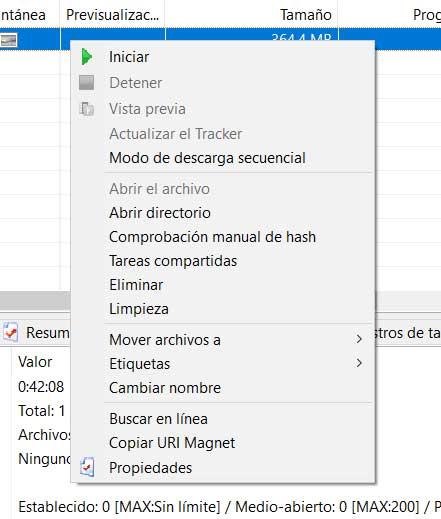 From there we have the opportunity to access a series of options that pertain to that file that is being downloaded and thus be able to control it. Therefore, for example from here we will have the possibility to pause the download, modify its name, open the destination folder where it will be saved, delete it, or view its properties on the screen.
How to configure BitComet and optimize its operation
As you can imagine, the operation of this program is very simple. In fact, those who have never dealt with applications of this type to download torrent can use it without any problem . At the same time, despite its simplicity, there are other users who want to have more control over their downloads, something for which BitComet is also prepared. And it is that the program presents a series of customizable parameters that will allow us to control these processes more.
To say that a priori BitComet is a program that does not need any additional configuration to work, something that the less experienced appreciate. But at the same time, many want to go one step further and personalize its operation . Well, for this that we are commenting on, we can access the menu options, something we can do from the Tools / Options menu.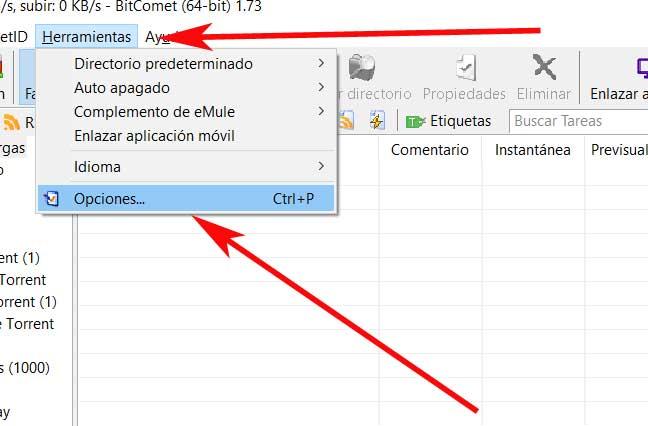 Here we find a series of categories, each one with its corresponding parameters. From them we can control the operation of BitComet down to the smallest detail.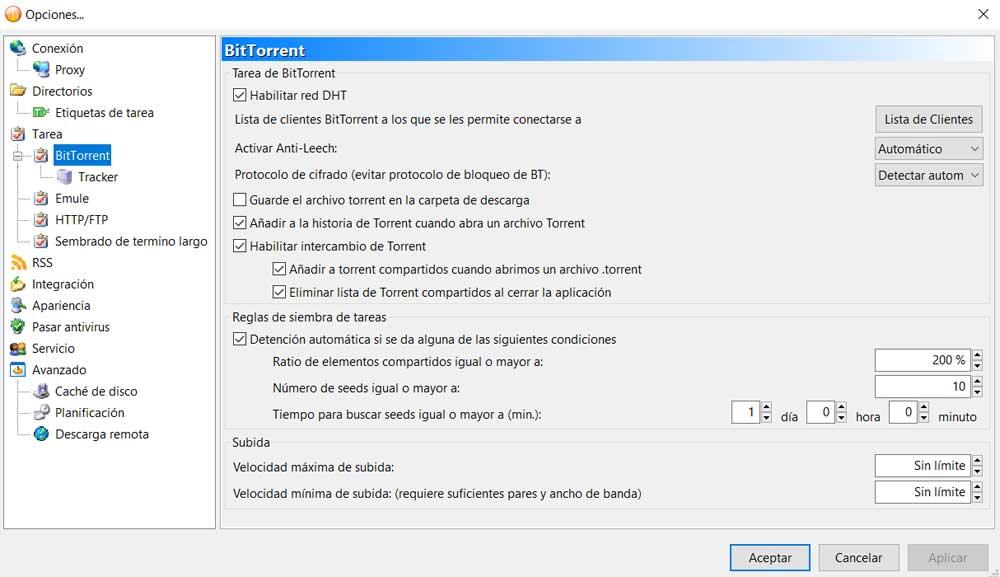 Download BitComet for free
Well, as we mentioned before, this is a torrent client that is also totally free. That is why you can test first-hand all the benefits it brings us without having to spend a single euro. For this, it is enough that we download the program as such from its official website .
Alternatives to BitComet
uTorrent
Here we find one of the best known proposals in the sector for years. uTorrent is a widely used program in these fields and is used by millions of users around the world to download torrents. It is a powerful client that helps us both to upload and download files of this type and with which you can do it from this link .
qBittorrent
And speaking of well-known programs in this sector, we can also try qBittorrent. Here we find a program of this type that is very light and that also implements its own torrent search engine . At the same time and as is usual in this type of application, it brings with it a good number of customizable functions. To test all this, we can do it from this link .