Applications
Save your passwords at maximum security with these portable managers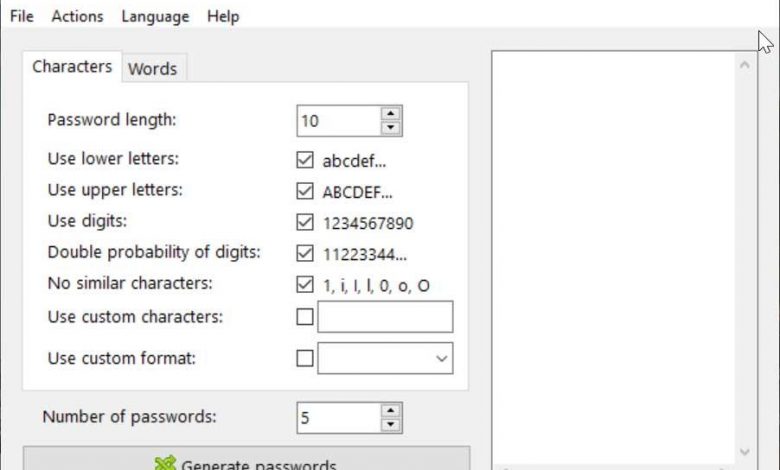 At present and since the arrival of the Internet we are registered on different pages and platforms that require us to use a password. This means that we need to remember dozens of different passwords and users (the bank's website, email, social networks, etc.), which can be quite complicated. Beyond having them written down on paper, there is the possibility of using a password manager to have them all stored safely.
One of the safest ways that we find to protect ourselves on the Internet so that they do not have access to our devices or platforms, is through passwords. In order not to have to memorize all of them, we can choose a series of tools that are responsible for creating and storing them safely. In addition, these very useful programs also have portable versions . This implies that it will not be necessary to install it on our computer and that we will be able to run it from any external storage medium, such as a pendrive.
The advantages of using portable applications are undeniable so it never hurts to have them on our external hard drive or pendrive and make use of them on any computer without having to install, uninstall with the consequent changes in the Windows registry. . That is why today we are going to tell you which are the best portable and free password managers that you should try.
Programs to create and manage our passwords safely
KeePass Password Safe Portable
This password manager allows us to save and memorize all our passwords in an encrypted database, being able to classify them by categories, being protected by important security measures, such as support for TAN codes (Transaction authentication number), allowing us to create TAN lists that automatically expire once we have used the password. It also offers different ways to enter the username and password, and includes other additional functions such as the ability to generate passwords, auto-lock, import / export and database search. In addition, we can protect your access with a password so that both passwords will be required to access our keys. Although it has a Spanish language, it must be downloaded separately.
If we want to use KeePass Password Safe Portable, we can download it for free from its website .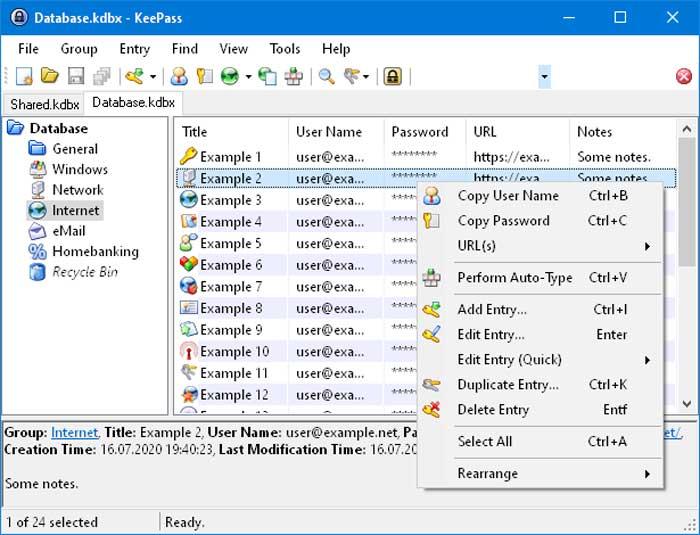 Password Safe Portable, safely manage your passwords
It is a software in charge of generating unique passwords providing a safe environment, creating lists of passwords and users to save it safely in one or more databases, to keep our confidential data organized. With this useful tool we can keep the password history, set the expiration date, select passwords randomly, etc. It also allows us to import and export information, merge, compare, synchronize and view the properties of the database. In addition, it allows us to create and restore backups, add filters and, for greater security, it has a self-locking system in case we leave it open.
To use Password Safe Portable as our portable password manager, just download it for free from this link .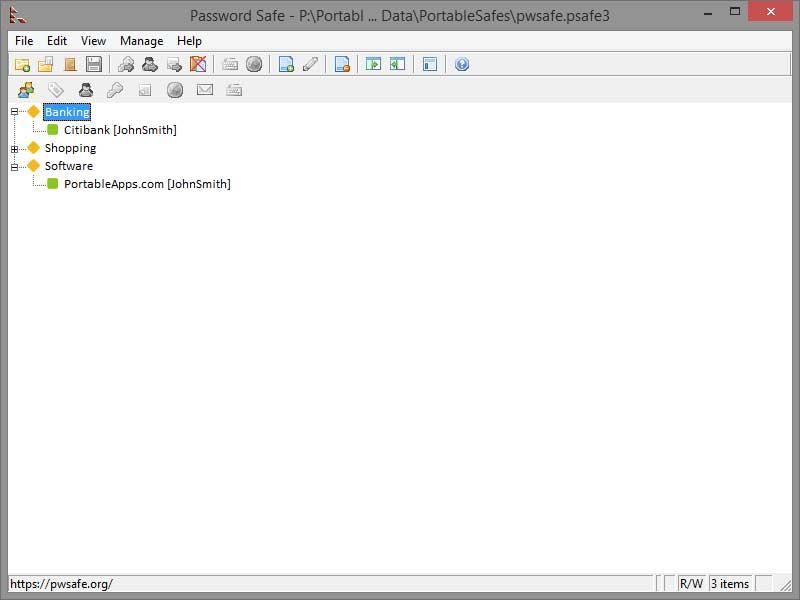 Password Tech Portable, generates secure and random passwords
It is a password generator capable of creating large amounts of passwords or encrypted passwords in a secure way. It uses a technique to randomly generate data based on our usage (keystrokes, mouse operation, etc.), as well as volatile system parameters. It has many options to customize passwords according to our needs, with various text encryption. It also allows us to choose the length of the passwords, enable numbers, define the number of digits and convert letters into special characters. In addition, it allows us to create our own password templates and define the password count or the characters that we want to exclude from them.
Password Tech Portable is a free application that will allow us to manage our passwords in a portable way and that we can download for free from here .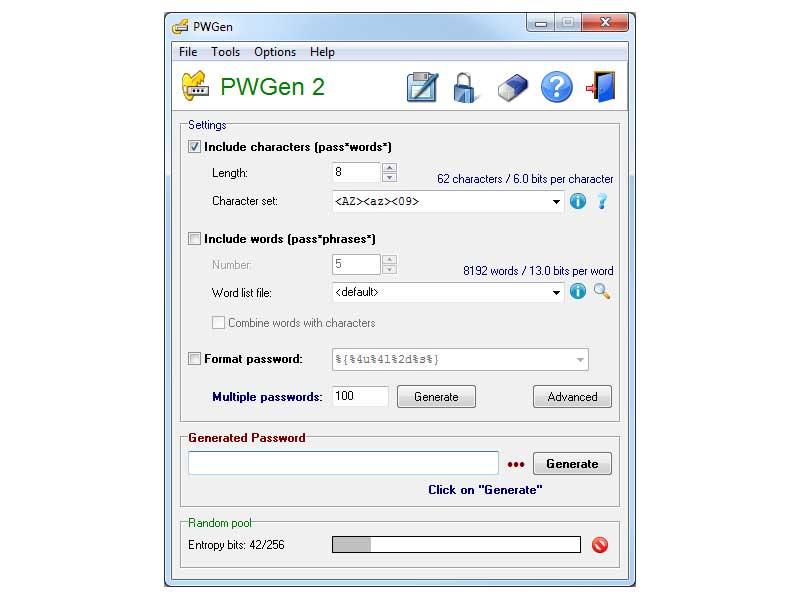 Password Gorilla Portable, create and export your passwords
This comprehensive application helps us manage our logins by storing all our usernames and passwords securely encrypted. This manager uses a single master password to protect the file, so we only need to remember that single password for use. The program allows us to copy our password to the clipboard so that we can paste it on the corresponding website. As the password does not appear on the screen at any time, we can use it in public places or in the presence of other people. We can import data using DAT, PSAFE3 and CSV files, as well as export files in TXT, CSV, DAT and PSAFE3 formats.
If we want to use Password Gorilla Portable, we can download it for free from this website .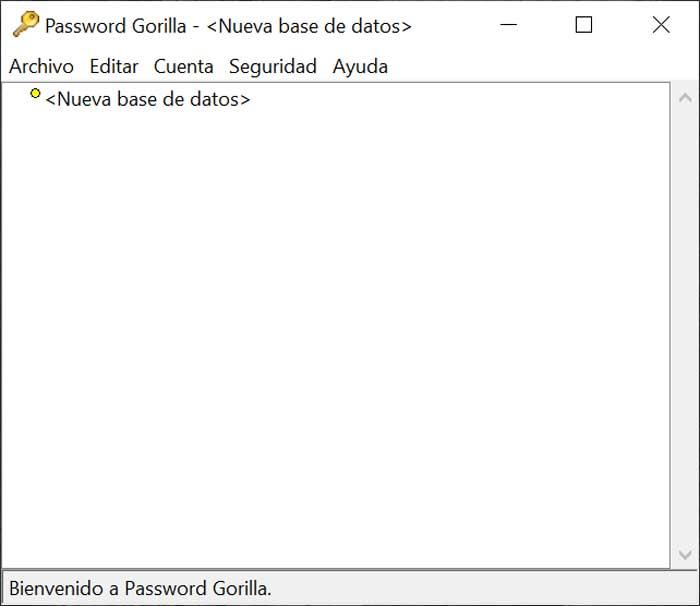 LazLock, generates unbreakable and secure passwords
This portable manager allows us to safely store and manage all our passwords. It is very lightweight software designed to help us manage all our passwords in a secure and indecipherable way. For this we will only have to specify a category, website name, username and password. The application also incorporates its own password generator that will help us create secure passwords using uppercase, lowercase, square brackets, numbers, symbols, space and the desired length.
Therefore, LazLock not only helps us to manage our passwords, but also to improve their security. We can download it for free from GitHub .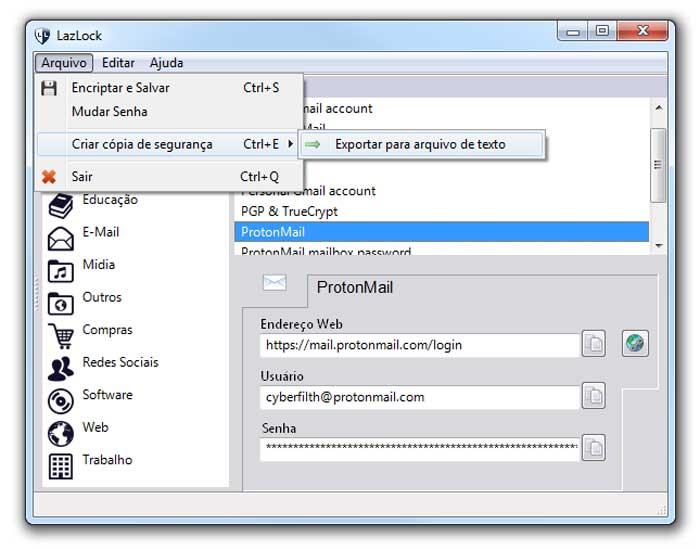 KeePassXC Portable, password manager for all types of users
We are facing a password manager that will help us create and manage our access codes in a secure way. It has all the necessary tools for this and a minimalist and complete interface, so it can be used by all types of users. All passwords are stored under a master key that is the only one we must remember. All passwords are securely encrypted with AES-256 and Twofish encryption algorithms . It also has an Auto-Type function that is responsible for significantly improving our productivity, by taking care of automatically filling in all the login data required in the forms.
If we want to use KeePassXC Portable as our password manager, just download it for free from this link.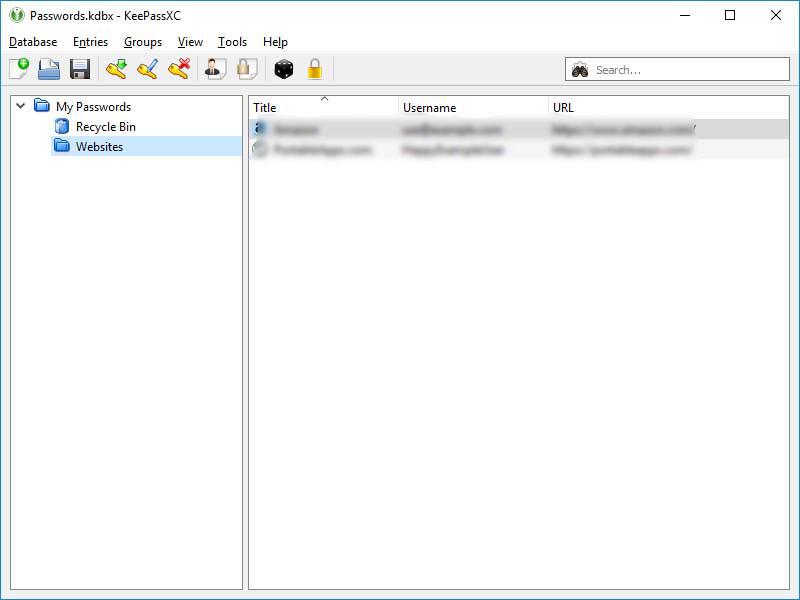 Gaijin Password Generator, create strong and secure passwords
This tool allows us to create strong and secure password combinations. We can generate readable and easy-to-remember combinations, being able to copy, delete, verify or encrypt them. It also has a password verifier that will inform us of how strong our password can be based on its length, uppercase, lowercase and symbols used. In addition, we can encrypt passwords for UNIX, PHP, HTACCESS, including an additional level of security in our combinations in the form of MD5, SHA1, SHA256 and SHA512.
Gaijin Password Generator is free software that we can download safely from this website .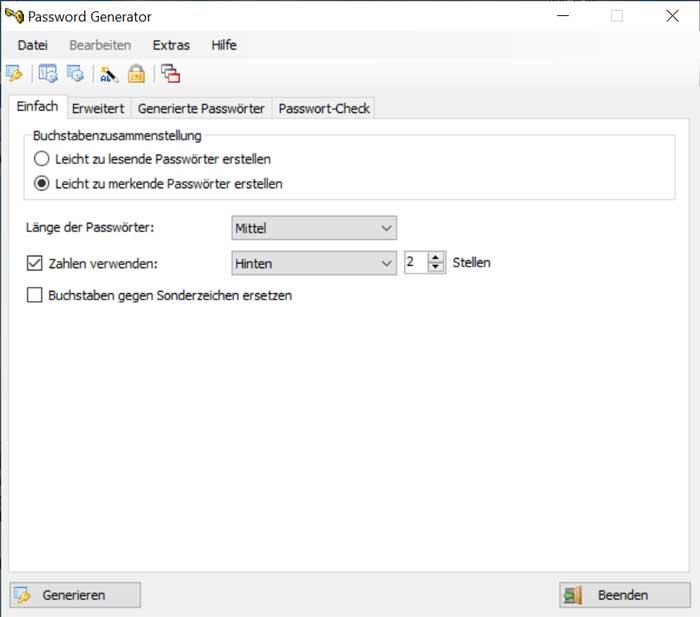 Portable RandPass Lite, great option to create automatic passwords
We are facing a password generator with which we can generate up to 1000 passwords with a length of 1000 characters. Although it is a small and light program, it allows us to produce a large number of passphrases. In addition to the length it also allows you to increase the difficulty of the password by using lower case, upper case, digits and custom characters. All generated passwords can be saved in a TXT file. Its main drawback is that, although it helps us generate passwords, we cannot store them in a secure environment or load them automatically.
To use Portable RandPass Lite to generate our passwords, we will only have to download it from here.