Applications
Record your pc screen in 4k and free with iobit screen recorder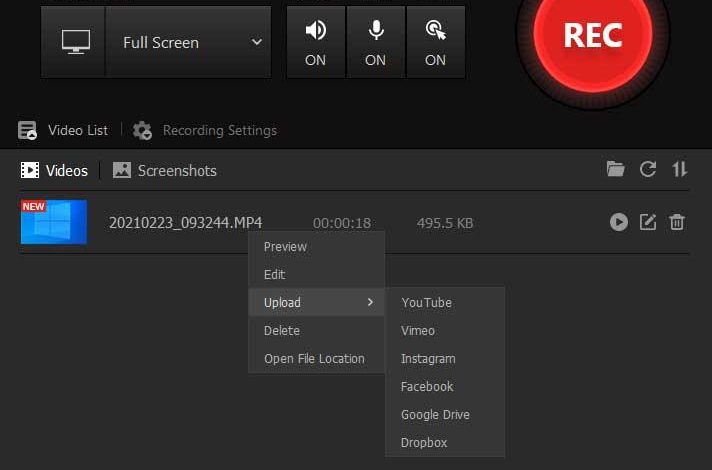 Sometimes it may be necessary for us to make recordings of everything that happens on our computer screen. This is something that is especially relevant if we want to create live broadcasts, record our own gameplays or create tutorials and then upload them to platforms such as YouTube. To do this, we can use a free tool such as IObit Screen Recorder, which we will talk about below.
IObit Screen Recorder is a program designed to record everything that happens on the screen of our computer, from a small dialog box, to the full screen or its use on several monitors. The recordings have sound. That is why we can record both the sound of the microphone, music or system sounds.
With this great tool we will be able to obtain high definition videos without any type of delay, since it is capable of recording images in 4K at a speed of 60 fps . IObit Screen Recorder supports more than 12 output formats when recording or converting our videos, so they will always be compatible for playback on any device. Some of its supported audio and video formats are AVI, MP4, MOV, FLV, MKV, TS, MP3, AAC, AC3, FLAC, WMAV2, and AAC.
In addition, after recording the video on our screen, this software does not allow us to carry out small and useful editing tasks such as immediately cropping the appropriate parts, so that we can leave the video ready to be shared.
Therefore, this program is focused both for professional use since it can be used as a tool to create videos for applications, capture web conferences or record online classes, as well as for leisure, since we can record our games with the most high quality.
IObit Screen Recorder, record everything that happens on the screen
Once we run the application, a simple bar will appear from where we will have available all the options that we can perform. Although it is entirely in English, its functions are quite intuitive which allows it to be used by all types of users.

When starting the recording, the first thing to do is select the part of the screen that we want to record from the button «Select a region». Pressing opens a drop-down menu where we can select if we want to record full screen, a window, a portion of the screen, a part in 4: 3 format or a part in 16: 9 format.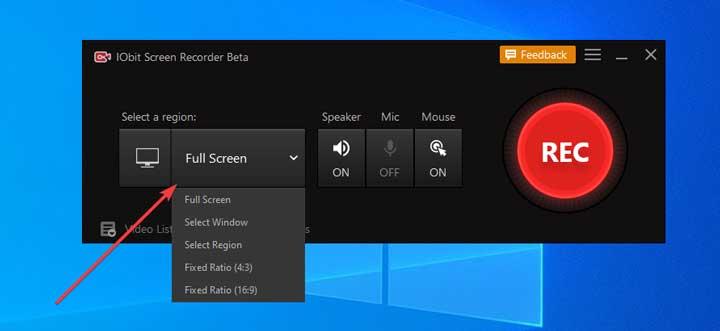 Right next to it we find the "Speaker", "Mic" and "Mouse" buttons. From here we can enable or disable the recording of the sound of the system, the microphone or the movement of the mouse pointer.
Set resolution and fps
Just below we find the "Recording Settings" tab that when clicking on it will show us a drop-down menu. Here we must choose where we want the videos that we have recorded to be saved. We can also select the video settings such as the resolution (4K, Full HD, HD and SD), the format (MP4, AVI, FLV, MKV, MOV, TS and GIF), the fps ( Auto, 12, 24, 30, 40 and 60) and the quality (Standard, HD and Original). Regarding the audio we can select its format (MP3, AAC, AC3, FLAC and WMA2), as well as its bitrate (32 kbps, 64 kbps, 128 kbps, 192 kbps, 256 kbps and 320 kbps).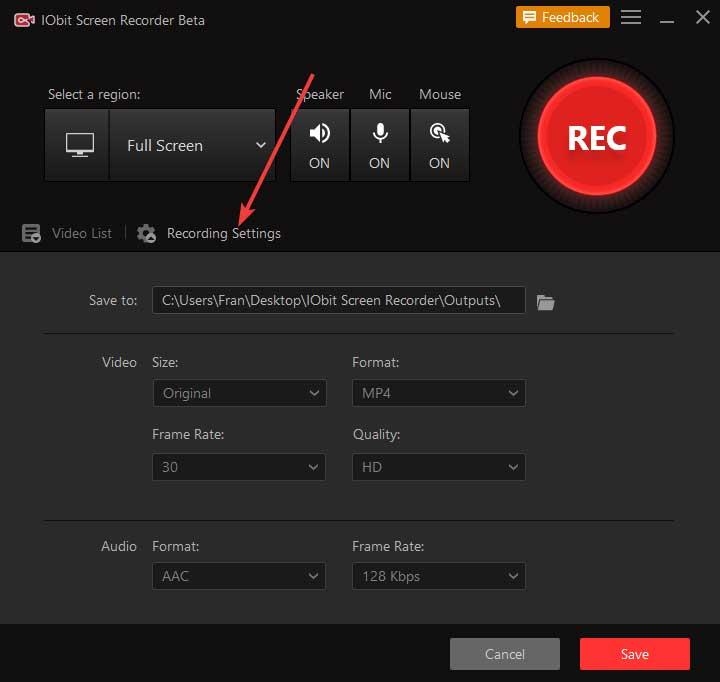 In the upper part, if we click on the three vertical stripes located in the upper right part, we can access their settings by clicking on «Settings». Here we can access the Hotkeys section where we can select the format for the screenshots (JPG, PNG and BMP), as well as the keyboard shortcuts to start and stop, pause the recording and take a screenshot while recording.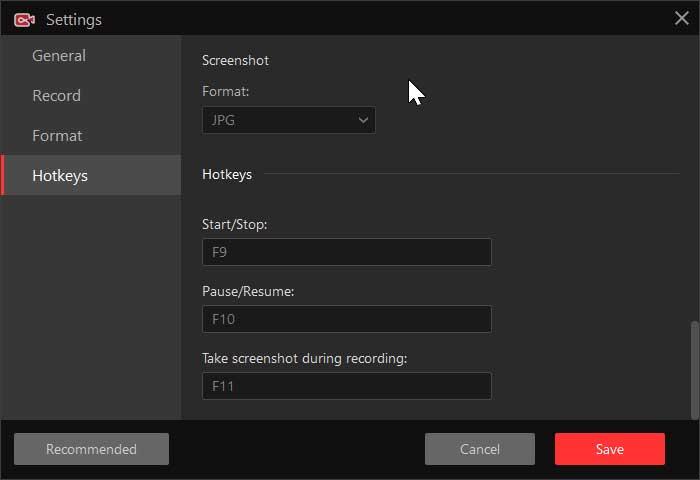 Once we have made the appropriate adjustments, we only have to press the red REC button . Once pressed, a three-second countdown appears before recording begins. The recording area is marked with a box with red lines from where we can pause or stop the recording, see the time that has elapsed, as well as a button to take captures.
Edit the results and upload them to social networks
Once finished inside the «Video List» section we will see all the recorded videos, their duration and the storage size. Just to the right we can press the indicated button to be able to make a small video editing, which will allow us to cut the beginning and end of it, as well as save it as a separate file. Unfortunately it does not allow us to do much more, but it is not something that we should take into account since editing is not one of its main tasks, it will only be useful to cut a video that has been too long.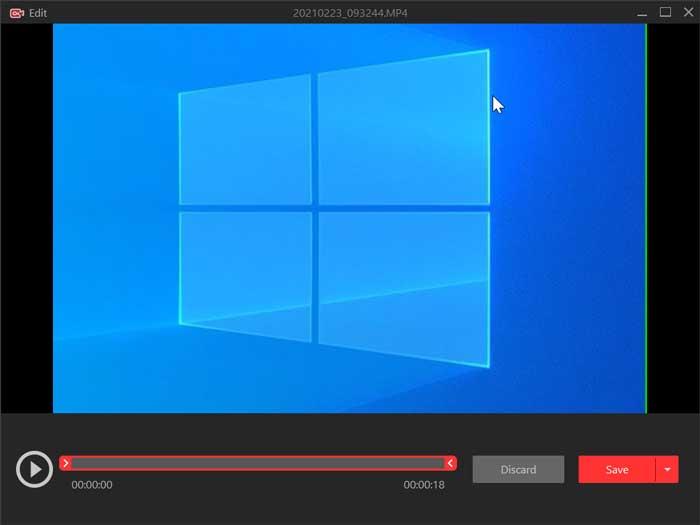 Finally, it should be noted that by right-clicking on the video we have recorded, a small contextual menu will appear with the "Upload" option. From here we can upload our recordings to platforms such as YouTube, Vimeo, Facebook, Google Drive and Dropbox. For this, it will be essential that we are subscribed and log in with our account.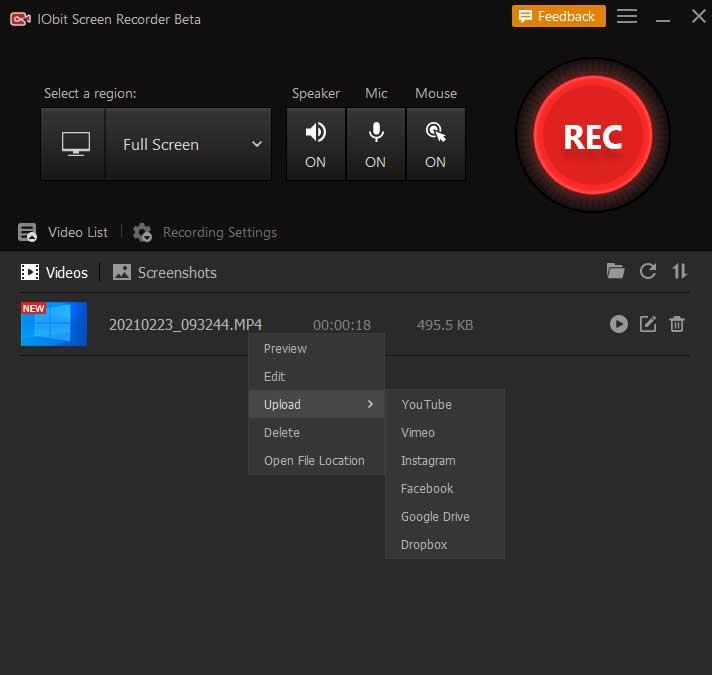 IObit Screen Recorder free download
IObit Screen Recorder is a 100% free program, compatible with all versions of Windows, such as Vista, 7, 8, 8.1 and 10 and that we can download from its website . Despite being free, it does not add watermarks or bombard with annoying ads. In addition, it does not have a recording limit so we can record as long as we want. The installation file that we downloaded occupies 24 MB and the installation is done quickly through the wizard without trying to get us to install unwanted third-party software.
Alternatives to IObit Screen Recorder
If we are looking for a program that allows us to make recordings of the computer screen, we also propose some alternatives to IObit Screen Recorder.
ApowerREC
It is a program that allows us to make recordings of our computer screen. It offers the possibility of including audio through a microphone or through a camera. In addition, it will allow us to carry out other tasks such as making annotations, screenshots, as well as creating all kinds of activities and uploading the captured videos. We can download a trial version from here, and turn it into a free VIP account for one month. Its price is 19.95 euros.
ChrisPC Screen Recorder
This software allows us to record silently and with many options everything that is on the screen of our monitor. It offers full-screen recording, by application windows or by selecting a rectangular area in the form of a window or without borders. We can also optimize the video quality, the selection of the frames, the audio codecs, add custom text (font, color, position) or a watermark. We can download its free version from its website .