Applications
Record and capture your pc screen with icecream screen recorder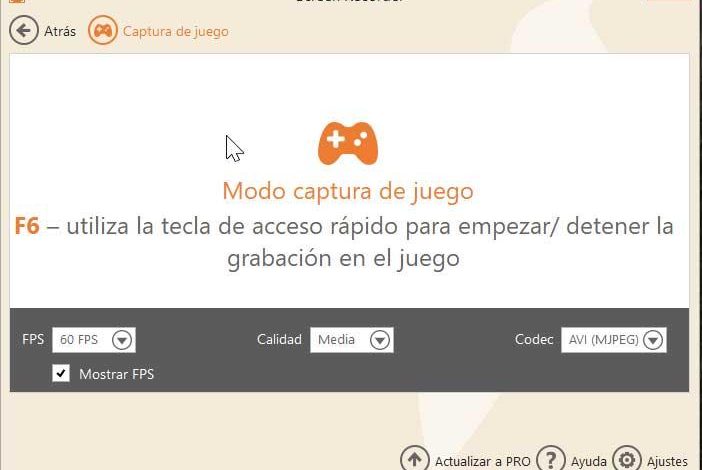 When using our computer it is possible that on certain occasions it may be useful and interesting to be able to record the screen of our PC. It can be vital if we have a problem and want to send it to the technical service, or because we like to record and share the games of our favorite games. In order to carry out this work we need adequate software, such as Icecream Screen Recorder, about which we are going to talk to you today.
Icecream Screen Recorder is a program developed so that we can record any part of our screen or save it as screenshots. We can use this tool to record the audio and video of applications, games, make tutorials, live broadcasts, etc.
When making our recordings we can edit them later, making cuts of the unnecessary parts, both at the beginning and at the end of the video. We can make different adjustments such as deactivating the screen saver, hiding the icons on the desktop, eliminating the mouse pointer, among other options. In addition, it allows us to speed up or slow down the recordings, as well as convert the format of the videos, after they are recorded.
This program also allows us to show the hotkeys that we can use while recording the screen, establish all kinds of multiple recording tasks with the timer and even add animations while recording. Another interesting option is the possibility of copying the recordings and screenshots to the clipboard to be able to share them on Skype.
But in this application, not only is screen recording important, but also the possibility of making customizable captures, since we can take them in full screen or only a selected part. It also allows us to draw on it, as well as different editing options with which to make annotations or marks in real time.
Record, capture, edit and share with Icecream Screen Recorder
Once we run the application for the first time, a window appears where we must verify the recording conditions, and that we can later change from the Settings menu. In this way we can mark if we want the audio recording, the microphone, the recording of mouse movements to be active, animate mouse animations and highlight the mouse. We select the ones we need and click on «Save settings». If we don't want to customize it, just click on «Skip».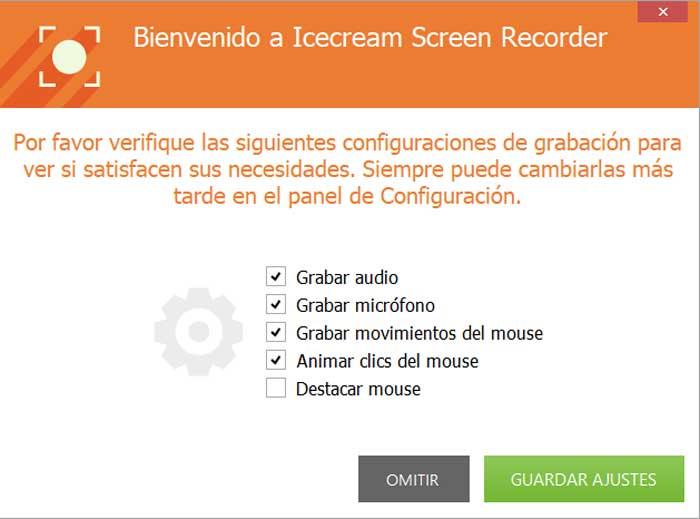 Next, its main menu appears with a simple and attractive interface . At the top we find its four main functions that we can perform, such as "Video capture", "Game capture", "Screenshot" (screen capture) and "Capture audio". At the bottom we also find the "Settings" button.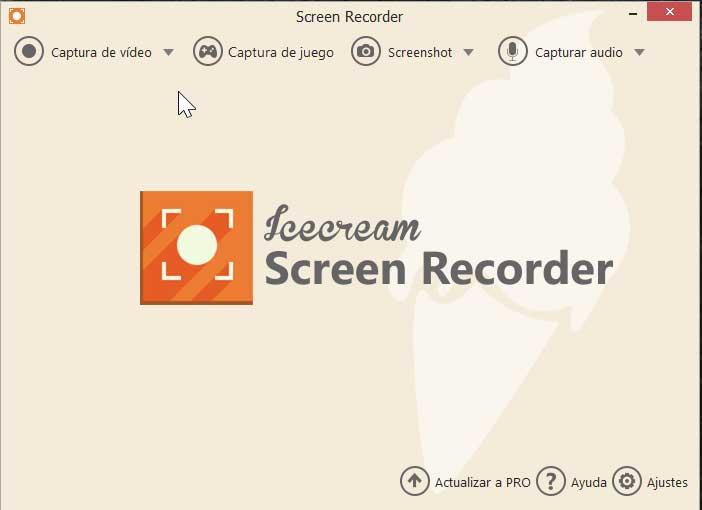 Video capture
When recording our video captures we can select if we want to do it in full screen, select a specific area, automatically detect the recording area and add tasks. If we want to select a specific area for recording, we must select an area, the program showing us its dimensions that we can customize to our liking. It also allows us to draw on the recording area, zoom in or out on the image, as well as activate or deactivate the webcam, audio and microphone.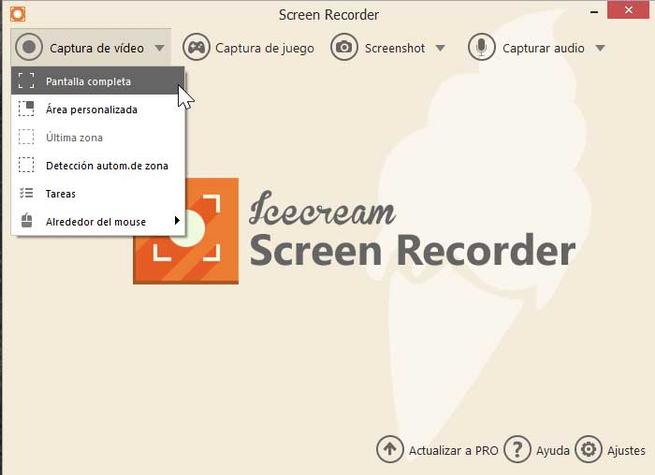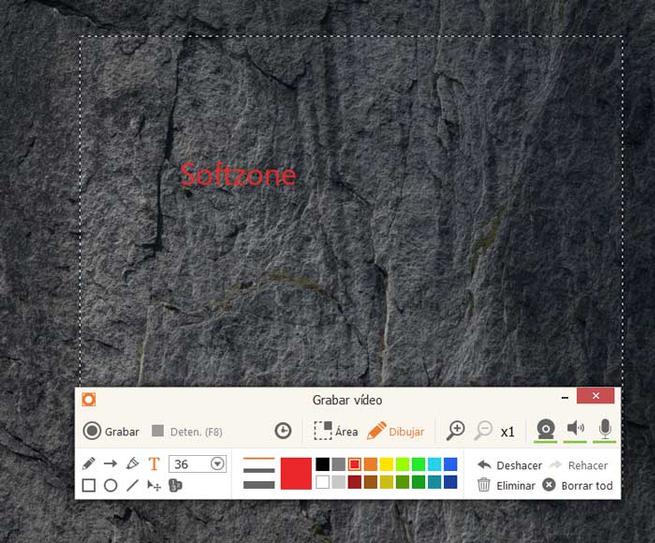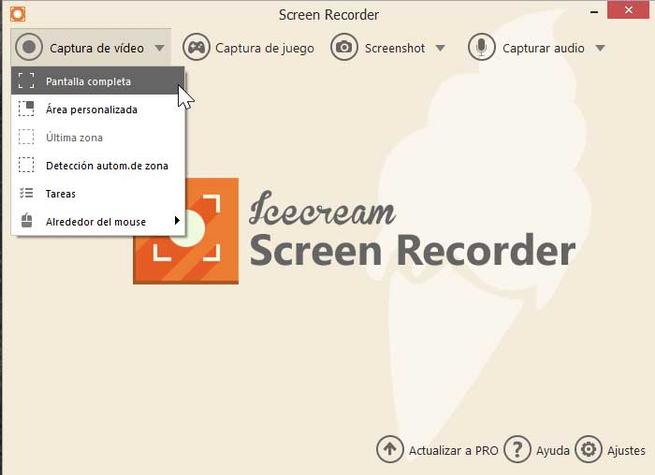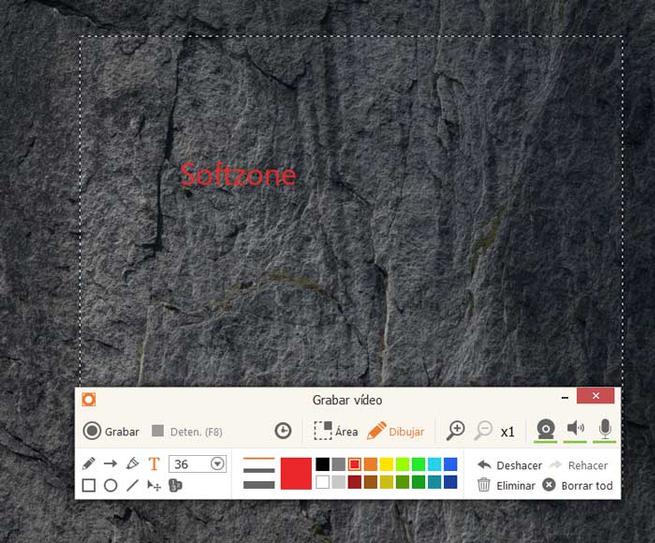 Screenshot
The Screenshot tab is responsible for taking screenshots. As with video recording, it allows us to select if we want to take a screenshot of the entire screen, select a custom area, or detect an area automatically. Once we select the chosen option, it also allows us to adjust the size in a personalized way, as well as make drawings on it. Finally, we can make a capture, copy to the clipboard or via a URL.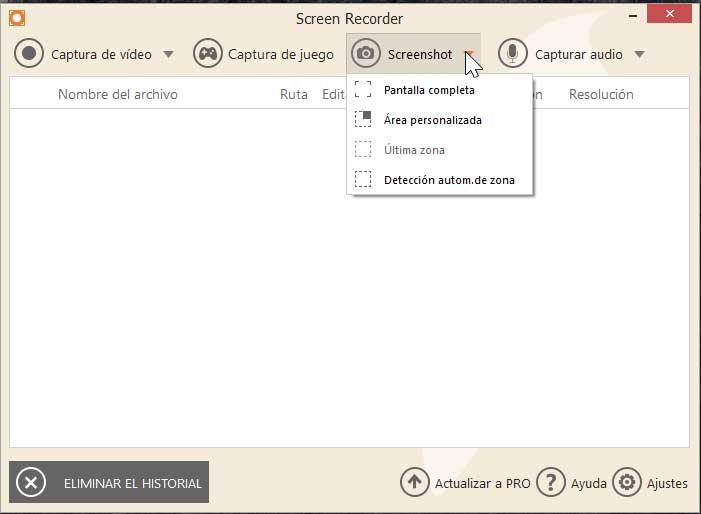 Once the video capture or recording is done, it will appear in its interface, showing us the path, the size and the resolution, being able to access it as well as delete it using the trash icon. In the case of video recording, we can also edit it, changing the name, the output format, the resolution and the speed.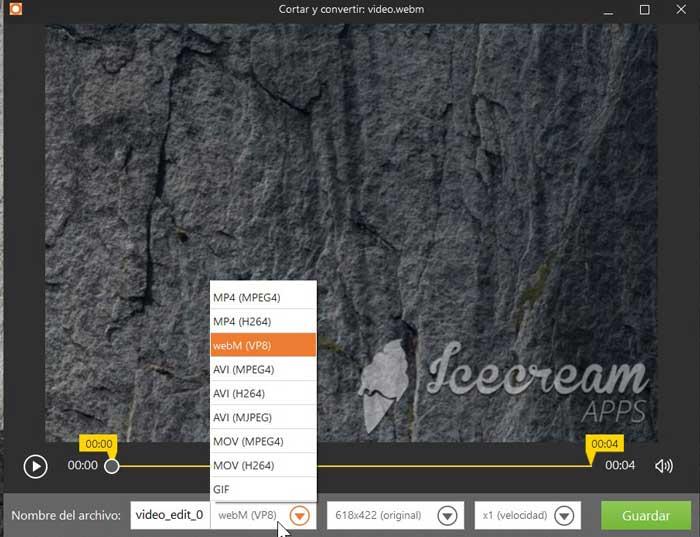 Game capture
Icecream Screen Recorder also allows us to capture games from its corresponding tab. From there we can use the fast access F6 key to start or stop the game recording. We can customize the FPS recording from 25 to 60 fps, as well as the quality (high, medium or low) and the codec used (AVI or MP4). We can also mark if we want the FPS to be shown during the recording of the game.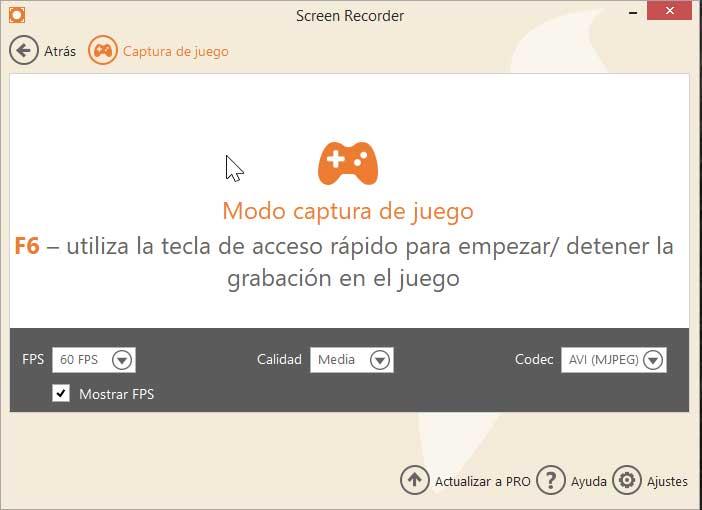 Free Download Icecream Screen Recorder
Icecream Screen Recorder is a program with a Freemium license, so we can therefore have a free version that we can download from its website, as well as a paid one. This application is compatible with Windows 10, 8, 7, as well as Mac OS and Android. The installation file has a weight of 54.2 Mb, and it is done quickly through its wizard. Its latest version available so far is 6.23 corresponding to August 14, 2020 . This indicates that it has a good support and update policy from its developer.
Free Version : the free version allows us to record a maximum of 5 minutes, with a WEBM video output format and a VP8 output codec format. In addition, it includes a watermark
PRO version : this paid version allows unlimited recordings and removes watermarks. It also allows you to convert recorded videos, set a timer for screen recording, add your own watermark, disable countdown before recording, and is compatible with commercial use. In addition, it allows us to change the output format (AVI, MP4, MOV, WEBM), as well as the output codecs (H264, MPEG4, VP8). Its price is 29.95 euros in a single payment.
Alternatives to Icecream Screen Recorder
If we are looking for a program with which to make recordings and screenshots, we propose a couple of alternatives to Icecream Screen Recorder to consider:
ChrisPC Screen Recorder
This application allows us to make recordings and screenshots of our monitor, both full screen and by personalized areas. In addition, it has options to edit and cut parts from the beginning or end of the recorded clip, as well as the possibility of recoding a recorded file. ChrisPC Screen Recorder has a free version that we can download from its website .
Screencast-o-matic
With this program we can make recordings of the PC screen. It allows an unlimited number of videos, although these are limited to 15-minute sessions. Another option is the possibility of recording the image from the webcam, as well as making cuts after recording. Screencast-o-matic has a free version that we can download from its official website .