Applications
Read aloud any text in windows with naturalreader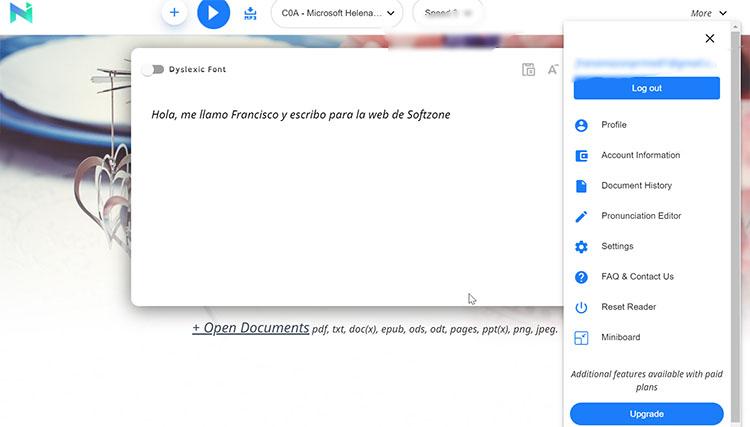 Programs to convert text to speech are becoming more and more popular, since it allows us to listen to a text while we perform other tasks that do not allow us to read it. This type of program can also be of great help for people who have any type of eye problem or dyslexia that prevents them from reading the texts well. It is also interesting for professionals or students of English. That is why today we are going to talk about a tool like NaturalReader that is within the so-called TTS programs.
Natural Reader is a professional text-to-speech program that converts any written text into spoken words, making it part of the so-called TTS or Text-to-Speech . With this application we can paste texts and documents so that they can be read aloud to us, with natural voices, or convert them directly to MP3 to listen to them at any time or place. It is capable of reading files in PDF, TXT, DOC, EPUB, ODS, ODT, PAGES, PPT (X), PNG and JPEG formats.
This application can be used by all types of professionals as it allows us to easily create audio files for commercial use. In this way, we can create narrations to use in our YouTube videos, generate audio for e-learning, as well as for public use, broadcasting or IVR systems.
It also includes a library to upload documents, as well as a specific font for dyslexics . Another feature to highlight is that it has integrated OCR . This function allows you to convert printed characters into digital text, which will allow us to listen to a scanned text or edit it through a word processor. This feature can also be used to convert text screenshots from e-book desktop applications to audio and voice files.
NaturalReader, read text and convert it to MP3
Once we run the program, its main menu appears with a simple interface completely in English . In the central part a large blank box appears where we can write all the content that we want to be read. We can also load any compatible file, for this we can choose to click on the plus button (+) at the top or the button «+ Open Documents at the bottom».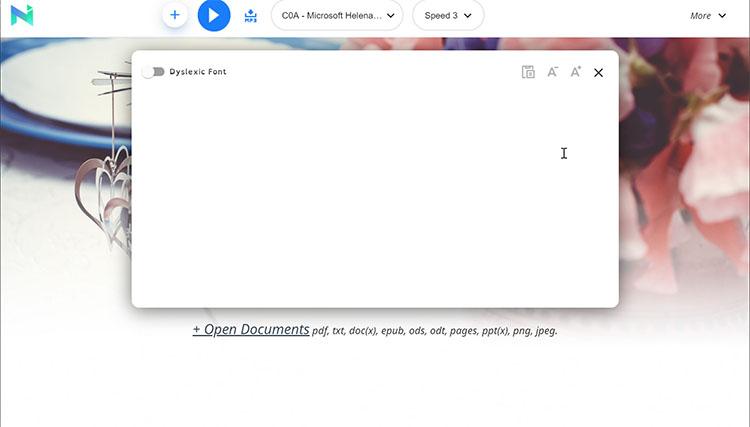 Once we have all the written document, at the top we must select the voice . In the free version we find two voices: «English (US) Microsoft Zira Desktop (system voice)» and «COA – Microsoft Helena Desktop (system voice)». Both voices are in English, so it will be useful if we want to practice the language, but not so much for a reading in Spanish. If we write in Spanish, we must choose the COA option so that it reads it more or less correctly. It is understandable, but it is too robotic since it is not intended for reading in Spanish . Another option is to buy the voice in Spanish, but in that case we will have to go through the box, since each voice costs $ 39.50 and they only work with payment functions.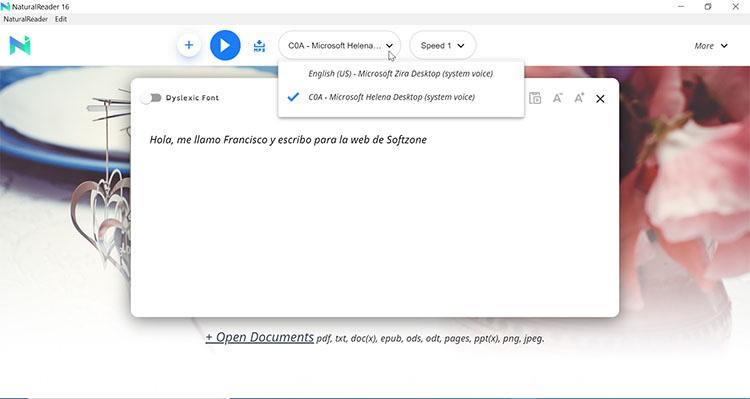 It also has a button to convert any text that we have written in MP3 format. In this way we can listen to it on any other device such as a mobile, a tablet, an MP3 player, among others. It would not have hurt to include some additional format, although MP3 is compatible with practically any device. This option is not available with the free version so we must go to any of the payment options to be able to use it. On the right side we also find a button to control the speed of the reading . We have from 0 to -4 for a slower and more leisurely reading or from 0 to 9 for a faster reading. By default it comes in speed 1 which serves for a fairly neutral reading.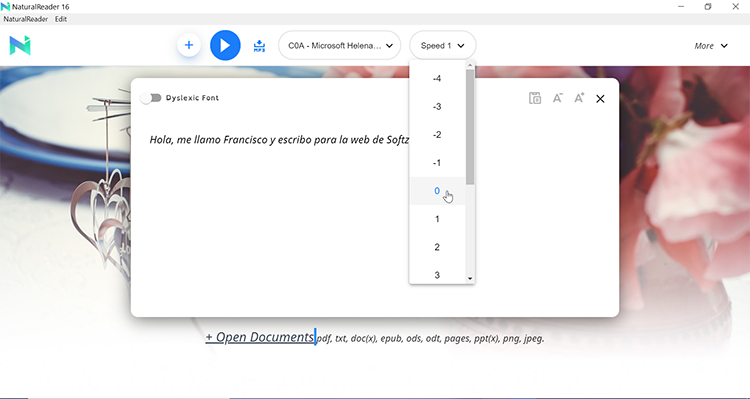 Finally, on the right side of the screen we find the «More» button that if we press it a drop-down menu will appear. Here we can find the «Settings» function where we can set a background color, between purple, green, yellow and red, as well as check the hot keys . We also find a pronunciation editor that will allow us to add new words and the "Document History" option, which will allow us to access the history of documents that we have loaded. Finally, it has a function called "Miniboard" that allows us to minimize the program in case we want to use it at the same time as other applications.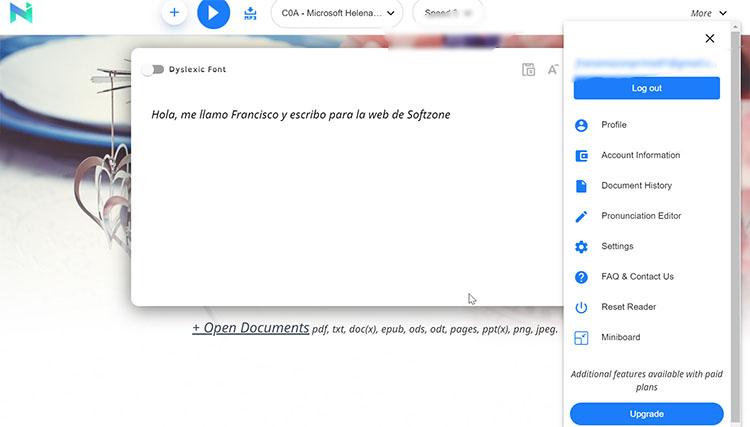 Versions of NaturalReader to download
NaturalReader is a TTS program with a commercial version, although it also has a free version, which we can download from its website . It is compatible with Windows and macOS operating systems . Installation is done easily through a wizard without it trying to get us to install other unwanted third-party programs. This application has a total of four versions available, one free and three paid.
| FREE | PERSONAL | PROFESSIONAL | ULTIMATE |
| --- | --- | --- | --- |
| Free download | $ 99.50 (one-time payment) | $ 129.50 (one-time payment) | $ 199.50 (one-time payment) |
| Pronunciation editor | All the features of the free version included | All the features of the personal version included | All the features of the professional version included |
| Works with PDF, Docx, TXT and ePub | 2 natural voices included | 4 natural voices included | 6 natural voices included |
| Mini card to read text in other applications | Convert to MP3 | | 5000 images / year for OCR to read from scanned images and PDFs |
Alternatives to NaturalReader
If we are looking for a TTS application that allows us to read text aloud, but NaturalReader does not quite convince us, we propose a couple of interesting alternatives that include voice in Spanish in their free versions.
Panopetrer
With this application we can read text aloud, whether we write it ourselves or import files in PDF, TXT, RTF and DOC formats. It also allows you to read web pages and text included in the Windows clipboard. Besides reading the text, it also allows you to convert it into a sound format like MP3, OGG, FLAC and WAV. Panopetrer has a free version that we can download from its official website . To enjoy all the available options it will be necessary to pay 32.95 dollars.
Balabolka
This application will allow us to read text on the screen, being compatible with a multitude of formats. You can also read text directly from the Windows clipboard and convert it to WAV, MP3, MP4, OGG or WMA sound format. In addition, it has a spell checker and we can control the reading from the system tray or from hotkeys. Balabolka is a program with a Freeware license, so it is completely free and can be downloaded from its website .
Wordtalk
On this occasion we find an application that integrates with Microsoft Word as a toolbar, and that has support for SAPI 4 and 5 voices. It is perfect for users who need keyboard shortcuts to access its functionalities in a way. fast. It allows you to read entire documents, as well as paragraphs or words. We can download it for free from here.