Applications
Query, edit and create pdf documents in windows with soda pdf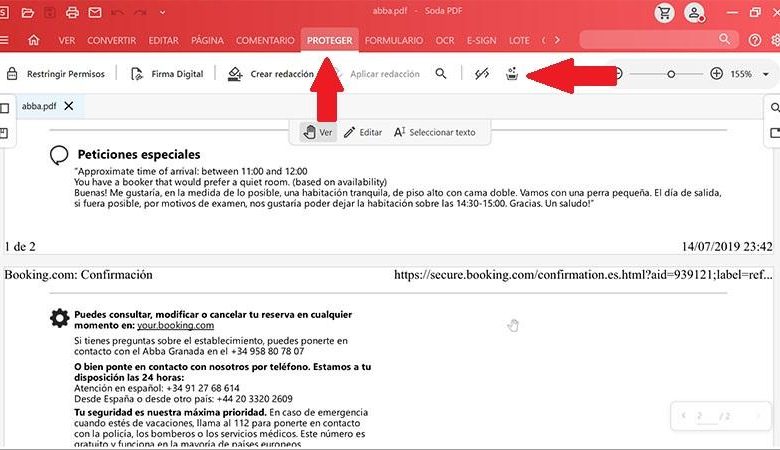 The use of files in PDF format has become completely common. Whether we want to view them correctly, or if we need to be able to convert or edit them, we will need a specific program for it. To help us with this work we can use a specialized program such as Soda PDF about which we will talk below.
A PDF file is nothing more than a type of document developed by the Adobe System in 1993 and that since 2008 has become an open standard. This type of file is characterized by being able to incorporate graphics, texts, signatures, forms, and even multimedia elements such as audio and video. In addition, these types of files never lose their shape and are multiplatform so they can be used in computer operating systems such as Windows, Linux or Mac OS and on mobile devices.
When it comes to viewing PDF files there are many applications, but sometimes, we may not only need to read them but also want to be able to edit them in order to add or remove information or protect it. This is something that we can do with a complete program called Soda PDF.
Soda PDF main features
Soda PDF is a complete tool that will allow us to work with PDF documents . With it we can create, edit, convert, share and protect any PDF file. We can create any document from the application itself or from a Word, Excel or PowerPoint document. When editing it, we can modify the text, upload images and graphics or cut parts of it. If we need to convert it to another format we can do it to Word, Excel, HTML or create an image.
We may also need to protect our documents so that not just anyone may have the ability to modify them. For this, this program offers us the option of encrypting the documents and configuring the copying, editing and printing restrictions to our liking. In addition, it supports OCR technology, so it will be possible to create PDF documents from a scanned image.
Soda PDF allows you to perform any operation with a PDF
Once we execute the application, its main menu will appear with an interface completely in Spanish and that may be quite familiar to us. And it is that its design has some inspiration based on Microsoft Office . This interface is quite intuitive since we will have everything organized by tabs at the top. Here we will find the options of "View", "Convert", "Edit", "Page", "Comment", "Protect", "Form", "OCR", "E-SIGN", "Batch" and "Connect" .
Just below, in the central panel we will have several shortcuts to the most important functions such as "Open PDF documents", "Convert to PDF", "Merge PDF files", "Clipboard to PDF", "PDF to Word", "PDF to Excel "," Add comments "and" Protect your PDF document ".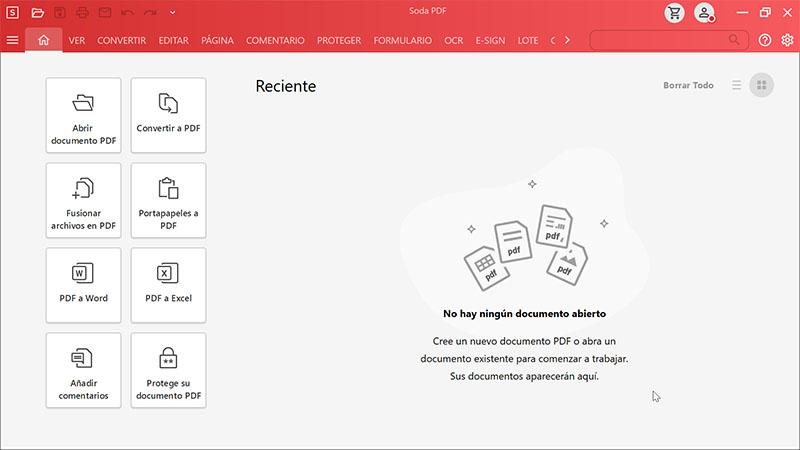 WATCH
In this section we can change the different view modes of a document, being able to use a continuous or full screen view to read all the content in the configuration that suits us best. This allows us to use the application as an electronic reader to access our files or books and view them comfortably.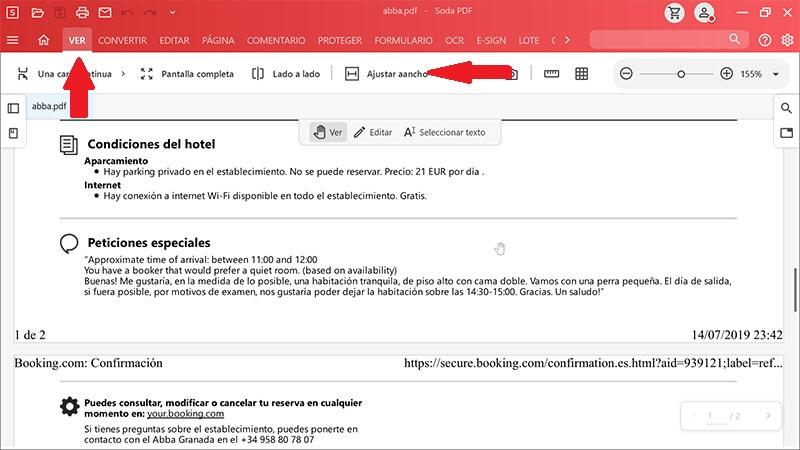 CONVERT and EDIT
From the «Convert» tab we can create our own PDF file from a scanned file, a URL or from Microsoft Office files. We can also perform functions to divide a document, merge several documents or export them in Word, Excel, Powerpoint or image format.
If we go to the "Edit" section, we can obtain absolute control over the editing of any PDF. From here we can change the font, the text or the design of the documents. We can also add or delete pages, links, images and paragraphs in any PDF file.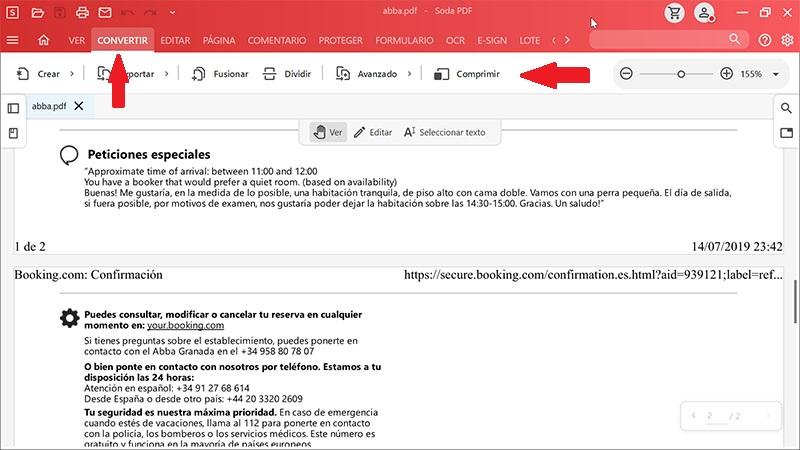 PROTECT and E-SIGN
If we need to protect our PDF files and share them with complete peace of mind, it is something we can do from the "Protect" option. We can add passwords and set permission level controls to make sure unauthorized people can see or access them.
From the "E-SIGN" tab we can add digital signatures to our PDF files for greater efficiency. We can approve documents quickly by adding legally binding certificates. We can also access the joint signature function to add digital signatures to a previously signed document.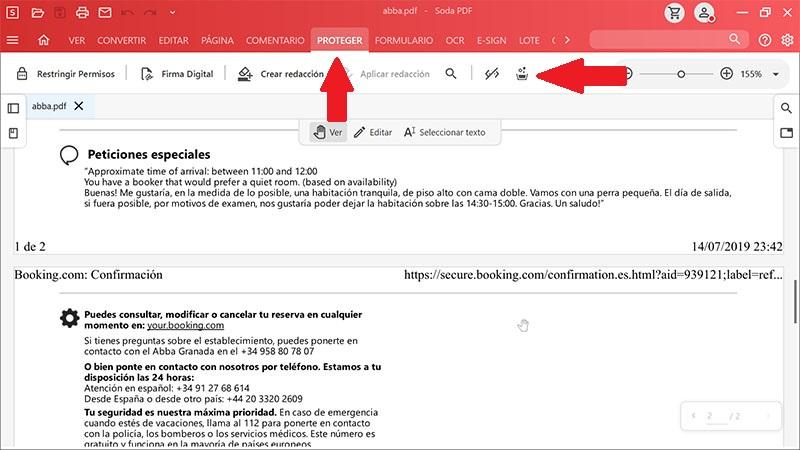 Download Soda PDF
Soda PDF is a commercial application so we will have to pay for its license if we want to use it permanently. We also have the possibility of downloading a free trial version from its website in order to test its features and decide if it really is the application we need, before paying.
In case we want to acquire Soda PDF, we will have 3 different paid versions of it.
Standard : in this version we will have its most basic functions, and we will have access to both the web and desktop applications, as well as the latest updates. We will have the functions of viewing, converting and editing PDF files, as well as the possibility of extracting and inserting pages, being able to be used in a maximum of 3 devices. Its price is 6.75 euros per month with annual billing.
Pro : this version is aimed at more advanced users who require comprehensive PDF software. With it we will have all the features of the Standard version and new ones are added such as the possibility of protecting our files, adding forms, compatibility with OCR searches, as well as the possibility of adding digital signatures. This version can be used on a maximum of 3 computers and its price is 11 euros per month with annual billing.
Business : directed for companies that require to squeeze all the available functions. Along with those found in the Pro version, we must add the possibility to edit OCR in an unlimited way, convert and edit files in batches and telephone support. It also allows installation with Windows, GPO, SCCM, Citrix and use the online edition with Mac and Linux. Its price is 16.75 euros per month with annual billing.
Alternatives to Soda PDF
If we need a tool with which to create and edit PDF files, we propose a couple of alternatives to Soda PDF.
Sejda PDF Editor
This complete software allows us to edit PDF files, as well as sign, add text, insert images and make any type of annotations. It also has the ability to convert PDF files to Word or image format such as JPG. Sejda PDF Editor has a free version that we can download from its official website . If we need all its functions, we must choose some of its payment options.
PDF-XChange Editor
This application will serve us both as a viewer and as an editor of PDF files. With it we can create, edit, view, annotate and digitally sign any type of PDF file. We can also create PDF files directly from scanned images or text files and it is compatible with Office. PDF-XChange Editor can be downloaded for free from its website for domestic use, for commercial use it costs 42 euros.