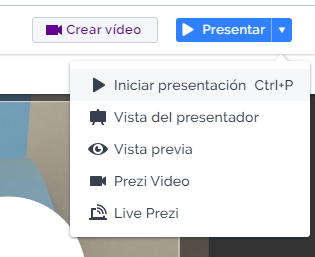 Prezi is an online tool that allows you to design, schedule and share presentations of all kinds through its own platform. In addition to this, Prezi has its own storage service in the cloud, where the presentations generated with this tool are stored. Thus , through Prezi it is possible to present ideas in a structured or totally free way, making use of its particular interface, which instead of being totally sequential (page by page), uses a visual interface that transmits information through approaches or zoom.
In this sense, Prezi not only allows you to enter text in your presentations, but also provides the option to add images and videos in different formats, as well as enables the option to edit them to adapt their sizes to the type of presentation generated. Thanks to this, Presi can generate everything from mind maps to supporting presentations for university or advertising speakers.
As a tool, Prezi is distinguished by working under a freemium mode. This means that users who create an account for free on its platform can make use of its functionalities. However, there are payment plans that allow access to other tools and extra functions that offer a greater degree of customization and flexibility. Thanks to this, Prezi is currently one of the most used virtual presentation tools in the world.
Characteristics
As a multipurpose tool, Prezi has earned its place among academics, students, and all kinds of people who want to generate attractive, easy-to-design presentations. All this has been possible from the characteristics that its creator has integrated into the platform itself:
It allows you to make presentations without having to download any type of software, since everything is carried out from the browser.
Prezi works under a freemium system , so despite being able to be used for free, it is possible to access payment plans that provide multiple advantages.
Files created in Prezi are automatically stored in the platform's cloud.
To use this tool, you need to create an account within the Prezi platform.
Prezi is built with the HTML5 programming language.
Advance dynamics in Prezi presentations are distinguished by zooming from one focus point to another. In this way, dynamism is added to the transition of the different parts that make up a presentation.
Because Prezi is hosted on the web, it is necessary to have an internet connection to use its functions.
Prezi account
In order to use Prezi, the powerful presentation creation tool, it is essential to register on its platform and create an account. Although there are many plans that involve shelling out a fee, here's how to create a free Prezi account:
Create Account
The first step in signing up for Prezi is accessing its official website: Prezi.com.
Once there, go to the upper right corner of the screen and press " Start ".
Now the different usage plans that Prezi offers will be displayed. However, since we are interested in opting for the free version, go to the Basic option and choose the " Basic " plan , which is totally free.
Next, a registration form will be displayed in which you must enter your personal information, email and password. Then solve the catchap on the page and click " Continue ".
Once this is done, you will have already created your Prezi account.
Log in
To log in to Prezi, just go to Prezi.com and go to "option In ", which is located to the left of " Start ".
Once this is done, the Prezi login form will be loaded, so all you have to do is enter your user data and press " Enter ". You can also access the platform using your Facebook or Google account.
This done, you can start creating in Prezi without delay.
Start using
After creating an account at Prezi.com and log in for the first time, the platform will ask you to provide some extra data regarding the use that you will give to its tool, so, click on your role as creator.
Then you can start creating content, through different options. Since you are interested in creating a presentation, click on " Create a presentation ".
Now you will have to choose how you will create your first presentation. You can choose to start from scratch, or choose one of the hundreds of templates that Prezi has available. In this case, we choose to create " From template ".
Now a large number of templates with unique formats will be shown, you just have to choose the one you want, give your presentation a name and press " Continue ".
Finally you will have access to the Prezi presentation editor, here you can start modifying the template and add the content you want to give life to your presentation.
Press " Insert " if you want to add any type of text, image, icon or other external element to the presentation.
If you want to change any style parameter in the design of your presentation, press " Style ".
As for the dynamics of the presentations, use the left bar to go to the "page" to which you want to add content. By clicking on any of them, it will be displayed and you can edit it at will.
Once the different pages that make up the presentation are finished, you can save your creation. To do this, go to the options bar located in the upper left corner of the screen and press " Save."
If you want to play your presentation, go to " Present " and choose the desired option. In this case " Start presentation ".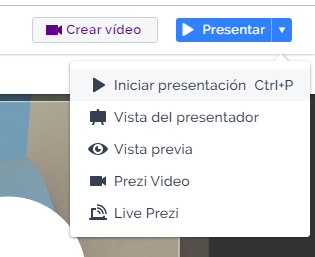 Advantages and disadvantages
Prezi is one of the best presentation design tools available today. However, there are some downsides that are worth knowing about. Below are the advantages and disadvantages of Prezi.
Advantage
By operating through a browser, it is not necessary to purchase any type of software.
It is possible to use this tool without having to fork out money.
It offers an alternative to using paid software such as Microsoft Office.
Mechanical transition mode zoom in or zoom, is extremely interesting and far more attractive than other more traditional options.
Prezi has numerous templates that allow you to get professional finishes on your created presentations in no time.
It offers payment plans that are adapted to special needs, making a difference with respect to other tools of this type.
In its Premium plans, it is possible to save presentations so that only some people can access them.
Prezi's paid plans allow you to use your presentation maker without the need for internet access.
Using Prezi is extremely simple and intuitive, so almost anyone is capable of creating content.
Disadvantages
Despite its many benefits, the basic version of Prezi limits users in such a way that they cannot exploit all its functions.
If you do not opt ​​for any of the payment methods, internet access is mandatory to use this tool.
Prezi Premium plans come at prices that can be prohibitively expensive for many people.
Despite having a fairly complete editor, it does not have some functions that are in other tools such as Power Point.
People without experience in using online tools may have some difficulties adjusting to using Prezi.
It is essential that the computer has Adobe Reader, since if it does not have it, the tool will not work.
Alternatives
As well as Prezi, there are other tools for online use that offer the possibility of creating high-quality presentations in a short time. Below are some of the more interesting alternatives to Prezi:
Google slides
How could it be otherwise, Google Slides is also one of the great options to consider when you want a comfortable platform that allows you to create presentations in a short time. Among the extra advantages that Google Slides offers is the possibility of storing all the creations and templates in the Google Drive cloud itself through an account, or sharing the presentations created with other users who also use Google. Google Slides is a free tool that is part of the Google office suite. To use it, you can access itsofficial page.
Emaze
Emaze is a tool that, like Prezi, is available through the internet and can be used through a browser. In addition to being free, it has the feature of allowing the use of images and videos previously uploaded to the web, which allows creating highly attractive dynamic presentations capable of making a difference.
Powtoon
It is an online platform that allows you to create presentations of all kinds. It stands out for being focused on all audiences; from students and teachers, to advertisers and young entrepreneurs. Its creation interface is very interesting, allowing you to use templates or create designs from scratch. All this, taking advantage of its different customization options and numerous tools. Get to know Powtoon through itsofficial website.
Slidebean
Without a doubt, Slidebean is one of the most popular presentation creation platforms on the internet. This allows users who register in theirwebsite, the great advantage of creating highly attractive slides adaptable to all kinds of themes. Despite having Premium plans, it also offers a trial version that can easily be used to create quality content.
Haiku Deck
Haiku Deck is an application for iOS mobile device users that allows the creation of presentations in a short time, free of charge, easily and through a comfortable interface that can be operated from iPhone or iPad devices. The level of customization that this application allows is very complete, making it possible to add images from the gallery of the device itself and make them part of the presentation. Like Prezi, Haiku Deck also offers default templates that help you get a quality finish without the need for a computer. Know Haiku Deck fromthis link.