Applications
Play and chat at the same time with these alternatives to discord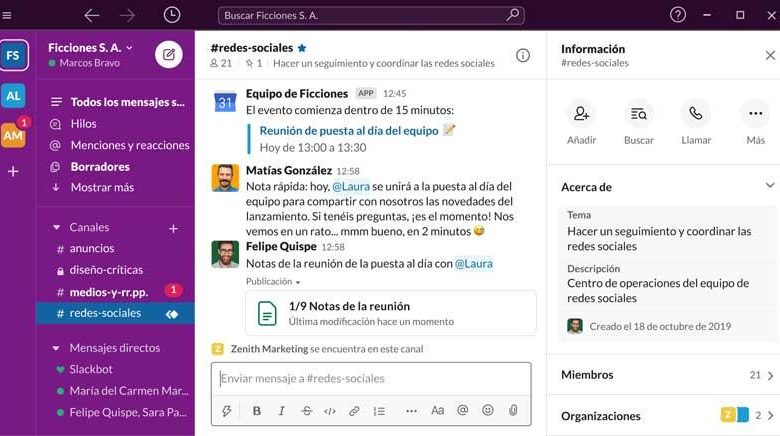 Any user who likes to enjoy their favorite video games by playing online games will surely be interested in having a platform from which to chat by voice, both with friends and strangers during those long hours of games. Among the various options that we find on the Internet, Discord may be one of the most popular, but there are also a number of other alternatives that may be interesting to try.
Talking with friends during online games has become almost essential for every good gamer who uses his leisure time to play games on the net. Whether it is to talk about any topic or to plan group tactics before the game, the truth is that platforms such as Discord and others help us to stay connected for free.
Discord, chat and communicate with your friends while you play
Discord is considered a social platform, a meeting point for players to chat via VoIP during their online games. The software is in charge of connecting the different users through their own private servers, from where we can send messages both by text and by voice. For this we can make use of videoconferencing, using both the microphone and the speakers connected to the computer.
Despite being a platform intended for gamers, it can be used by all types of users to talk about any topic, being possible to enjoy it to perform karaoke, conduct business, hold meetings or even draw in a group since the application allows us to share the our computer screen. Its operation is very similar to other popular VoIP platforms such as Skype, with the aim of becoming the meeting point with our friends.
However, if Discord has always been characterized by something, it is that it has been designed so that we can talk while we play thanks to its low latency. The application allows us to create servers and within them create different channels where we can carry out any activity. We can create a server to play with friends, another to talk with family, etc. In addition, it is a multiplatform software, so it is accessible to all types of users, regardless of the operating system we use on our computer or mobile.
However, despite how interesting the application is, not everything is perfect in it. And the fact is that there are not a few users who show their complaints on the network reporting the connection problems that the platform often has. There are also problems with the disappearance of servers or users who were talking quietly with their friends and suddenly communication is lost, they cannot connect or show different error messages that make it impossible to obtain a completely satisfactory user experience.
Alternatives to Discord
If we are looking for an application with which we can chat and make VoIP calls while we play, we offer you the best alternatives to Discord that we can find on the Internet.
TeamSpeak, specially dedicated for gamers
It is a voice chat application that allows us to communicate with our friends through a channel. We can get clear and lag-free communication, with noise reduction implemented. It also has different possibilities to adjust the microphone settings for the best sound quality. All this places TeamSpeak as one of the great alternatives to Discord and one of the main softwares of choice in voice communications for Voice over IP.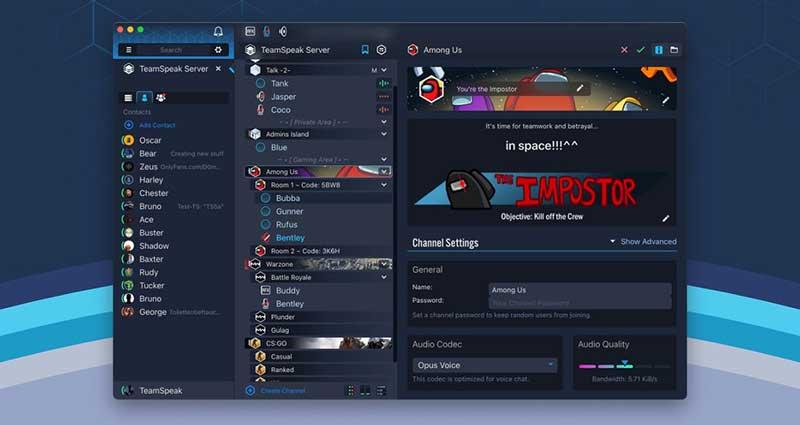 Security is another fundamental section since it has a military category integrated by default. It has encryption based on the AES standard for both the entire server and specific channels. If we are concerned about privacy, we must know that the application does not have access to the data of our voice or text conversations and registration is not required to be able to use it.
TeamSpeak is a multiplatform application, so it can be used on Windows, macOS and Linux computers for free. We can download it from their website .
Mumble, chat via client-server connection
It is a multiplatform, VoIP communication application specialized in multiconferencing and especially suitable for gamers, making it a great alternative to Discord. It is built through a client-server structure, thanks to which it will allow us to have a voice conversation with all the participants of the game. To carry out the communication it is necessary to connect to an application server, either public or create your own.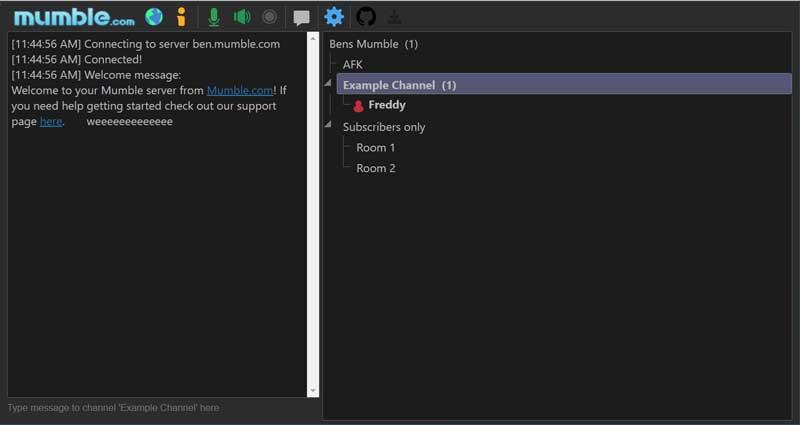 We do not have to worry about our privacy as Mumble includes encrypted communications. It also has high audio quality, low latency and the ability to know who is speaking at all times. Each of your channels has associated a set of groups and a list of access permissions for users. Its main drawback is that it is an application aimed at advanced users since both its interface and its configuration can be complicated for any beginner.
We can download Mumble for Windows, Linux and macOS for free from this link .
Ventrilo, chat with up to 8 people at the same time
It is a VoIP software that includes text chat and is known for its high sound quality and low CPU resource consumption so as not to interfere with the normal use of our computer or during online games. That is why it is positioned as a great alternative to Discord. Both the Ventrilo client and server are available as free software to use with up to 8 people on the same server. The leased servers can hold up to 400 people.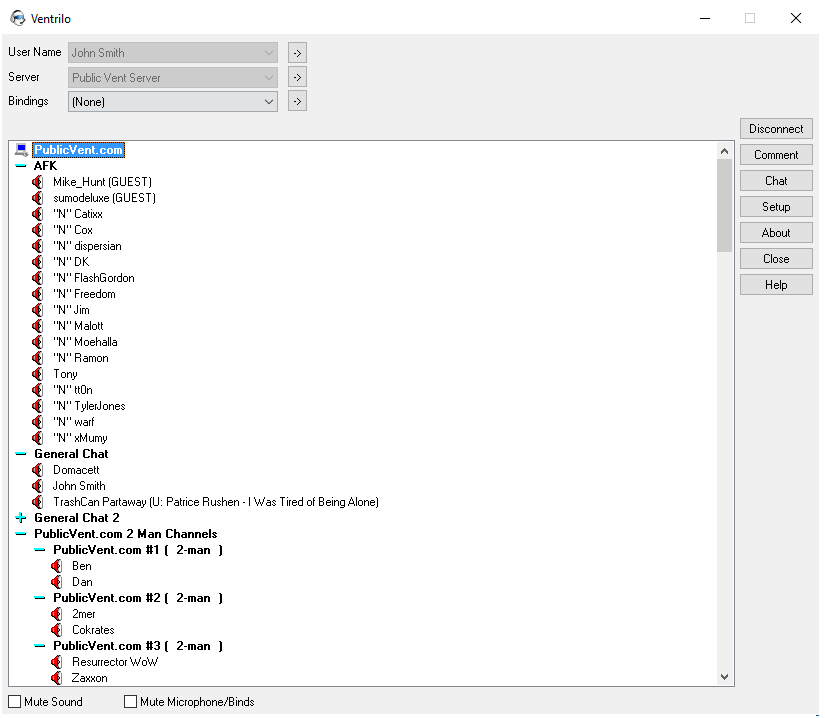 The program takes care of using client-server based connections so they are always encrypted. Furthermore, user data is never collected or stored. Similarly, all text chat communications and audio recordings are stored locally on the user's computer. In addition, it has another interesting feature through its Text to Speech function through Windows. Through it we can reproduce both the nicknames of other users and the text messages received.
Ventrilo is compatible with Windows and macOS computers and can be downloaded from its website.
Element, with safety as a primary element
Formerly known as Riot.im. It is an open source instant messaging client based on the Matrix protocol and distributed under the Apache2 license. We will be able to chat safely with our family and friends since it has end-to-end encryption protection, cross-signature device verification and decentralization to choose who we trust our data.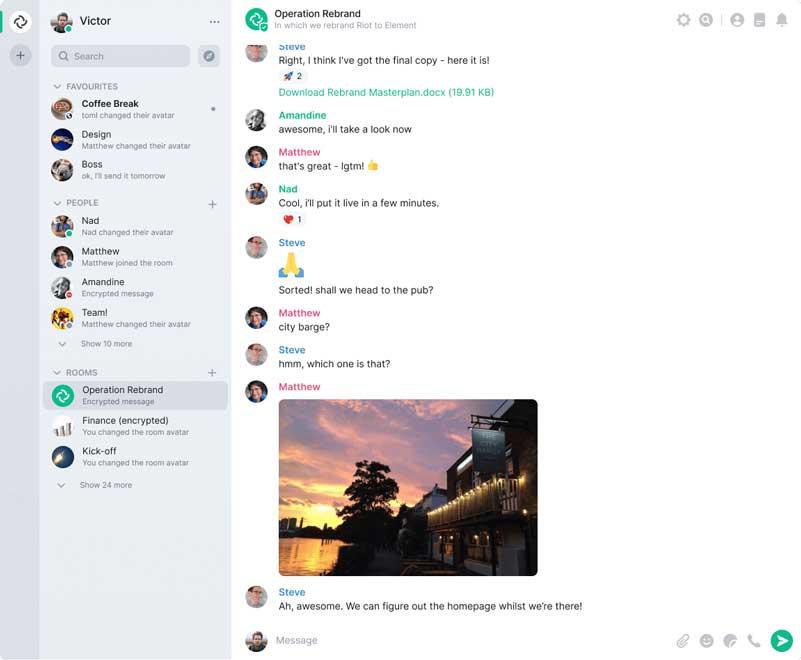 Without a doubt, an ideal tool to stay connected and speak within any video game community. Something that we can do without having to worry about the platform or device from which we run it. The application is compatible with Windows, macOS and Linux on computers, as well as mobile devices with Android and iOS.
Element has a free version that we can download from this link . Optionally, we can opt for some of their pricing plans, which start at $ 2 per month, and which allow us to obtain additional features and functionality.
Tox, for users who love privacy and security
We are facing an application with which to make voice and video calls, as well as write text messages through chat. It is not software specially designed for gamers but it can fulfill that mission. Above all, it is a program especially recommended for users who love privacy and security, as it offers end-to-end encryption. Its objective is to provide secure and easy communications, but without anyone having access to our conversations.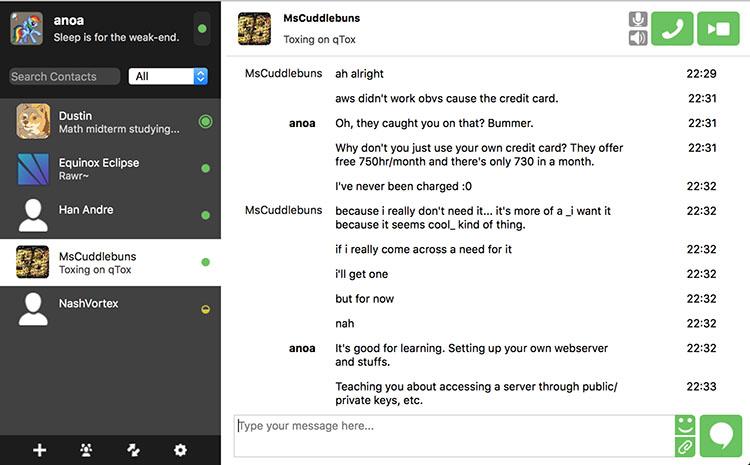 Tox does not have central servers that can be attacked, turned off or forced to deliver data, since the network is made up of the users themselves. We can share our desktop screen with friends and exchange files without limits or limits. If we want to be in contact with our teammates, we can chat, call and share videos and files with our friends through their group chats. On the contrary, it is an application that has a somewhat obsolete and unattractive interface, which will be the price to pay for using it for free.
We can download Tox from the developer page. The application is multi-device so we can use it both on Windows, macOS and Linux computers, as well as on mobile devices with Android and iOS.
Twitch, Amazon's platform for video game lovers
It is a platform owned by Amazon that will allow us to carry out live broadcasts. Its main mission is live video game broadcasting. It is, without a doubt, a great alternative to Discord to make VoIP calls, being able to make voice calls up to a maximum of 5 people in HD quality. We will be able to make calls both with friends and with other Twitch subscribers or our fellow gamers.
Twitch can be used for free, although it also has payment options to obtain greater benefits within the platform. We can download it from this link.
Skype, the most popular video calling app
This is one of the most popular applications for making video calls, but it can also be used as a great alternative to Discord. Being integrated into Windows allows us to connect and communicate easily with other users. It allows you to make video calls with up to 25 people, making it ideal for massive meetings and strategic planning for our games. Its features also include the ability to share screen and text and video chat.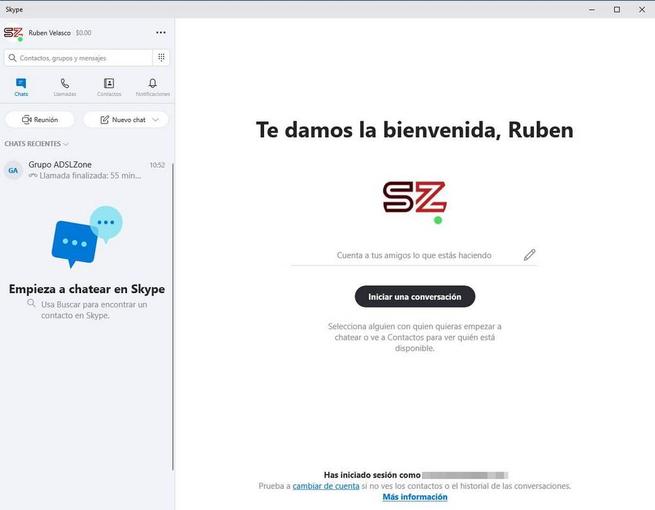 Its main disadvantage is that it only works with system resources. Therefore, it makes a large consumption of data, which can cause obstacles in the games and transfer in our needs when playing at the same time. In its favor, say that it offers a great quality of both HD video and sound during video calls, and these are highly secure.
Using Skype is free and we can download it from its official website . With the free version we can make video calls with up to 10 people at the same time.
Hangout, Google's tool for chatting
It is an application created by Google to chat and make group calls. It is a very versatile program, and this makes it an alternative to Discord, although we can also use it to make work or family calls. With this application we can establish conversations with one or more contacts at the same time with groups of up to 10 people. It stands out for the synchronization of calls since it allows us to start a conversation on the computer and be able to end on a mobile or tablet.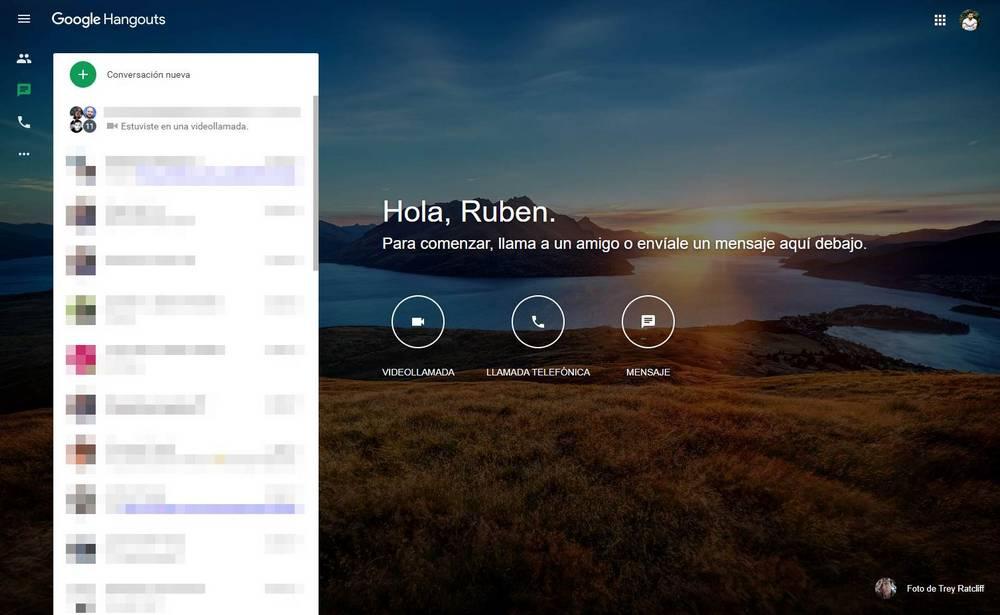 Its versatility will allow us to use its voice chat to play online with our friends. But also to broadcast our games live and share the reactions with our friends. An interesting feature is that every time one of the participants starts speaking the Hangouts window changes to the user who is speaking.
The web version of Hangout allows us to use the application for free without installing plugins. To make a video call with Hangouts by accessing their website, and accessing each participant with their Gmail account.
Slack, the alternative to Discord for non-gamers
Without a doubt, Slack has become a clearer alternative to Discord for those who do not want to use the application to play. We can use this application together with another set of tools from other developers since it is compatible with GitHub or MailChimp, among others. But if this application stands out for something, it is for its wonderful interface that makes it stand out from other applications on the market. It allows the creation of rooms where we can create different channels to have everything well organized.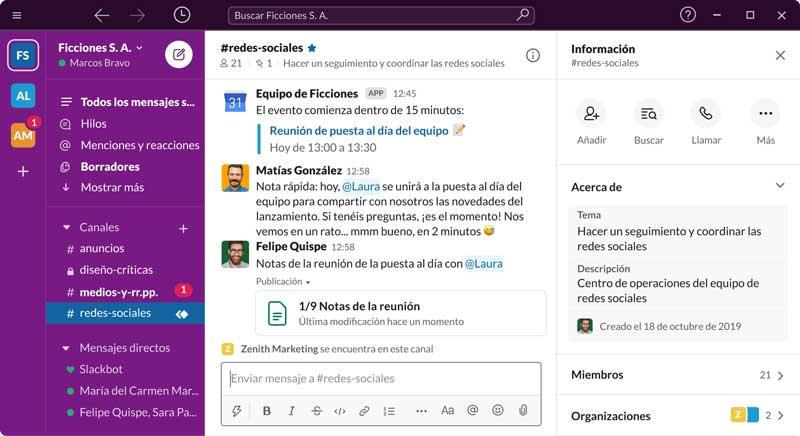 It is mainly intended to offer text chat, because although it has an option to make calls and video calls to talk with several people through the same call, it is a rather limited function with respect to Discord. The application can be accessed for free from this link.