Applications
Origami fan? Create and simulate figures with yourse programs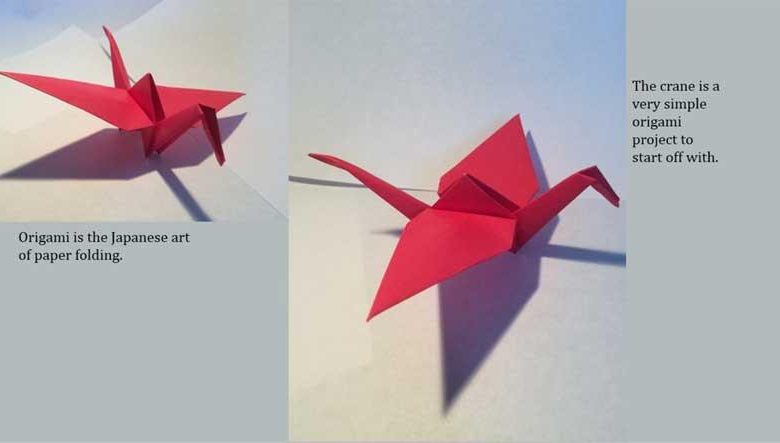 The same as in Spain it is very common to carry out origami work, the same happens in Japan with the so-called art of origami, which has crossed borders. Making certain figures without error can be quite a complicated task, so to help ourselves we can use an origami simulator or use programs that provide us with all the steps to complete our figures.
It is enough to be able to open an origami file for these software to be able to allow us to simulate the folding pattern, allowing us to see step by step until we check its complete folding. It is also possible to rotate them freely to see how that model has developed. This makes them an elemental help for lovers of this Japanese art.
Origami, origami from Japanese art
Origami is an art of Japanese origin that comes from the words "ori" which means "folded" and "kami" which means "paper". This is something similar to what in Spain we know as origami. For its use, you do not need any type of scissors or glue, as you will only need a sheet of paper on which we will make the folds until obtaining a decorative figure, being able to achieve almost infinite shapes.
The art of origami allows us to develop creativity and imagination, being able to achieve spectacular figures with a little dedication to decorate or adorn any space that occurs to us.
Types of Origami
At present it is considered that there are up to five differentiated origami styles:
Action : characterized by partial movement, the ability to fly, the ability to inflate them or pull them from some extreme until it is fully developed.
Modular: allows the union of many different pieces of paper with which to create a complete model.
Wet : it is the technique used to achieve delicate curvatures instead of using folds.
Pureland : limits the amount of folds that we can get from the paper.
Tessellation : it is responsible for braiding the paper and creating a pattern to cover the entire flat surface.
Advantages of using an Origami simulator
Once we go from manual mode to technology, it is possible to find the so-called origami simulators, which are software programs that are responsible for studying the folds of the figures. These are in charge of interactively folding any pattern of origami folds, thereby showing the operation of the folds of each of the figures.
Thanks to origami simulators, it is possible to avoid making mistakes when we make the folds, a fundamental step if we want to master this art. In this way we can follow the procedure of any origami piece step by step without fear of making mistakes.
Free Origami Simulators for Windows
If origami is one of our passions, we have surely seen how difficult certain figures can be. So that we can review the folds of any figure simultaneously we can make use of some of these origami simulators that we can use for free.
Origami Editor 3D, perform simulations with more than 30 figures
This is a free and open source program to simulate origami for Windows. With it it is possible to create and edit origami files, as well as perform simulations. It has a large number of preloaded origami files, as it has more than 30 figures that we can simulate. Through its main window we can see a 3D view of the figure, while in another we can see the fold pattern of the origami, being possible to drag and drop it to see closely how it is formed.
This application makes it easy for us to know at all times how we should fold an origami file step by step. Later we can export the rendering as if it were a PDF file or as an animated GIF file.
We can download Origami Editor 3D for free from this link.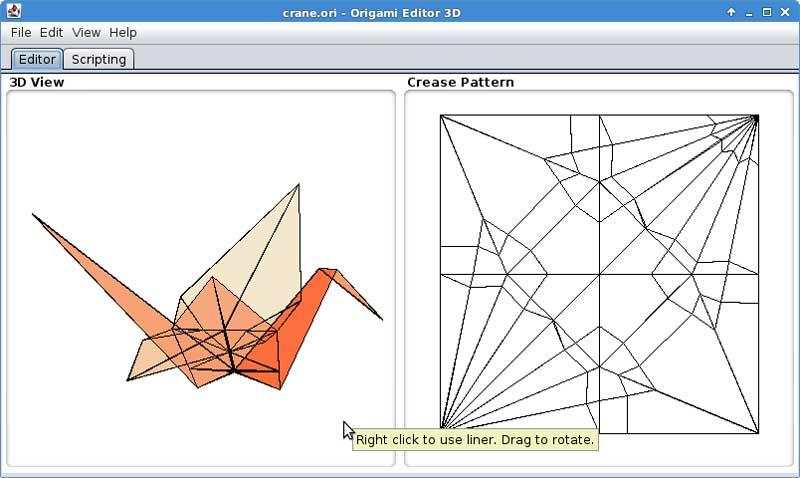 Freeform Origami, visualize objects in 3D
Another software that we can use for free to simulate origami. It has a total of 14 preloaded origami files and supports both DXF and OBJ formats. On this occasion, this program does not allow the creation or editing of origami files, but rather directly focuses on simulation tasks. Once we load the 3D origami we can see the fold pattern next to the 3D render.
From this application it will be possible to fold and unfold, as well as rotate and view 3D model freely just by dragging it with the right mouse button. It has the capacity of development (folding from a sheet), flat folding, flatness of the facets (the paper does not fold in 3D form) and coordinate coincidence.
We can test Freefrom Origami for free by downloading it from its website .
Origami Simulator, rotate and move objects from all angles in 3D
We are now before an online application. A brilliant project created by Amanda Ghasssaei that allows us to enjoy flexibility and comfort in viewing these types of 3D figures . From the "Examples" tab at the top of the menu we can choose any figure that we will see represented on a flat sheet of paper. With the slider bar we can make the fold from 0% to 100%.
It is also possible to rotate and move the figure to see it better from different planes and check the folds that we must make with a better perspective. In addition, it is possible to change the colors or study its main pattern. Finally, the application allows us to import and export figures in various formats, and even create an animated GIF.
We can start using Origami Simulator by accessing its website from this link.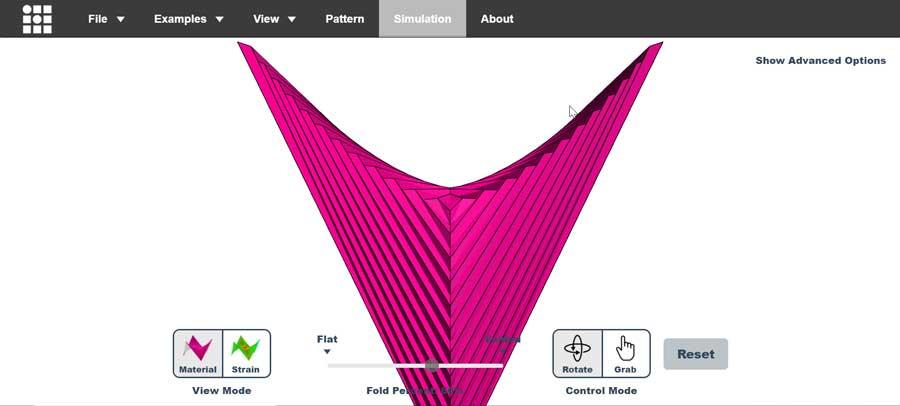 Programs and websites to create free Origami
If in addition to simulating origami we dare to start making one, there are also programs that will help us create our own figures and we can use them for free.
Just Origami, creation of figures for all types of users
This free program can help us to create our own figures following the Japanese art of origami. It is intended for all types of users, whether they are beginners or with extensive experience. For this, it has three types of categories that will be in charge of adjusting to our needs such as easy, normal and advanced.
Once we have chosen our level of knowledge we must choose the figure that we most want, from which we will begin to view a tutorial that will guide us through all the steps so that we can create it. Moving the mouse over a bar we can see the whole process step by step. Its biggest drawback is that it is in English, so we may still have a problem with the explanations, so in that case, we can be guided by the drawings.
We can download Just Origami for free and safely from the Microsoft Store.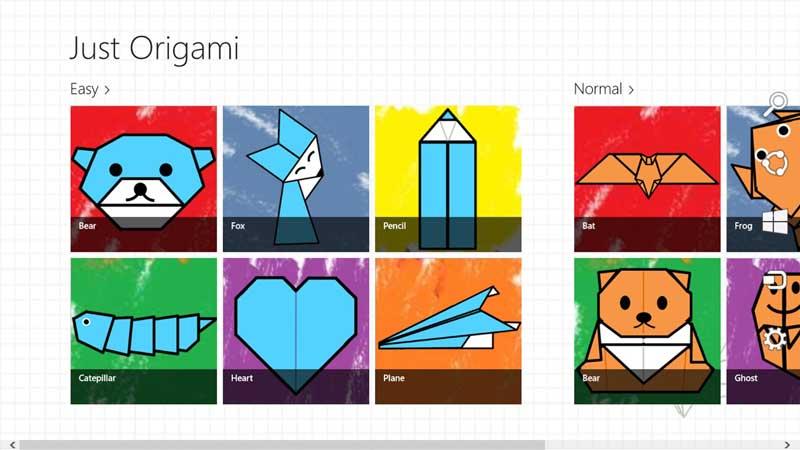 How to make Origami, with tutorial completely in Spanish
Another interesting application that will help us make our own origami figures, which has a great advantage. And it is completely in Spanish, with which we can continue without missing all the steps that accompany the images, so that we can not have excuses when carrying them out. This tutorial can be shown in different ways.
It will only be necessary to select the type of object that we want to make, such as a cat, a swan, a dog, a frog, a seal, etc. Right next to each item, its level of difficulty will appear in parentheses so that we can choose the one that best suits our experience. In addition, it has a useful advice section . Along with the explanations we will also have images to follow the steps.
"How to make Origami" is a completely free application that we can download easily and safely from the Microsoft Store.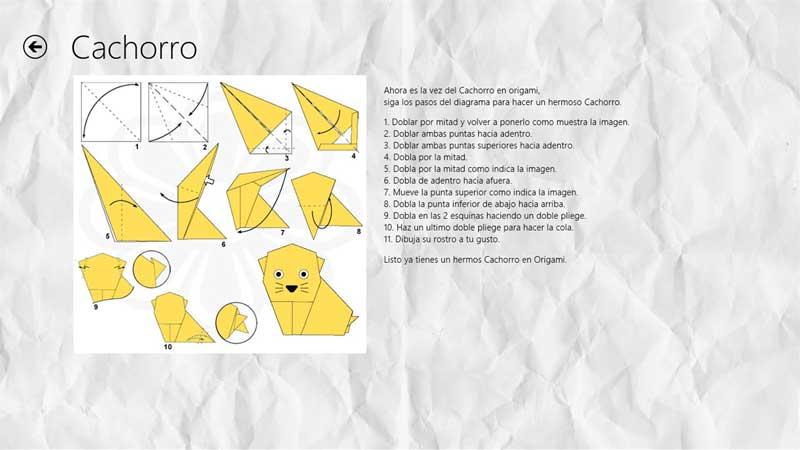 Origami Club, includes more than 650 models
Another application that will help us to make our figures is Origami Club. It stands out for incorporating more than 650 origami models, distributed in 25 categories . We can find models of animals, fruits and vegetables, sweets, flowers, accessories, Christmas, among many others.
The application is suitable for all types of users, as each figure establishes its level of difficulty from one to five stars. It has all kinds of drawings so that we can fix ourselves until we finish the figure. It also has step-by-step explanations, but they are in English, being its main negative point.
If we want to download Origami Club we can do it from the Microsoft Store.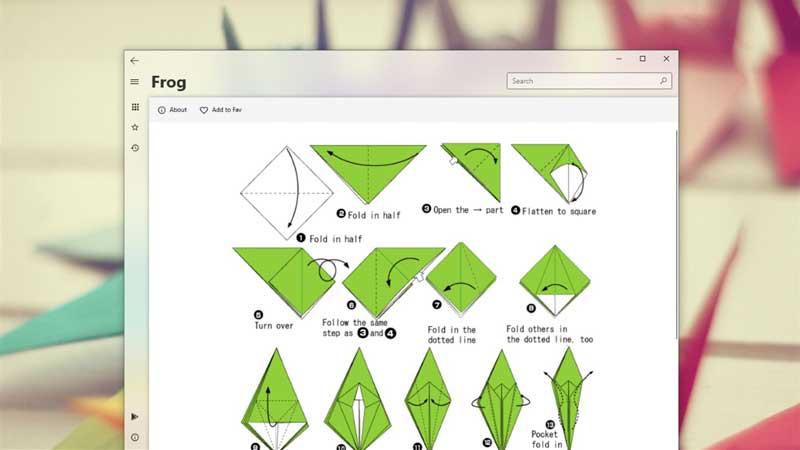 Origami Crane, simple application to create cranes
Finally, we find the simplest application of all. This will help us to create a figure of a crane through the origami method. It will show us all the steps through images and explanatory texts that are only in English. It is aimed at both children and adults and can be downloaded for free from the Microsoft Store.