Applications
Organie your appointments and tasks with these alternatives to google calendar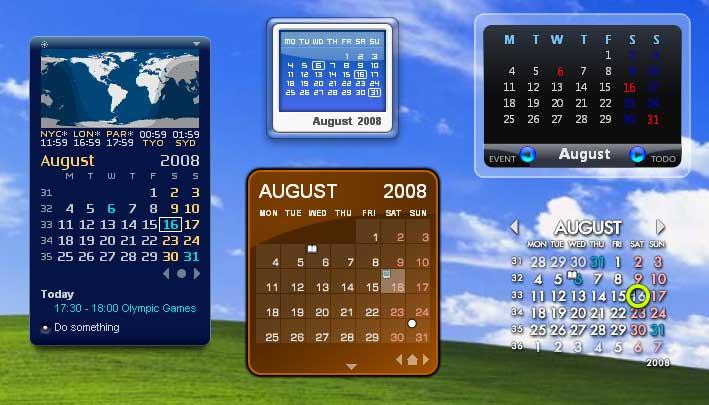 In order to keep our daily life and time organized, we surely consider the opportunity to use a calendar on our computer. But choosing the right calendar for us is not an easy task, since it must be a tool as effective as it is simple to organize our holidays, appointments and meetings, depending on our activity and lifestyle. For this, Google Calendar is possibly the most popular application but not the only one, so we will see some alternatives that we can choose.
Although Google Calendar is one of the best options to manage our time, not everyone feels comfortable with this calendar, so we can always choose a suitable alternative that meets our needs, and this is something that we are going to show below.
Google Calendar: What can we do with it?
Google Calendar is a very popular calendar assistant around the world, through which we can record our upcoming events and daily appointments. It's simple, cross-platform, and incorporates a host of useful features and integrations . With this application we can schedule our meetings and events quickly, as well as receive notifications so that we are always aware of what is going to happen.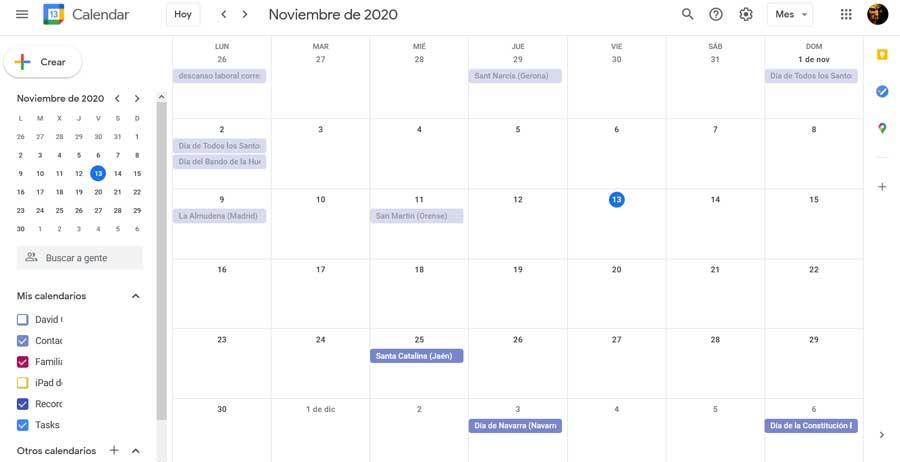 With this free tool we can easily add events and invitations, share them with our friends and family, if necessary, and search for events that might interest us, so that it can help us keep our entire organization simplified. It has the great advantage that we can synchronize it with Gmail, and if we have a website we can index our calendar so that everyone can see it.
However, we may not like this application or we just want to know other options available to compare. Therefore, today we are going to see the best alternatives to Google Calendar with which to manage our time.
Calendar websites as an alternative to Google Calendar
Next, we are going to see some of the best web alternatives that we can find to the Google calendar and that may also deserve a chance.
Outlook Calendar, Microsoft's alternative to Google Calendar
We are facing Microsoft's alternative to the popular Google calendar, being integrated directly into the email manager. With this calendar we can create appointments and events, organize meetings, view group schedules, share schedules, configure email reminders, so it shares many similarities with the Google tool.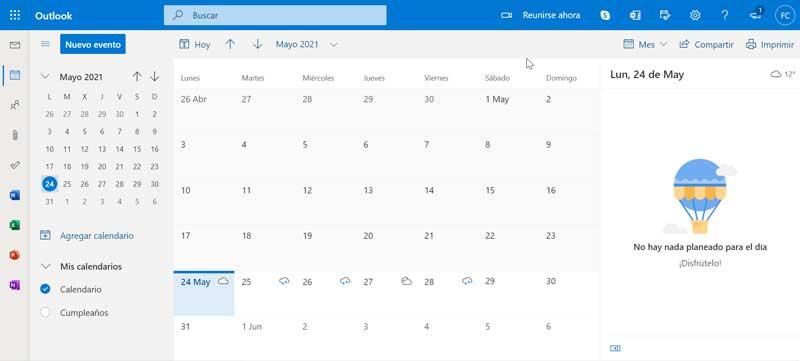 This calendar has many integrations so it can be used by other services, especially through Outlook mail, with which to create meetings automatically. With it we can create several calendars in parallel and shared by other users. In this way, we can create an independent calendar for our personal life and another calendar for work in parallel.
We can access Outlook Calendar for free from this link .
Zoho Calendar, allows importing Google and Microsoft events
It is an external calendar application that includes different functions for scheduling meetings and coordinating groups. With it we can schedule, manage and keep track of all our appointments, meetings, birthdays and other important dates. It will also help us to collaborate, share and publish our daily activities.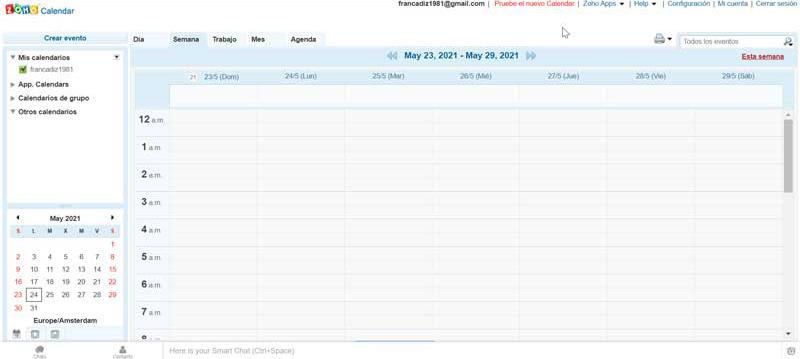 Thanks to its import capability, it makes it easy to send events to other calendars like Google and Microsoft, making it easy to transition from one to the other. With it we can program all kinds of reminders for each of our events. It is possible to obtain them from our mail, or as a pop-up message, as well as receive them up to 90 days before or after the start of the event.
To be able to use Zoho Calendar, simply register for free here.
Nextcloud Calendar, with a clean design and comfortable to use
This is a calendar that stands out for its pleasant and clean design, so it will be very comfortable to use. With it we can synchronize, share, invite and schedule events. It is free and open source software so we will not have to pay anything to use it.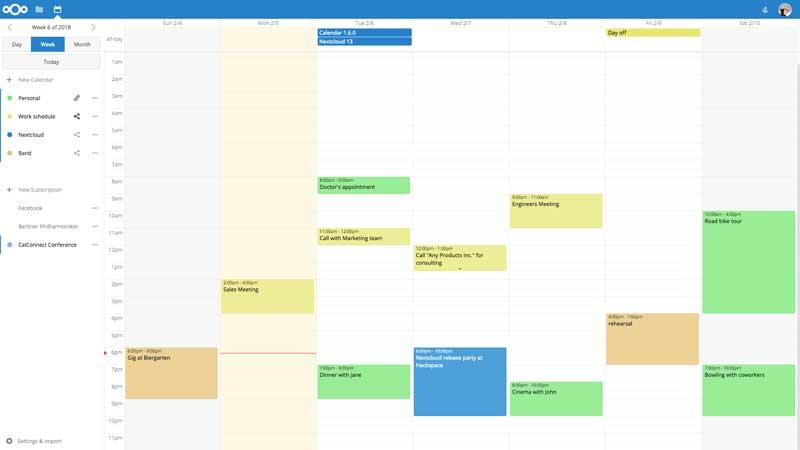 We do have to take into account that to know all its functions it will be necessary to use it thoroughly, and in this way know all its limits. This transition period will be especially intense if we are used to Google Calendar.
If we want to test Nextcloud Calendar we can access it from this link .
Teamup, calendar optimized for small groups
This calendar has both a free and a paid version. The free option works well for small groups, since it will allow us to create and manage our calendar without the need for us to be registered. We can use it as a personal and professional calendar, where it stands out for its programming, administration and event coordination functions.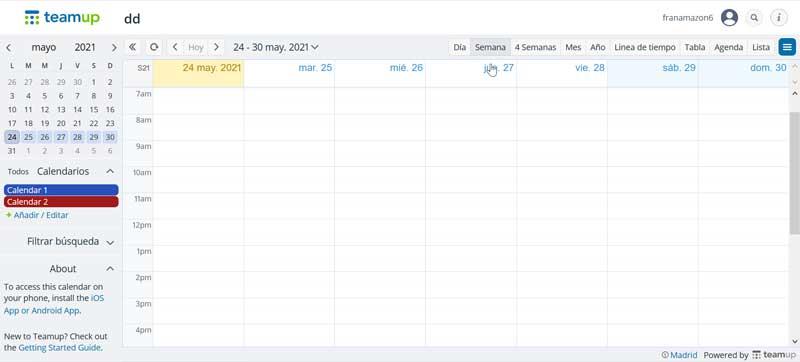 This calendar will allow us to keep all the details of our events from one place, with images, files, links, notes and comments. It has key features such as color-coded events, instant synchronization with other users, and 9 levels of access permissions. In addition, it has an application for mobile devices with Android and iOS.
We can access Teamup for free from its website .
Calendar programs as an alternative to Google Calendar
If we prefer, we can also choose to download and install some of these calendars for Windows, which can serve as an alternative to Google Calendar
VueMinder Lite, complete calendar for Windows
We are facing a calendar application for Windows, with which we can keep all our appointments, daily tasks, meetings and deadlines organized, to avoid forgetting anything. Of course, it has the option to receive reminders and can be easily shared with other users. In addition, it will allow us to divide large tasks and organize them into different subtasks.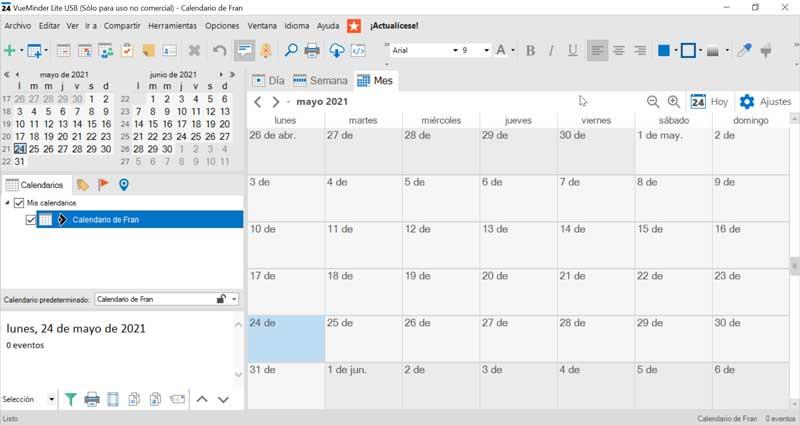 This program will help us to create quick notes and fix it to the important dates of our calendar, and we can even make a daily schedule directly from the Windows desktop. You have the ability to attach files to events, tasks, notes, and contacts. It is compatible with colored labels to be able to organize everything without losing anything.
VueMinder Lite is a free calendar application for non-commercial use that we can download from its website .
Lightning Calendar, created by Mozilla for Thunderbird
It is a calendar developed by Mozilla that integrates seamlessly with Thunderbid or Seamonkey, allowing us to easily organize and keep track of our important events and agendas. This calendar has functions such as the ability to create a to-do list, manage multiple calendars, invite friends by email, and subscribe to public calendars.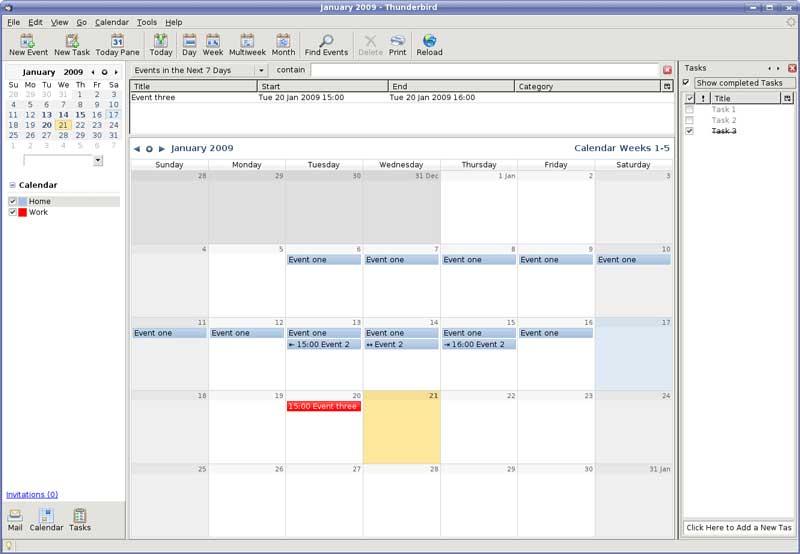 The main advantage that we find is that it is a complement for the Thunderbird mail gesture that consumes very few resources. In addition, it incorporates a differential feature such as the possibility of working without an Internet connection.
We can download Lightning Calendar for free from here.
Rainlendar Lite, stands out for its complete set of skins
We are facing a useful calendar with which we can keep track of all our tasks and events from the Windows desktop. We can create several different calendars at the same time, integrating an alarm system and a list of tasks to be carried out. Allows you to set an alarm to remember deadlines that we can postpone if we need to receive the notification later. It stands out for its transparent interface that floats on the desktop and from where we can see its different elements.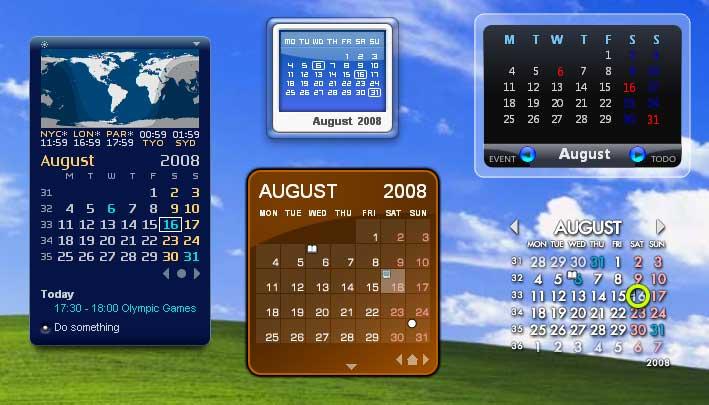 This calendar can be customized with different skins that will allow us to keep our tasks and events better organized. We can download them from your website, mark events and define alarms. It will also allow us to share events between other applications.
Rainlendar Lite is compatible with Windows, Linux and macOS and we can download it from this link .