Applications
Open text files, even multi-gigabytes, with these programs

A text file, whether flat or formatted, should normally not hide much. A plain text file, for example, will occupy 8 bytes for each character that we have written, while formatted files (such as DOCX in Word) will occupy something more, but without going overboard. However, we may have ever come across a document that, due to its size, takes up a lot of space. We are talking about hundreds of megabytes, and even gigabytes. And, when trying to open it, conventional programs do not serve us.
The most used program to open plain text files is Notepad . This editor is the one who is in charge of opening the text files, in TXT format (and others without format) by default in Windows 10. And when what we try to open are formatted documents, then the one who opens them is Word itself, the processor Office texts, or, failing that, WordPad.
These programs can help us to get out of trouble. However, when we have to open a really large file we find that they cannot handle it.
Is it possible to open large files with Notepad or Notepad ++?
When opening large files such as server documents with Notepad or Notepad ++ we may find that they are not able to open it, as they have a limit when it comes to opening documents. In the case of Notepad it can only open files smaller than 512MB, while Notepad ++ maxes out at 2GB. Therefore, if we try to open a file that exceeds these amounts, an error message will appear saying that the file is too large for Notepad or Notepad ++. Also, the larger the file, the more memory it will need. Therefore, if this goes beyond what is allowed, the operating system itself denies it and the error appears.
Unfortunately, there is nothing we can do for these lightweight text editors to open large files, so we will have to look for other alternatives such as using our web browser or using other more powerful third-party applications that allow us to open very large files. .
Advantages of certain programs for opening large text files
And here we are not only talking about the text editors that we find in Microsoft's own Windows, since we commonly use other more advanced solutions. This is the case, for example, of those that we find that they are part of the best-known office suites in the sector, such as Office from Micosoft, or LibrOffice. These have their own special programs for texts such as Word or Writer. How could it be otherwise, they are more than capable of opening text documents. However, they can present certain when having to work with files that are somewhat peculiar like the ones that we want to focus on these lines.
We can find crashes of the application as such, or even of the equipment as a whole, with the discomfort that this represents in most cases. Hence, and to avoid this, the specific programs that we are going to talk about along these lines. And we must know that if necessary, it may happen that, when trying to execute it, the program presents a serious error, and even that it enters a loop, begins to fill the RAM and we have to restart the PC.
For this reason, if we have the need to open very large text files, we must look for programs specially designed to be able to fulfill this task. And then we leave you the best ones.
Programs to open large files
For viewing large files it is possible to download third-party applications developed for this purpose, such as the ones we present below and that offer much greater performance than that offered by Notepad or Notepad ++.
010 Editor, professional editor to open files larger than RAM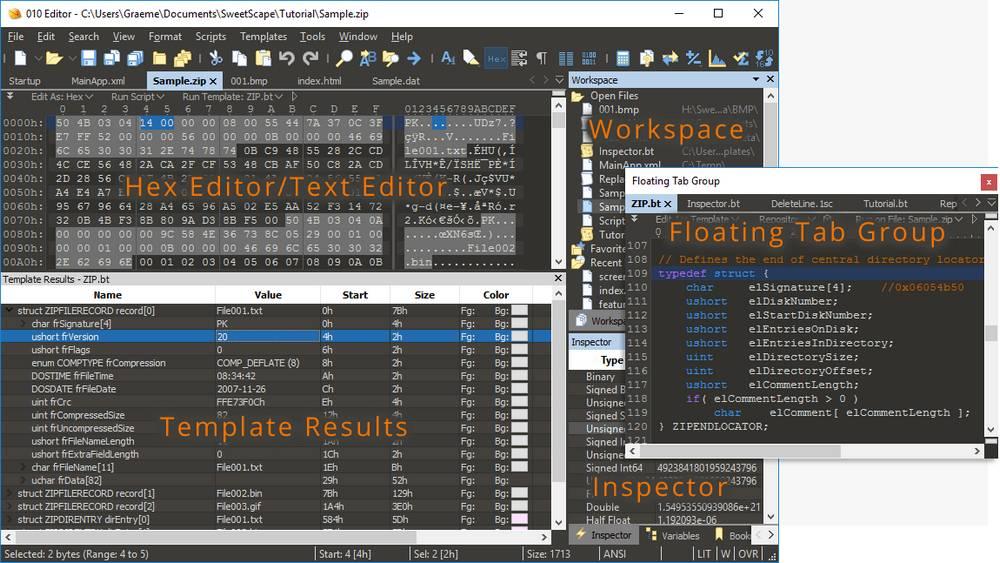 Normally we shouldn't be able to open a text file larger than RAM. This is because text editors often load files into memory for easy work and, if there is no space, they cannot open them. 010 Editor is different.
This professional text file opening program is designed to be able to open files larger than 50 GB without any problem. Even if we have very little RAM. This program can access the content of the file in real time while we use it to avoid wasting resources. It offers excellent performance, and is also compatible with all types of programming text files and has all kinds of functions that make it worthy of being a professional editor. In addition, it is available for Windows, Linux and macOS, so we can open large documents from any operating system.
As it is a program aimed at professionals, it is far from free. And it is that for a domestic or academic use it has a cost of 50 dollars. If we at least want to try it and see first-hand how efficient it is when handling large files, we can download it from its website.
Large Text File Viewer, open files up to 1GB instantly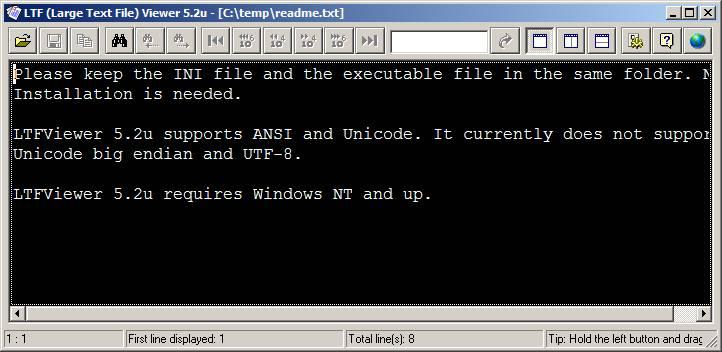 Large Text File Viewer has two main features. The first one is that it is a very light program, since it uses very little memory. And the second of them is to be able to open, practically instantly, files of 1 GB, and even more, in size. While we use the program, it is indexing the content of the file so, although at first it may seem somewhat slow, in a few moments we will be able to begin to move through the entire document with total fluidity, and even perform instant searches.
Its interface is not exactly the most pleasant or the most careful. But the program works perfectly. We can download it at no cost from your website .
Quick, feature-packed EditPad all-in-one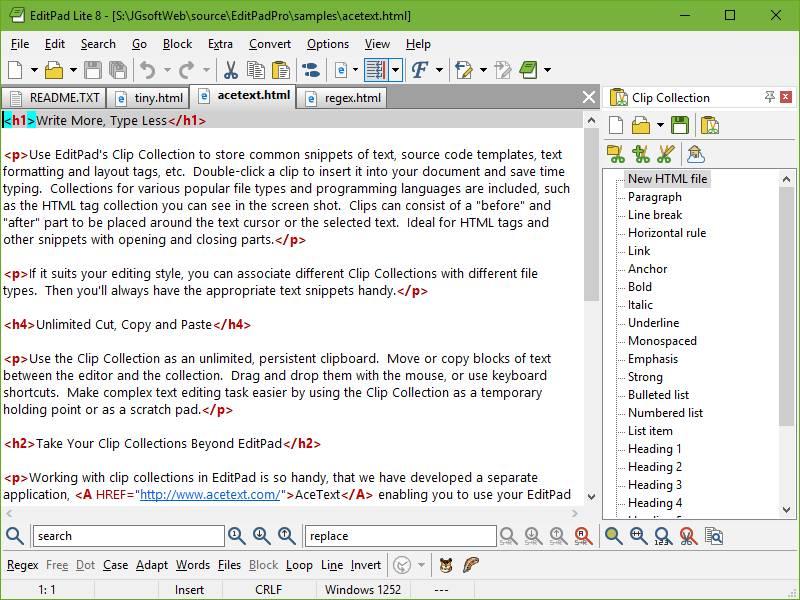 If we are looking for something relatively more modern, and not as professional as 010 Editor, then one of the programs that we can download and install on the computer is EditPad. This program is characterized by being a totally free text editor, and very simple to use. With it we will be able to open any text file without problem, regardless of its extension and the type of file it is.
This program has a tab-based interface from which we will be able to open several files at the same time. In addition, it has functions of a professional text editor that will allow us, for example, to perform complex searches and replace text quickly using regular expressions.
We can download this program for free (for personal use) from here .
EM Editor, a program to open large files in Windows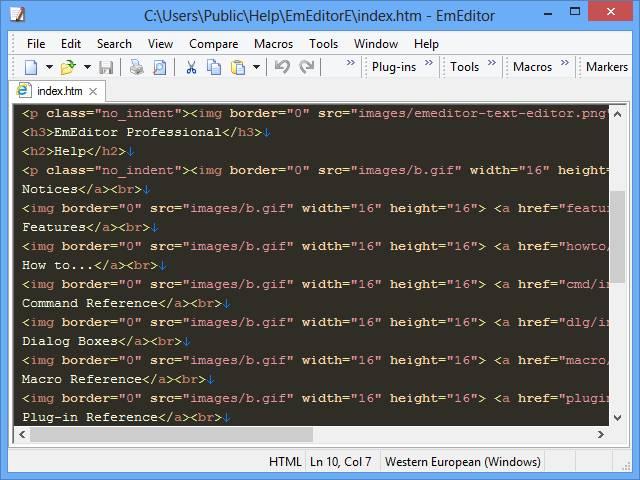 The EM editor is another of the programs that cannot be missing from our PC if we often work with large files. This program is characterized by being light, fast and, above all, easy to use. In addition to being able to open any type of file, no matter how large, it has advanced editing functions that allow us, for example, to control it by macros. Especially suitable for use in programming, it has functionalities such as text highlighting, integrated file explorer and support for languages ​​such as HTML, ASP, PHP, Javascript or VBScript, among others.
We can download this powerful text editor for free from your website . We can also opt for its paid version that has an annual cost of $ 39.99.
Glog: the best way to explore long log files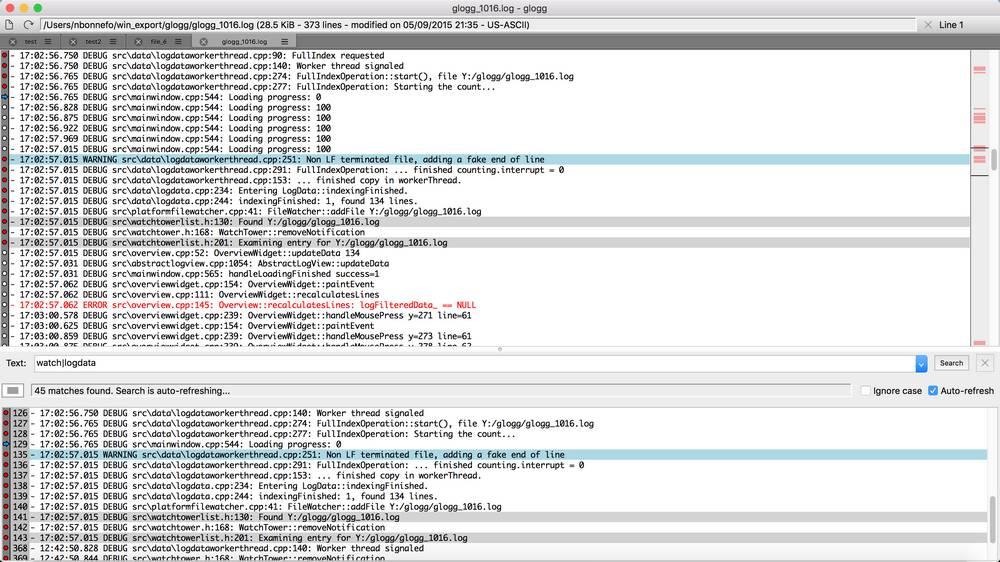 Although this program was originally designed to make log files easier to read, today it has become an excellent program capable of opening large plain text files. In addition to being able to open these files, Glog allows us to move through them quickly, easily and even has the ability to search, and reads the file directly from disk, without loading it into memory.
Glogg is a free program that we can download by accessing this link . We can use them in different operating systems such as Windows, macOS and Linux since each one has its own version.
Universal Viewer, an editor to open all types of files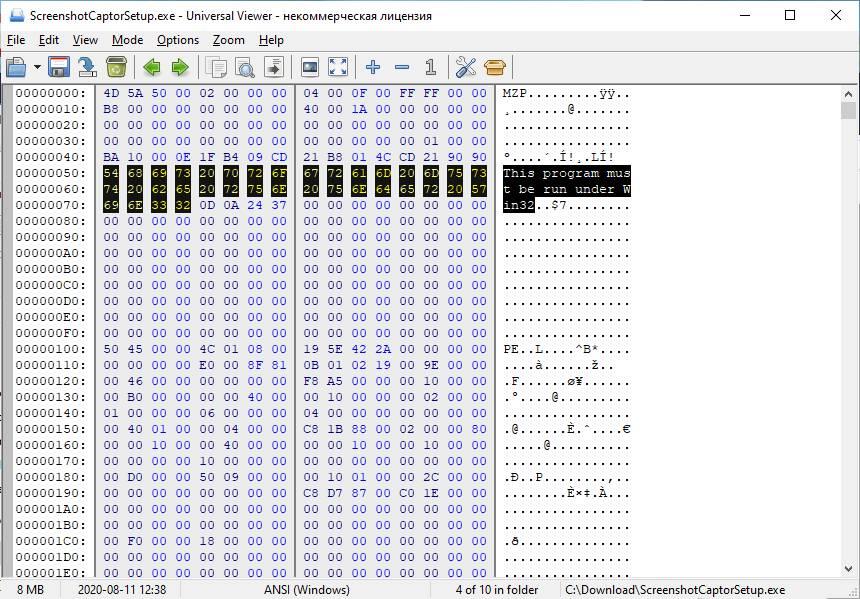 Universal Viewer is not only a text editor to open large files, but it will allow us to open practically any type of file regardless of its format, such as images, spreadsheets, PDF, RTF, etc. This program can open files larger than 4 GB very quickly so that we can not only have at hand a program with which to open those large documents, but literally any type of common file. This software is integrated into the contextual menu of Windows Explorer, so to run it it will only be necessary to click the right button.
Universal Viewer has a free version that we can download from here . It also has a Pro version, a paid version that is priced at $ 26 for home users and has a free 15-day trial version to check if it meets our needs.
Other alternatives for opening large documents
Other alternatives that we can use to open large documents are our web browser and through extensions that will also offer us compatibility with other types of documents beyond TXT.
Open TXT files with a web browser
In the event that we need to open a very large text file, but we are in the process of installing any additional software, we can use our web browser to do so. For example, browsers as popular as Chrome or Firefox will allow us to open and read TXT documents, to easily handle them. As they are very heavy files, we may have to wait a long time until they are loaded, but in the end it will work and we can use it. To do this, it will only be necessary to drag and drop the TXT file into the browser for it to open.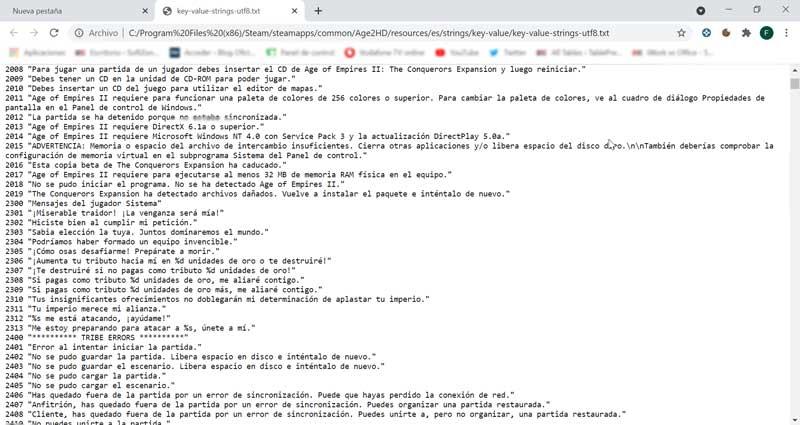 Use extensions to open all kinds of files
If in addition to opening TXT files with the browser we want to open other very heavy file formats, we can install extensions in our browser that will allow us this possibility.
Docs Online Viewer
This extension is integrated into our browser and will allow us to open any office file. It supports DOC, DOCX, ODP, ODS, PPS, WPD, XLS, XLSX, RTF, PPT, PPTX, ODT, PAGES formats, as well as TIF, TIFF, AI, PS, PSD, PDF image files, etc. This extension reduces the need for additional software, which results in less resource consumption and reduces the risk of downloading malicious documents. This extension is compatible with Chrome, Opera and Firefox browsers.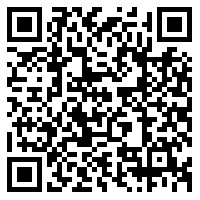 Docs Viewer
This extension for Chrome will allow us to view all types of PDF and Microsoft Office documents in our browser, regardless of their size. This extension is quite light and compatible with a wide range of documents that we can view online directly in the browser. It supports formats like DOC, DOCX, PPT and PDF. It will also allow us to print it or send it to a printer right away.