Applications
Never lose your caliber library when updating with this trick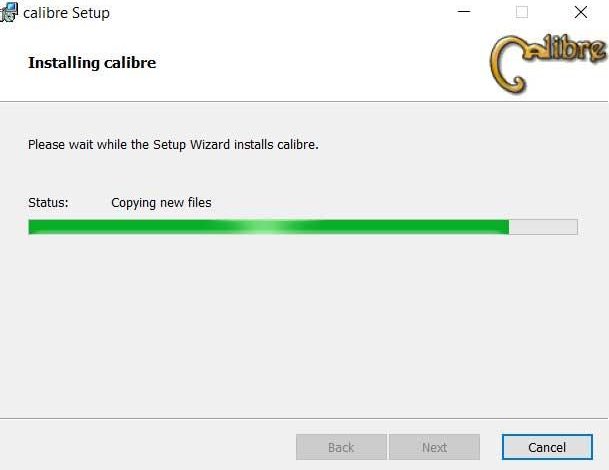 The e – books also known as ebooks, are slowly forming dela life of many users. However, it is also true that these have been with us for a long time and have not had all the market penetration expected at first. But its growth is inevitable for many reasons, despite the allure of paper books.
This is why many software development companies have their own projects to deal with these specific files. Here we can find e-books in a wide variety of formats and file types, where perhaps the ePub stands out . But there are many more that users can choose. Thus, at this time we can find programs and platforms that are responsible for allowing us to read, convert, edit or manage this content.
As we tell you, there are many projects of this type in operation, more if we take into account the growth in use of electronic books. But if there is one that stands out on this for years, that is the Caliber software . It is more than likely that many of you already know it, since it is one of the essential when dealing with the ebooks to which we refer.
What does Caliber offer compared to other programs
For those of you who are wondering about the success and acceptance of this specific program, we will first tell you that it is a complete solution that does not stop growing. And it is that from its user interface, the program presents us with everything that in the beginning we are going to need in this regard. In fact, it is more than possible that many of the regular users of electronic books have already tried this program on occasion. So you will have been able to see first-hand everything he proposes.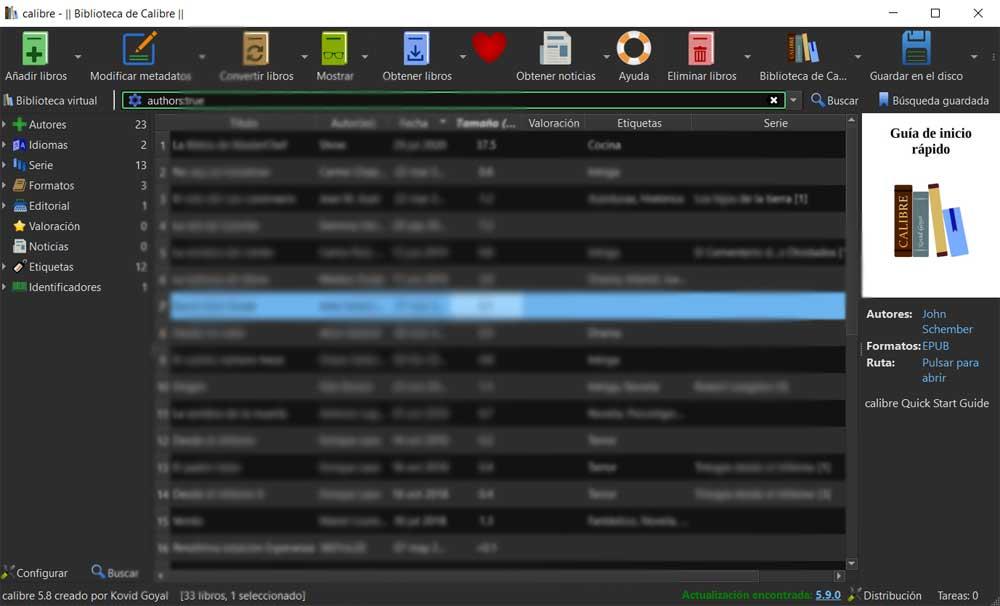 And it is that in addition to the basic tasks for dealing with electronic books, this application focuses on allowing us to create and manage our own content library of this type. We must also bear in mind that Caliber is a powerful application that works locally on the PC, so we manage everything without sharing anything on remote computers.
As is easy to suppose, for all of this that we are discussing, the program puts at our disposal a large number of internal functions and features. These allow us to carry out all kinds of work with our collection of ebooks and manage them in the best possible way. Among the most notable functions here, we have the possibility to manage the content of various libraries, edit and read digital books, convert them, acquire new ones, and much more.
One of Caliber's secrets, its updates
There is no doubt that the updates of the programs that we use daily on our computers, as we have said so many times, are basic elements. Thanks to these, its developers offer us the latest functions, correct detected bugs, while patching the latest vulnerabilities.
This is something common to the vast majority of the programs that we have today. However, Caliber users have surely realized that the updates, of greater or lesser importance that arrive here, are almost constant. With this, what is achieved is that the software as such does not stop growing and evolving. Well, say that these new updates that are sent, we can install them easily. In addition, we are informed of them as soon as we open the program as such so that we install them.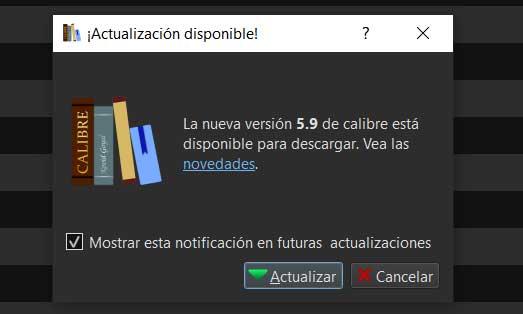 But of course, here what really interests us at this point is to be able to install those periodic software updates, but without losing anything in the meantime. Here, elements of the importance of the libraries created, the electronic books corresponding to them, the configurations made, etc. come into play . And it is that the most advisable thing is that we can update the program whenever necessary, but without any of this being affected.
Well, to achieve this, when the update window appears when opening Caliber, as we mentioned before, when opening the application, we click on the Update button . It is true that we can deactivate this notification for the future, but for the operation we are looking for to go well, we recommend not doing it. This way we make sure that the update does not affect the data previously saved in the program.
This will take us directly to the official website of the program's developers. It, as it is easy to suppose, is opened through the browser that we have configured as the default in the operating system .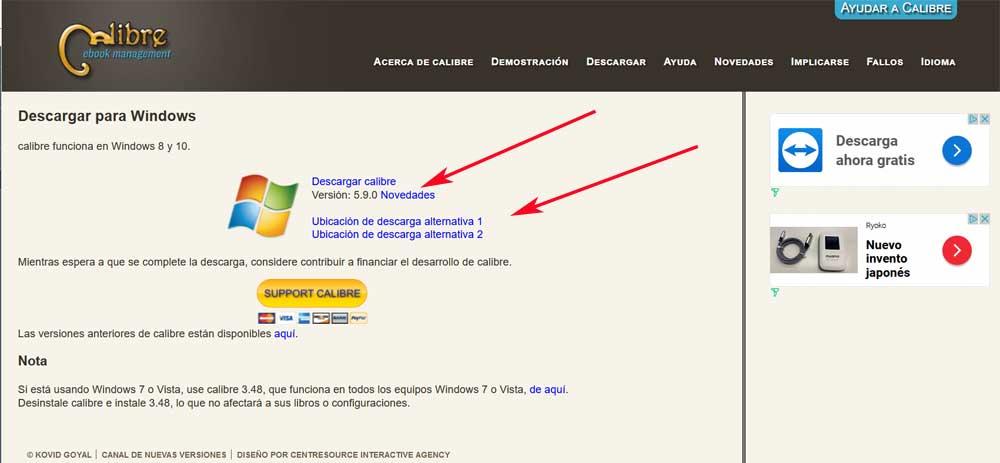 Update Caliber if you lose workbooks or settings
In it we find several links that will be very helpful in this that we are carrying out. Say that on the one hand we find the link called News that we find next to the number of the new version of the program. This offers us everything that is going to be installed again on the computer . On the other hand, a little further down, we will see several sources from which we can get the latest version of the program as such. Thus, at this point, we only have to opt for one of them.
As a curiosity, we will tell you that we are dealing with totally free software, so on this page we are also invited to donate so that the project can continue, if we wish.
But let's continue with the process, since now we only have to download the corresponding executable of the new version to the disk drive, and run it. At that moment the program installation process will begin, as is usual with other applications. However, this should not worry us, since it is the installer himself that internally takes care of all the content that we previously had stored in the same software.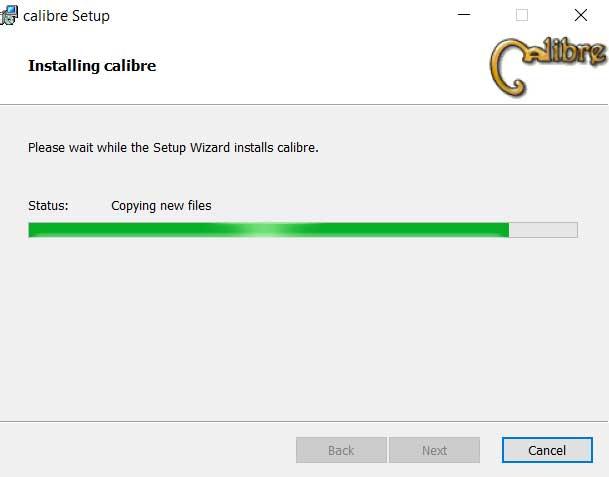 Thus, despite installing a new completely renewed version of Caliber, both the libraries and the books or the configurations made, will remain intact. All the changes that we find when we reopen it are those made by its developers in the form of improvements and corrections, nothing more. In addition, it must be taken into account that, as we mentioned before, in this programs updates are quite common. Therefore, this is a process that you will have to repeat regularly, something that we recommend.