Applications
Mount an iso from the windows context menu with wincademu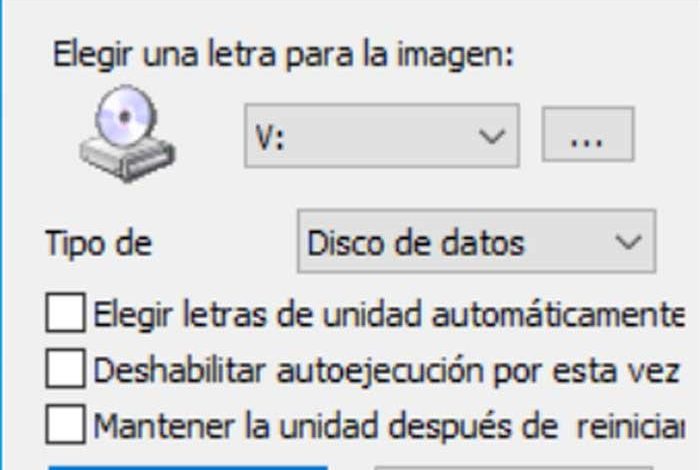 One of the most interesting uses that we can make with our computer is the possibility of mounting virtual drives from images in various CD, DVD and Bluray formats. In this way we can run programs that need an optical drive to work and make them work by virtually emulating these drives. To be able to carry out this task in a simple way in just a couple of clicks we can use a free tool like WinCDEmu, about which we are going to talk to you next.
WinCDEmu is an open source CD, DVD and Blu-ray emulator that will allow us to mount images from optical discs, saving us from having to use a physical disc. This will only take a couple of clicks since it does its work from Windows Explorer. It is ideal for downloading an ISO image and being able to use it without burning it to a disc.
This program supports formats such as ISO, CUE, RAW, BIN and IMG, making the assembly much faster than with other similar programs, converting the entire assembly and disassembly process in a matter of a couple of clicks.
In summary, the main features that WinCDEmu boasts are:
Allows mounting of images in ISO, CUE, NRG, MDS / MDF, CCD, IMG.
Supports an unlimited number of virtual drives.
Allows creating ISO images through the File Explorer context menu
It does not occupy drive letters when not in use.
It supports data images, DVD-video and BD-video.
It takes up little space, less than 2 MB.
It runs versions of Windows from XP to Windows 10 in 32-bit and 64-bit versions.
Available in 20 languages, including Spanish.
It is free and has an LGPL license.
WinCDEmu, mount your images in a couple of clicks
If this program is characterized by something, it is by having a minimal interface, and it is the way in which it is able to handle ISO files in a simple way without infinity of options of other programs that surely we will not get to use. The application has an executable file that allows us to access its options menu.
In this main window we must select the way in which the letter will be assigned to each ISO image that we open. By default WinCDEmu will always ask us before mounting an image, which allows us to choose a new letter instantly. We can also choose the option to choose the letter in advance or let Windows decide automatically. In addition, it can also be configured so that the application requires administrator privileges to mount an image, as well as choose Spanish to translate its scarce menu.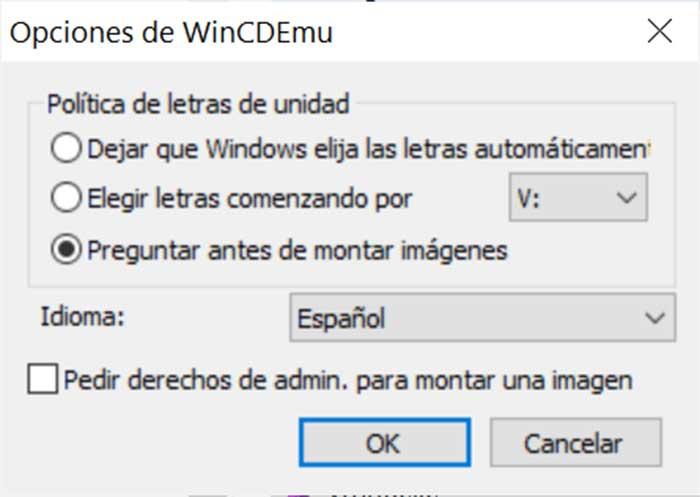 Once you have finished browsing through its brief options section, it is time to mount an image. For this we have two options. On the one hand, we double-click on the ISO image that we are going to mount so that the operation is carried out based on the settings that we have previously established.
The other option is to click on the ISO image with the right mouse button to bring up the Windows context menu and in the Open with… section select WinCDEmu mounter. Once this is done, a small menu will appear where we can select the drive letter and the type of image that we are going to mount. We also find three boxes that we can check if we want to enable them, such as: "Choose drive letters automatically", "Disable autorun for this time" and "Keep the drive after restarting." Once finished, click on OK to start the process.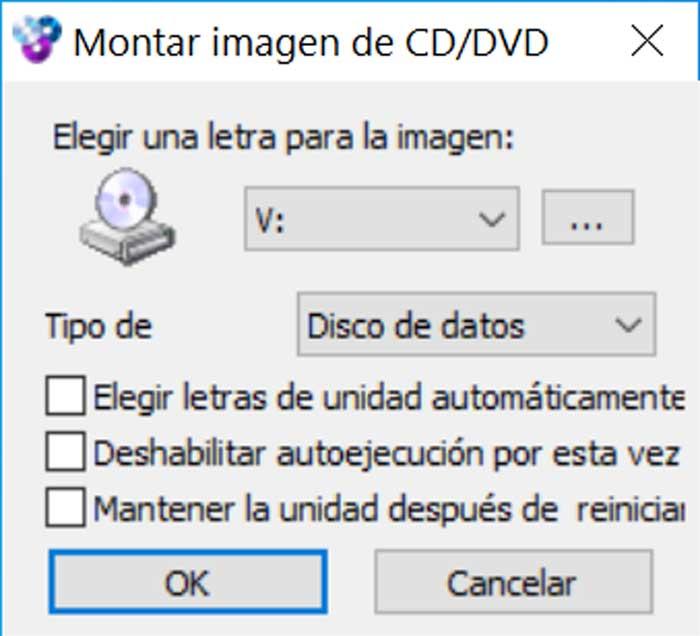 Once we no longer need our unit mounted, we can proceed to the disassembly that is completed in a short time with a simple double click. In addition, we can also right-click on the icon of the specific unit and click on the Eject button to perform the same task.
Conclusions: is it advisable to use WinCDEmu?
If we need to mount virtual drives on our computer, without a doubt using WinCDEmu is a great option. It is a very light application, it barely occupies 2 MB and consumes very few resources from our system. It does not need just an interface to carry out its work, which it performs efficiently in practically any version of Windows. Perhaps some users may miss more configuration options, but it is something that this program omits in exchange for providing extreme simplicity.
WinCDEmu free download
WinCDEmu is a program that will allow us to assemble images of free and completely free code that we can download from its website. It is compatible with Windows operating system from XP to Windows, as well as 32-bit and 64-bit systems. The installation process is very simple and is done quickly through its assistant, being able to choose Spanish as the language. It also has a portable version which will allow us to run the program from any external storage device such as a hard drive or a pendrive.
Alternatives to WinCDEmu
If we are looking for a program with which to be able to mount images on our Windows computer, we have some alternatives to WinCDEmu to consider:
ISODisk
This software offers us the possibility to open and mount ISO images without the need to burn them to a CD. It is capable of having up to 20 images mounted simultaneously, each having its own letter, being completely accessible from Windows Explorer. It also has the ability to generate images from a CD or DVD, but not from a Blu-ray. We can download ISODisk from this link .
Virtual Clone Drive
This application works in a virtual way, emulating a physical CD, DVD or Blu-ray drive. Through it, we can insert images hosted on our hard drive, supporting up to 15 virtual drives at the same time. It has support for all the most common image formats such as ISO, BIN, IMG, UDF, DVD and CCD. In addition, it has the possibility of auto-mounting the last image and disassembling it with the push of a button. We can download Virtual Clone Drive for free from here.