Applications
Microsoft teams: free work chat and family video calls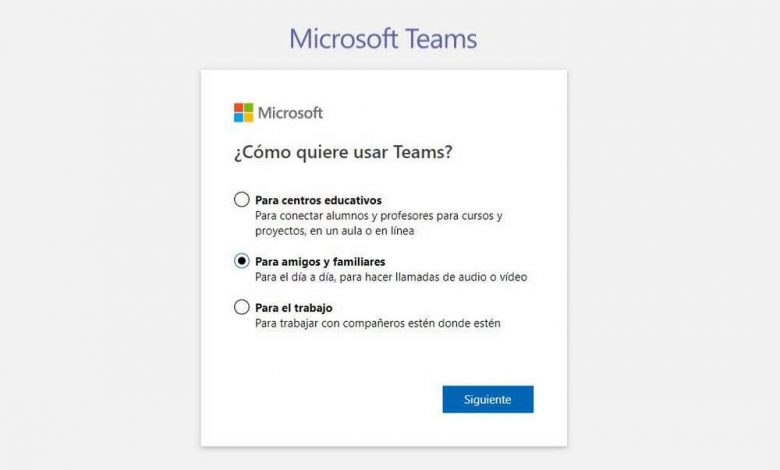 Thanks to the Internet we can always be connected and communicated with other people. More and more companies are betting on teleworking to work from home, or from other places. In addition, the Internet allows us to be in contact at all times with our family and friends, either through chat, voice calls and even video calls. Although many applications and platforms allow us to make video calls, only a few allow us to do it easily and with good quality. And one of the best, both for personal and professional, is Microsoft Teams .
Within the workplace there are several chat platforms that allow companies to create rooms and organize the work of their employees, both working within the company and through teleworking. Slack is one of the most popular that can be used both free and paid, in addition to having other alternatives such as the OpenSource Mattermost chat platform , the leader among gamers Discord, the popular Zoom and, of course, Microsoft Teams.
MS Teams is a platform that has gained a lot of popularity in a very short time, and it has also very quickly gained the trust of all the companies that have opted for it. Initially, Microsoft Team was primarily focused on businesses. However, Microsoft currently offers it as an alternative to be able to be connected with family and friends so that we can have a text chat, a calling function and even make video calls through the platform.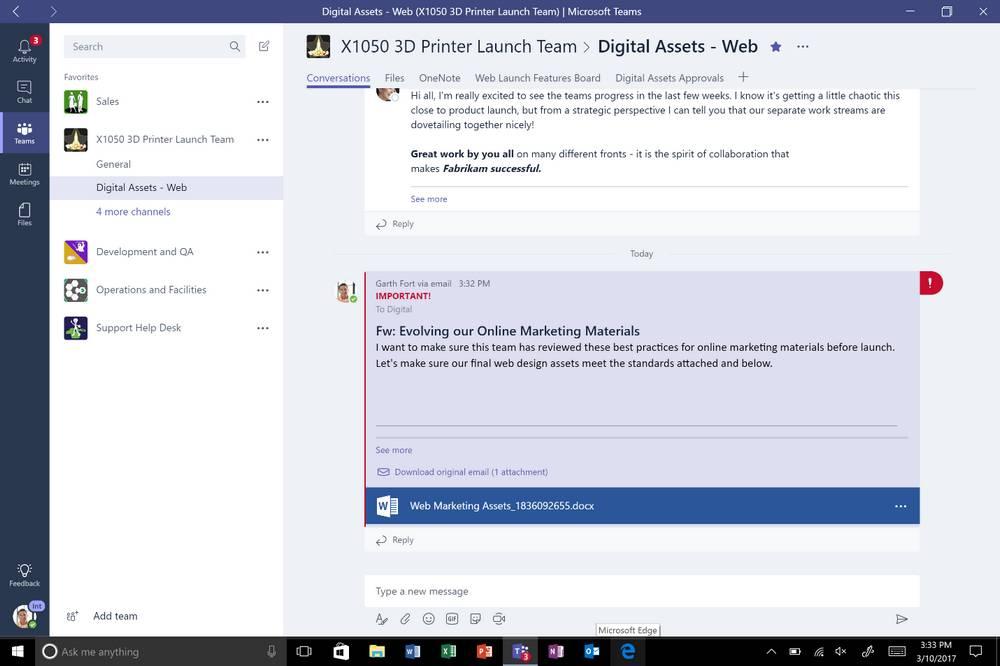 Main features
Microsoft Teams is an open corporate chat tool for personal use. Among its main characteristics (at least, for use in companies) we can find:
It allows you to manage team projects and collaborate in real time.
Video calls with audio and video in HD.
Private chat, group chats and chat rooms to talk with all members of the company.
Mentions feature to get the attention of other co-workers or the entire room.
Allows you to save conversations and customize notifications.
Complete chat search engine.
Organizational tools to create to-do lists and assign them to others.
Enterprise-level security.
Maximum Users
Microsoft Team is a very powerful tool. This means that we will be able to communicate with others in a very fast, simple and powerful way, but managing the entire backend involves a very high use of resources. Therefore, to ensure the proper functioning of this platform, Microsoft has limited the maximum number of users at the same time in Teams calls to 80 people .
Microsoft Teams wants to be a mix of Slack and WhatsApp
Microsoft wants to create a single tool within which users can centralize their entire life, both work and personal. Teams has also become very popular within schools for connecting students and teachers and being able to coordinate courses and projects, both in a classroom and online.
On the one hand, Teams offers us a complete messaging center through which we can talk with other people, friends and family, send GIFs, share files and even access OneDrive cloud storage. We can also make use of calls and video calls to communicate in a different way, and closer, with other people.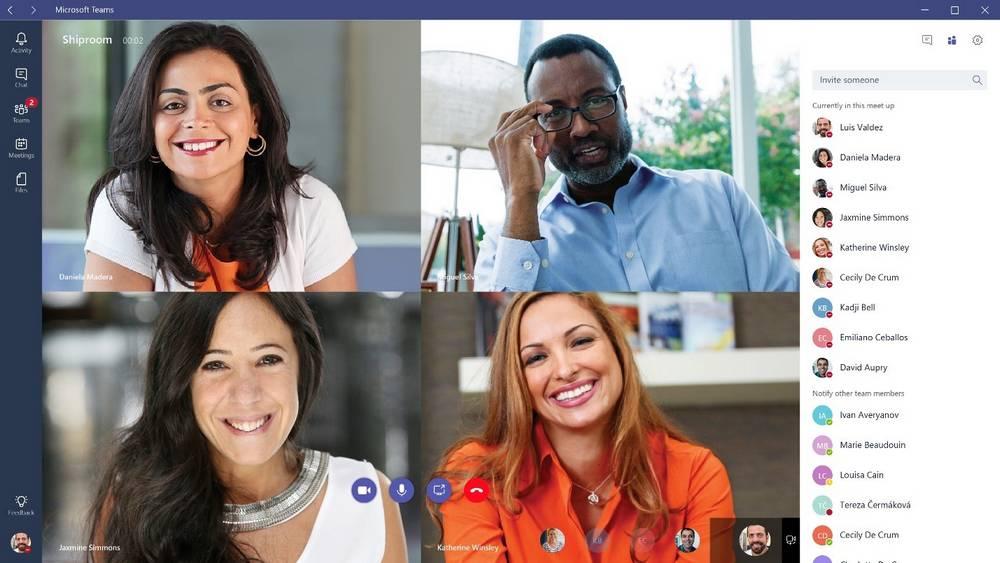 Microsoft Teams also wants to help us organize our day to day . This platform has a complete task manager where we can write down all pending tasks, and even assign them to other people, it allows us to have multiple shared calendars and manage all the events we want.
Finally, indicate that it also has functions for collaborative work and the possibility of sharing locations at any time.
Free for personal use; payment for companies
Microsoft Teams was originally designed for businesses and schools. For chat and personal video calls the company offers us Skype. What's more, as of today, if we try to register on a personal level in Teams, it will forward us directly to Skype.
Microsoft Teams is included in the following two plans:
Office 365 Business Premium : for a price of 10.50 euros per month per user, we will have access to all Office applications (Word, Excel, PowerPoint, Outlook, Publisher and Access), 1 TB of cloud storage and cloud services Add-ons like Exchange, SharePoint, and of course Microsoft Teams.
Office 365 Business Essentials : for 4.20 euros per month we will have access to Office mobile and web applications, 1 TB of cloud storage and access to Exchange, SharePoint and Microsoft Teams services.
Of course, Microsoft offers us a trial version so that we can test the platform before having to pay for it. Just in case you want to try it in company.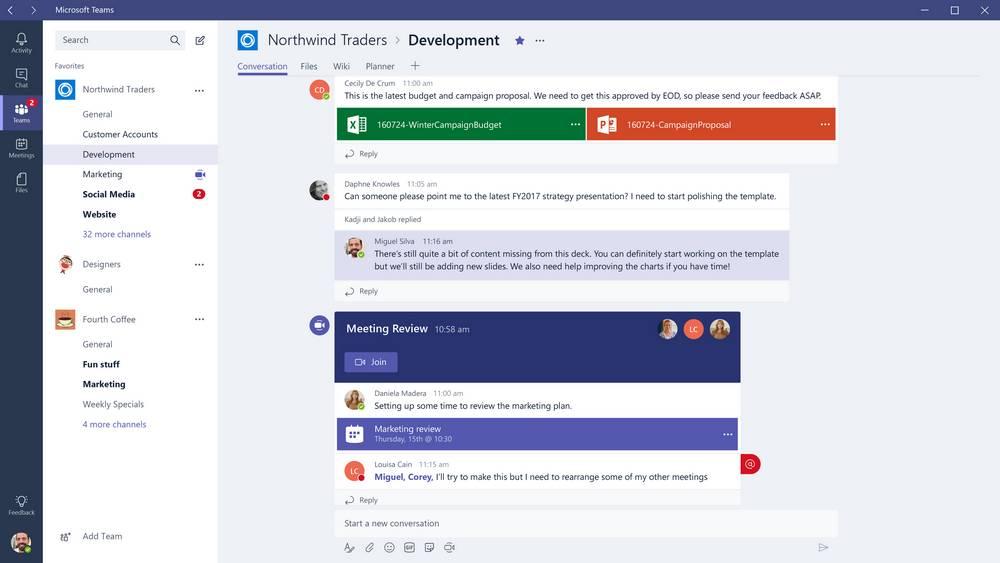 Microsoft does not want users to pay for this service for their personal use. Communicating with family and friends should be free. And for this reason, the company will put at our disposal a panel, or dashboard, from which we will have access to all the tools it offers us. From it we can contact our family or friends, open a text chat room with them, make video calls and even share any file through the platform, such as photos or videos, in the simplest way.
The free family version of Microsoft Teams will not be as complete as the business version. To begin with, we can only use it from the mobile, not from the PC. But it will undoubtedly become one of the most complete family organization and chat alternatives.
Download Microsoft Teams
Microsoft Teams has a desktop application for PC and mobile apps for Android and iOS. The PC application can be downloaded from the Microsoft website, while the mobile applications can be easily downloaded from the respective app stores.
The version of Microsoft Teams for family and friends is totally free, and it will be enough to register with our Microsoft Account to be able to access it. Of course, we can only use it from the apps for Android and iOS, since the desktop version will be exclusively for the business version.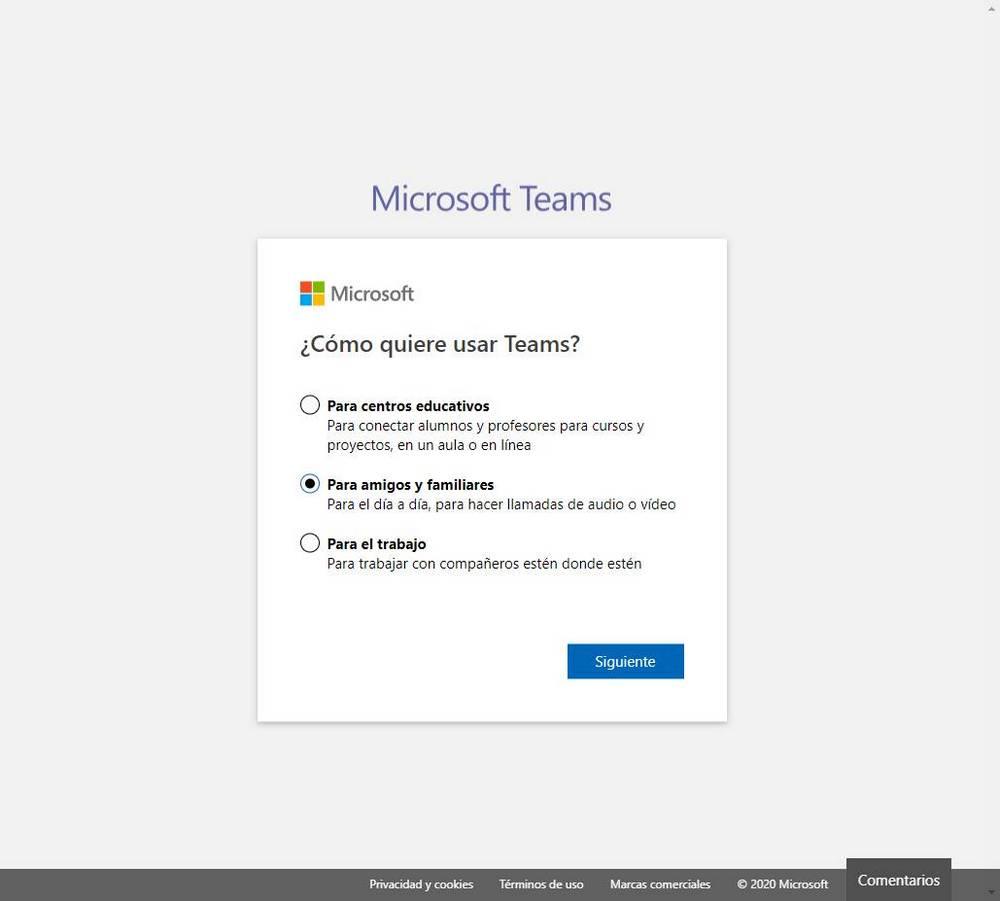 Of course, we must bear in mind that the version for family and friends of Microsoft Teams will not be ready until summer 2020 . For now we have to wait and, if we want to continue using the Microsoft platform, we can opt for Skype for chat and video calls.
Alternatives to Teams
Teams is an excellent platform that in a very short time has managed to gain the trust of users. However, it is not the only (nor the best) that we can find both to communicate with our friends and with co-workers.
Slack
Slack is one of the best business chat platforms. This is the most used by companies around the world, since it is very easy to configure, customize and start up, improving workflow. Slack video calls, which support up to 15 people at the same time, allow us to communicate both by audio and video, and also any of the participants can share their screen.
Skype
Another of Microsoft Team's rivals is directly within Microsoft itself. Skype is Microsoft's Vo-IP platform that has full chat, voice and video call functions, and even the ability to videoconference in real time with up to 50 users. All of them, in addition, can participate in the call at the same time and are courteous.