Applications
Manage your downloads from the internet with ninja download manager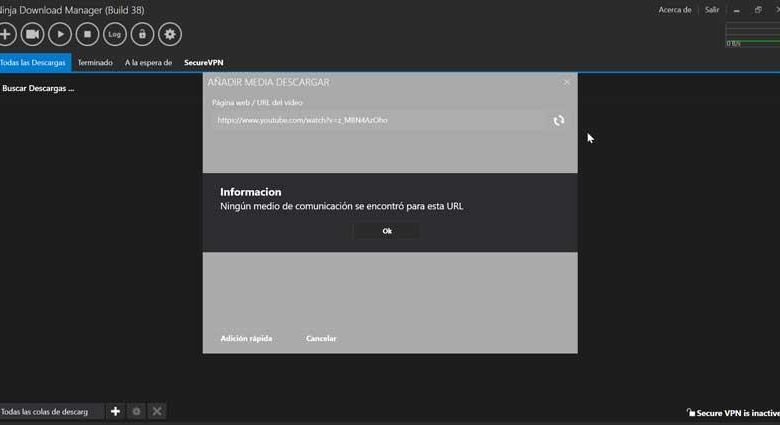 One of the actions that are most often performed over the Internet is downloading files. This is something that we usually do directly from our favorite web browser. In the event that we download frequently and in large quantities, we also have the possibility of opting for a download manager, such as Ninja Download Manager .
Ninja Download Manager is a download manager and manager specially developed for those users who regularly share and download files over the Internet. This program will have the possibility of pausing the downloads and restarting them later, as well as those that find unsuccessful results.
It is a simple, fast and elegant application. It stands out because it will allow us to increase the download speed up to 20 times, by using multiple multiple connections simultaneously. It downloads the files from start to finish, therefore, it will allow us to preview the audio and video files until the download is complete.
We will also have the possibility of managing downloads in queues. Along with this, we can establish specific download time limits, as well as establishing the number of downloads and connections that simultaneously. Speed ​​is another of the sections that we can control so that we can use the Internet while they are running. When downloading we can choose between HTTP, Socks4 or Socks5 proxy servers.
This is how Ninja Download Manager works
Once we run the application we find an intuitive user interface that will help us make the most of its functions, being suitable for all types of users. By default, all its options are in English, although you can change the language and select Spanish. To do this we have to press the gear-shaped button that we find in the toolbar at the top. A new column will appear where we can make different adjustments such as changing its appearance, choosing the folder to host the downloads or changing the language to Spanish.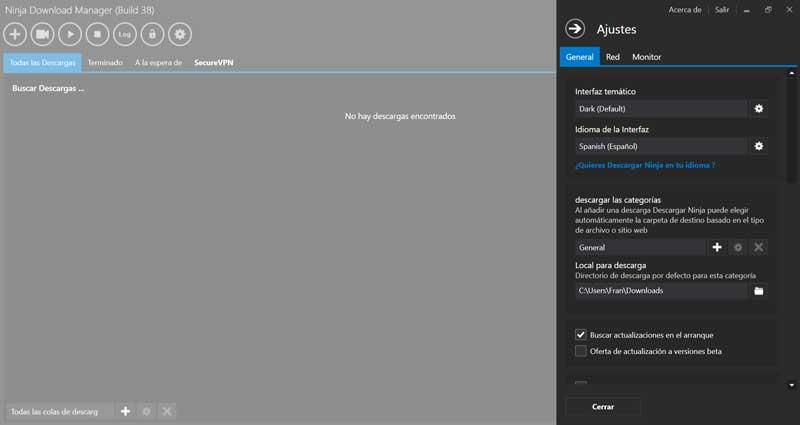 Add new downloads
To add a new download, just press the button with the plus symbol (+) in the toolbar and a new column will appear on the right side where we can insert the URL of the file we want to download. We can also create a category, choose the path where we want to download and give it a name. To start the download, click on the Quick Add button, located at the bottom. Once this is done, the download will appear in the main panel and will show us the entire process.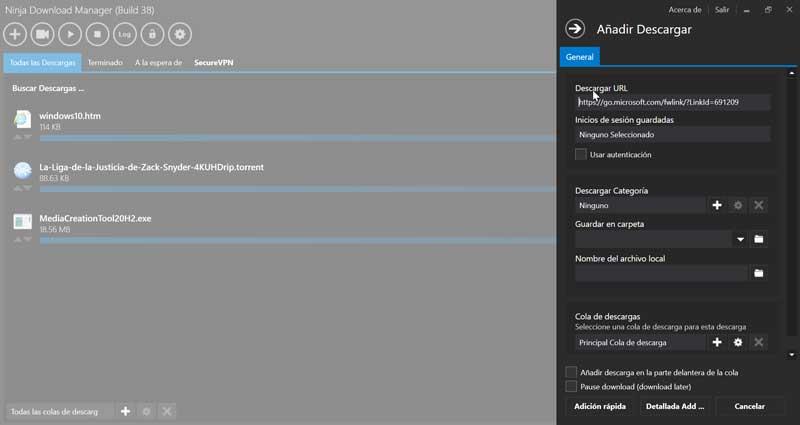 From the main panel we can pause and resume the downloads, delete it, limit the download speed or directly open the location where it is hosted. It will also be possible to download from video storage platforms such as YouTube and Vimeo, among others.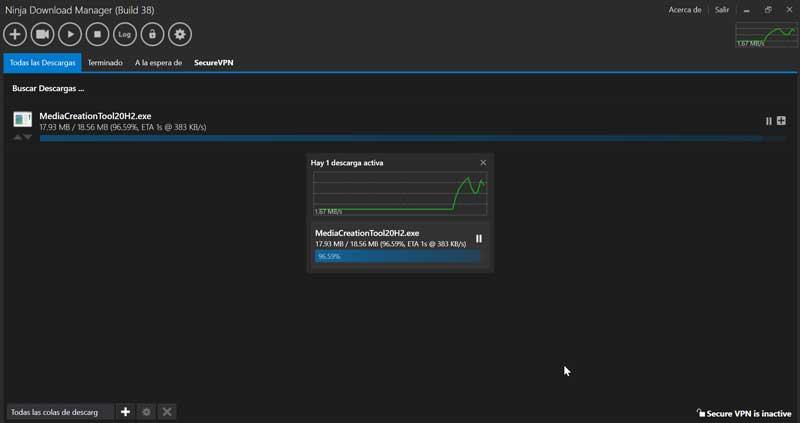 Configure all its options from the Settings section
From its Settings section we can configure many of its characteristics. From the "Network" section we can limit the download speed of all downloads, as well as the maximum number of downloads that we can make simultaneously and the maximum number of connections per download to a server. While, in the "Monitor" tab, we have the option of capturing downloads from browsers such as Internet Explorer, Google Chrome, Mozilla Firefox and Opera. For this, except for the Microsoft operating system, for the rest it will be necessary to install Extensions.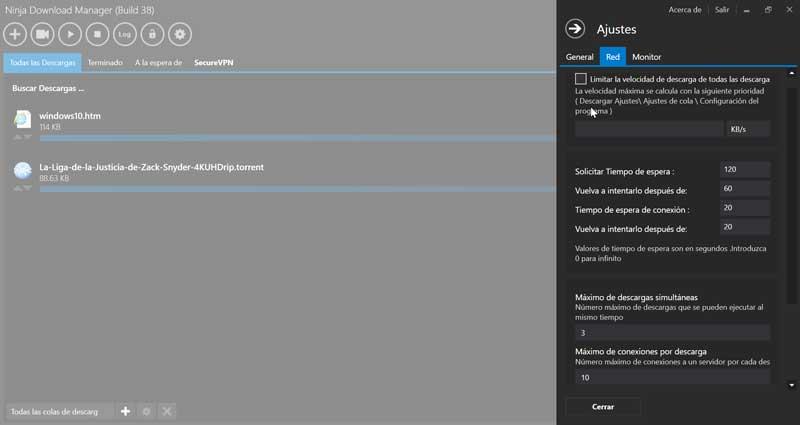 Problems when trying to download videos from YouTube
To do this, we must press the icon in the shape of a video camera that we find at the top. Once you have clicked on the web address or the URL of the video you want to download and click on quick add. In our tests we had problems trying to download from YouTube. We have not managed to make the application able to recognize the link, appearing the message "No media was found for this URL."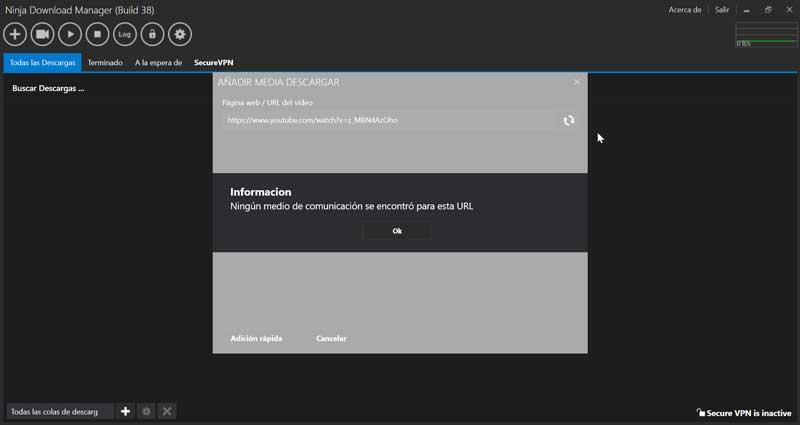 Conclusions
Ninja Download Manager is a download manager that can be useful for all those users who download files from the Internet on a regular basis. The application will allow us to manage all the work so that we can have everything well organized. The ability to directly download YouTube videos is quite interesting, although we have not been able to get the program to recognize the URL. Within the download managers there is a lot of competition, so at the moment this application would not be at the top, although we do not lose anything by downloading it and checking if it meets our needs.
Download Ninja Download Manager
Ninja Download Manager is an application that we can download for free from this link . It is compatible with all versions of Windows from XP to Windows 10, in 32-bit and 64-bit versions. In addition, it is compatible with computers with macOS operating system. Its installation is done quickly through its assistant, and at no time does it try to get us to install unwanted third-party software.
Alternatives to Ninja Download Manager
If we are looking for a program that helps us with the management and administration of the downloads we make from the Internet, we propose some alternatives to Ninja Download Manager to take into account:
DownZemAll
It is a free, multiplatform download manager, through which we can add links, pause and cancel downloads, or restart it whenever we need it. It also has extensions for both Chrome and Firefox, with which we can directly send any content to be downloaded by DownZemAll. We can download it from this link .
Persepolis Download Manager
We are facing a free and open source download manager with which to achieve high download speeds, thanks to the fact that it uses Aria2c that it configures automatically. With it, we can schedule and download massively, being compatible with video downloads from sites like YouTube, Vimeo, DailyMotion, etc. We can download it for free from here .
JDownloader
We are surely facing one of the most popular download managers that we can find on the net. It is a free and open source application developed in Java that will allow us to help manage and simplify the download of files. In this way we can carry out multiple parallel downloads, as well as automatic file extraction, password manager, avoid captchas, etc. We can download it from the official website of its developers .