Applications
Manage warehouse and logistics items with yourse programs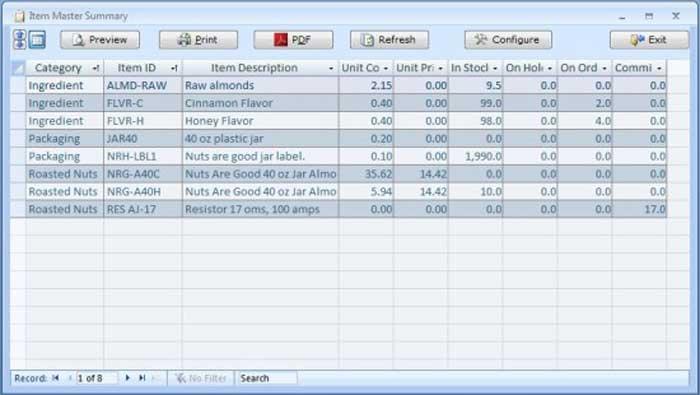 For any company that is dedicated to the storage and distribution of merchandise, it needs software capable of managing inventory and warehouse data, along with all the history of customers and suppliers. And it is that behind are the times where these tasks were carried out with pencil and paper. Thanks to technology, this entire process can be carried out in a simple and computerized way. For this reason, today we are going to see different types of applications that will allow us to keep track of logistics in Windows 10.
To help us have an exhaustive control of the logistics and transport management of our company, we have a wide range of software that will be in charge of the different phases of the process. From inventory management to asset management, these softwares will be of great help to us and they are also free.
What is and what is a logistics software for?
Logistics software becomes our great allies when it comes to controlling and improving the efficiency of the supply chain . With them we can manage the entire process of a product from its storage and inventory, through transport, until its arrival at the customer. These programs refer to stock control, data processing and the supply chain, which is why they become practically indispensable.
Among the advantages they offer we find greater agility within the logistics process, providing better control of the information of the different processes and the possibility of managing the customer database. They will also help us to facilitate the performance of purchase and return actions and the possibility of greatly reducing possible errors.
Free logistics programs
Next, we are going to review a series of logistics programs with which to have total control of the entire inventory and warehouse process, with which to carry out all its management and administration. All of them are characterized by being free, so we can use it without having to pay a single euro.
FrontAccounting ERP, powerful web-based software
It is a free program that is published under the GNU General Public License, and that claims to be simple as well as powerful for the entire ERP chain (Enterprise Resources Planning). With it we can carry out different tasks such as purchase and sale orders, customer and supplier invoices, deposits, payments, stocks, manufacturing, items and inventory, etc. It is a web-based software that will be installed on our server, which allows us to place our database anywhere in the world to be able to access it from anywhere.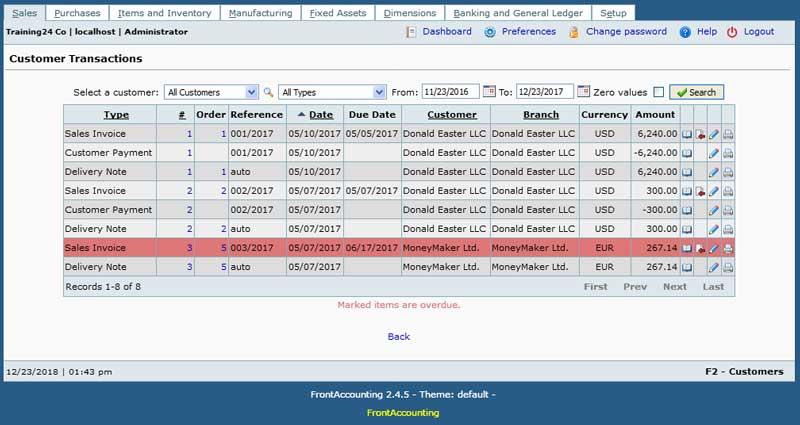 We can download FrontAccounting ERP for free from their website . In it we can also find demonstration videos and a guide for its installation.
Tryton, to administer and manage the supply process of our business
We are facing a logistics and business management software (ERP) aimed at companies of any size. It has a desktop and web version that is distributed under the GNU GPLv3.1 open source license. With it we will have everything we need to administer and manage our business. For this, it has functions such as purchasing and sales management, transportation management, supply chain control and manufacturing, inventory, project management, among others.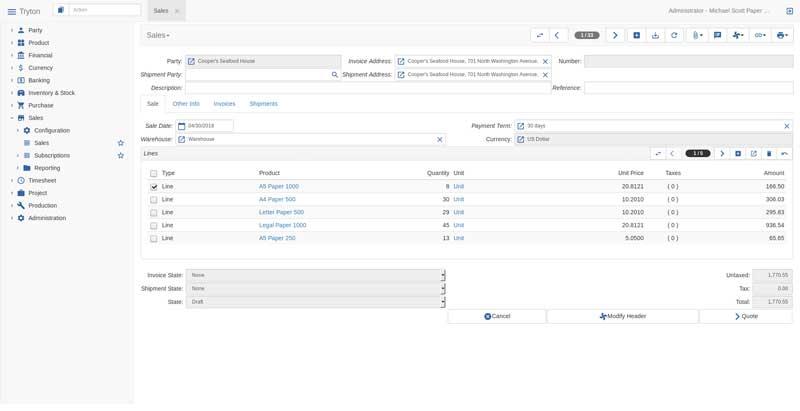 Tryton is comprised of a three-tier architecture, consisting of an application server that connects to a PostgreSQL database, a desktop or web client for presentation, and a set of server modules for business logistics.
We can download Tryton for free from this link .
Open Source ERP, performs logistics and accounting management tasks
We now have another free ERP software for Windows with which to perform both logistics management and accounting tasks. And it is that in addition to the management of customers, orders, invoices, etc., this ERP has the possibility of carrying out complete warehouse management, which includes a management of material orders in the warehouse, as well as inventory management. This software is downloaded as an exe file, but it runs in our browser as it is a web-based application.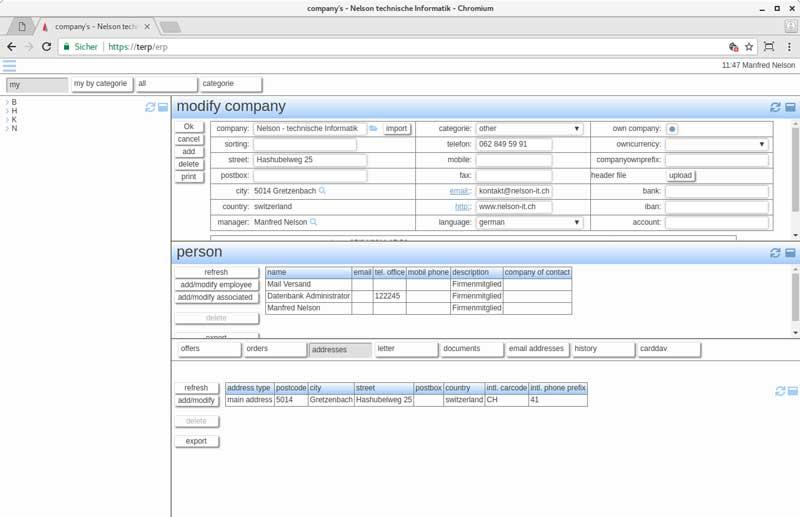 This program is multiplatform so it can be executed on computers with Windows, Linux and macOS, as well as on mobile devices with Android and iOS, so that we always have our data at hand.
If we want to try Open Source ERP, we can download it from the Sourceforge website.
inFlow On-Premise, helps us with order tracking
We are facing another free logistics software for Windows, which also has a paid version, although the free version has a good number of features. This program will be in charge of helping our company to keep track of orders, as well as the different levels of stocks. All data is hosted locally and synchronized with the other computers in our office, without the need to be connected to the Internet. To highlight its powerful control panel from where you can see all the representation data graphically. We will have three types of graph, either online, bar and circular.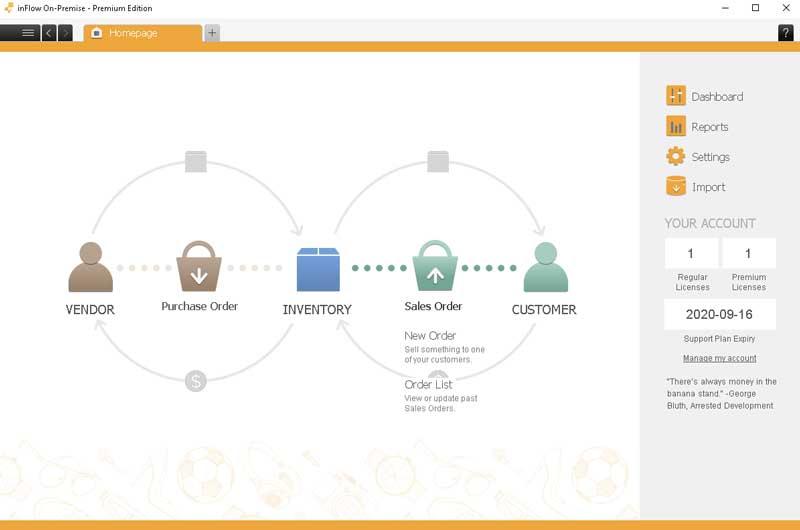 The free version is ideal for small businesses, since it allows us to add up to 100 products and clients in total and 15 reports. We can download it from their website .
Apache OFBiz, customize the ERP according to our needs
It is a set of open source ERP tools that allow companies, preferably medium or large, to customize the ERP according to their needs. To do this, your internal development resources can be tailored to integrate within your own existing IT and business processes. It has modules available for accounting, human resources, manufacturing, inventory management, catalog management, CRM, and e-commerce.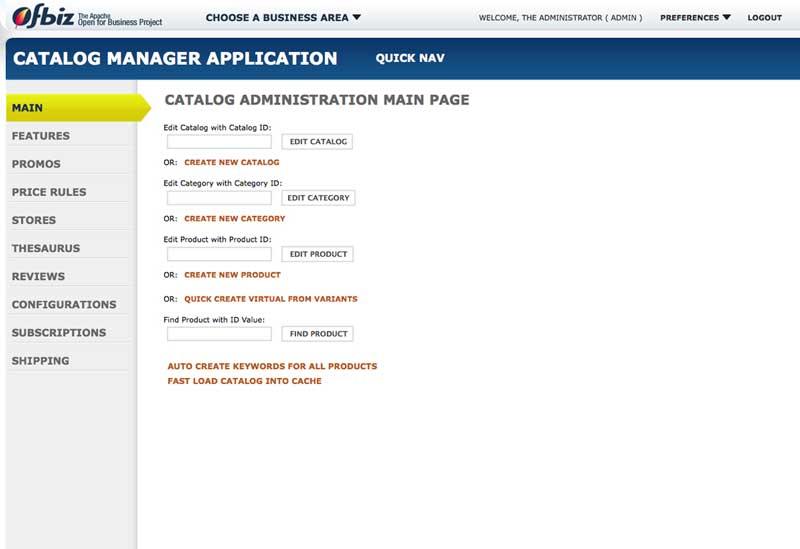 We can download Apache OFBiz for free from this link .
SalesBinder, online logistics control program
This time we are talking about online logistics management software. It has a free plan for a user that will allow us to create a maximum of 100 orders. We will have the ability to add details about customers, suppliers, sales opportunities, etc. We can also add inventory items to the database, categorize items, and upload up to five images for each inventory item. In addition, we can manage our inventory and verify stock levels in real time, receiving notifications in case of shortages and generating purchase orders to replenish them.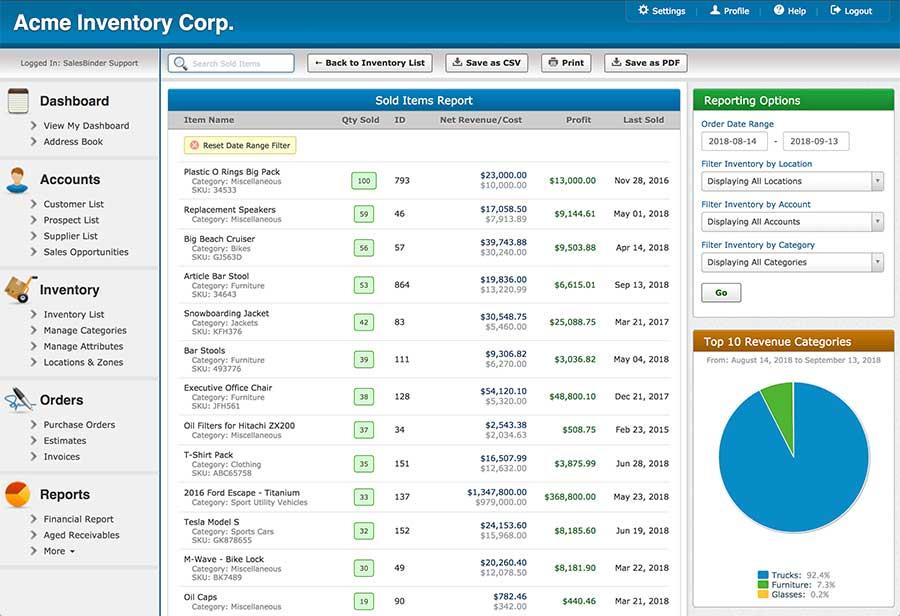 We can access the free version of SalesBinder from its website .
OpenMAINT, ideal for controlling the database and warehouse items
It is a free and open source logistics management system based on CMDBuild (an open source environment developed to configure custom applications for asset management). With this program we will be able to manage all the movements of consumable material used for maintenance activities, manage the record of consumables and the list of materials involved. For this reason, we can use it as a warehouse database and warehouse items, as it will help us manage the different elements that we use in maintenance activities.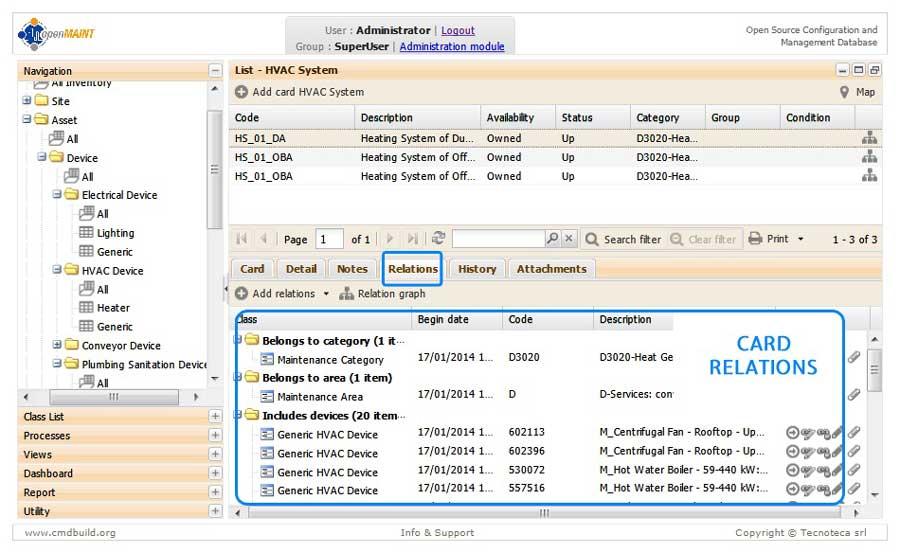 We can download OpenMAINT for free from this link .
Almyta ABC Inventory, software for inventory and logistics control
We are now talking about a software for inventory and logistics control aimed at both small and medium-sized companies. There is no limit on the number of records in the database or limit for the number of workstations. Through this program we can manage orders, inventories, shipments, reports, assets, among other functions. We will be able to add a file to each customer with the shipping details and transaction history, as well as add notes to both customers and suppliers. We can also assign a code to each order to facilitate your search, as well as configure each order to open, receive and cancel.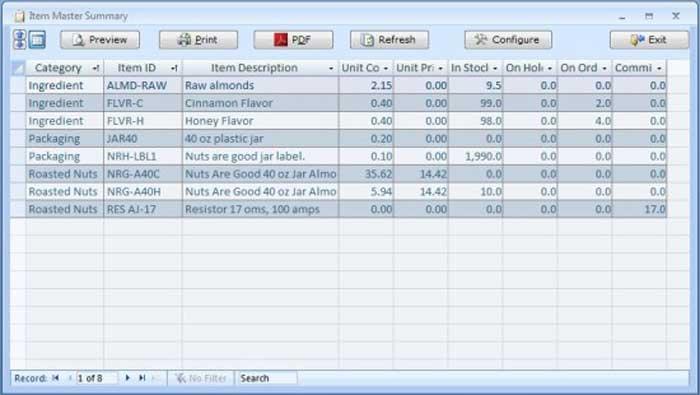 We can download Almyta ABC Inventory for free from here . This version lacks assistance or online support, nor will we be able to link our workstations so that they can read and modify the data.