Applications
Manage databases with these alternatives to microsoft access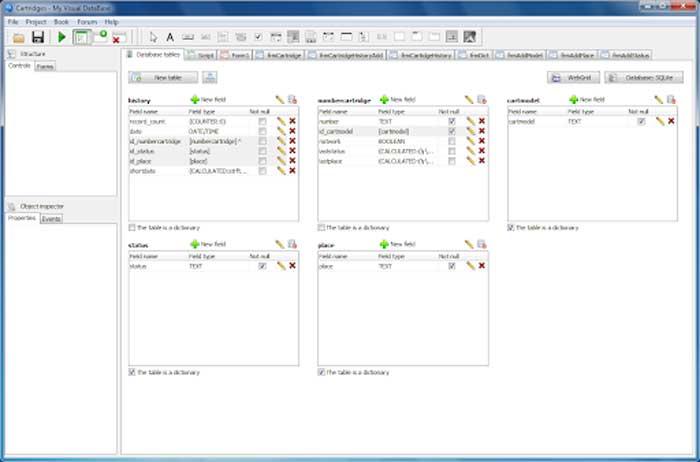 Within the business world, a database application must be essential. In them we will be able to write down both the customer register, as well as a private address book, inventory inventories and even the accounting. For this, the most popular utility is none other than Microsoft Access . This tool can be found within the Microsoft Office suite.
Microsoft Access is a Database Management System (DBMS). With this tool we can insert, store, edit, evaluate and present all kinds of data, which can be modified or created new from its graphical interface. The application has templates along with assistants to put our database into operation. For more expert users, it also incorporates advanced functions, allowing us to program directly in Visual Basic, which is included within the application.
But Access is not only aimed at the business environment, but we can also give it a more domestic use and use it to organize our book library, all our music discs or our movie catalog. Within it we will find functions such as Tables, Queries, Forms or Reports that will help us efficiently organize everything we need.
Despite the fact that Access is one of the most used database tools, it presents as drawbacks, that it is paid since it is part of the Office package, in addition to being only available for Windows . That is why it never hurts to know some database alternatives that we can use instead of Microsoft Access.
Free alternatives to Microsoft Access
If we need to use a database for our work and study, possibly the first thing we are going to assess is opting for a free application with which to cover our needs. It is possible that if we do not need something extremely complex, any of the following options that we are going to comment on can be of use to us.
MySQL, database with strong protection and SQL compatibility
It is a free and open source database application, under the GPL license, making it a great alternative to Access. It is known both for its high-performance scalability and for having strong data protection, as well as a large network of support from its users. It bases its operation on a client and server model and offers SQL compatibility. It has table stored procedures and the ability to automate tasks.
MySQL is a 100% free tool that we can download directly from its website .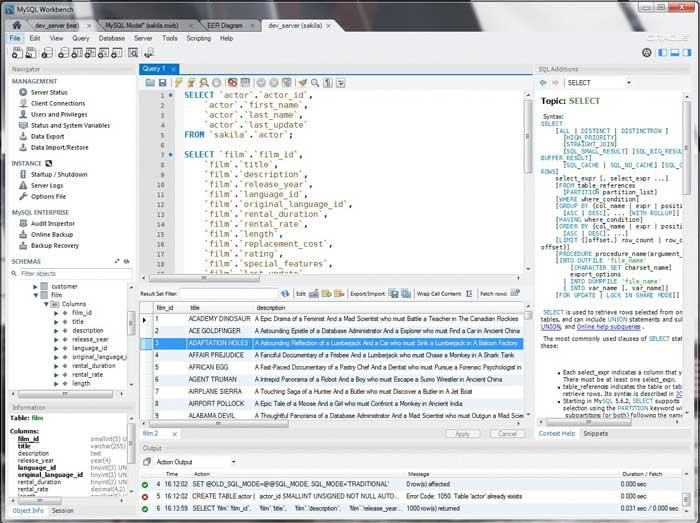 nuBuilder Forte, develops web-based database applications
This is a browser-based tool created by Software to develop web-based database applications, using MySQL or Maria DB databases. The application has been developed for all types of users. It includes videos and online documentation with all kinds of information to be able to use it efficiently. It also allows us to make backup copies of the entire application in a single database file.
If we want to start using nuBuilder, it is possible to download and install it for free from its own website, without any cost for its license.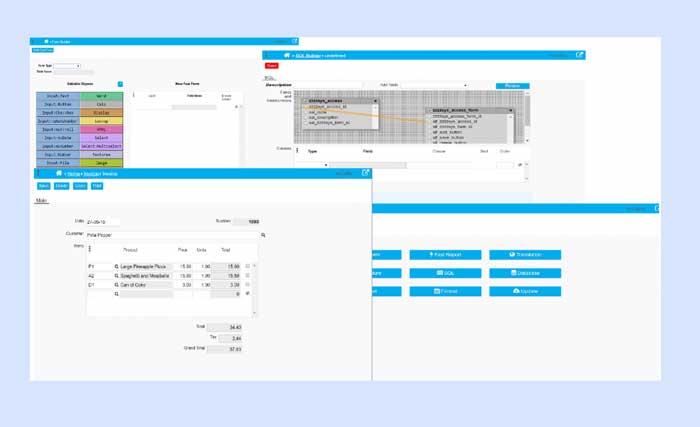 Axisbase, ideal application for sales monitoring 
It is a database system that we can use to keep track of any type of information about our company . In this way, we can track sales made by a website, fulfill orders from our office, maintain inventory lists or any other structured information. We can obtain sheets generated with reports, accessing from anywhere, accessing only its official website.
You can use Axibase for free by accessing its website.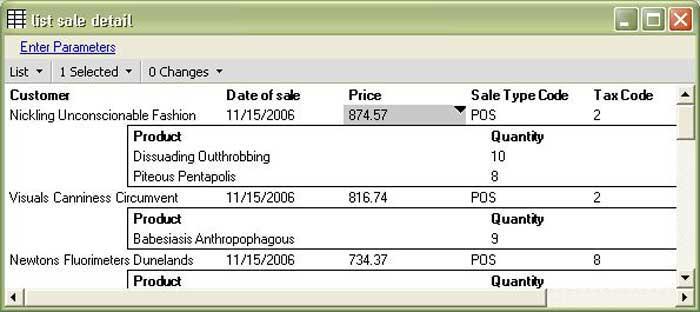 Base (LibreOffice), powerful database manager with wizard
It is a powerful desktop database manager that we can find within the LibreOffice suite , designed to meet the demands of a wide range of users, which makes it one of the most popular Access alternatives. Provides native drivers for some of the most widely used multi-user database engines: MySQL / MariaDB, Adabas D, MS Access, and PostgreSQL . It has assistants to help the integration of new users, which will help us create tables, queries, forms and reports, for a better tracking of assets, customers, invoices and other needs of our company.
As we have mentioned, Base is part of the LibreOffice suite, so we are talking about a free and open source application. We can download it from the developer's website .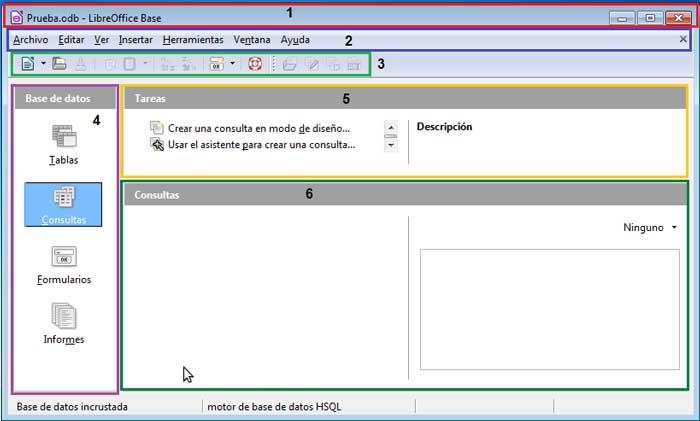 Base (Apache OpenOffice), with powerful HSQL engine
As with LibreOffice, other popular open source suites such as Apache OpenOffice also have their database manager, called Base . It has all kinds of wizards to help new users in the use of the application by creating tables, forms, queries and reports. It also has a predefined set of table definitions with which to control assets, sales orders, customers, invoices, among other elements of our company. It has a powerful HSQL relational database engine, as well as native support for dBase files.
As we have mentioned, Base is part of the OpenOffice suite, which we can download for free from its website .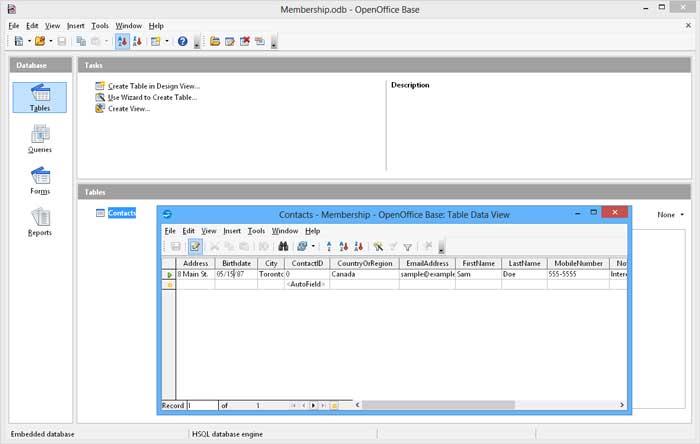 Glom, application oriented to small projects
This open source software is another clear alternative that we can find as a substitute for Microsoft Access. It uses PostgreSQL as the database format and is oriented for small projects such as contact lists or product lists. It has a clear and easy-to-use user interface which will allow us to create and analyze very quickly. In addition, it allows us to generate reports, as well as consult the data through the search function and establish relationships between them based on specific criteria.
Glom is a free and open source tool , so we can test it without limitations to see if it fits what we are looking for.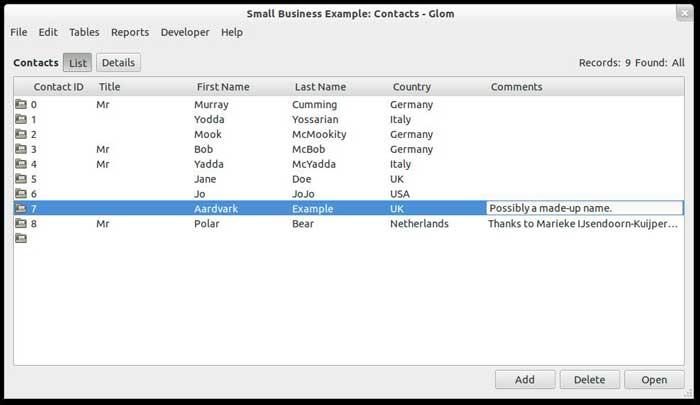 Payment alternatives to Microsoft Access
If we need a database tool for demanding professional use, it is possible that the free options are somewhat short in terms of performance. If money is not a problem because we prioritize performance and the functions that they offer us, we must take into account some of these Access alternatives.
Brilliant Database, powerful database tool
It is a powerful software in which we will find everything we need to create a database. It has an engine that supports a 1.5 TByte database that works through an Internet connection. It allows the possibility of creating a database of any structure, as well as using editors to create reports, forms, queries, scripts, etc. To make it easy to use, it has an interface similar to Outlook, in the form of a tree with folders, allowing us to easily work with any data.
Brillant Database is a paid application, so if we want to use it as an alternative to Microsoft Access, we will have to pay for its license, which is $ 79. It is also possible to download a trial version from their website.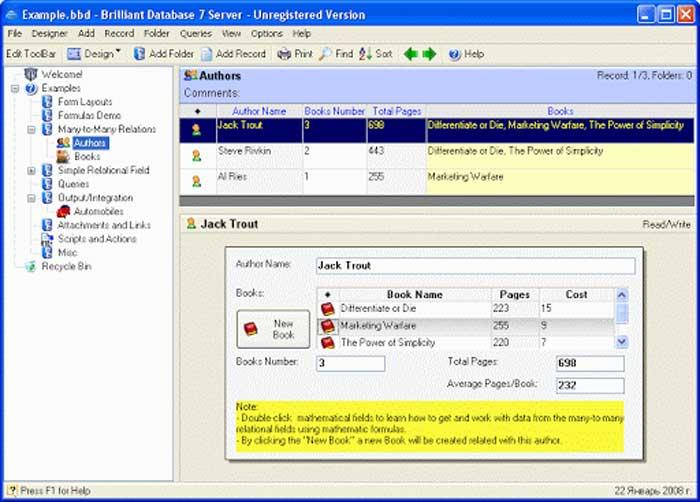 Filemaker, create personalized and professional databases
It is a powerful and easy-to-use database tool to carry out any task with maximum speed. It has tools that allow us to create a personalized database, prepare reports, publish data on the web and share information with a couple of clicks. It includes templates to carry out all kinds of procedures, both professional and personal. In addition, it does not allow them to be modified to our liking, both before and once we have started working with them.
Filemarker Pro is a software with different payment options that starts from 21 euros per month per user, billed annually. It is also possible to download a free 45-day trial version from their website.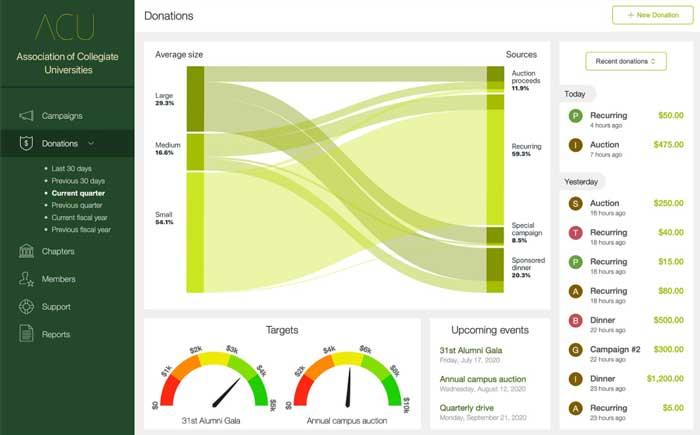 My Visual Database, create multiple forms and databases
We are facing a complete and reliable software solution with which to create and design databases and compile them into various applications. Its interface is simple in a way, and in it we can add as many databases as we need to create Windows applications. The program does not require programming knowledge that already provides us with the basic functions for it. In addition, it allows us to create tables with the appropriate commands
This application also allows us to create various forms and integrate them into our databases, being able to manipulate them as desired. That is why we can insert buttons, various objects, text boxes, grids, images, calendars and counters. As a drawback we must say that My Visual DataBase does not provide an advanced development environment to run scripts manually.
This program to create databases has a price of 99 dollars and we can download it from its official website.