Applications
Manage and organize your projects with these alternatives to trello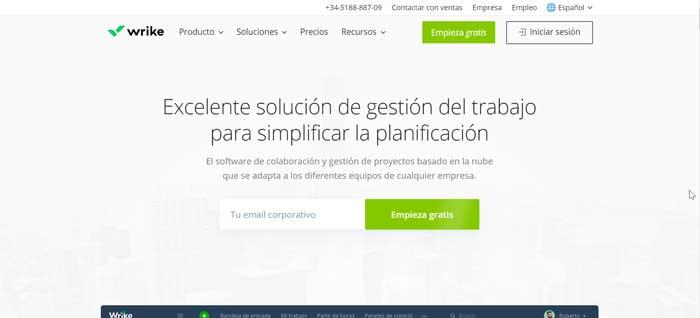 Nowadays, remote work has become a common trend since the appearance of COVID-19. When working from home, you need the right tools to manage your workforce. For this, there are project management tools that help us to carry out these important tasks for a good work organization. The most popular tool in this field is Trello, there are also other online alternatives with which to do a great job when managing projects and tasks.
What is Trello and what can we use it for?
Trello is a project management application, characterized by being one of the most widely used, especially at a professional level, with which you can organize practically everything, whether professional or personal tasks, in a versatile and flexible way. With this tool we can create different boards, share it with different people, know what each user works on and follow their development. In this way, we manage to improve work routines within the same team, generating priorities, scheduled times, notices, etc.
We can use this project management platform for free, with some limitations, especially regarding the weight of attachments or few functionalities in the team boards. In order to take advantage of all its functionalities, we must resort to its pricing plan, which starts at 12.50 euros / month for its Business Class plan or 17.50 euros per month for its Enterprise plan . This price may vary depending on the total number of users.
That is why today we are going to see you present a series of alternatives to Trello, so that we have a wide range of possibilities where we can choose the one that best suits our needs.
Alternatives to Trello to organize your work team
Asana, the rival to beat
Possibly, we can consider Asana, as the great alternative and the greatest rival of Trello, at least in terms of popularity. This platform has been designed so that those responsible for different business projects can write down all kinds of tasks, ideas and reminders in a simple way, with which they can organize their work . It has tools as useful as lists, boards, calendars, schedules or progress. In addition, it allows assigning tasks to each member, establishing what the priorities should be using colored labelsand choose deadlines for the delivery of the project. It has full integration in the cloud, being able to access both from the mobile and the web, although on the contrary it does not have a desktop application.
We can use Asana for free, with some limitations, for projects with up to 15 people accessing its website . We can also acquire their payment plans from 10.99 euros per user per month with the Premium plan.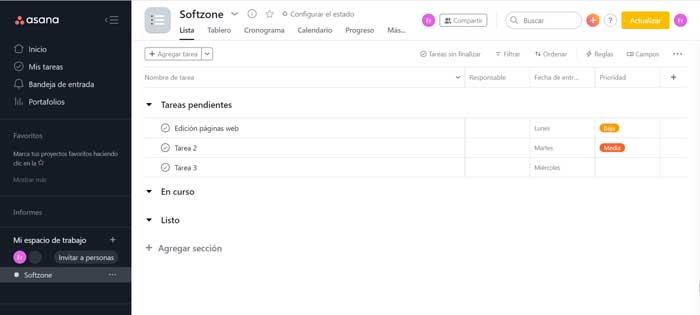 Kanban Flow, plan and organize your tasks
This useful tool to plan and organize tasks allows us to create boards placed vertically in each tab with different columns and colors, to be assigned to a team member. In each column it is possible to add a limit of tasks so as not to overload them. This application is compatible with cloud storage systems such as Dropbox and Google Drive, among others. It also has a clock that uses the Pomodoro technique . Using a timer, it will indicate the time that we must dedicate to work and organize short breaks. That is why this application will be of great help to us to improve our productivity, as well as to increase the performance of our business. In addition, it is multiplatform so we can have access from practically any device.
If we want to use Kanban Flow to organize our projects, it has a free version that we can access from its website . It also has a paid version with all kinds of features for $ 5 a month.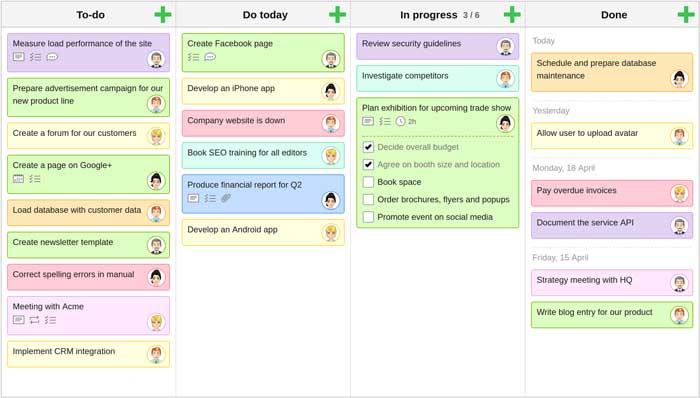 Airtable, the perfect fit the organization of our team
A complete and interesting alternative to Trello is Airtable. A tool that can serve us both as a project manager and to organize our personal lives . It has different templates that will help us get started easily, and it has a database where you can add all kinds of information to organize your work. We can choose other members, add dates and working hours in other procedures. We can use it from different platforms such as a Windows or macOS computer, as well as on mobile devices with iOS or Android. Its main drawback is that, being only in English, it can back off many users.
If we want to use Airtable, we can do it for free from their website . In case we have a large organization that requires more resources, we can also opt for their premium plans for companies from $ 10 per month per user.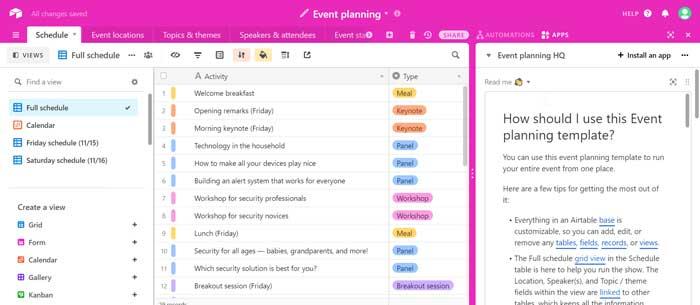 Zenkit, productivity and project management
This tool is a task and project organizer that is presented as a good alternative to Trello. It allows us to create different boards for each project, and in each one are the cards where we can add different tasks and subtasks with all kinds of information. We can set delivery dates and track activity. It also allows the use of labels to mark different elements. It is multiplatform so we can use it both on Windows and Linux computers and on Android and iOS mobiles. Although, although its design is beautiful, the Spanish version must be more elaborate since it is not completely complete.
Zenkit is a free tool for personal and unlimited use that you can access from its website . For professional use, it has three paid versions, Plus, Business and Enterprise with prices starting from 9 euros per month per user.

Basecamp, great option to organize projects
This powerful tool is not just based on project management, it is also used as a collaboration and workflow platform . In it we can find a message board, a group chat in real time and other collaboration tools. This platform is responsible for dividing the company into teams or projects, which individually allows access to message boards, the task list or live chat. From it we can share files among members of the same work team, assign tasks, plan calendars, generate reports and establish delivery dates. Its main drawback is that it is only in English, it is not easy to use and it has a fixed price of $ 99 per month per company.
If we want to try Basecamp, we can access its free 30-day trial version and see if it suits our needs.

Monday.com, its virtue is in simplicity
It is an excellent project management software based on simplicity with a visually intuitive design that will help us define work sequences. We will have the possibility of tracking the time established for each project, the possibility of uploading and attaching files to the cards and making comments. It also has an excellent reporting panel that allows us a better ability to monitor the process. It is a very customizable application with useful tools to automate parts of our project. It has full integration with important applications such as Gmail, Google Calendar, Dropbox, among others.
If we want to start using Monday.com we can test it for free from its website . If we want to use it permanently we will have to pay from 8 euros per month per user in its basic plan.

HiBox, task organizer and chat for companies
It is a project organizer that not only allows us to organize tasks, but also has a chat to be able to speak directly with our teammates. This application is divided into rooms from where we can create tasks and assign them a due date. Another option available is the possibility of organizing lists according to their priority, so that the team knows at all times which activities require more emergencies. It has a wide variety of templates, as well as a clock to control the time we dedicate to each task.
Hibox account is a free tool for a total of 10 users with a limit of 2 GB of storage, which we can use by clicking on this link. It also has pricing plans for larger job crews starting at $ 4 a month.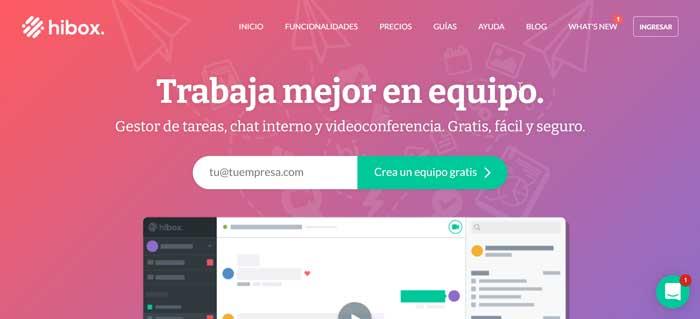 Wrike, your software tool to manage projects
This work organization and management web application allows us to easily create and divide different sub-projects. Tasks can be organized in folders and calendars that allows us to know all the updates and progress of each user. Also noteworthy is its LiveStream tool and shared storage (from 2 GB) that allows us to save and link documents. It has support and connects to the most used business tools such as Google, Microsoft, Adobe, Creative Cloud, Box, among others. We can access it from its website, desktop applications for Windows and macOS and mobile devices with Android and iOS.
Its most basic and free version is optimized for groups of up to five people and we can access it from its website. For larger groups with greater demands, there is also a Professional plan ($ 9.80 per month per user) that has 5 GB of storage and unlimited number of licenses for collaborators and a Business mode (from $ 24.80 per month per user) with 50 GB of storage and allows to manage resources and permissions.