Applications
Manage and download torrent files quickly with bitlort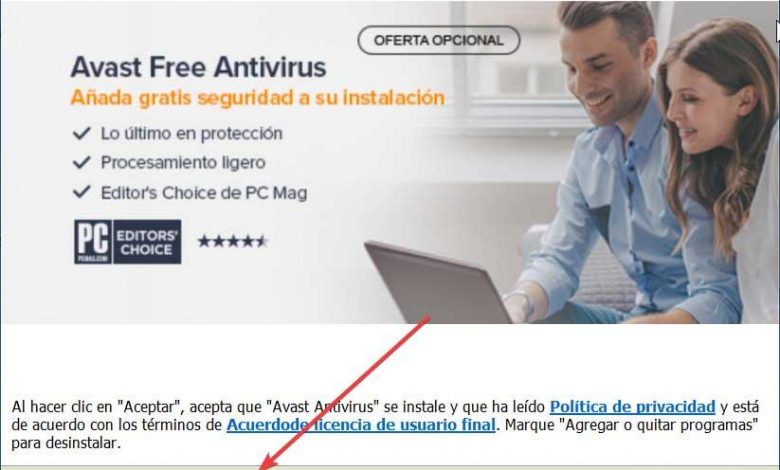 The use of the Internet has become inseparable in our lives and its uses are increasing due to the improvements we have been obtaining, especially in terms of speed and stability in the network. One of the most common uses is downloading files through torrent networks. A practice always wrapped in controversy, although totally legal if we use it in the right types of environments. To download it, you will need a program like BitLort, about which we are going to talk next.
Within the different networks for P2P file downloads, BitTorrent is surely the safest and fastest when downloading. To help us with its configuration, we can choose BitLord, a BitTorrent client with an integrated browser with which we can search for all kinds of files such as documents, music, videos, among others. This program is responsible for connecting directly to the network automatically providing the fastest download speed possible.
Among its main features we find the ability to send or view comments to files, create torrent files, playlists, etc. All from an intuitive interface and consuming few resources of our system. We can also preview the videos during their download and retrieve subtitles from OpenSubtitles, so that we can always have it available in our language.
BitLort organizes and manages torrent downloads
Once we execute the application, its main menu appears with an interface where its integrated browser stands out in the foreground, along with a side column to manage downloads and create Playlists. At the top we find a toolbar divided by tab. Although the program appears in English, it is possible to change it to Spanish, from the «Edit» tab, selecting «Preferences». Although the translation is neither complete nor perfect, it does make it even more possible for any type of user to use the application.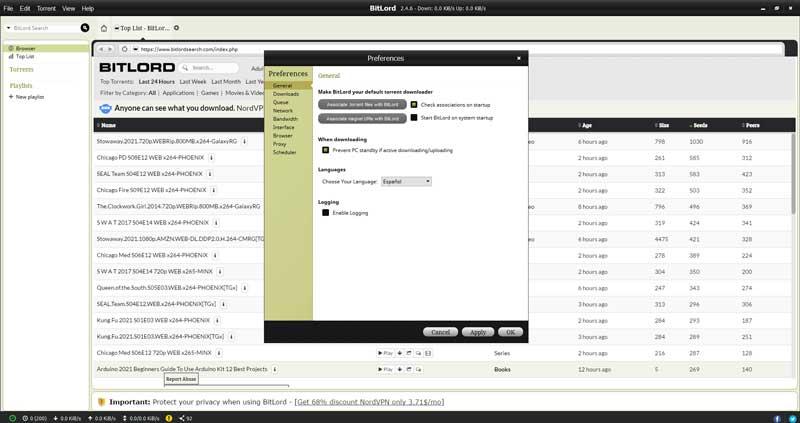 As might be expected, this client for BitTorrent has the typical characteristics of other clients, being it possible to pause and resume downloads, limit the download and upload speed, the number of connections, as well as simultaneous uploads. Likewise, it is possible to enable an option that allows us to manage everything automatically. To do this, we must click on the "Torrent" tab and the "Quick torrent" section.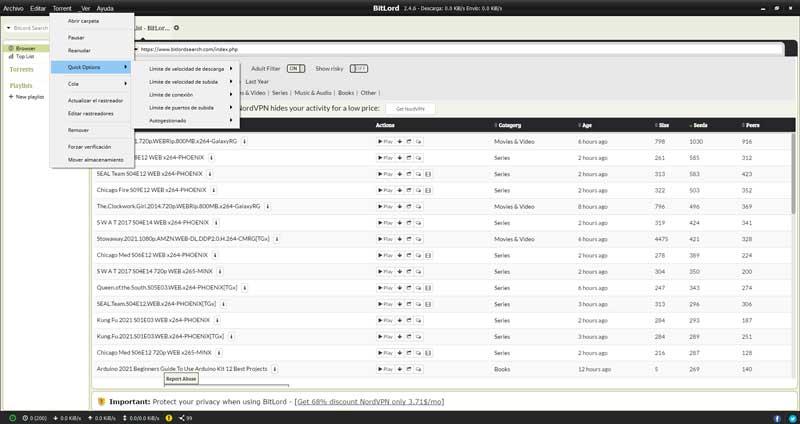 When adding torrent files we can use its integrated browser or go directly to the "File" tab and click on "Add torrents". A small window will appear where we must select the location for the download, as well as add the torrent file that we want to download or its URL. Finally, we will click on »Start download» to begin the download. We can also preview a video directly from its internal player as it downloads. Advertising is also present at all times.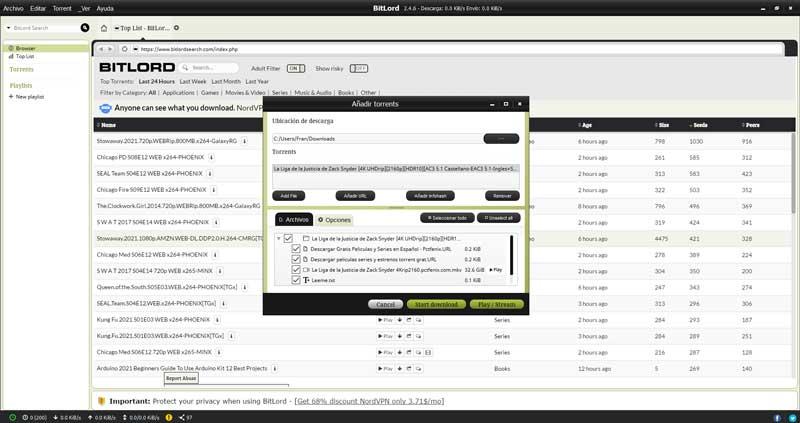 During the download, at the bottom it will show us the status of the torrent, with different information such as the active time, the amount of data downloaded and loaded, the remaining time, etc. Within the Options tab it will be possible to configure bandwidth data, such as the maximum download speed, the maximum upload, maximum connections and maximum ports.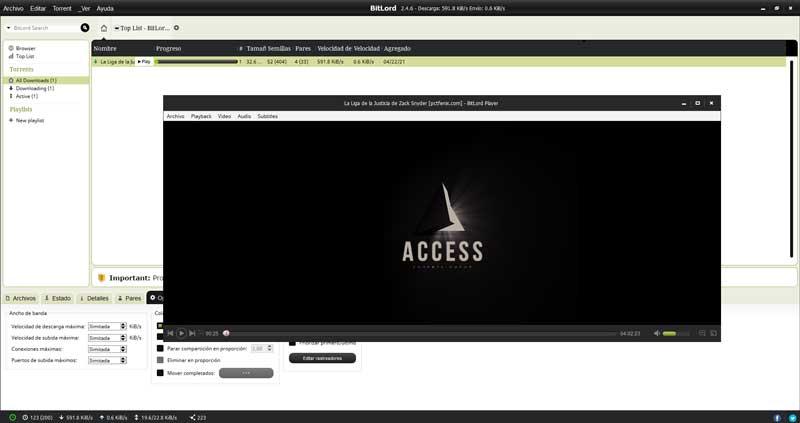 BitLort also allows the ability to create and manage playlists, update trackers, reassign torrents, and other save folders. It will also be possible to select a folder to monitor and add torrents automatically. You can prioritize the first and last part of the torrents, apply password protection, as well as schedule tasks.
Conclusions: is BitLort recommended?
Without a doubt, BitLort is a good BitTorrent client that allows us to download all kinds of files in an organized way, controlling all related aspects such as speed and the number of files that can be downloaded at the same time. In our tests everything worked correctly. As the main point against, we find the presence of advertising within the application that is evident when previewing a video file. It also tries to get us to install third-party programs during its installation, not a very pleasant practice. For the rest, he is a client with whom we will get a great experience.
Download BitLort for free
BitLort is a 100% free BitTorrent client that we can download from its website. The program is compatible with macOS and Windows in all their versions from XP to Windows 10, as well as 32 and 64-bit systems. Installation is done quickly through its wizard. Of course, during the process, the wizard will try to get us to install unwanted third-party programs as in the image below. For this reason, it is advisable to click on Skip all, to avoid its installation.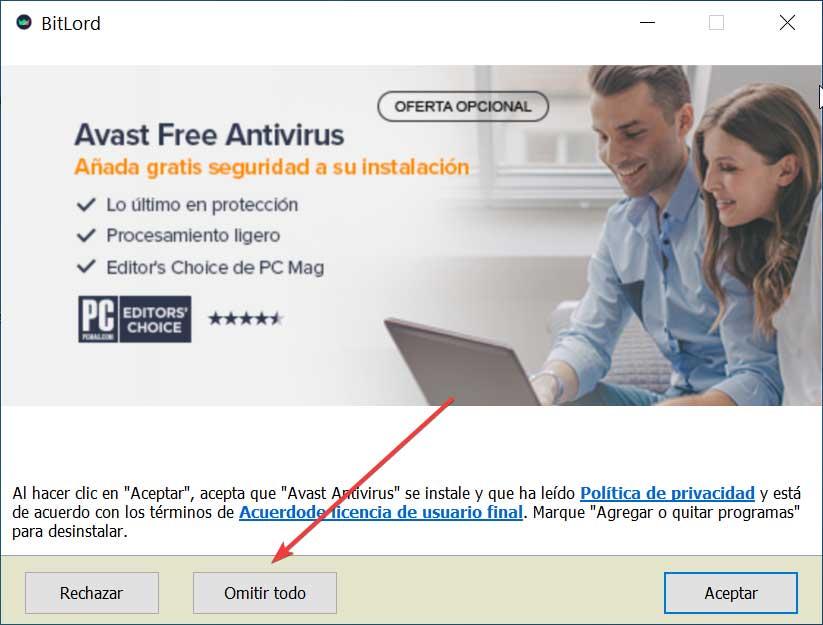 The latest version available for BitLort is 2.4.6-355 corresponding to September 10, 2020. During the past year they released three updates, while in there were up to 8 updates received. That is why it is an application that has been receiving support from its developers periodically over time. Good news for its users who intend to use it over time.
Alternatives to BitLort
If we are looking for a P2P file download client compatible with BitTorrent networks, we suggest some alternatives to BitLort to consider:
BitComet
It is a download manager that allows P2P file sharing. It has HTTP and FTP support, as well as Torrents file exchange compatible with the BitTorrent protocol, Multi-tracker, DHT, utf-8 extension and UDP v2 tracking protocol. In addition, it has support and automatic opening of Magnet Links, as well as support for anonymous downloads, which prevents other users from monitoring our file transfers. We can download it for free from this link.
PicoTorrent
This is an open source client that allows us to download files through the BitTorrent network. Privacy is one of its strengths as it supports I2P, SOCKS4, SOCKS5, and HTTP (S) proxies, as well as strong encryption. It has a portable version so it will not be necessary to install it on our hard drive for use. We can download it for free from here.
BiglyBT
We are now talking about a powerful client with which to download torrents that has some interesting features. For example, it stands out for the incorporation of support for the use of BitTorrent v2 with which to download faster. Also mention that it makes use of SHA-256 encryption instead of the usual SHA-1 and the magnets load much faster. We can download BiblyBT completely free from this link .