Applications
Manage and delete chrome and firefox extensions faster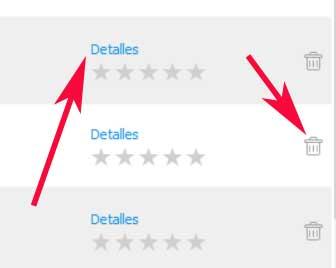 Among the many types and formats of programs that we commonly use on the computer, current Internet browsers are among the most popular. Keep in mind that little by little these online connections have become an important part of the lives of many. Hence, applications such as Firefox, Chrome or Edge are installed on most computers.
As you may already know, these are programs that we normally use to access the almost infinite amount of content that the Internet presents to us . In this way we play, chat, save files in the cloud, work in groups, etc. For all this and much more, the aforementioned programs known as web browsers provide us with everything we need. This is something that its developers are fully aware of, hence the constant updates that they bring us over time.
In addition, not only does the functionality of the software as such come into play here , but also the user takes into account both its appearance and its security . The latter is an extremely important aspect for most, and increasingly. This is basically due to the potential dangers that we can encounter while sailing. And not only that, but at the same time there are more and more sensitive and personal data that we deal with here. Here we refer to access passwords, or bank details, among many others.
Right now , Google's Chrome is the majority's favorite option, but there are many other proposals in this regard. So we can opt for the new Microsoft Edge, Opera, Mozilla Firefox, etc.
Advantages of using the Wise Plugin Manager
But on many occasions, users want to go one step further, something that not only happens in this software sector. With everything and with this, in these lines we are going to focus on the aforementioned Internet browsers, as we have commented. Thus, in order to increase their usefulness and functionality, on many occasions we tend to install compatible extensions. These add new functions that the program lacks natively at the moment.
Although their usefulness is beyond doubt, we must be careful with the use of them. And it is that too many extensions in a working browser, can negatively affect its performance. That is why we must have some control over the accessories that we add here. For this we can use certain specific applications such as Wise Plugin Manager .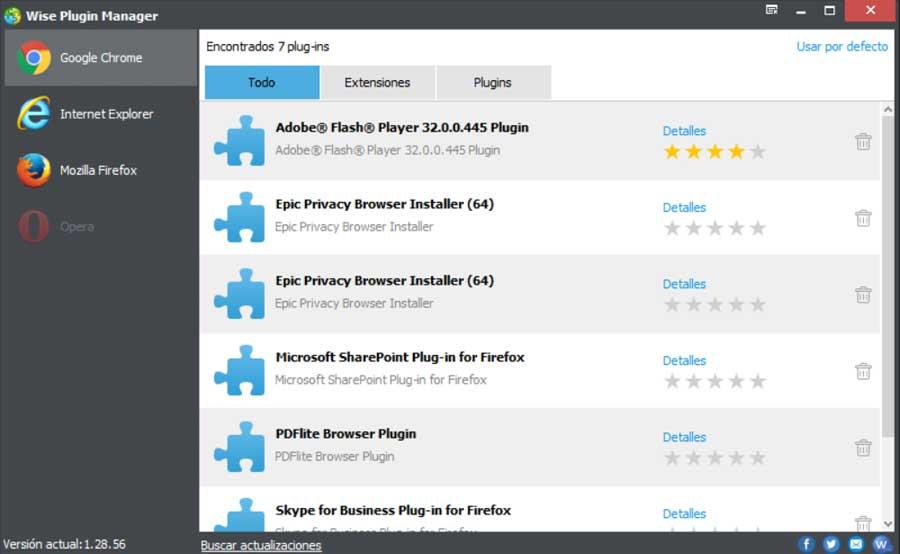 At first, it should be noted that this is an application that focuses on revealing all the add-ons and extensions installed in web browsers. In this way we have a much faster way to manage them. By this, what we mean is that from the Wise Plugin Manager interface, we can enable, disable or delete them from the computer forever. At the same time we must know that the program as such is compatible with four of the most used browsers of the moment. Among these we find Internet Explorer, Firefox, Google Chrome and Opera, it does not yet have support for the new Edge.
In this way each of them is assigned an independent panel so that we can manage their additions one by one.
How to view extensions and plugins with the Wise Plugin Manager
For all this that we tell you, the first thing we will do is download and install the program we are talking about. Next, the first thing we will see will be an intuitive user interface where you can see a list of all the detected add-ons and plugins. So that we can move in a more organized way by this program, say that the browsers that we have installed are located on the right. On the other hand, at the top we see a total of three tabs to consult their added content .

These are called Todo, Extensiones y Plugins, so we can filter a bit the contents that will be seen from those added to each program. But that's not all, but at the same time from here we can carry out various tasks to interact with these elements, as we will see.
Functions on the extensions that we see in Wise Plugin Manager
Serve as an example that each of the entries that we are going to find here come with a short description so that we know what they are about. In order to access it, we only have to click on the Details link. Moreover, together with it we will see the evaluation that the installed extension has at that time .
On the other hand, it is worth mentioning that in the same way we can eliminate from the browser, and therefore from the PC, both plugins and extensions. We achieve this by locating ourselves in the program in question, clicking on the content type tab, and locating the one that interests us from the list. Once we have it on the screen, we only have to click on the icon in the shape of a trash can that is located next to each of these elements.
Alternatives to Wise Plugin Manager
At this point we will tell you that when it comes to managing and eliminating each of the browser extensions and plugins, this is something that we can do from each one. But of course, in the case that we normally use more than one of these on a regular basis, this management can become somewhat annoying. With everything and with it from their menus we do it.
For example, in Chrome we just have to go to the More tools / Extensions menu. At the same time, if we focus on Firefox, this is something we can get from the Add- ons menu option . But the advantage of Wise Plugin Manager is that just by installing the program, we have all these elements at our fingertips without doing anything else.
How to download Wise Plugin Manager for free
Well, if you want to be able to manage browser plugins and extensions in a much faster and more effective way, you can use this application . It is also interesting to know that it is a free proposal, which is always appreciated. Therefore, to install it on your Windows computer, just download it from this link .