Applications
Manage and control your downloads from internet with totald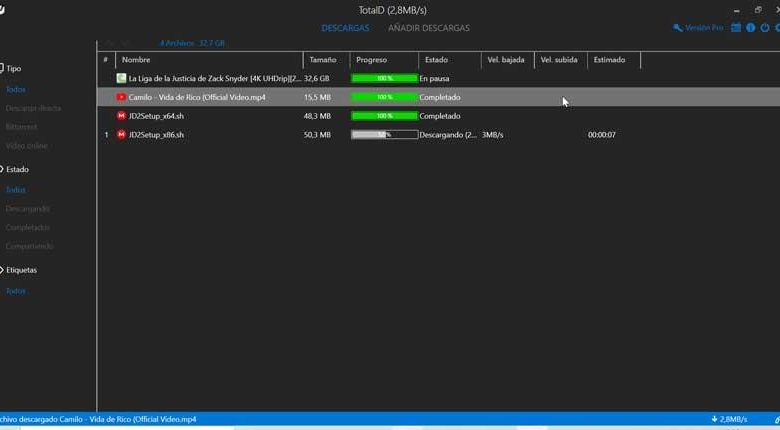 One of the functions that allows us to have a fast Internet connection is the possibility of making all kinds of downloads from the Internet in a matter of seconds. For this we usually use our preferred browser in the case of occasional downloads. But if we usually make many downloads, the ideal is to use a download manager since it will allow us to download from several networks, through torrent and direct download. For this we can use a program like TotalD.
If we are users who make many downloads throughout the day, surely we have verified that it is a task that not only takes a long time, but can turn our PC into a real chaos, with disorganized files. To solve this we can use TotalD, a program designed to manage and control all our downloads, both direct, from the Internet or from the torrent network, centralizing all the downloaded files in a single place.
This powerful download manager will allow us to download our files quickly and effectively, being able to manage waiting times and captchas. In this way we achieve that the downloads are more fluid. It allows simultaneous downloads from all servers, being able to control and decide how many files we can download and navigate while downloading the files and closing the program since the downloads will start when we open it.
Among the main features of TotalD we can highlight:
Minimalist and customizable interface
It has a client add-on for torrent downloads.
Make direct downloads, including from premium hosting websites
Allows downloading of videos from YouTube and Vimeo.
We can configure its operation in a simple way.
TotalD manages all downloads efficiently
Once we run the application, we find a minimalist and simple interface that will allow us to control all the downloads that we want to make, whether direct, from the Internet or from the Torrent network. The interface is divided into two main panels. In the central panel we can preview and manage the downloads, while in the side panel we will find three categories such as "Type", "Status" and "Tags". This column will serve us mainly to filter the content that we download, something that will be very useful if we are users who make a large number of downloads. In this way, we will always have all our content available and organized. Notably, the possibility of adding tags to our downloads to further improve the organization.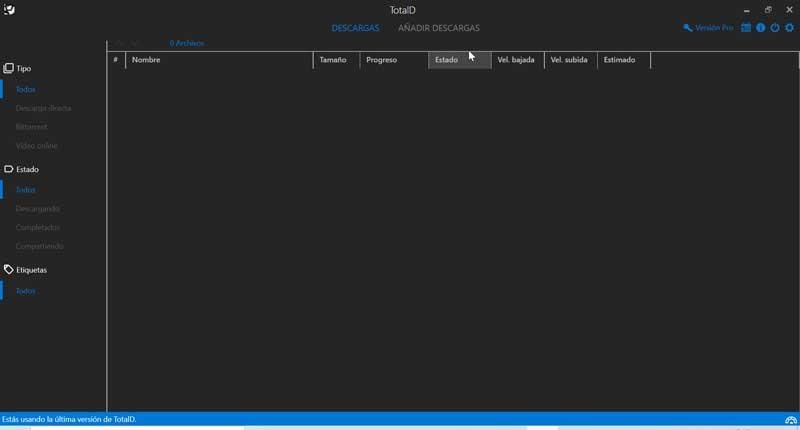 If we click on the "Add downloads" tab, we can start using the program, allowing us to add torrents, paste and detect links, capture links, open link container and perform a capture filter. If we click on the "Add torrent" tab, all you have to do is select the downloaded file to open it with the program.
Automatically detect torrent links
Next, a panel will appear where we can add where we want to save the download, it allows us to manage labels and shows us information such as the size of the torrent and the free space on our hard drive. Below we will see all the files that the torrent is made of, being able to mark or unmark all of them or leave some specific ones marked. Once finished, click on Accept and the download will begin.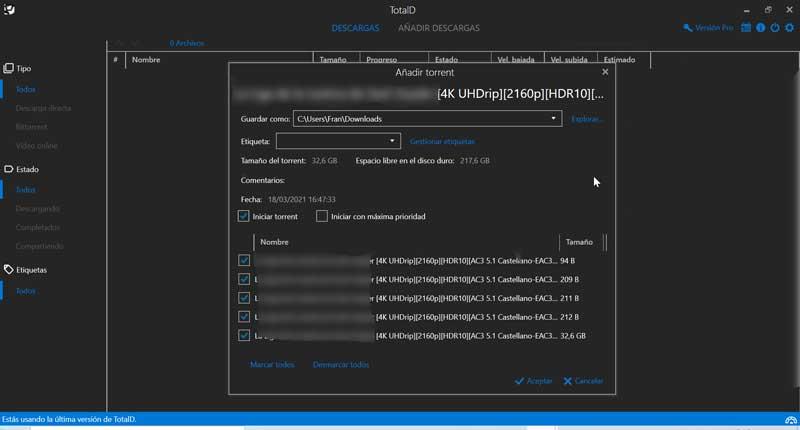 As we have mentioned, this program allows video downloads from platforms such as YouTube or Vimeo. For this, it will be enough to access the platform and copy the link of the video. Once copied to the Windows clipboard, TotaID will recognize it and it will appear in the Add downloads section. At the bottom we must click on «Download selected» to start downloading the file.
Direct download and YouTube videos
Once the video download has started, the program will allow us to choose the quality of the download. If we have the basic and free TotaID account, we can only download in quality. In case of acquiring the Pro version, we can choose the high quality, the best quality or just download the audio. Once chosen, click on Accept to start the download.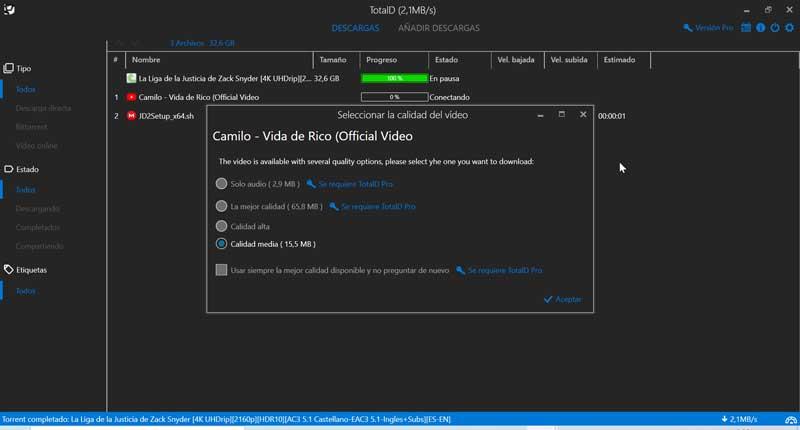 In the event that we want to download any file by direct download, we must also copy the download link to the clipboard and within the Add downloads option, we must click on Paste and detect links. Next, the files available for download will appear, as well as their size and the server where they are available. We only have to mark the one or those we want to download and click again on "Download selected" to start downloading.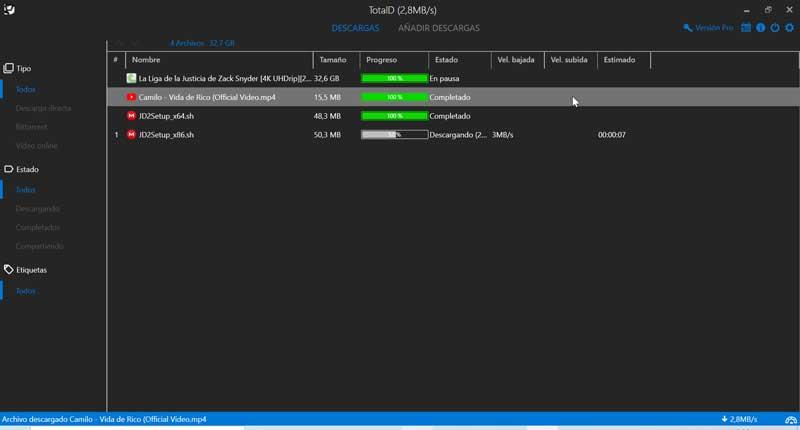 Conclusions: is it a good option to bet on TotalD?
TotaID is a good download manager, with which we have not had any problems during its use, making downloads at a good speed at all times. Its well-organized interface makes carrying out any process a simple task, making it suitable for all types of users, regardless of their level of knowledge and experience. The main problem we find is that its free version is somewhat limited, especially since there are completely free alternatives capable of performing the same functions. However, if we decide to bet on TotaID, we will surely get a more than satisfactory experience, so it can be recommended without any problem.
Free Download TotalD
TotaID is a download manager that has a free version that we can download from its website . It is compatible with Windows XP, Windows Vista, Windows 7, 8 and 10, both in 32-bit and 64-bit versions. Its last update dates from April 12, 2021, and this same year it has received two more updates, which shows the good support it has from its developers.
Although this program has a free version, if we want to enjoy all its functions we must buy the Pro version, either for a year or for life:
Basic : it is the free version that does not have advertising and allows limited torrent downloading, as well as medium quality video downloads.
Pro 1 year : it allows us to download torrents in an unlimited way, with access to premium accounts, without advertising and the possibility of downloading videos in high quality. Its price is 8.90 euros per year .
Unlimited Pro : it has the same functions and advantages, but we can purchase it for life in a single payment. Its price is 13.90 euros .
Alternatives to TotalD
If we are looking for a program to manage and manage our downloads from the Internet, we propose some alternatives to TotaID that we must take into account:
DownZemAll
It is a multiplatform download manager for Windows, Linux and macOS, which will allow us to have all our downloads organized. It also has add-ons for Chrome and Firefox with which we can directly send any content to be downloaded by the program. We can download DownZemAll for free from this link .
Persepolis Download Manager
This is a free and open source download manager for Windows, macOS and Linux operating systems. It has Aria2c to configure our downloads, allowing us to reach the maximum speed. It also has integration with our browser and allows the massive download of files. We can download it from here.
JDownloader
It is possibly the most popular and well-known download manager. It is a free and open source program with which we can carry out multiple parallel downloads. It allows us to directly manage the URLs and a large part of its content is focused on managing and accelerating our downloads. We can download it from this link.