Applications
Make windows write everything you dictate with thess programs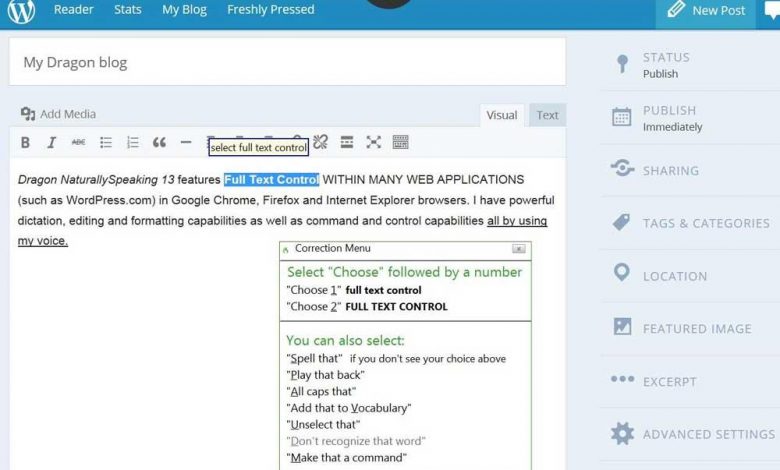 Entering our data when registering on a website, writing an email or writing a short message in a forum can take little time. However, if we have a large number of notes to transform into a text document, transcribe the audio of a meeting or type a longer piece of writing, we will need software that allows us to write with our voice .
Today we bring you a selection of programs, both free and paid, that will make it easier for you to go from voice to text . In addition, we include a section with web options in case you do not want to install any program.
Before you start typing, make sure you have a microphone installed. Press the start button, select "Settings", "Time and language" and finally "Voice." Once there, select "microphone" and press "start".
Quickly transcribe with these free programs
Sometimes we look for a free option that allows us to recognize our voice with an acceptable result even if it later involves a few corrections on our part. For these situations, we recommend the following options.
Speech recognition in Windows, the native application
Installed by default in Windows, it has a double virtue. On the one hand, you have at your disposal the Speech Reference Card that allows you to use the keyboard commands with your voice. And on the other hand, it allows training the PC so that errors when dictating are minimized.
If you want to dedicate time to the function «Train the team to understand you better», access it through «Accessibility» and once there, «Voice recognition»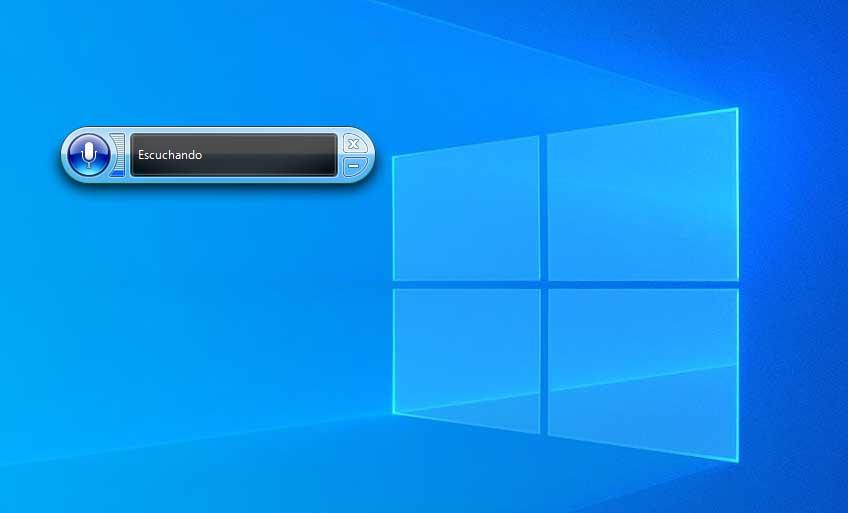 Just press Windows + H to start typing with your voice.
Listen and write, transcribe your audios
Developed by Elefant Software, this free program is very simple: it transcribes audio recorded in the most different formats: OGG, WAV, MP3, WM. It is very useful to transfer your interviews, colloquia or master classes to the computer . In addition, it accepts more than 15 languages ​​and is portable.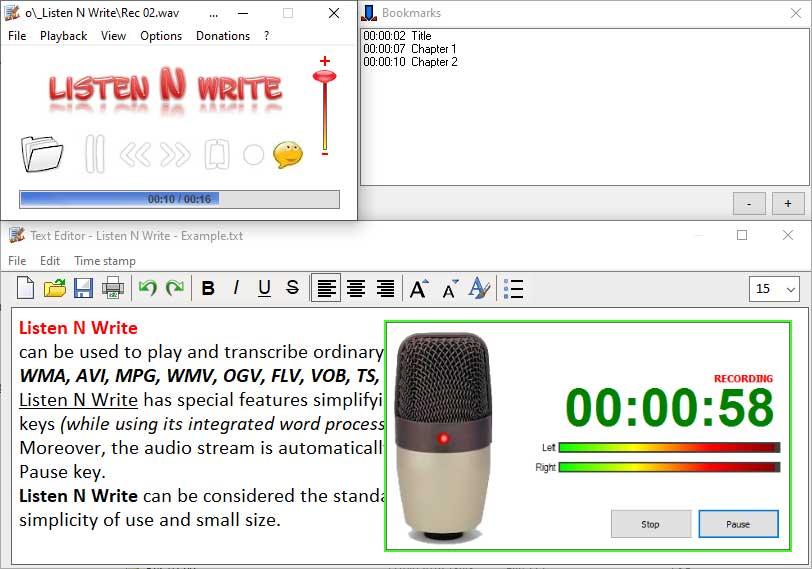 If you have a talk to transcribe, visit their website .
Express Scribe, audio and video to text
This program also has the only function of transcribing audio files but it is more advanced than the previous one. Among its advantages, it accepts video files, is easily integrated into Internet workflows (FTP) and can be used in various word processors such as Microsoft Word or Corel Wordperfect.
For more advanced users, in addition to a paid version, it offers the possibility of connecting to an external device in the form of a pedal that allows to speed up or slow down the audio.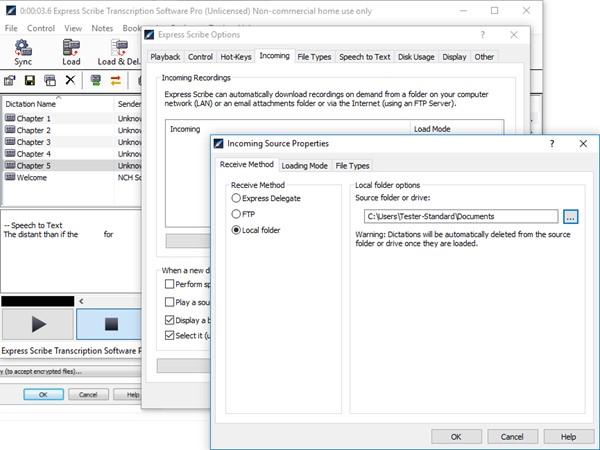 Click here  to download the free version.
The best web pages to go from speech to text
Sometimes we just want to write with our voice quickly to send a short text or a few notes. To meet those needs, we bring you these web pages.
Speechnotes, recognize your voice in Chrome
This dictation option is simple and accepts voices in more than thirty languages ​​and accents (up to 20 in the case of Spanish). The downside is that it cannot be trained and includes advertising. However, for € 7.49 you can remove it and, also, integrate it into Chrome since it has its own extension. It works as a powerful voice recognition notepad that has been specially developed so that we can focus especially on creating. It has state-of-the-art voice recognition technology, as well as integrated tools with which we can increase our productivity.
This web application has a simple and distraction-free design, with a simple blank sheet, so that we can focus on stimulating our mind, fostering creativity. Thanks to the possibility of speaking instead of writing, we will be able to express ourselves more fluently, without interruptions, managing to stimulate our most creative side.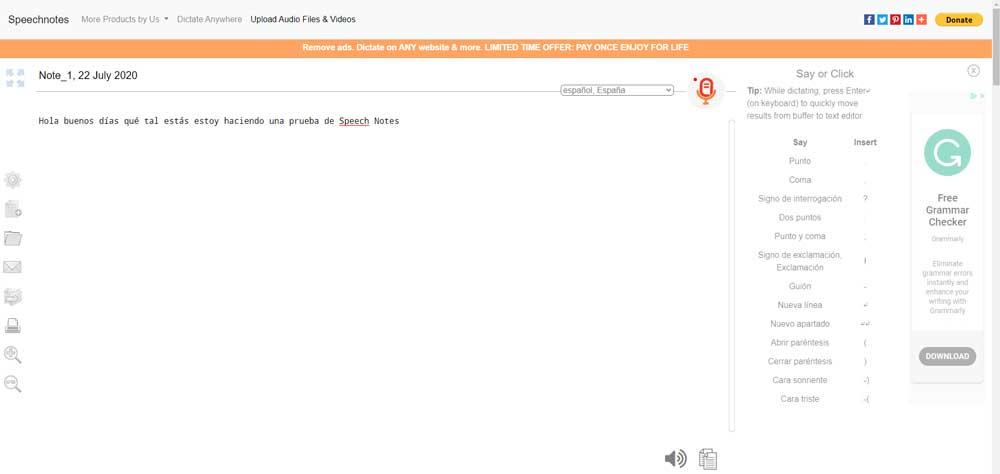 Visit their website if you want to try it.
Dictation.io, a simple transcriber
This web page has the appearance of a notepad and allows easy text editing. It is very easy to use and its main advantage is that you can do many things with your transcript directly on the web, for example, copy it, save it, publish it on Twitter and even send it by email through Gmail.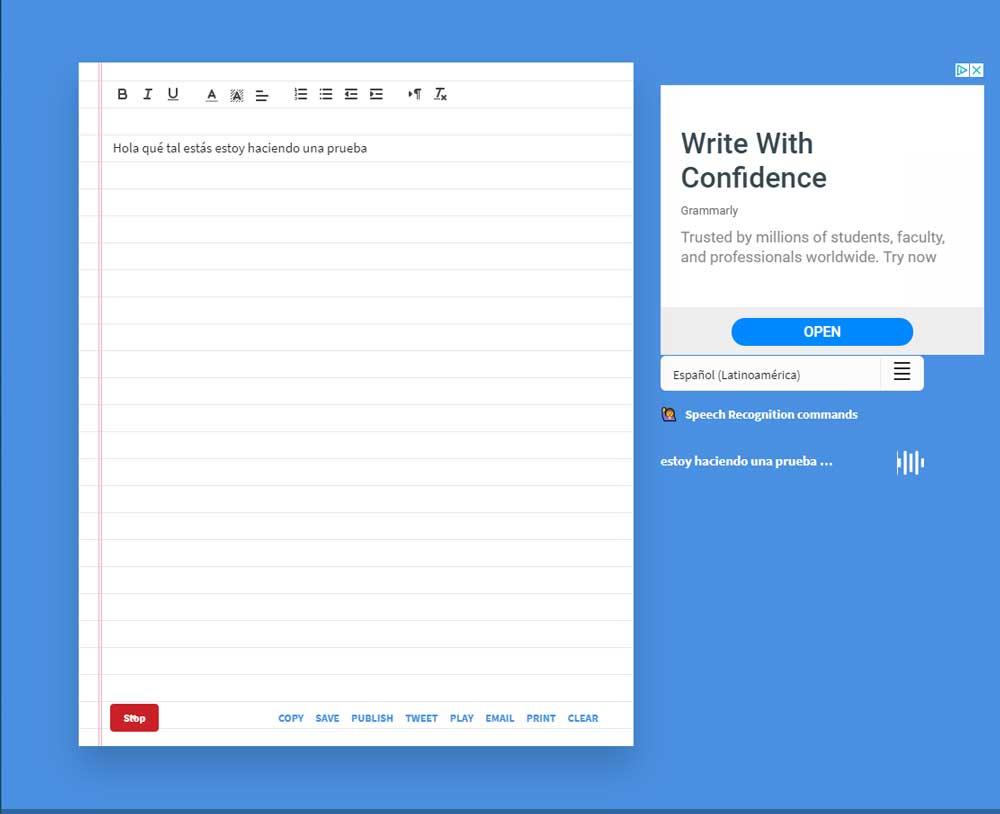 If you have a short text to dictate, click on the link.
Text from to Speech, fast text to speech
In this case, we are going to talk about another interesting alternative of this type that will surely be very helpful in these tasks that we are commenting on. In order to get the most out of this web application to pass text to speech, the first thing we must do is connect to its official website. This is something that we achieve by accessing this link from the web browser . Of course, it is worth mentioning that the program is specially designed to work in Google Chrome.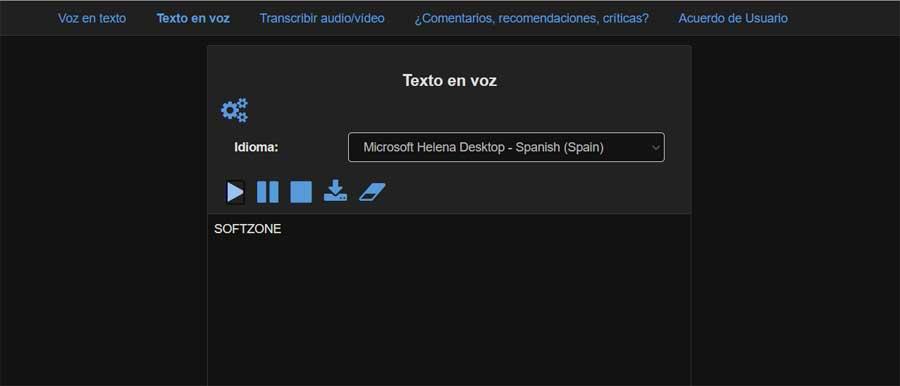 Say that here we are going to find an intuitive user interface that will help us in what we are looking for. It should also be noted that the application has support to make the aforementioned conversion in several languages. This substantially increases its usefulness. Well, in the same way we have several work modes included here. From writing the text manually in the lower part of the interface, to generating a file with the resulting content already in the form of audio.
Talktyper, dictate and export quickly
Writing with your voice is extremely easy with Talktyper. You just have to grant the permissions to use your microphone, speak and edit the errors in the transcription. Then you can download the file and copy the text to your email or to your word processor.
Its simplicity prevents you from improving with use so it is not the best option if you want a high degree of perfection in recognition .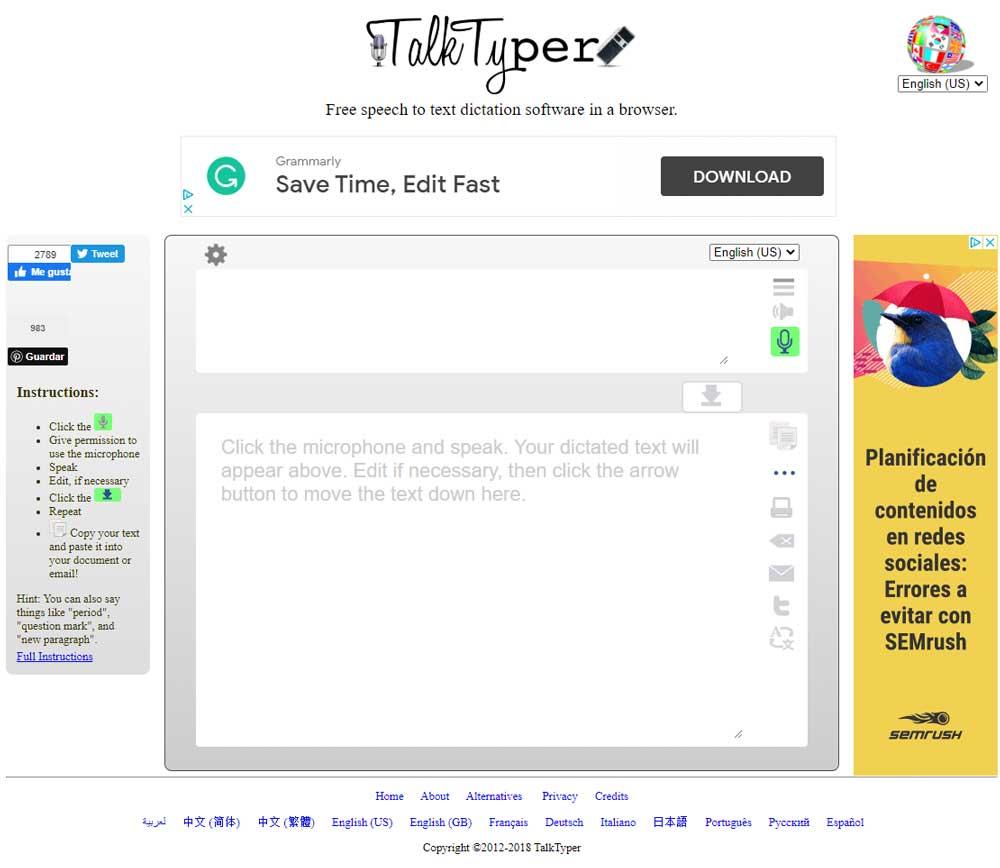 Access its website to evaluate its usefulness.
Speechlogger, transcribe and much more
The basic version of this website offers to pass your voice to text with ease and in more than 20 languages. It also offers the possibility of automatically translating your voice into the rest of the available languages. This option differentiates it from the rest and can be very interesting for students of foreign languages.
The drawback is that it has a daily limitation, 30 minutes of transcription and 10 of translation. However, both problems are eliminated if you subscribe to the paid version that, in addition, allows you to create transcripts of video files and will activate its use options in any text box and web thanks to its Google extension.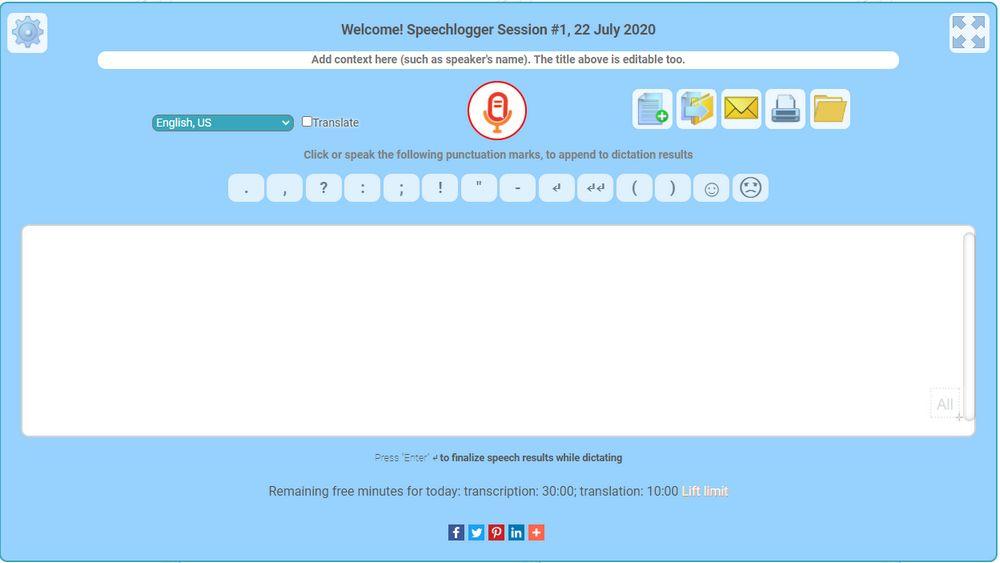 So to use basic to advanced option, go to your page beginning .
Google Docs, write easily with your voice
Also online, but with the possibilities included in the Google word processor, we draw your attention to the voice dictation tool that you can activate by pressing the command Ctrl + Shift + S. Its main virtue is that it is integrated into the program and that it can be used online. You can mark the full stop if you say "period" and the full stop if it says "period, new line." However, it cannot be trained so you will need to review the text before saving it.

Use your Gmail account to access Google Docs .
Write with your voice like a pro
Sometimes we need a little more than what the free programs offer and we are willing to pay for that improvement. If this is your case, we recommend the following programs.
Microsoft Word, dictates the most popular word processor
The most popular word processor includes a speech-to-text converter by default . Its usefulness is medium since, although it recognizes the voice with an acceptable degree of errors and includes a list of voice commands to facilitate dictation, it does not offer the possibility of learning from errors and thus becoming an optimal assistant to write with the voice.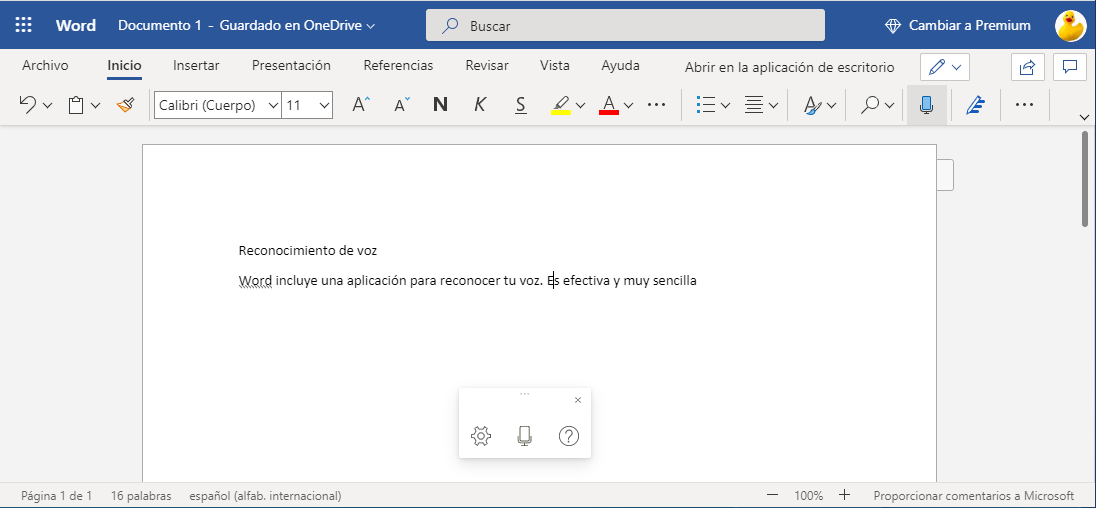 If you have a Microsoft email account, you can access the free online version of Word . If you want to buy the product, visit the official page .
Transcribe, the choice of companies
This payment option offers, for $ 20 a year, the transcription of audio to text through automatic transcription, the conversion of your voice to text in several languages ​​and the possibility of using your own editor that will assist you in the case of you want to do it by yourself.
It has a version for companies and educational entities that have already hired some of the most famous on the planet such as Microsoft, Adobe, KPMG or the University of UCLA. We are therefore talking about a transcription software aimed at professionals such as educators or professional transcriptionists, and which is focused on privacy. It also allows us the option of loading an audio and video to obtain an automatic transcription in a time less than the length of the multimedia file.

Visit their website to analyze their profits and access a professional service.
Braina, the technical transcriber
The name of this program comes from brain and artificial and its objective is to make an intelligent personal assistant available to the user. It aims to go beyond Cortana and integrate into all the processes of your computer and your other devices since it has versions for Android, iOS and macOS.
Among its utilities we highlight that in addition to transforming more than 100 languages into text with a 99% accuracy rate, it does not need training and its interface is simple and easy to use. More technical users will appreciate that you are able to recognize unusual vocabulary and understand most terms from specific fields such as medical, legal or scientific.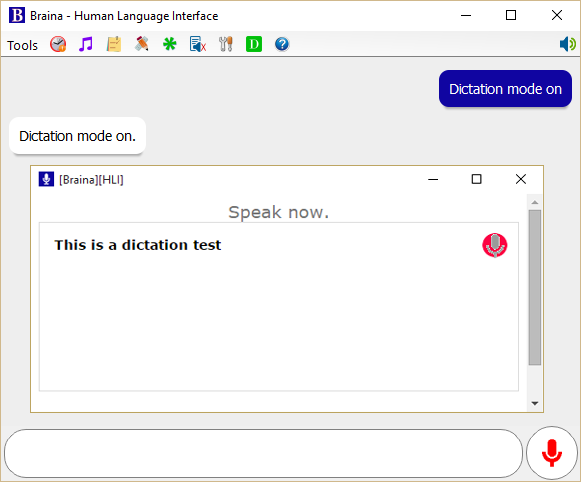 You can access its annual payment version ($ 49) or permanent ($ 139) through its website .
Dragon Home, from speech to text with the best
The best option on the market for writing with your voice has made a version of its professional program available to home users for a price of $ 150. However, its main advantages remain intact: the complete adaptation to the user's voice and the environmental conditions of the dictation, a success rate of up to 99%, the possibility of repeating the dictation to control errors and its support in Windows and tablets.
It is a very easy-to-use program since the Microsoft Office suite, or the most popular browsers, is easily integrated into various programs. In addition, thanks to a series of voice commands, it facilitates daily actions such as the calendar or publication on social networks.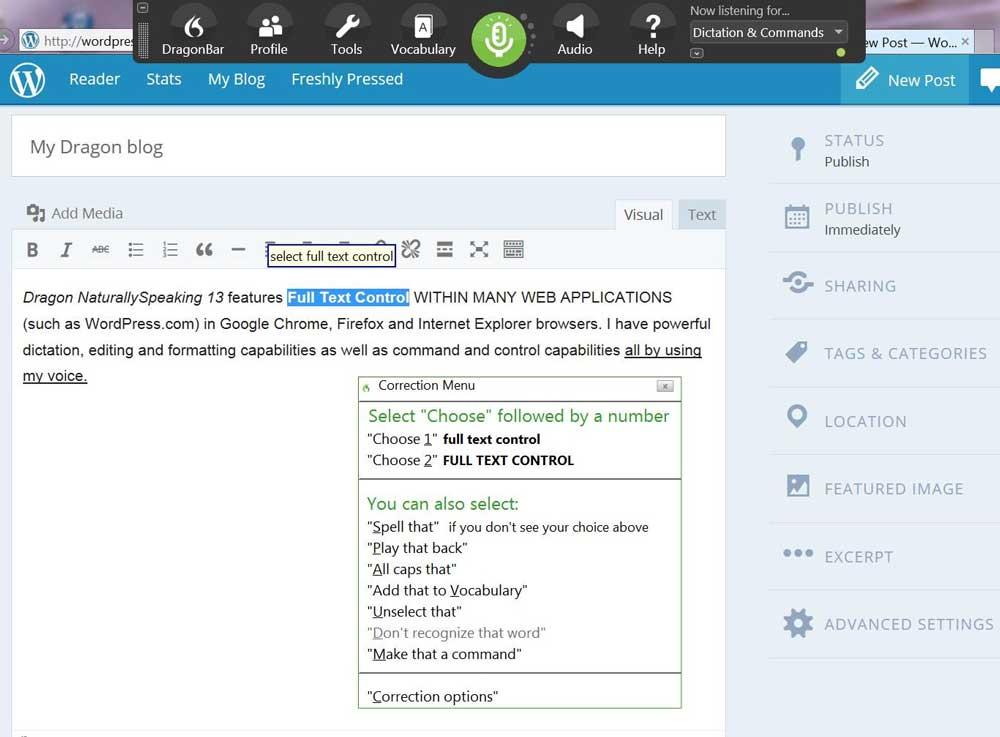 If you want much more for $ 150, visit this product page .