Applications
Looking for an alternative to winrar? 7-zip free trial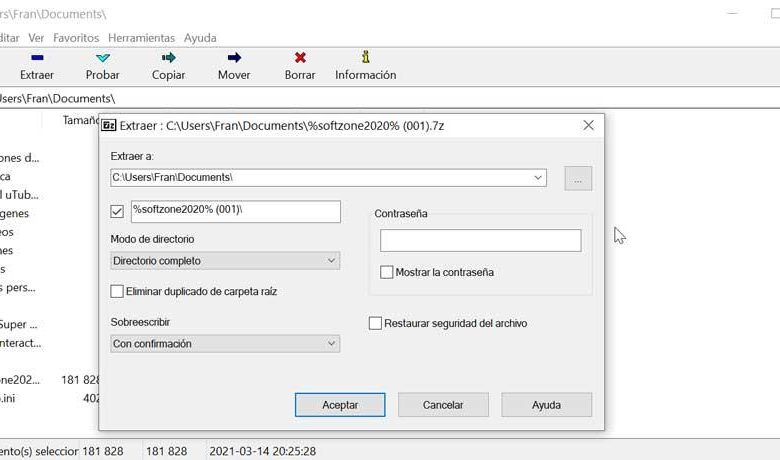 Today file compressors have become one more element of the many programs and applications that are part of our computer. A file compressor helps us to reduce space on our hard disk since it can reduce the space of a file, as well as group several into one. Within this type of program, we surely know WinRAR, the most popular. Its main drawback is that it is paid, so if we are looking for a good alternative, we can choose 7-Zip, which we are going to talk about.
7-Zip is free and open source software under the GNU LGPL license, which allows us to compress and decompress files. The program saw the light back in 1999, positioning itself as a great alternative to the popular WinRAR and WinZip, since it has the same or better options than these and without the stupidity of paying anything for its use.
This application is characterized by having and using its own .7z file format . Although its standard compression format is .7z files, it also has the ability to read and use many other compression algorithms.
This file compressor and decompressor is capable of grouping several files or folders in one, or also in several, in the case that we want to divide the file into parts. In addition, it also allows us to create self-extracting executable files. In this way, just by clicking on a file, all the content of the rest of the files can be extracted.
The main features that this application boasts are the following:
It has a high compression rate in 7z format with LZMA and LZMA2 algorithms
Supported compression formats:  7z, XZ, BZIP2, GZIP, TAR,  ZIP and WIM.
Supported decompression formats: ARJ, CAB, CHM, CPIO, CramFS, DEB, DMG, FAT, HFS,  ISO, LZH, LZMA, MBR, MSI, NSIS, NTFS,  RAR, RPM, SquashFS, UDF, VHD, WIM, XAR and Z.
2-10% improved compression rate for ZIP archives than WinZip
Supports AES-256 secure encryption in 7z and ZIP file formats
Support for self-extracting files in 7z format
Integrates seamlessly with the Windows interface
It has a graphical version for file management
It has a command line version
Available in 79 languages
Quickly compress and extract archives with 7-Zip
Once we execute the application, its main menu appears with a simple interface and completely in Spanish, which will help us to manage and navigate the program efficiently, although we do not have much knowledge with the management of this type of programs. At the top we see the classic toolbar organized by tabs, from where we can access all the options that this program offers us.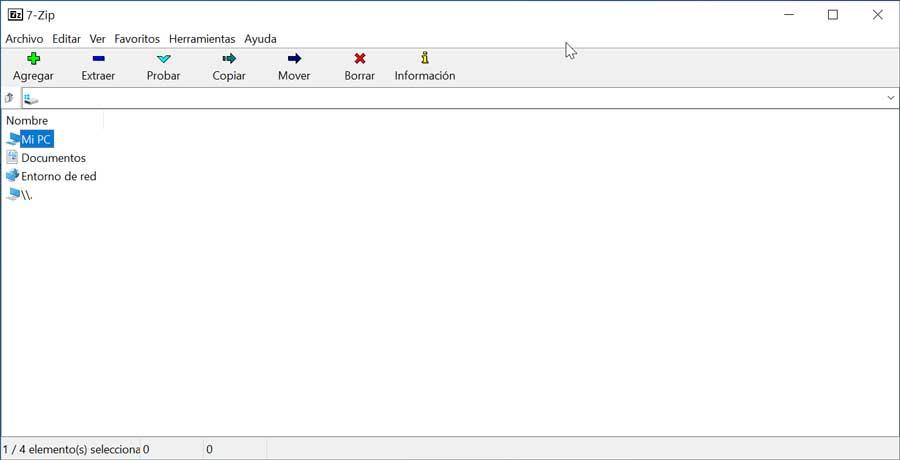 Drag files and folder for compression
To start using it, we can start by dragging and dropping any file or folder that we want to compress. Once this is done, a window will appear where we can choose the file format we want for compression (7z, bzip2, gzip, tar, zip, xz or wim). Once selected, we can choose the compression level from the fastest to the ultra. Later it allows us to choose the type of compression (LZMA2, LZMA, PPMd or BZip2).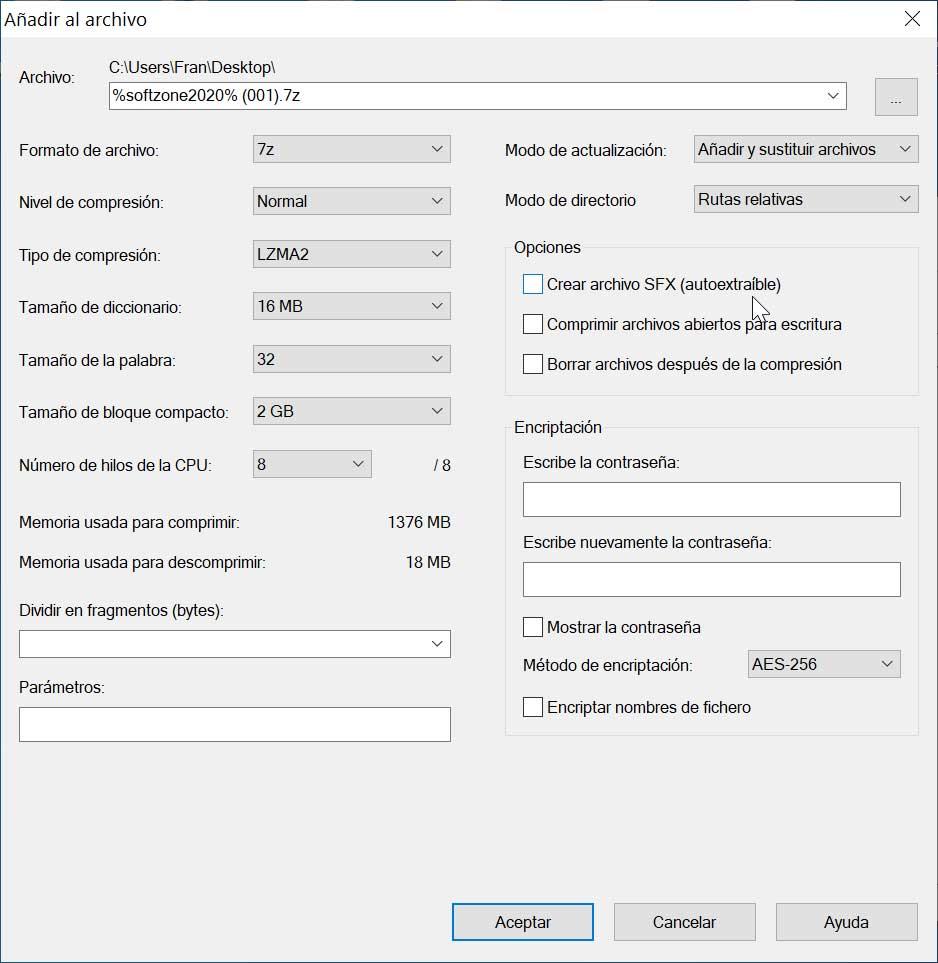 Depending on the type of file format that we choose for its compression, it will not be possible to add an encryption to it to have it well protected. For this we can write the desired password. For this, it will only be done using the AES-256 encryption method , which guarantees maximum security for our file. Additionally, it will be possible to encrypt file names by checking their corresponding box. Once finished, click on "OK" and our file will have been successfully compressed.
Search and unzip files from its interface
From its interface it will also be possible for us to navigate and search for files and folders both to compress or decompress. In the event that we want to extract any file, we can do it easily. We just have to look for it on our hard drive through its interface and once located we can check its content by double clicking on the file. In the event that we want to extract it, just click on the "Extract" button at the top.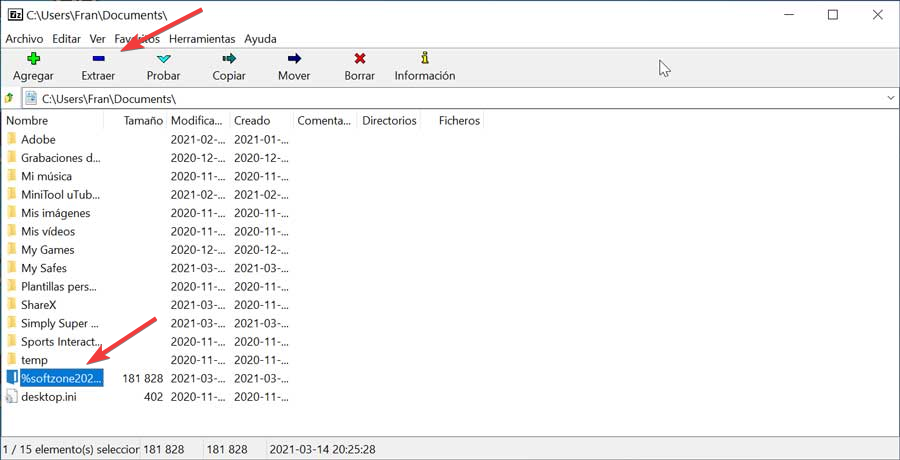 By clicking on the "Extract" button a new window will appear where we must indicate the path where we want to unzip the file, as well as the name we want to give the new file. In the event that the file has a password, we must indicate it. We also have the option to remove duplicate from the root folder, so as not to have it repeated, overwrite the file and restore the security of the file. This program is characterized by having a fairly fast decompression process, although its time will depend both on how large the file is and on the power of our computer.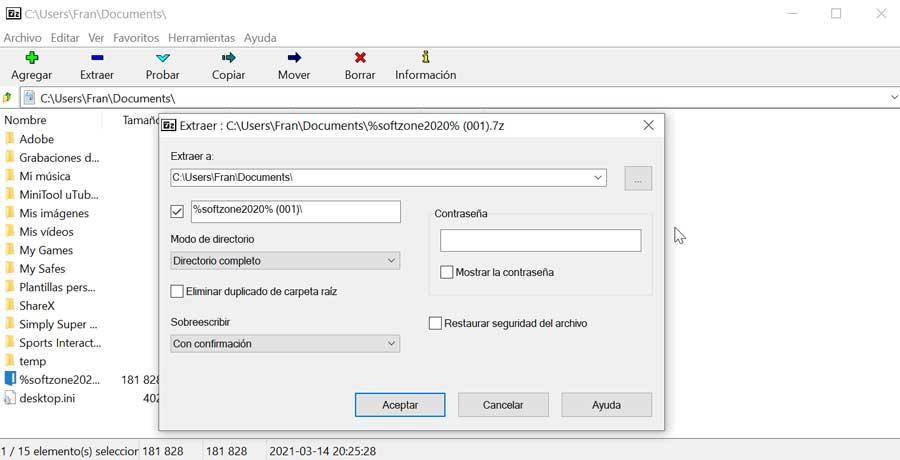 7-Zip Free Download
If we want to use 7-Zip to compress and decompress any file, we can download it from its website and use it for free for both home and commercial use. It is available for multiple platforms such as Linux, macOS and Windows (10/8/7 / Vista / XP / 2019/2016/2012/2008/2003/2000) in 32-bit and 64-bit versions. It's very light, takes up hardly any space, and integrates seamlessly into Windows file explorer.
The latest available version of 7-Zip for Windows is 19.00 corresponding to February 21, 2019 . Currently it also has a version 21.01 alpha corresponding to March 9, 2021, so we will not have to wait long to see it available as a stable version.
Alternatives to 7-Zip
If we are looking for a program with which to compress and decompress files, we must also take into account other alternatives such as the ones we present below.
WinRAR
The most popular file compressor is available for Windows, Linux, and macOS. It is compatible with file formats such as RAR, ZIP, 7Z, ARJ, CAB among others. It has the ability to recover damaged files and volumes, create multi-volume and self-extracting archives. WinRAR has a fully functional trial version for 40 days that we can download from this link .
BandiZIP
With this program we will be able to compress and decompress files in a comfortable and fast way. It is compatible with formats such as ZIP, TAR, EXE, among others. It is also possible to decompress more than 30 different formats, including ISO and RAR. It also has the ability to compress files with a password supporting the AES-256 encryption algorithm. In addition, it supports the compression of files larger than 4 GB in size. BandiZIP has a free version that we can download from here .
IZArc
This compressor for Windows is characterized by supporting a large number of formats, among which are some as popular as ISO, RAR, ZIP, among others. It has full integration with Windows Explorer through its context menu. It also offers support to securely encrypt files using the AES-256 algorithm. IZArc can be downloaded for free from its website .