Applications
Listen to the content of your pdf files through the pc speakers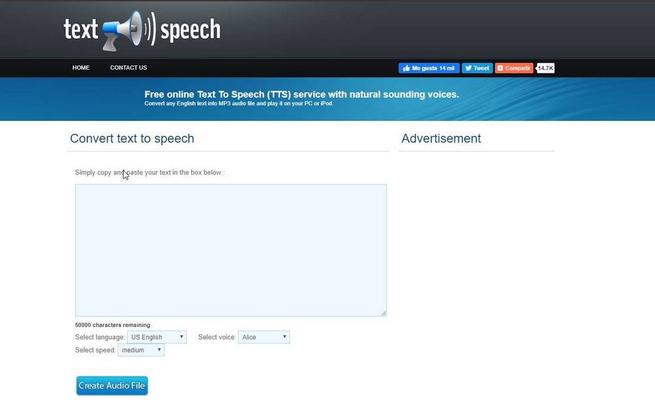 Currently we have many PDF file editors, each with different characteristics which each user may find more or less useful, all according to their needs, but something that not all PDF editors and / or readers include is a read-aloud tool, which may be useful to certain users.
Since it can be a tedious task for the user to search for all the PDF editors or readers that incorporate this option, here is a list of the best ones, each one focused on different characteristics, but with the same task.
Advantages of listening to PDFs through speakers
Everything related to the office automation sector is currently being used by millions of users on a daily basis. Whether in offices, at home or in environments related to education, office automation is one of the fastest growing sectors. Here we find text files, databases, spreadsheets, PDFs, etc. We create all these documents full of content to share or save . But of course, at the same time technology does not stop advancing, something that affects office automation.
If we take into account that, as a general rule, the main component of most PDFs is text, to consult them we have to read this, like a DOCX, for example. But just as some web browsers already read the pages we visit to us, these programs read these texts from PDFs aloud . In this way, while we listen to its contents through the speakers, we can be carrying out any other task with the PC. Thus, these programs that we will talk about, can save us a good amount of time and effort in the day to day with these files.
Applications to read PDF out loud
Adobe Acrobat Reader
It is the most widely used free PDF reader software in the world, it has a long history since its launch, which has specialized and renewed a lot with each version. This reader allows us to read, print and add comments to the files, with a new feature that allows us to upload the files to the cloud to be able to edit them from any device.
Although it is a PDF reader, it also allows us to view other files such as DOC, HTML, among others.
Adobe Acrobat Reader: Download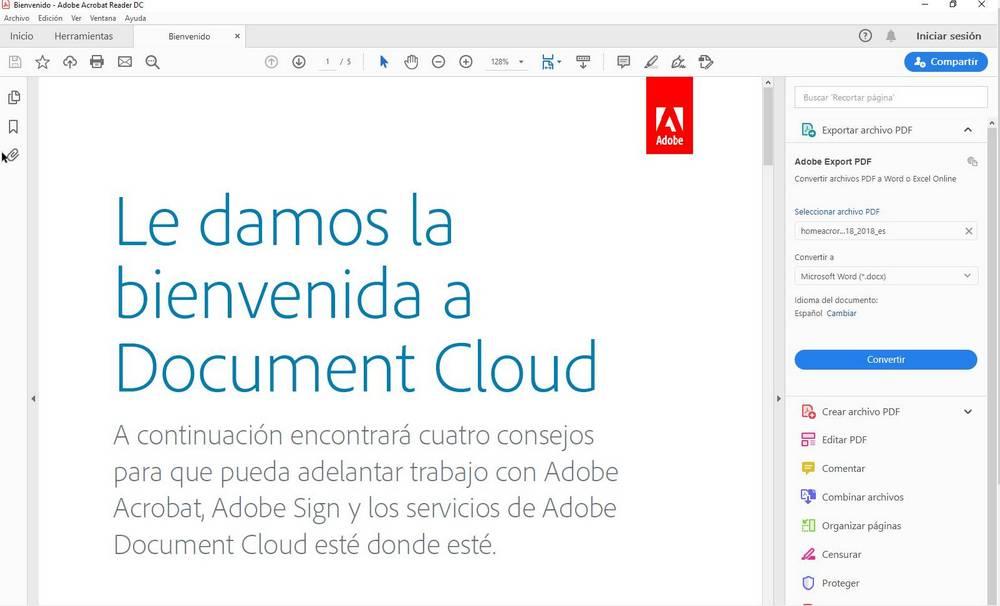 Natural Reader
This tool has a simple function is to read the documents with a natural tone, also allows us to listen to web pages and e  – mails apart from the PDF files, which owns a disadvantage is that it has limited use with free voices.
But we can edit the pronunciation, and it allows us to use it with files, PDF, Docx, TXT and ePub, for other features we have different single payment plans.
Natural Reader : Download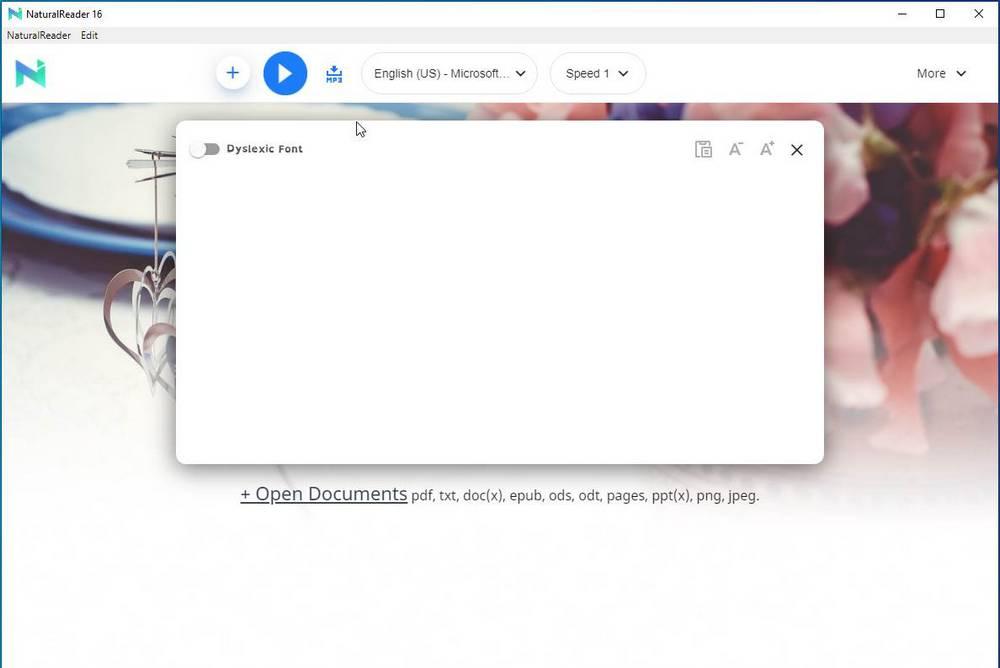 Panopetrer
This software has been specially developed to read any text aloud using natural voices, being compatible with the PDF format . It can also convert the files to text or sound formats such as MP3, WAV, OGG and FLAC, so that we can listen to them on any compatible device. Among its features, it also stands out the possibility of adjusting both the volume and the tone of the speech . In addition, it has support for a wide variety of languages ​​and is capable of batch file conversion.
Panopetrer has a free version that we can download from its official website. If we want to enjoy all its functions, we will have to pay for the license, which has a cost of $ 32.95.
Panopetrer : Download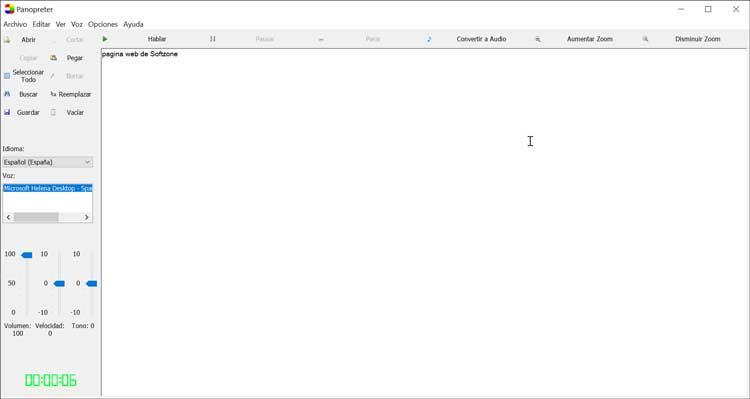 Capti Voice
With this program we can read text and listen to them with a clear and natural sound that can be personalized. It has support for web browsers, Office 365, Google Docs and, of course, documents in PDF format. It also allows you to write, annotate and underline documents, which we can translate into more than 100 languages, of which more than 30 have text-to-speech capabilities. Therefore, it becomes a fundamental tool for language learners.
Capti Voice has a free version with its most basic functions. If we want to enjoy its more advanced features we must resort to the Pro version, paid
Capti Voice : Download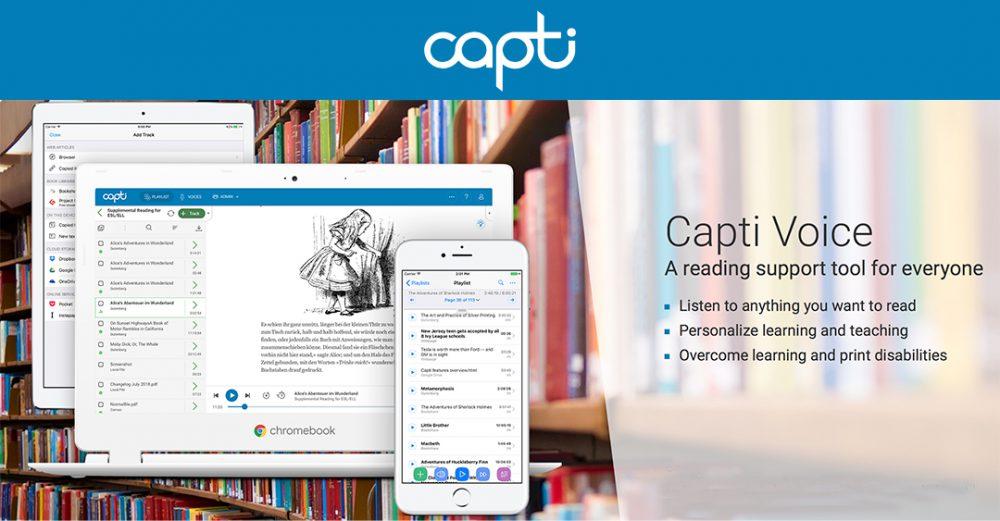 NextUp TextAloud
This program has been conceived to be able to read with a natural sound all kinds of documents, web pages and PDF . It is an ideal tool for people with dyslexia, vision or reading problems, since it has the possibility of underlining the words as you read them. Another interesting option is the possibility of saving the texts in different audio formats, so that we can listen to them anywhere and on any compatible device. In addition, it has extensive integration with browsers such as Internet Explorer, Chrome and Firefox, as well as with Word, Outlook and Windows Explorer.
If we want to try TextAloud, we can download a 20-day free trial from their website. To be able to use it permanently, we will have to buy its license, which has a cost of 33 euros.
TextAloud : Download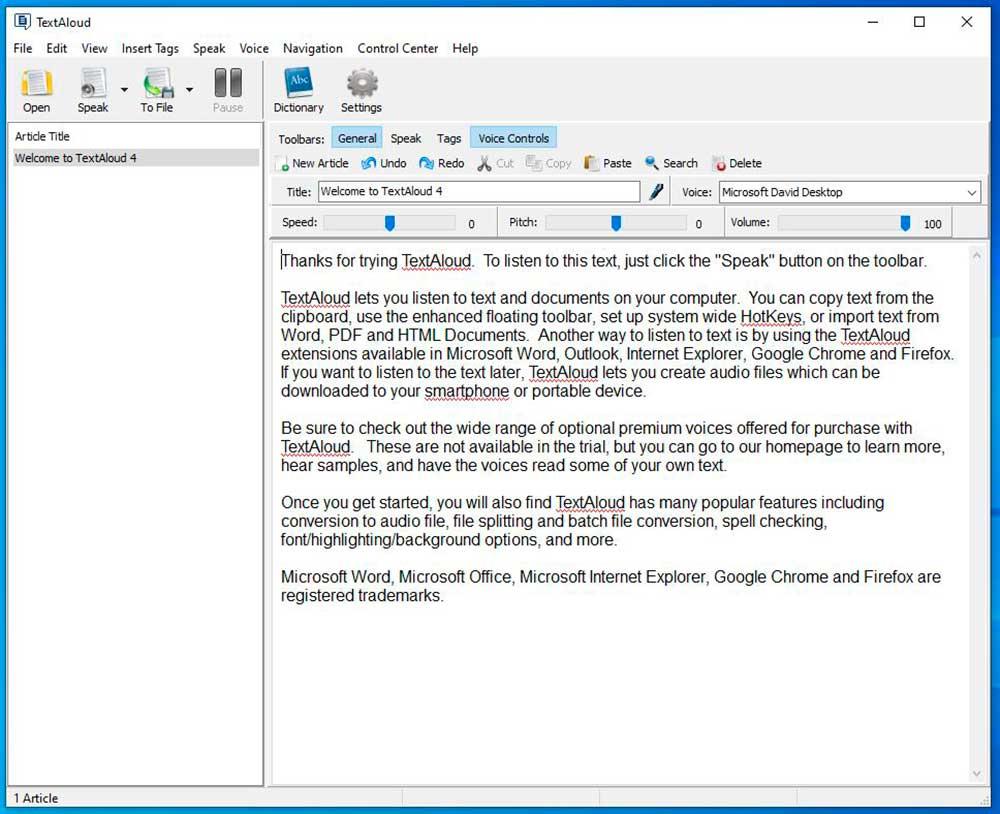 Balabolka
It is a program whose main function is to read the documents loaded in it, but it also allows us to save the read documents, in audio files in various formats such as MP3, MP4, WAV among others.
It supports text documents in many formats, some are DOC, DOCX, HTML ODT among others. The read text is synchronized with the audio and is displayed simultaneously as if it were a song.
Balabolka: Download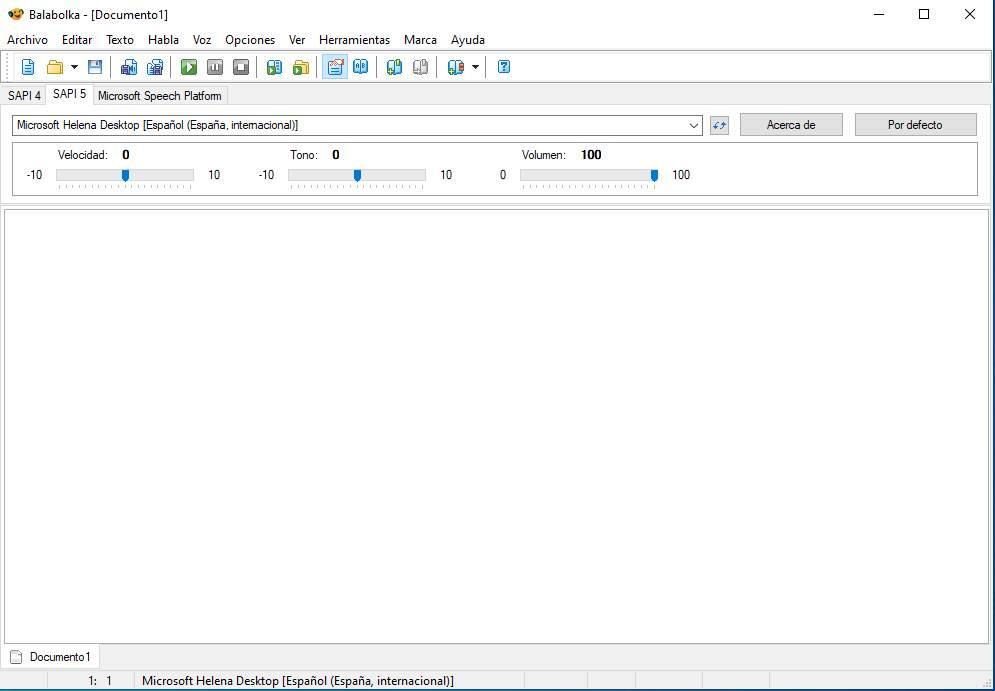 Deskbot
This software is capable of reading from the clipboard with which by selecting the text that we want it to read, and pressing Ctrl + C, Deskbot will read it, also by clicking the secondary button on a web page we can ask it to read it to us completely .
Deskbot: Download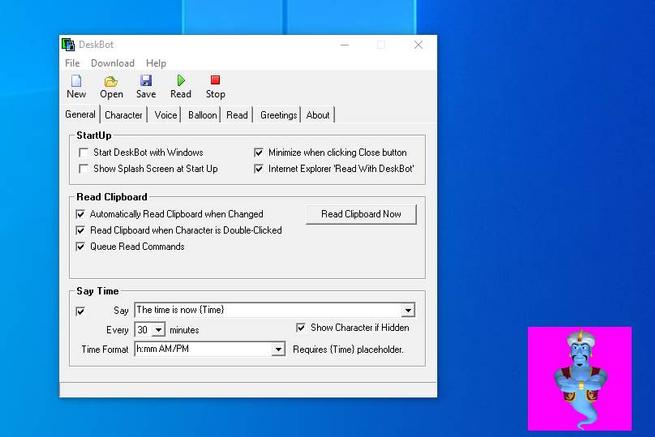 Dspeech
It is a somewhat more complete reader since it allows us to download other voices to personalize it more, it also allows us to save the audio it reads in MP3 and WAV files. We have controls to pause, resume, speak or stop the recording. You can configure the reading speed or add effects to the voice recording.
Dspeech: Download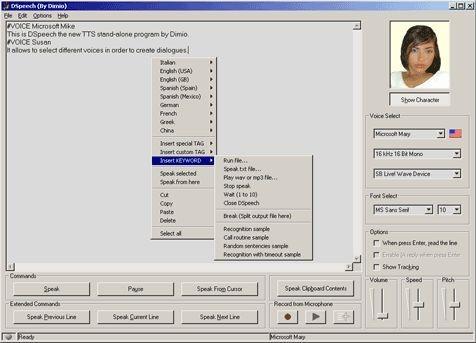 Ultra HAL TTS Reader
This is another alternative of the same type that allows us to listen to our files in PDF format out loud . As we mentioned before, this is a feature that could be very helpful to a good number of users. All this is especially evident for those professionals or ordinary users who constantly work with this file format.
Therefore, in order to test the proposal we are talking about in this case, say that you can download it from this same link . It is also a solution of this type that has been with us for a few years, so its developers have gained experience. Of course, we must bear in mind that the program is currently only available for documents in English, although it hardly consumes system resources .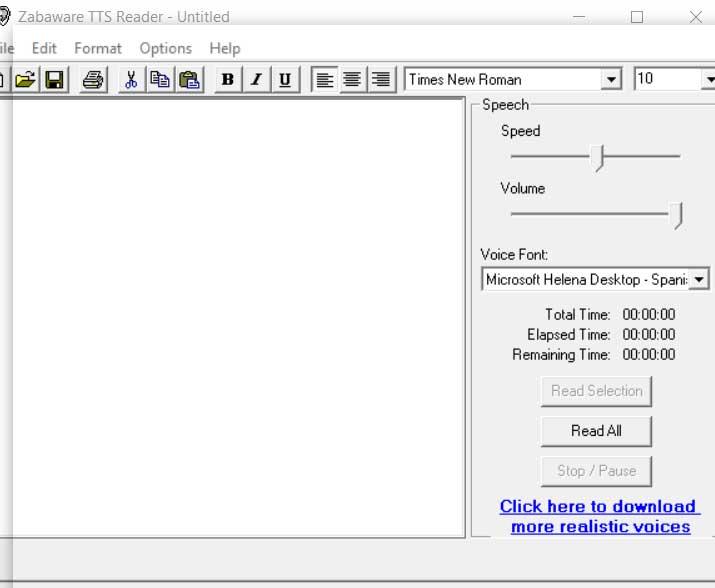 At the same time, it is worth knowing that the program is very easy to use, even if we do not have much experience in these matters. All this despite providing us with some useful parameters to adjust its operation .
Online document voice readers
TTSReader
It allows us in a very simple way, to generate voice files of the text that we enter or even upload to the web, to be an online option, we have the main options, record, resume, delete, upload files among others.
TTSReader: Enter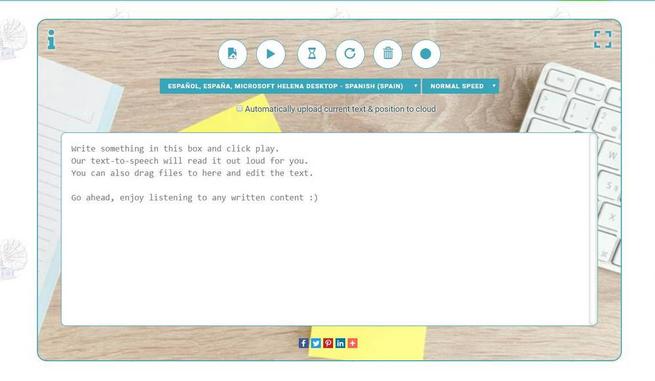 From Text to Speech
This reader could rather be considered as a text-to-audio converter, since it is very simplified and allows us to enter the text to later download it as an audio file in .mp3 format, but for those who are looking for a simple and easy solution is enough.
From Text to Speech: Enter