Applications
Liii bittorrent client the alternative to utorrent for your downloads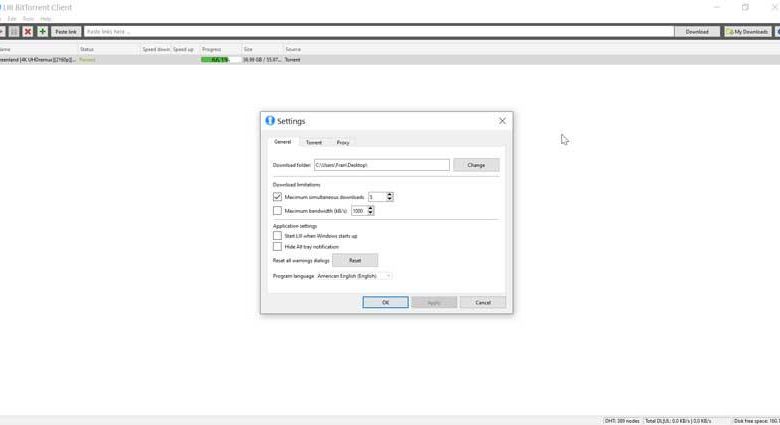 Since the Internet became part of our lives and thanks to the increase in connection speeds, torrent file downloads through P2P networks have been popular for years. When it comes to downloading clients, without a doubt, the most used has always been uTorrent, which has been falling in popularity due to its advertising and the presence of malware inside. Luckily, we find many alternatives on the market, such as the LIII BitTorrent Client, about which we will talk next.
LIII BitTorrent is a free and open source download client developed by aliakseis for PC. With it we can share files on P2P networks, either as a torrent file or from a magnet link, using a minimum consumption of resources from our system. It is an application that is based on simplicity, so it is ideal for users who do not like complex clients full of features and functions that they will never use.
The program is compatible with .torrent and .magnet files, which will begin to download when they are added. It has a clean and simple interface, which will make it easy to navigate and use. In addition, this client does not show ads, which is a clear advantage over other more popular alternatives. Along with the more traditional functions of any download client, LIII BitTorrent, offers us a comfortable management of downloads and their different configurations.
How LIII BitTorrent Client Works
Once we execute the application, its main menu appears with a simple and effective interface, without a multitude of options that can overwhelm us and a large panel with several indicators. At the top are the buttons to control downloads, add torrents, a space to enter a magnet link and a configuration button. and at the bottom we will see the summary of the downloads. The application runs in the background and can be accessed from the system tray icon, the menu of which has options to start all torrents or pause them with a single click.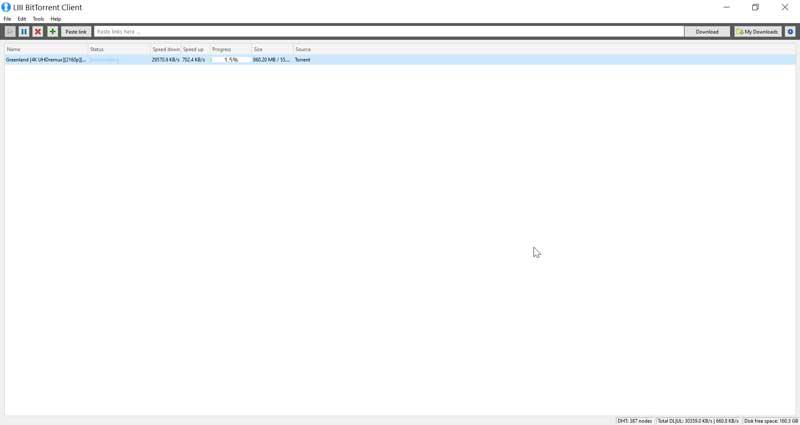 Add a torrent file downloaded or via magnetic link
To add a torrent file to the application we have several ways. On the one hand, once we have downloaded the file, just drag it to its interface to open it directly. We can also select the plus (+) icon to select and open it. Likewise, we can also do it from the File tab and then clicking on Open. Finally, if we use a magnet link, we simply paste it into the box that appears and click "Download" to start the download.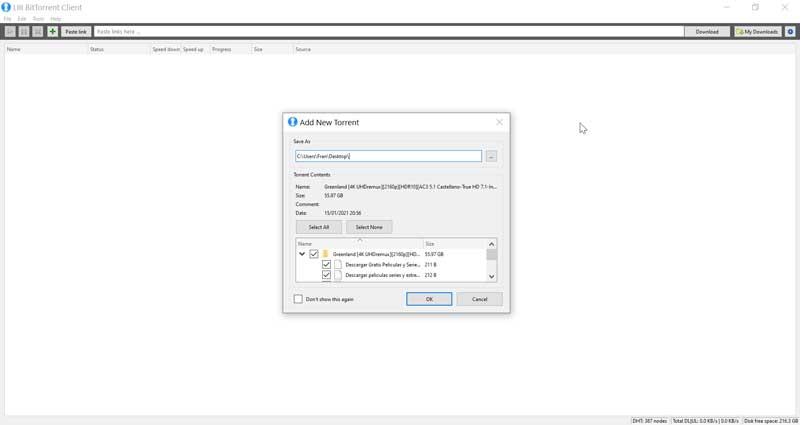 If we right-click on a torrent, the program's context menu will open. From there we can open the torrent folder with Windows File Explorer, start or pause the upload / download. We can also select High Priority to move a torrent up the queue, or use the Low Priority option to move it down. In the case of choosing the Cancel option, this will take care of removing it from the panel, but it will not delete the files, something that we will have to do manually. If we accidentally delete a download, we can only show it again in the interface by adding the torrent again. This way the download will resume at the same point without starting over.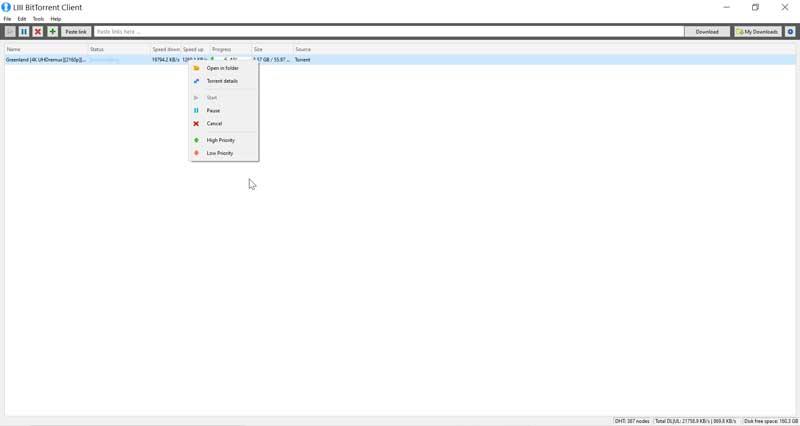 Settings and configuration options
If this torrent client is characterized by something, it is because of its simplicity, since it is designed so that we can use it to download without having to perform various configurations. Despite this, and thinking of more advanced users, it has a settings menu in which we can find some options to configure that may be useful.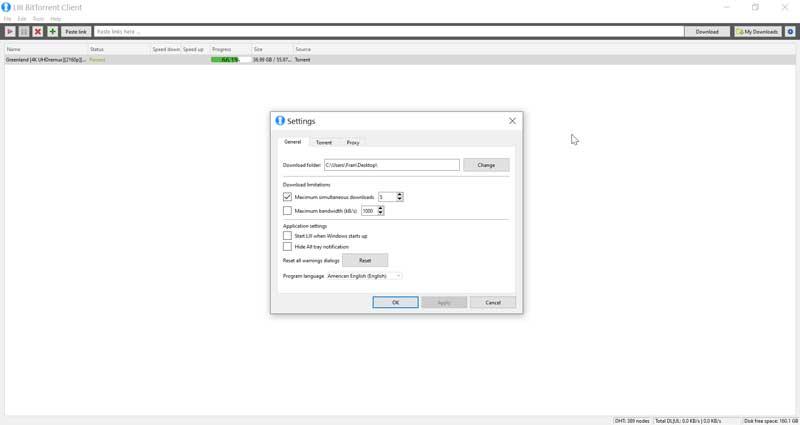 To access the Settings menu, just click on the gear icon at the top right of the interface. Here we will find three tabs, such as General, Torrent and Proxy where we find the most essential options. Here we will find the possibility to change the number of simultaneous downloads and the bandwidth limit. We can also change the default download path, change the file association options, configure a specific port and support custom proxy servers if we have one. We will not find the option to add or remove trackers, nor the option to add new pairs or ban pairs.
Conclusions: is it advisable to bet on LIII BitTorrent Client?
LIII BitTorrent is a simple and direct P2P download client, characterized by being very easy to use, making it suitable for all types of users. Ideal for those who do not want to waste time making configurations and what they are looking for is a program that downloads at maximum speed just by adding a torrent. However, those looking for additional features will surely be disappointed.
Free Download LIII BitTorrent Client
LIII BitTorrent is a free and open source P2P client, so both its source code and its different versions can be found on GitHub for download, which we can access from the following link . The application is compatible with Windows 7, Windows 8 and Windows 10 in 32-bit and 64-bit versions. In addition to the version with installer, it also has a portable version, which will allow us to run it on any computer from an external storage device, such as a hard drive or a pendrive without the need to make modifications to the Windows registry.
The latest version available to date is 0.1.1.8 corresponding to April 25, 2021, which shows that it has good support and an update policy from its developers and the user community.
Alternatives to LIII BitTorrent Client
If we are looking for a P2P client to download torrent files, we suggest some alternatives to LIII BitTorrent to take into account:
uGet
It is a viable solution for torrent file downloads. It is capable of monitoring the Clipboard and automatically capturing URL links, which streamlines the user experience. You can also create batch download processes with links copied from the Clipboard. It is capable of pausing and resuming downloads, ideal for when we cannot leave it active. Additionally, various formats are supported, including TXT and HTML. It can be downloaded from this link.
qBittorrent
This is a free, open source, multiplatform P2P client for the BitTorrent network, very popular and used today. It has a powerful search engine that will allow us to obtain any torrent file of different categories from the program. It also has torrenting, UPnP / NAT-PMP compatibility, RSS subscription, among other features that make it a great option. We can download it from here.