Applications
Learn to organize your ideas in concept maps with xmind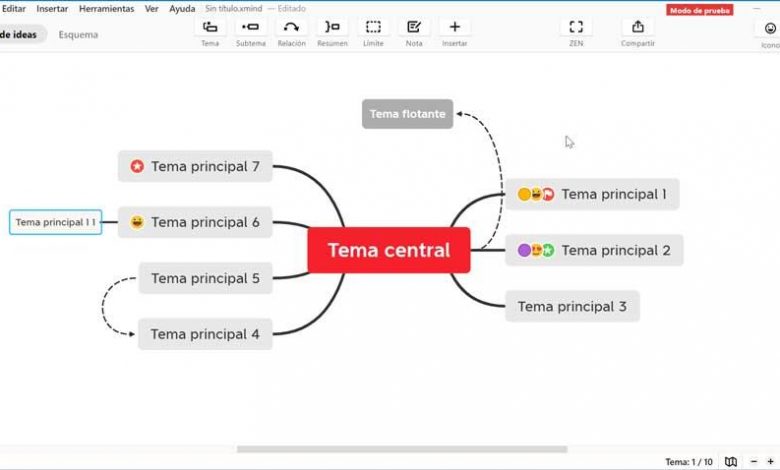 It is possible that for work or study reasons we may require a tool to organize and represent knowledge, known as concept maps. These more help us visualize the relationships between various concepts and test our understanding of complex topics. For this we can use a tool like XMind, which allows us to manage ideas and is applicable to any field, both personal and professional.
XMind is a productivity program through which we can make concept maps and diagrams, so that it can help us to visually organize our ideas, keep track of all of them and improve our problem-solving capabilities, thus improving our productivity.
By making concept maps, we can relate concepts, add notes and images, and even hyperlinks or files, so that we can clearly and concisely reflect everything we want to remember. That is why this tool can serve us both to study, to make presentations or simply to have the ideas organized in our head.
Concept maps will help us to think more and encourage us to exploit different creative avenues that will help us both in our day to day and in our profession. And it is not easy to remember complicated information, but if we use colors, images and keywords, we will improve memory and retention, as well as make learning more interesting and fun.
Differences between the trial version and the full version of XMind
With the trial version of XMind, we can enjoy most of its functions, while in the full version we can unlock all its content. The full version allows us to access all its functions, being able to export and print our maps without watermarks. It does not have annoying notifications, as we will only receive a reminder when our subscription is about to expire. It can be used for commercial purposes, as well as creating our own plans.
If we prefer, we can use most of the functions of the trial version, as it does not have a time limit, but some of its functions are blocked such as: the theme editor, customize the quick style, set a password, align a floating theme, insert LaTeX equation, insert links or add an image. In addition, with each map export that we carry out, it will incorporate a watermark and we will receive notifications when we have been using XMind for a long time.
Create your concept maps in a few simple steps
Once we run the application, its main menu appears where we can find different default templates with which to create our project. We will find them organized in two categories: «New» and «Library». In the "New" section, it will be where we find a selection of more basic schemes, while in "Library" we can find more complete and advanced templates, showing us the full potential of the application.
Select a default scheme
In the "New" tab we will find the default schemes organized by different categories such as: idea map, crazy chart, map with keys, organization chart, tree chart, timeline, spine and matrix. At the bottom we also have two buttons from which to open a previously created file or to open a recent file.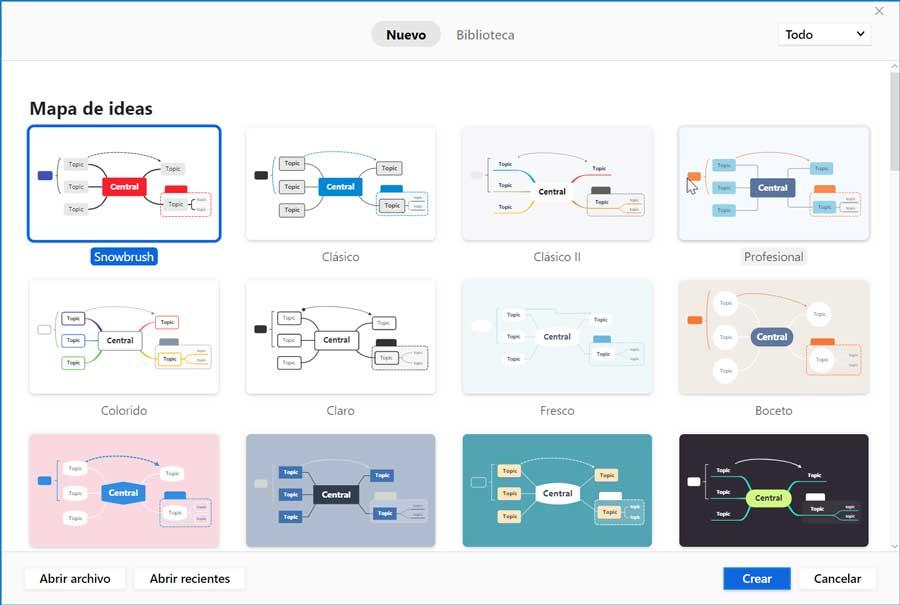 Once we have selected our template, its main menu appears, the type of scheme depending on the chosen template. At the top we find a toolbar completely in Spanish. In it we can highlight the "Icon" and "Format" buttons that are located in the upper right part.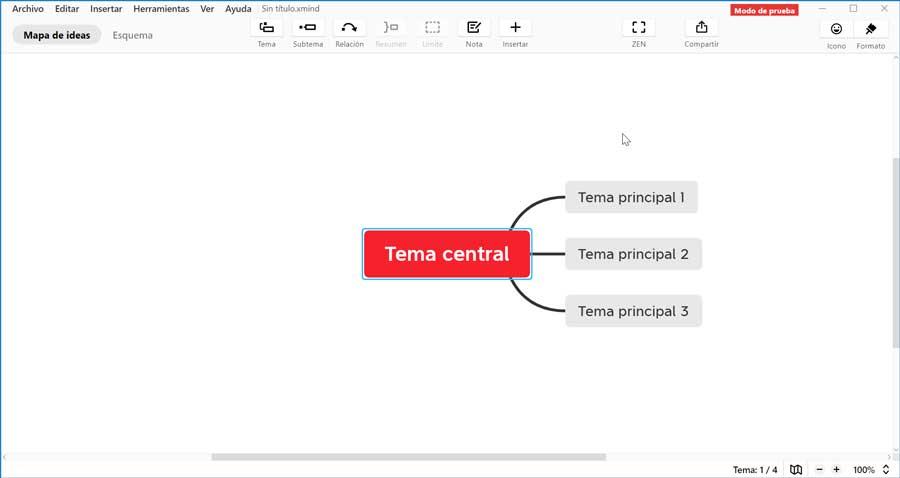 Complete your scheme from the Icon and Format sections
In the "Icon" section, we find the Marker tab, from where we can add different elements to the nodes. We can add labels, establish a priority order, insert smiley, task, flag, star, people and arrows. It also has icons of people, academics, social, symbols, month and week. While, in the Sticker tab, we can assign a sticker, being organized by categories (Professional, Education, Smiley, Animals, time, Fruit, Sports, Travel and Others). Just double click on a node to change its content to your liking.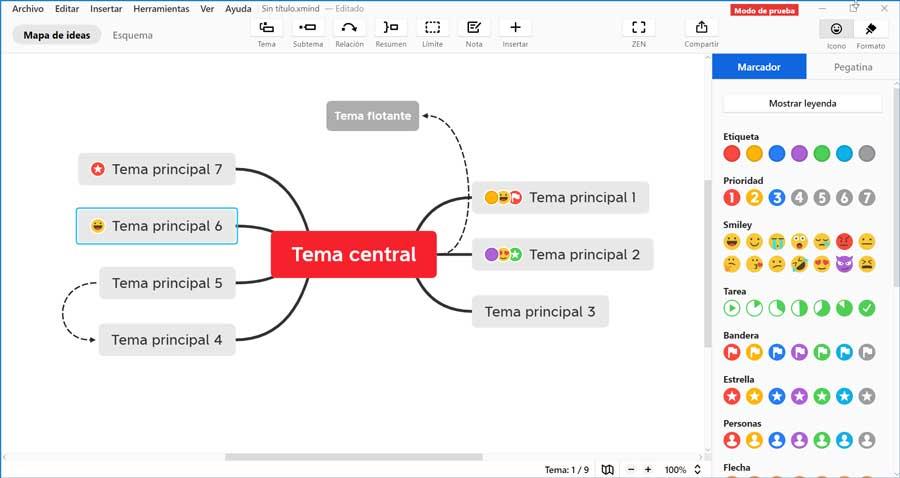 If we click on the "Map" tab, we can have access to all the topics and select another one at any time, as well as the structure, where we will have different types to choose the one that best suits our needs. In addition, it has an advanced design section, where you can select an automatic map balance, add a free position to the branch, choose a flexible floating theme, as well as an overlay.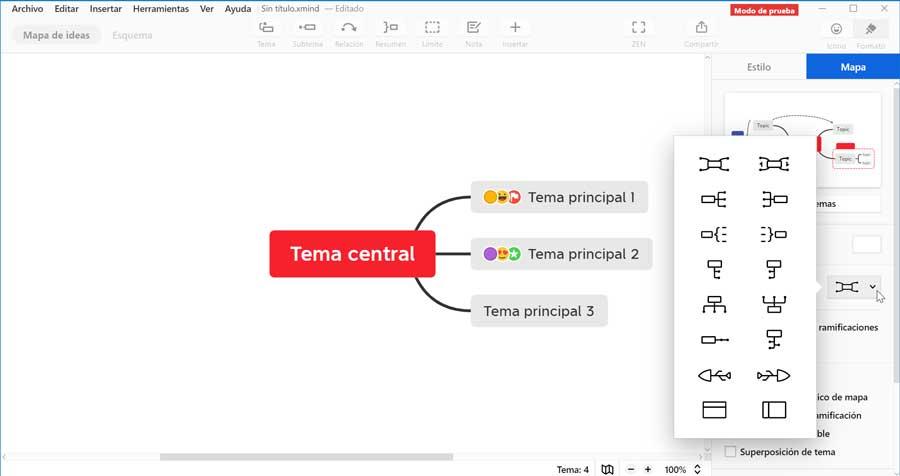 Add new elements and export the result once finished
In the upper part it also has the possibility of adding new elements to our idea map. We can insert a topic, a subtopic, a relationship, a limit or a note. We also have the Insert button from where we can add a tag, a link, an attachment, an audio note, an image or an equation. In this way we can continue to complete our scheme as much as we need it. In this way we will be able to adapt an initial scheme to all the ideas that arise to us and that serve us to complete the initial idea of ​​it.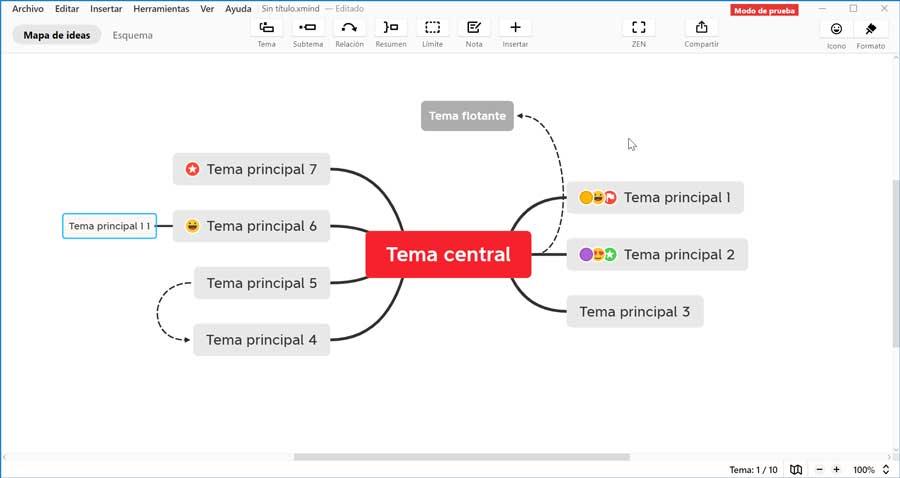 Once we have finished creating and organizing our scheme, we can save it in its default x.mind format , so that we can edit it later at any time. If we have already finished it definitively, we can export it as in other formats such as Word, Excel, PDF or PNG. In addition, the program offers us the possibility of sharing a link with other people so that they can have access to edit it, as well as add it to different social networks.
Download XMind
If we want to use XMind to make concept maps with which to organize our ideas, we can download a trial version from its website . It is compatible with operating systems such as macOS and Windows 7 and 10, both in 32-bit and 64-bit systems. It also has a full version that we can purchase for six months at a price of $ 39.99 or annually for $ 59.99 . A subscription allows us to activate XMind on up to 5 computers with Mac or PC, as well as up to 5 mobile devices with Android or iOS. The subscription can be canceled at any time.
Alternatives to XMind
If we are looking for an application that helps us create concept maps in which to add different ideas and schemes, we propose some free alternatives to XMind that you should know.
GitMind
It is a tool with which to make concept maps with which to organize, explore and connect our ideas. It has a wide gallery of themes and templates that will be of great help to us to create different types of diagrams. Each project that we carry out can be exported in different ways. In addition, it offers compatibility with files created from XMind. We can use GitMind for free by accessing its official website .
MindMup
This online application allows us to collect all kinds of ideas into a great presentation using a storyboard. It has different sequences of slides that can be very useful to show events in order. In addition, it has the possibility of being able to convert our concept maps to PowerPoint and PDF. We can access MindMup directly from this link.