Applications
Know the weather in your area before you go out with weathermate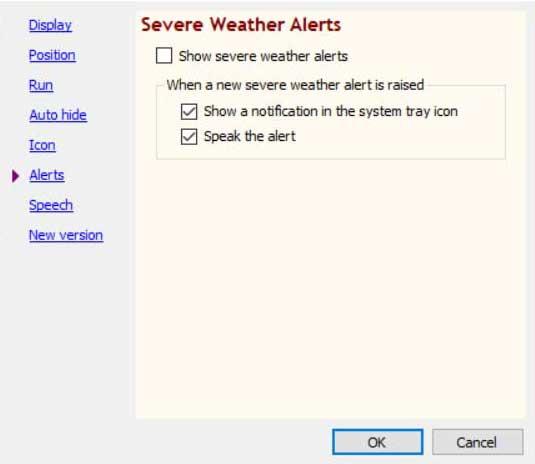 The computers and their programs right now are able to offer a huge amount of information. In addition, without us having to do anything to do so, information related to all kinds of uses. This is the case that we want to talk about in these lines, we refer to the program called WeatherMate.
In principle, Windows 10 itself was designed to be able to offer its hundreds of millions of users everything they need for their day-to-day use with the PC. In addition, they have the possibility to customize their interface and operation to a great extent. This, how could it be otherwise, what allows us to have at hand certain functions and applications that we use more regularly. We can place all of this in such useful and used sections of the system such as the desktop, the taskbar or the Start menu.
Thus we anchor the most used software on a day-to-day basis, create all kinds of shortcuts, or paste certain files to open them directly. But that's not all, but in turn we can count on some software solutions that increase the utility of the system itself. This is precisely the case of the program that we will talk about next, a free software that will surely be very interesting for many. Serve as an example that many of those who miss the widgets that disappeared from Windows 7 will like.
We say this because some of these, among the most used, we find those that refer to meteorology . Therefore, for those who miss these elements, we are going to offer you a very interesting solution.
What is WeatherMate useful for in Windows?
As you can imagine, here we talk about a program that will ensure that we have this information at our disposal at all times. It also offers us a series of customizable parameters to adapt the weather program to our needs. In this way we will have complete information as well as updated information on the meteorology of our area, or of any other in the world.

And it is that at this point we must bear in mind that we are talking about a program that we can configure to show us the meteorology of the entire globe. At first it comes configured for the United States and its corresponding cities, but we can extend its usefulness to the rest of the planet, as we will show you later. This way we will have information on winds, rainfall, temperature, etc., all in real time. Once we have downloaded the program and put it into operation, after configuring it, it is located, hidden, at the top of the Windows desktop .
Therefore, to be able to see all this that we are commenting on, we only have to place ourselves on it so that it appears on the screen. But with everything and with it, both its appearance and behavior is highly customizable, as we will see.
How to customize the look and location in WeatherMate
As you can imagine, the first thing we have to do here is specify the area or areas for which we want to receive meteorological information . These regions are separated into tabs within the main interface of the program. For this and for the rest of the configurable parameters, what we do is click on the cogwheel-shaped icon on the program interface. Here, the first thing to do is go to the section called Locations, where we have the possibility of adding or eliminating regions. As you can see first-hand, here we find a good number of countries and cities to choose from.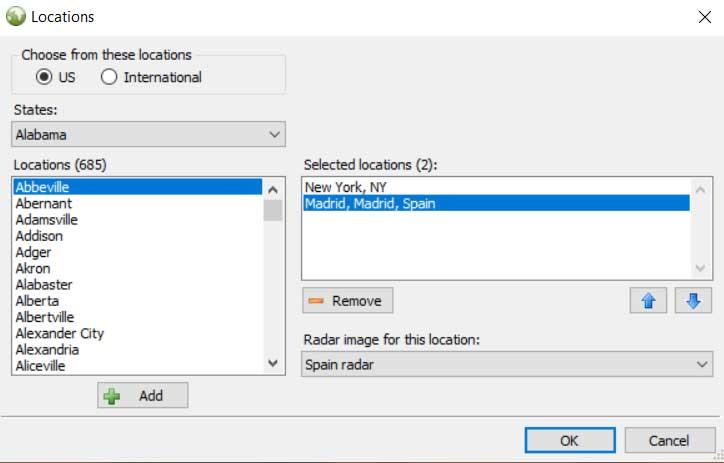 Therefore we only have to look for ours or the one that interests us, and add it to the list on the right side of the window. Also, in this same icon that we discussed, we find another option in the drop-down list called Settings, where we click. This new window offers us a series of sections that allow us to adapt, among other things, the appearance of the application. Serve as an example that we have the possibility of receiving information in Spanish or placing access to the program in other places on the desktop. In the same way, we can indicate the size of the information window that will appear.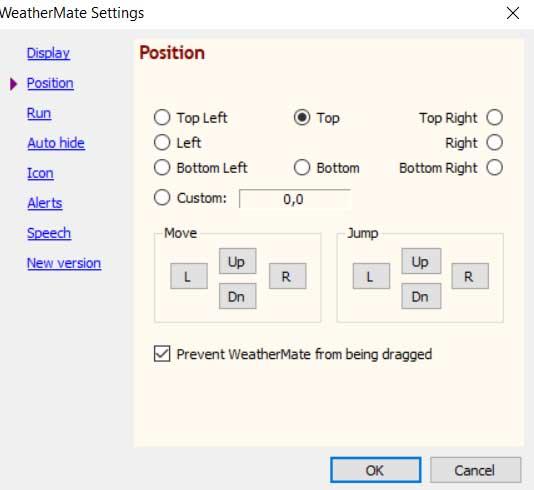 Configure WeatherMate behavior
It is also important to know that from the Auto Hide section, we can make WeatherMate hide automatically, or be always visible. Everything discussed will depend on the needs of each case or our preferences in the aspect of Windows.
But that is not all that we can customize here in the WeatherMate program. On the other hand, we can also make it always start with the operating system so that it is always running. We also have the possibility of specifying alerts for certain weather conditions in our area, including voice prompts .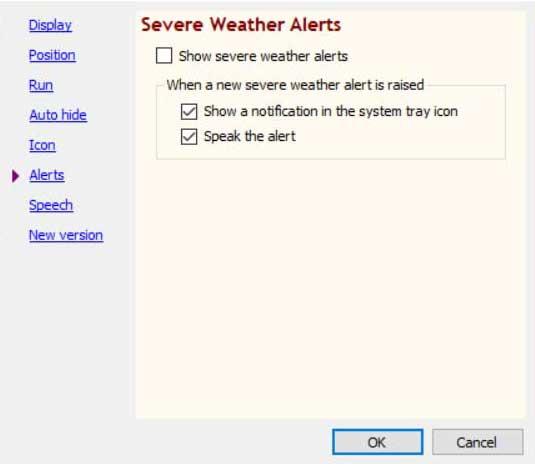 Therefore, as we can see, the program itself allows us to establish a series of interesting parameters to adapt the application to our needs. These also refer to both the functional and interface sections .
Other alternatives to WeatherMate
NWS Alerts: here we find another similar application to see first-hand the meteorology in our area. We can download it from this link and it is actually a desktop widget for these defects that we are commenting on. At first we just have to configure it to suit our region and needs. It is worth mentioning that it is a free and open source project.
AccuWeather: in the Windows 10 store we find this program that is very popular in the sector and has been with us for several years. From here we can know the weather anywhere in the world and it has support for a multitude of languages . In turn, it offers us the latest news related to this meteorological issue from around the planet and is updated in real time.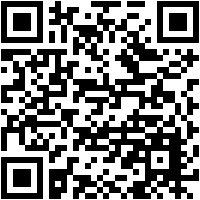 How to download WeatherMate for free
As we mentioned before, when we talk about WeatherMate we are referring to a free program that allows us to know the meteorology of your region at all times. It also integrates seamlessly into the Windows 10 desktop and has a multitude of customizable parameters. Therefore, for this, what we must do is download the program from this link .