Applications
Keep your accounts always up to date with these alternatives to excel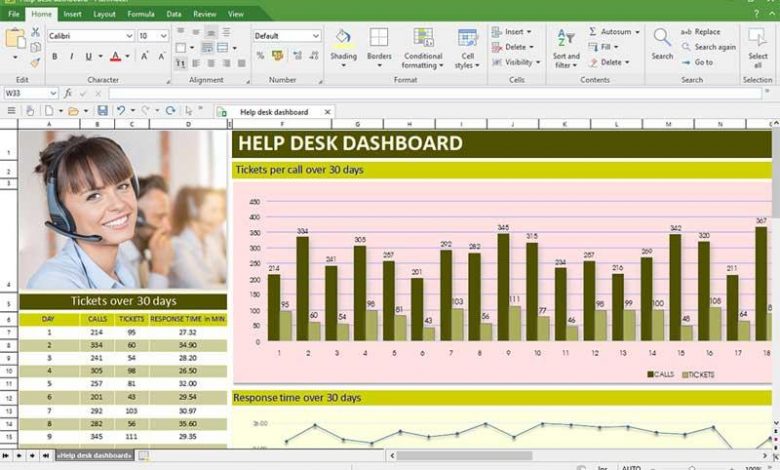 The spreadsheets are very practical in our daily lives. With them we can perform all kinds of calculations, keep our accounting, create charts, keep track of our inventory, create forms and even easily create to-do or shopping lists. The best-known program for creating and using spreadsheets is Excel, one of the Microsoft applications included by default in Office. However, it is not the only option we can find.
Excel is one of the most popular programs in the Office suite. With it we can open and create all kinds of spreadsheets from our Windows computer. In order to use this program, we must buy an Office license, or subscribe to Office 365. Something that many users, for obvious reasons, do not want to do.
Luckily, on the Internet we can find a series of alternatives to Excel that will allow us to take full advantage of the potential of spreadsheets to the point that we will not miss Microsoft software.
Free alternatives to Excel
All users can use the following alternatives completely free of charge and without limitations. Some can be used directly from the browser, without the need to install any additional software, but others will have to be installed on the PC. In addition, it is not possible to install the alternative to Excel independently, so in most cases we will have to install the complete office suite.
Excel online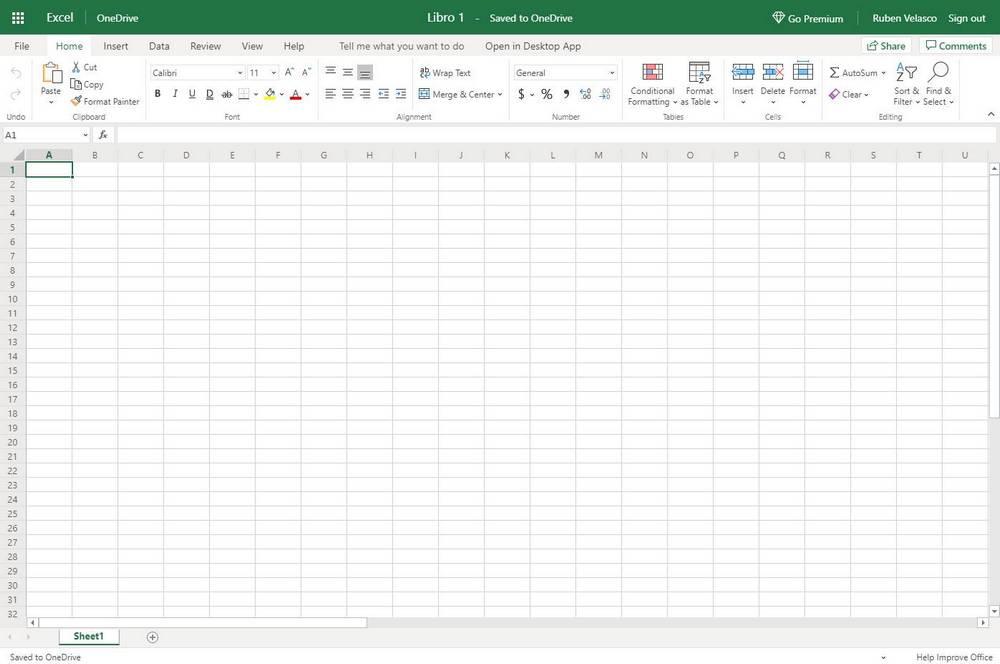 The first of the free alternatives to Office Excel is Excel itself. Microsoft has a totally free OneDrive cloud office suite. This alternative to Office online, although it is a bit more limited than the desktop version, also has a number of advantages over it. For example, we can use it for free just by having a Microsoft Account, and it also allows us to save all our documents in the cloud, so that they will be protected and we can access them from anywhere.
We can  access Excel online from the following link .
Google Drive (Sheets)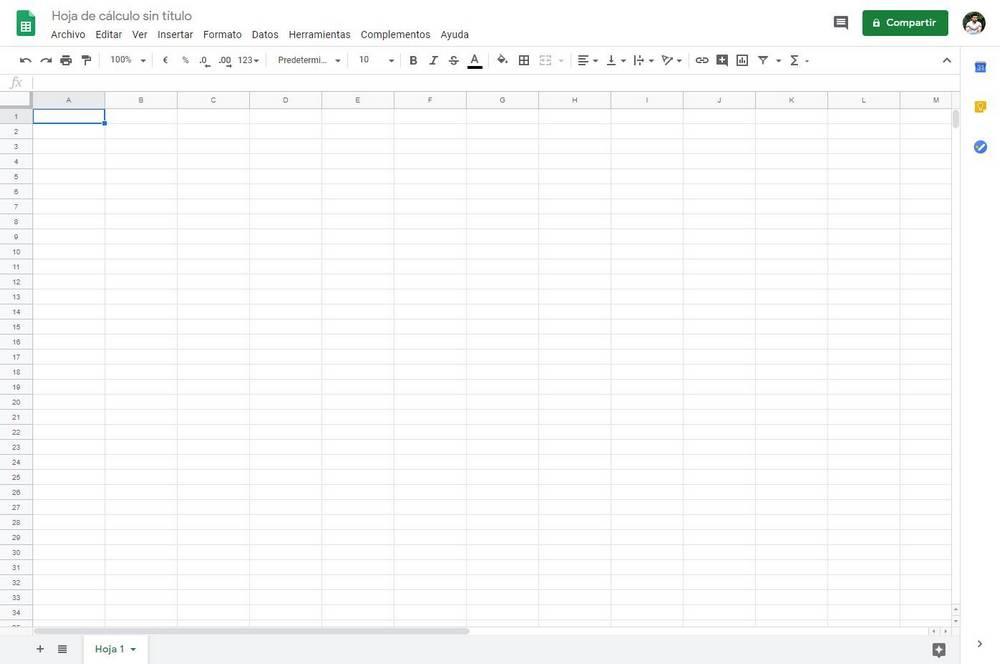 Google Drive is the successor to Google Docs, Google's office suite in the cloud. Within Drive we can access, completely free of charge, Google applications, just like with Excel online. In this way we can get away from Microsoft and have access to one of the most complete online alternatives to Excel from Google. All the documents we make will be saved in the Drive cloud, thus always being safe.
We can access the Google Drive spreadsheets from the following link .
LibreOffice Calc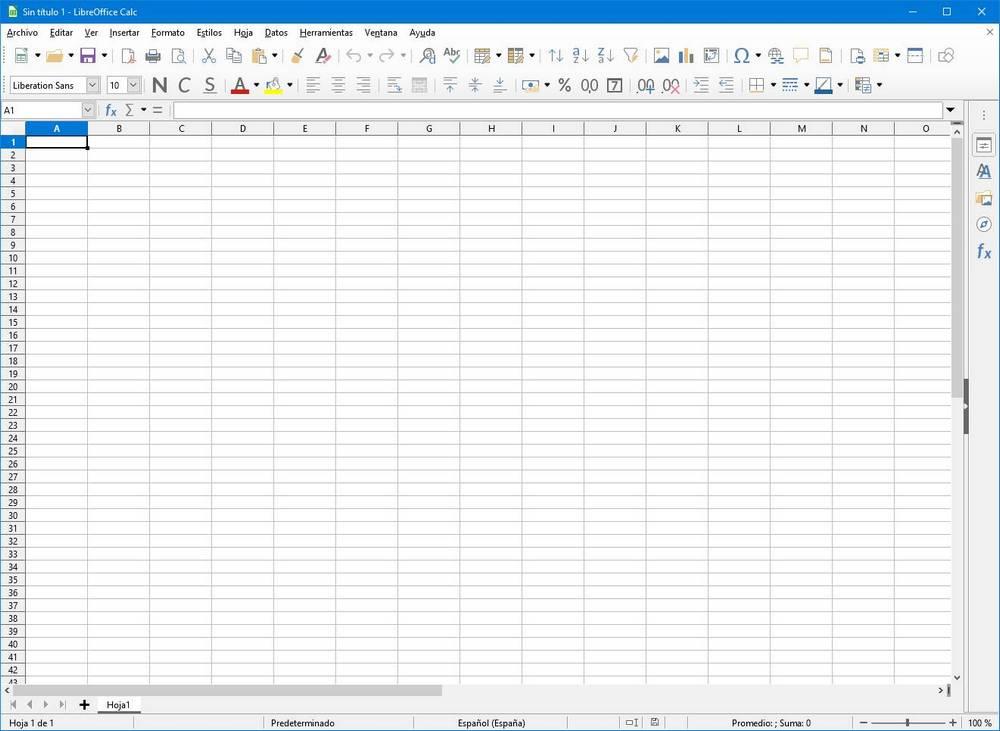 LibreOffice is the closest OpenSource alternative to Office. This office suite, developed by The Document Foundation, allows most users to replace Office with a complete alternative that is totally free and that has practically the same functions and features as the Microsoft suite.
LibreOffice Calc is fully compatible with spreadsheets created with Office, so we shouldn't have a problem switching from one application to another.
We can download LibreOffice Calc for free from the following link .
OpenOffice Calc
If we don't like LibreOffice, we can find another very similar alternative developed by Apache: OpenOffice. Although for many users Apache OpenOffice has lagged behind and has been advanced for a long time by LibreOffice, its developers defend that it is a much more stable and lightweight suite than that of The Document Foundation, being a great alternative especially for business environments.
We can download OpenOffice Calc from the following link .
iWork Numbers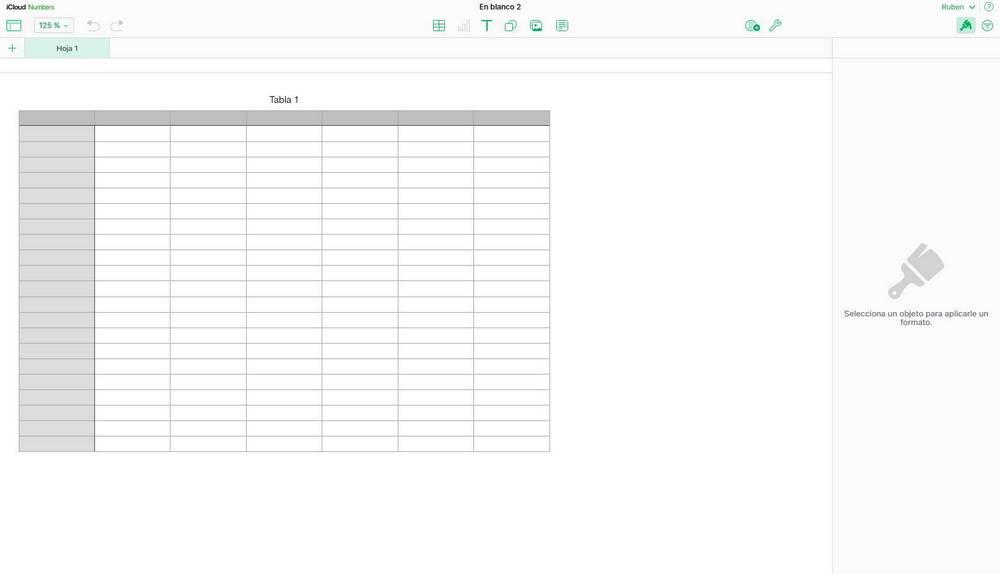 If Microsoft has an office suite, and Google also has it, of course Apple was not going to be less. The technology giant has a suite called iWork that allows users to forget about Office by offering programs much simpler, lighter and more intuitive than Microsoft's.
The desktop version of iWork is only available for macOS users, so neither from Windows nor from Linux we will be able to use it. However, if we have an Apple account, we can access iWork applications (such as Numbers, Excel's rival) directly from our browser.
We can access the iWorks suite from the following link . And if we have a Mac, we can download Numbers for free from the App Store.
Zoho Sheet
As we have mentioned, despite the popularity and market penetration of Office, there are many other alternatives in this regard. There are more complex and simpler ones, both paid and free, everything will depend on the needs of each one. Well, right now we are going to talk to you about Zoho Sheet, an application that is part of this developer's office suite.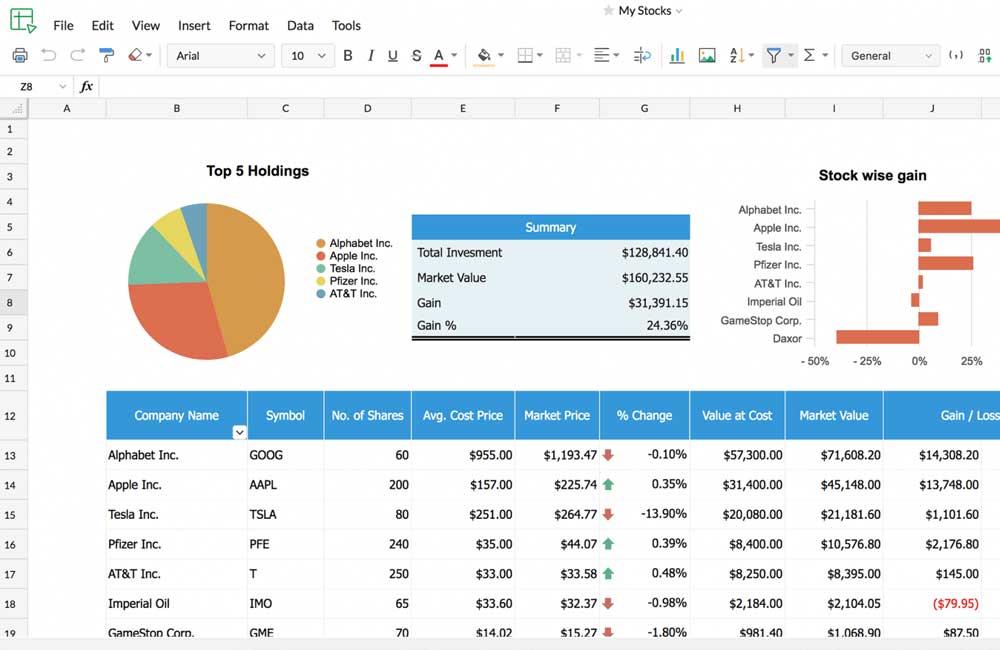 In fact, we could say that we are facing an excellent alternative option for small businesses and end users. We must also bear in mind that it focuses on group work, and therefore in the cloud, and is free for up to 25 users. It is a proposal that we can take advantage of from this link and it lets us save all our projects in the cloud. This, as you can imagine, allows us to access all our data and files from any other computer with an Internet connection . It also includes the usual functions in these cases such as graphs or dynamic tables, among many others.
OnlyOffice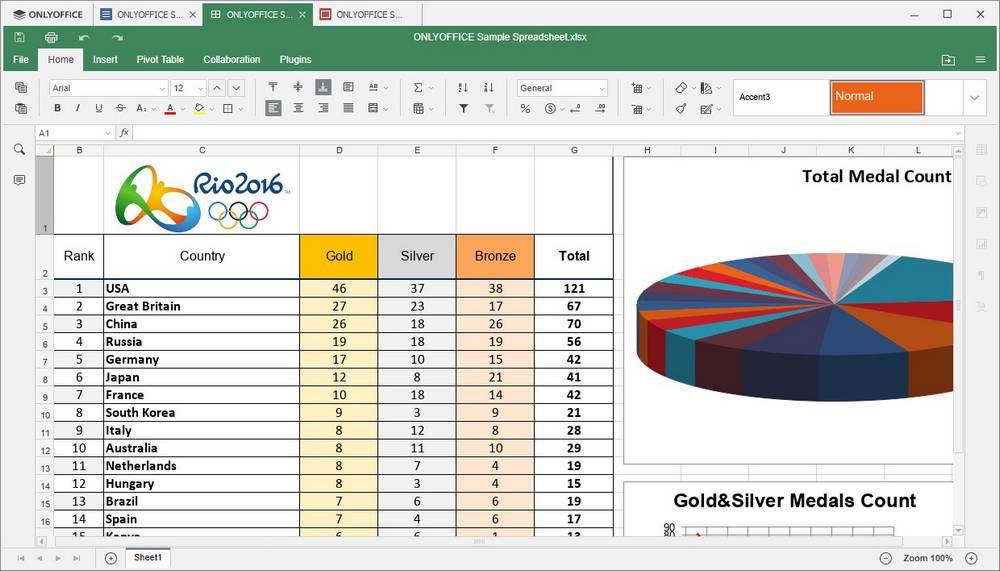 OnlyOffice is an open source office suite 100% compatible with Office. This suite has a free version, aimed at users, and a paid version, hosted on its own servers, focused on companies. In this way, each user will be able to choose the edition that best suits them based on their needs. Its features include data security, the management of all corporate documents, and a host of productivity features.
We can download OnlyOffice for free at the following link . And we can also access the office suite in the cloud, both hosted by ourselves (free), and in its own cloud (paid).
FreeOffice PlanMaker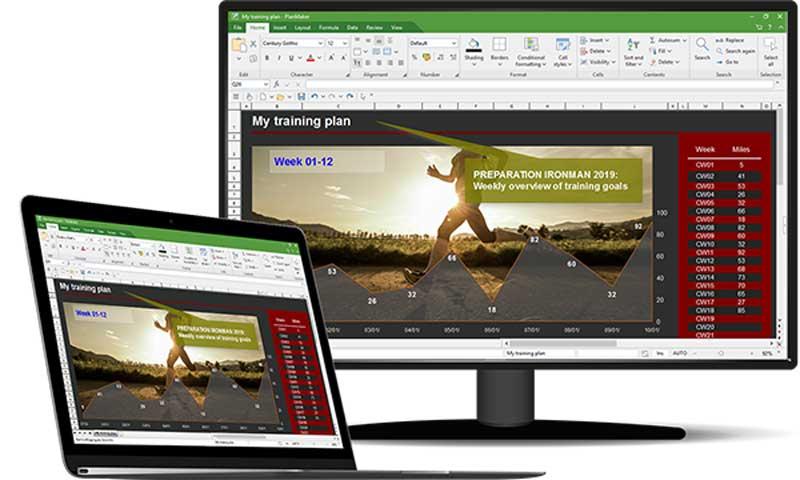 Another good alternative to Excel for writing spreadsheets is PlanMaker, which belongs to the FreeOffice office suite. This application has a wide catalog of cells compatible with Excel 2019, as well as compatibility with XLS and XLSX files. With this program we can insert drawings, text frames, 2D or 3D graphics and images and import the results as PDF or print them. Over 430 calculation functions are available along with a wide variety of analysis functions. It also supports up to 1 million rows and more than 16 thousand columns. Allows for calculations with complex numbers and matrix functions. Likewise, the figures can be formatted in currency units, with separators of thousands and fixed decimals, of percentages or fractions, of dates and times, etc.
How can we verify it is a very complete program that also includes numerous extras such as its compatibility with Unicode, the possibility of zooming and scrolling by touching the screen, spell checking in 48 languages ​​and automatic hyphenation in 33 languages. This suite is multi-system, so it is compatible with Windows, macOS and Linux operating systems. We can download it for free by clicking on this link.
Payment alternatives to Microsoft Excel
We may not mind paying for a good office suite, but the price Microsoft asks us for Office seems excessive. In that case, the following alternatives will allow us to have paid office suites that, far from Microsoft, will allow us to be much more productive to the point of not missing Excel at all.
WPS Spreadsheets
WPS Office is an alternative to Microsoft Office for Windows, macOS, Linux, Android and it also has a web version. This suite is characterized by bringing us the main applications of the Microsoft suite with a much more intuitive interface, based on tabs, which allows us to significantly improve our productivity.
We can download WPS Office from the following link . We can download a free version of this suite, or buy the license for the paid version, a much more complete version.
SoftMaker Office (PlanMaker)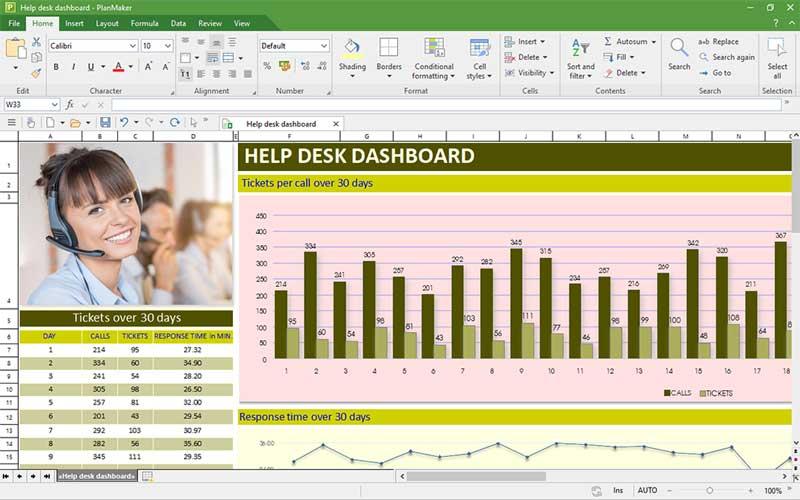 Finally, we are going to talk about SoftMaker, another of the best known and most complete alternatives to Office that we can find. Within this office suite we can find the best alternatives to Microsoft Office programs, including Excel. PlanMaker offers us compatibility with the XLSX format so we can open any file created with it in Excel and vice versa, directly and without conversions. It is also possible to edit XLS files and create high quality PDF and PDF / A files. The application will allow us up to a million rows for each spreadsheet, as well as the possibility of using dynamic tables, data grouping, AutoFilters and special filters. What's more,
We can download the paid version of SoftMaker Office at the following link to have a professional suite at our fingertips.