Applications
Jdownloader manual – download files from the internet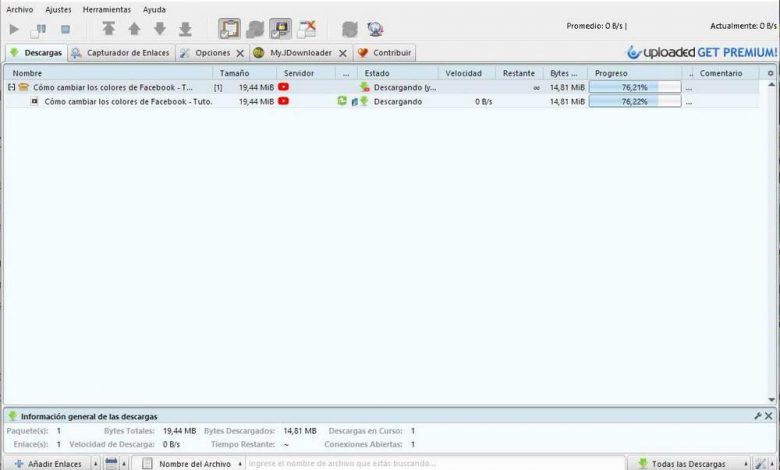 Although we can download files from the Internet from any browser, if we tend to download files very often, a download manager will surely be much more practical and comfortable for us. These applications are in charge of managing and controlling all the downloads that we make from our computer, being able to control several downloads at the same time, pause them, resume them, organize them and verify that, indeed, they have been downloaded correctly. On the web we can find a large number of download managers, but without a doubt the king of them all is JDownloader.
What is JDownloader: features
JDownloader is a totally free, open source and cross-platform download manager (we can use it on Windows, macOS and Linux) designed to meet the needs of any user. This download manager is written in Java (that's why it is multiplatform) and has a large community of developers who work daily to improve the application.
This download manager is packed with functions and features (this can sometimes be inconvenient as its use can be overly complicated, especially for the average user). However, if we had to highlight its main characteristics, we would undoubtedly talk about:
Very active development. Receive Updates every 24 hours.
Allows you to download many files at the same time.
Each download is divided into several threads to accelerate its speed.
It has an OCR module. It recognizes many captchas and fills them in automatically.
Extract compressed files when download is complete. It works with both ZIP and RAR. Also with files with password and divided into several parts.
Supports themes.
Multiple languages.
It is capable of downloading from more than 100 different servers (such as Mega, Google Drive, etc.) and has 300 plugins to decrypt files.
It is able to recover the connection when it is lost. It even supports 1400 routers to be able to change the IP.
It has a large number of modules and components.
How to download and install
This download manager is completely free and, as we have said, compatible with any operating system that is capable of working with Java 1.5 or higher. Windows, macOS and Linux can use this download manager without problems, although we can also use it on other systems.
We can download JDownloader from the following link . Here we will be able to see the download links for Windows, macOS and Linux, being able to choose the one that corresponds to our operating system.
Furthermore, if we choose the "Other" option, we can download the "portable version" compatible with any operating system. Very useful, for example, to carry this application always with us on a USB stick.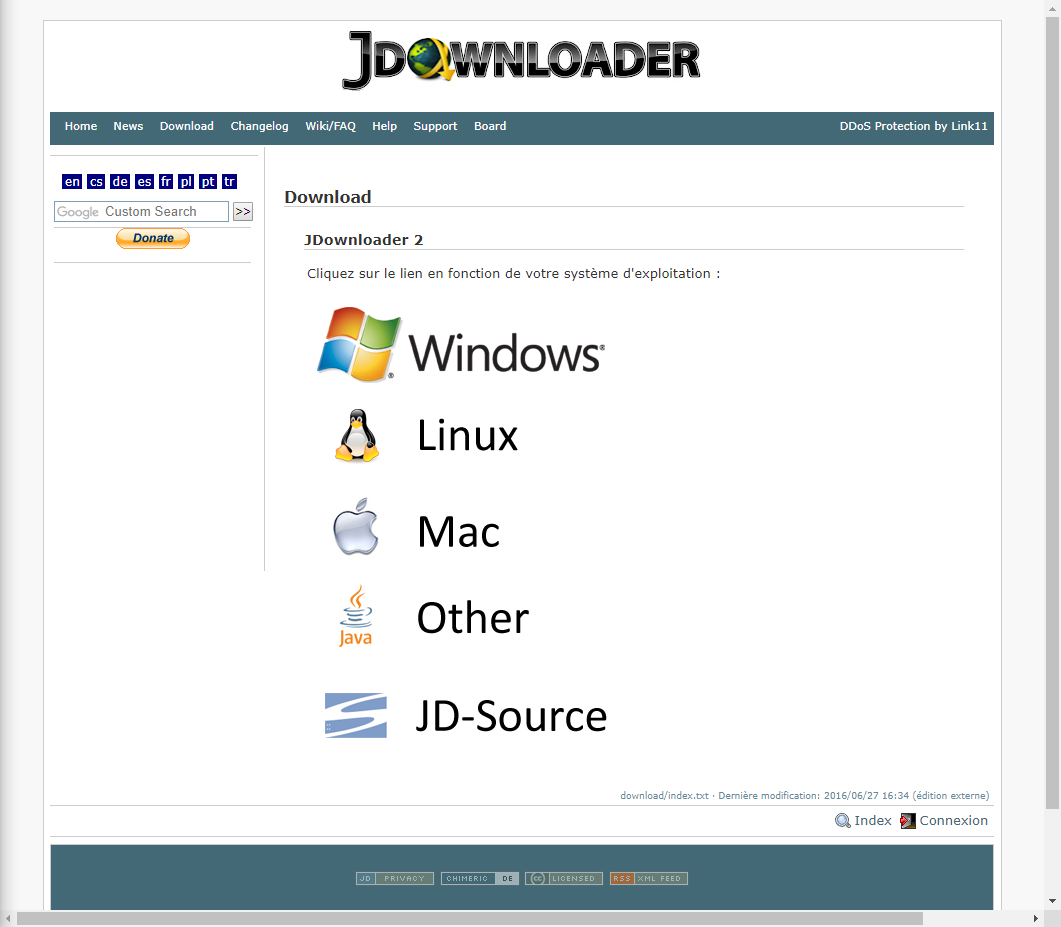 Once we have downloaded the version we want, we will have to install it on our computer. We execute the file (unless it is the portable version, in which case we only have to unzip it) and complete the wizard that appears.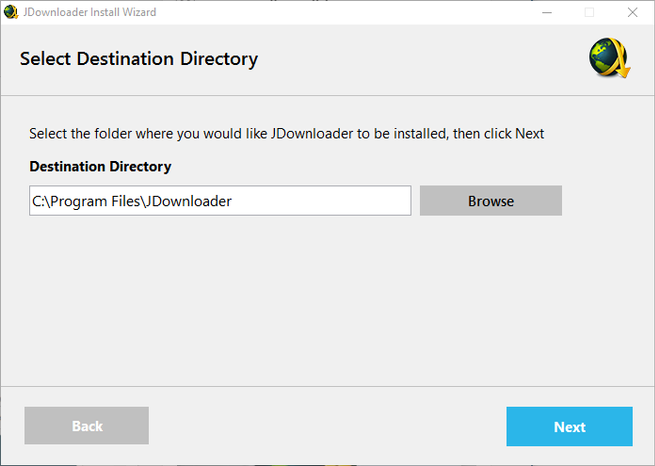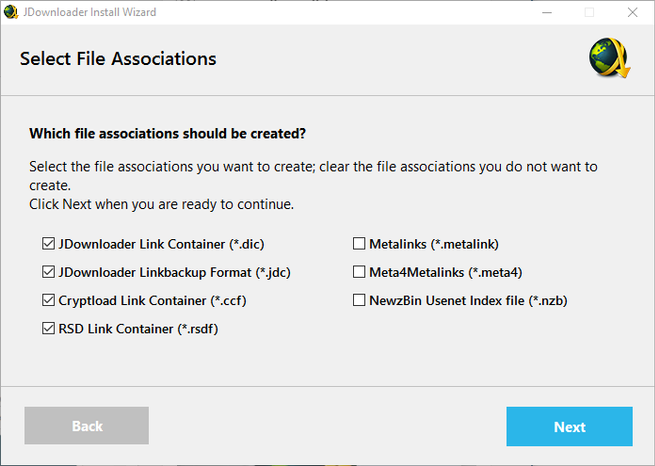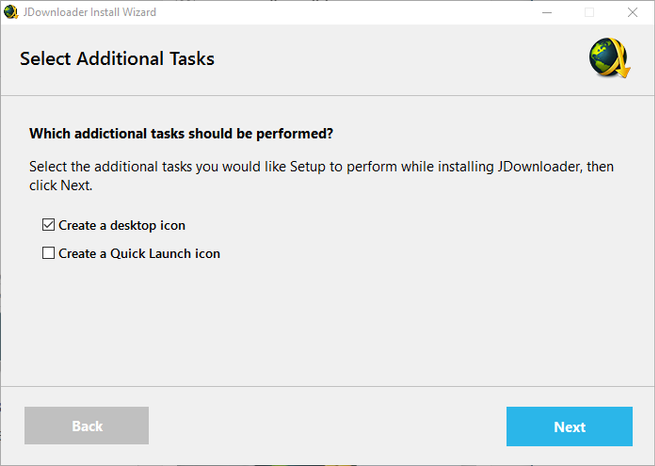 As we can see, the installation wizard in Windows is simple. We simply have to choose where to install it, the file association, the additional tasks and, very importantly,  make sure not to install the adware that it will propose to us .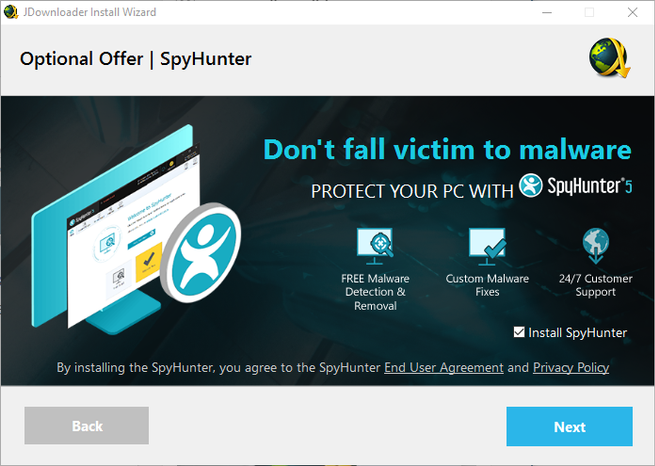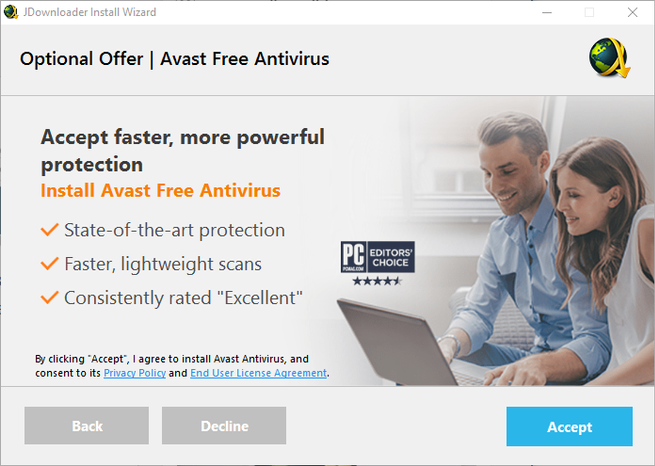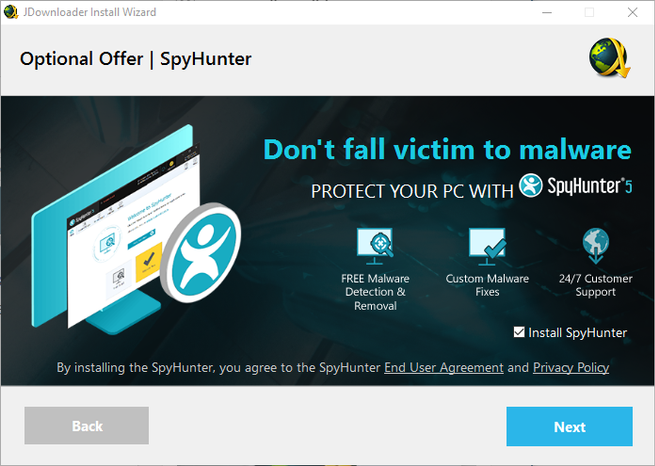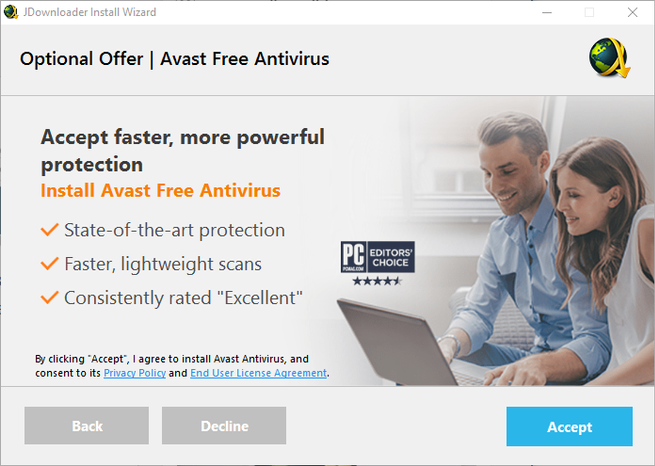 Once the installation process is finished we will have our JDownloader ready to start downloading.
Initial and basic configuration of JDownloader
When we open JDownloader for the first time we will find its main interface.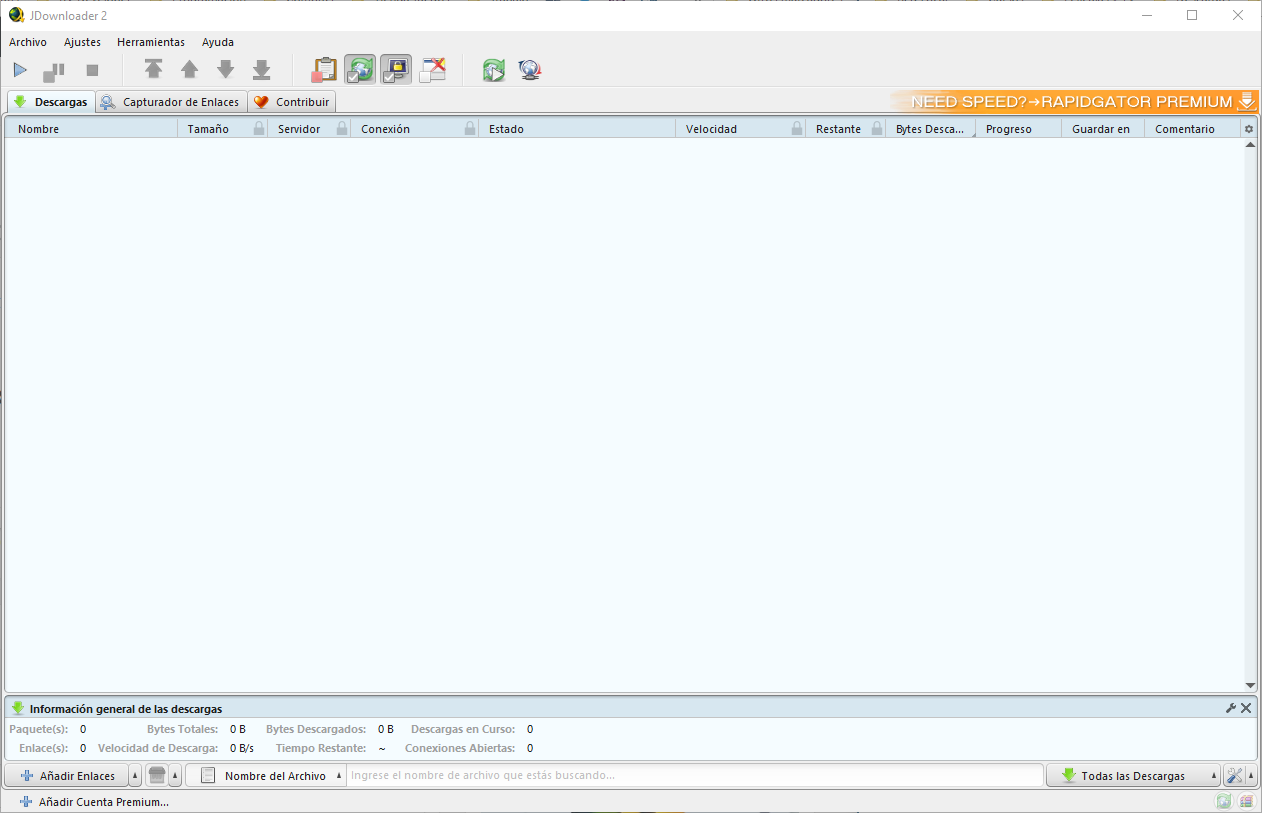 In this window we can find all the options and tools that the manager offers us and that we will explain in detail later. Before starting to work with this download manager, let's take a look at the main configuration options that we can find.
As there are many options that this tool offers us, and most of them are not necessary for the average user, we are going to see the main ones necessary for an initial configuration.
To enter the  JDownloader configuration, what we must do is open the Settings> Options menu.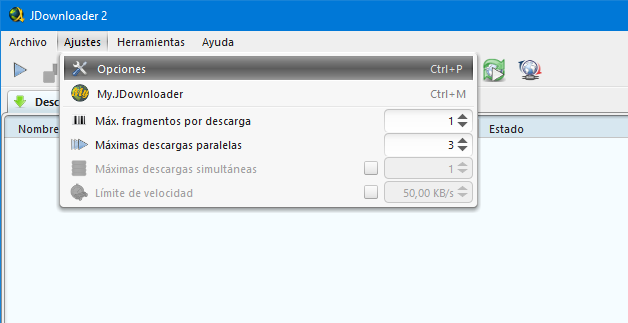 As we can see, a new screen will open within the same download manager window where we will have all the options. Although so many options may seem overwhelming, many of them we do not have to touch. In the end, the essential options to take full advantage of the download manager are a few, and we are going to see them all in this article.
General: basic settings
On the left side we will see the different categories of configuration options, while on the right we will see the options as such. The first category we come across is  General . In it we can configure the default download folder that we want to configure (although we can customize the folder each time we add a new download), in addition to limiting the maximum downloads at the same time, the parallel downloads per server and the fragments in which will split each download.
We can also choose what to do with the downloads when we open the program and configure the verification and association of files.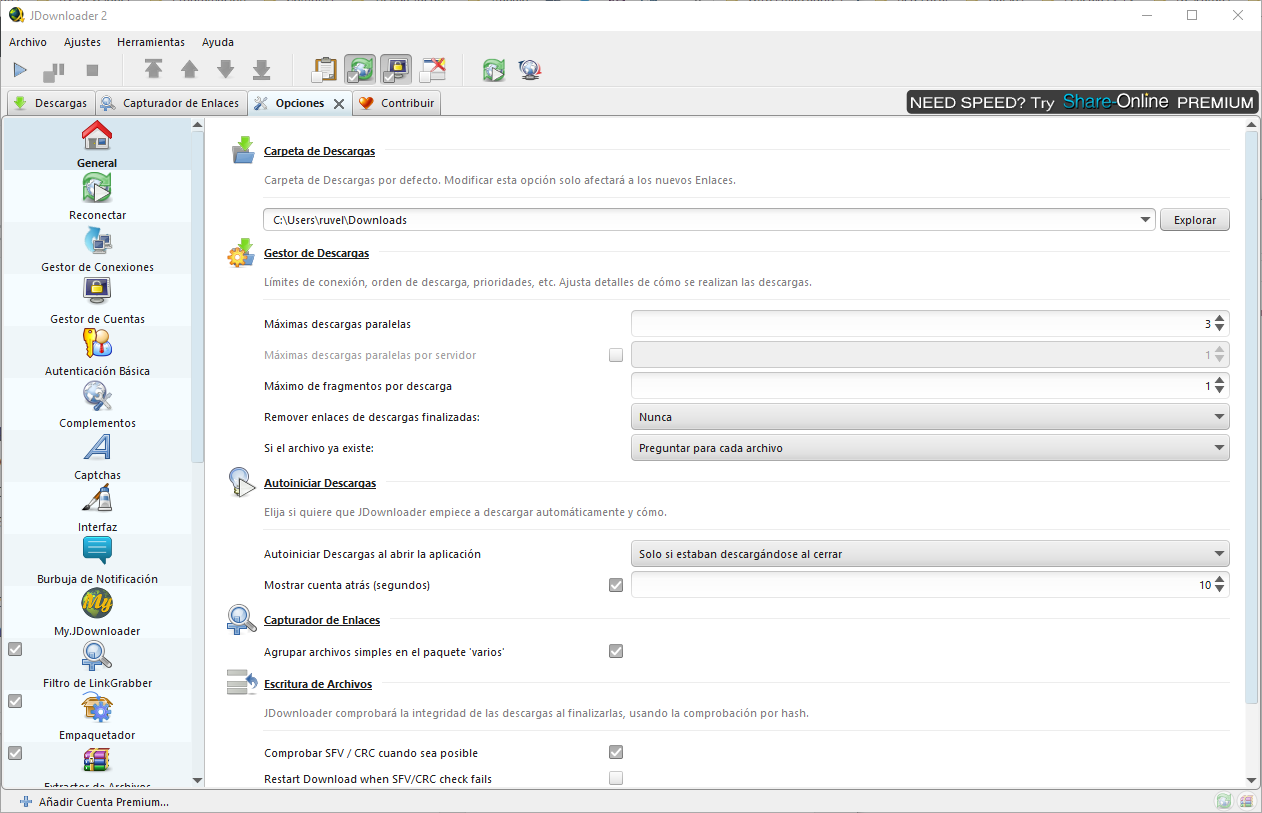 Reconnect: never lose connection
The second of the sections that we are going to see is  Reconnect . All the options to reconnect to the server when the connection is lost are here. These options are intended for unstable and ADSL connections, so we probably don't need to touch anything here today.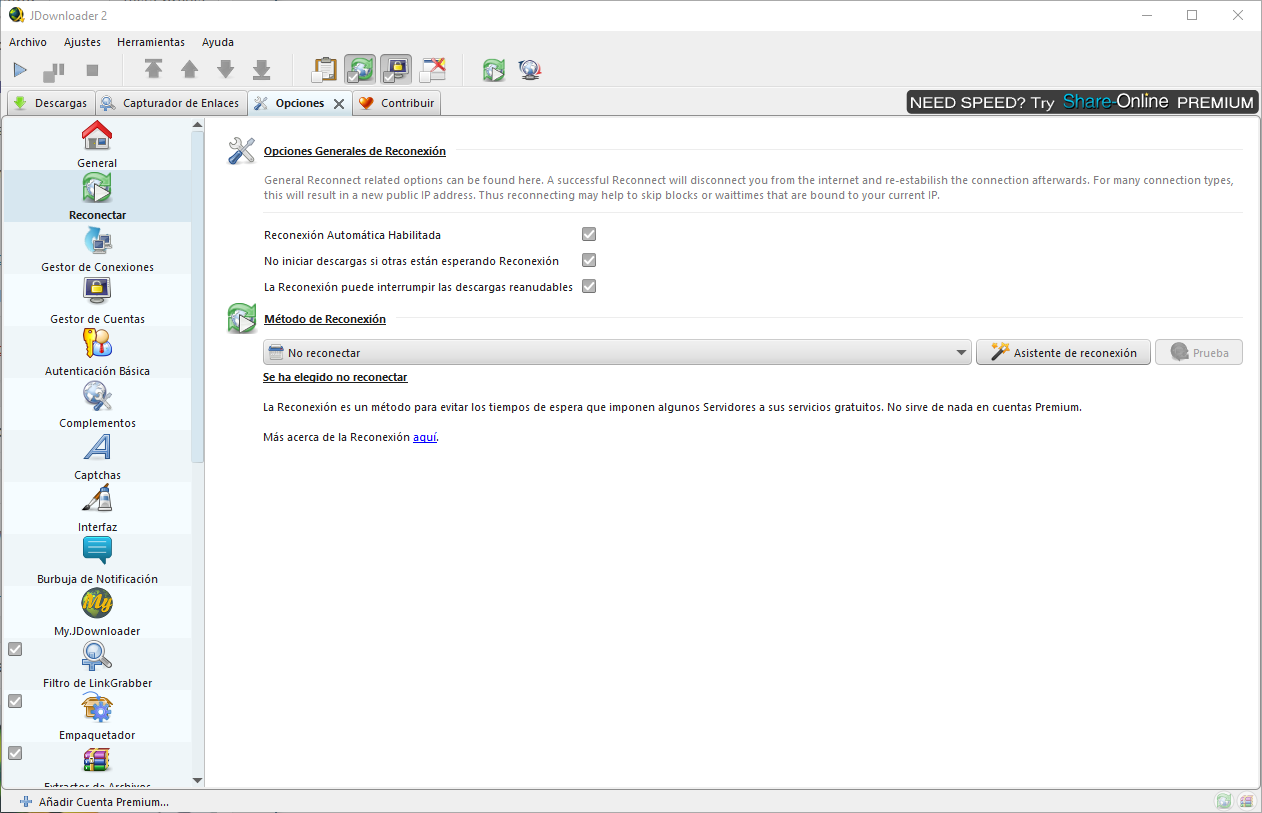 Connection manager: if you use Proxy, this is your site
If we want to save waiting times when downloading files, JDownloader has a connection manager that allows us to add several proxies and rotate from one to another. As each proxy has a different IP, we can download limited files without having to wait hours between downloads.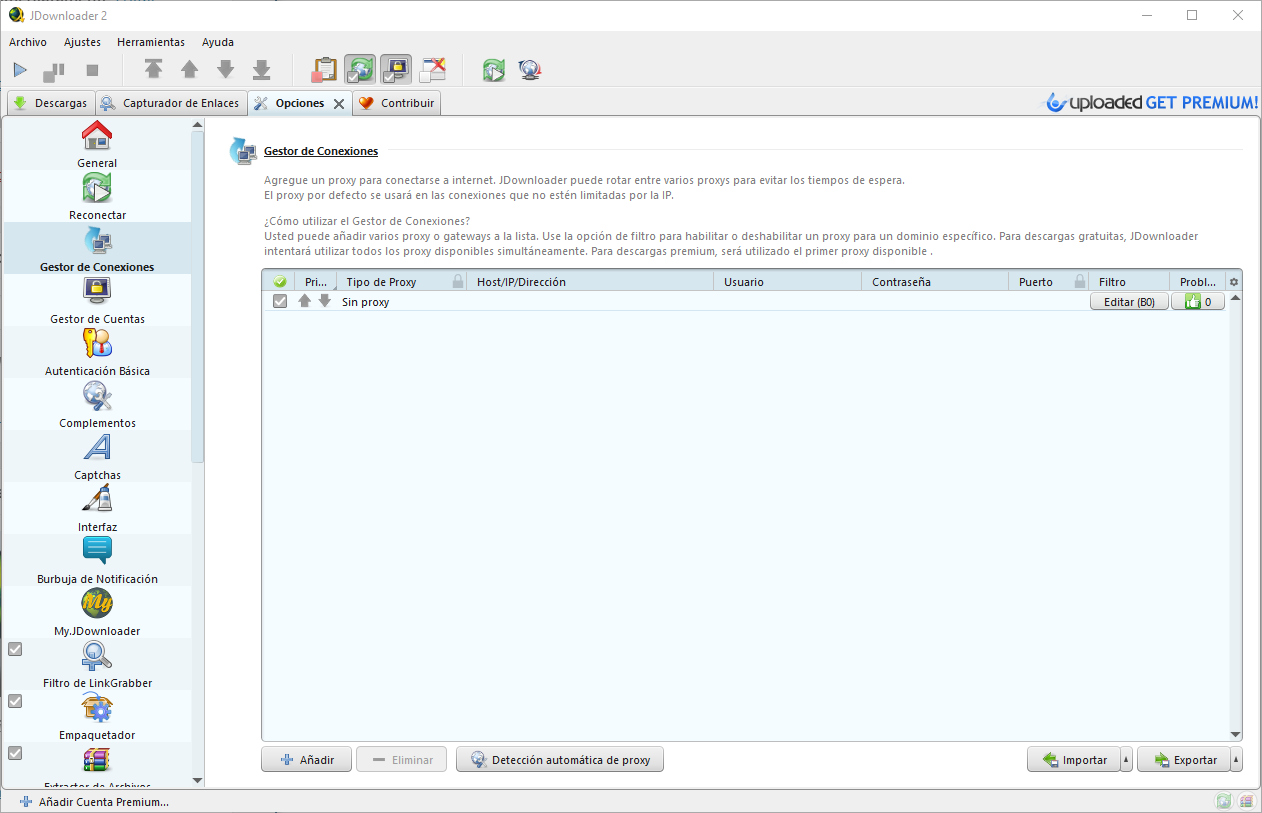 Account manager: log in to direct download servers
There are some servers that ask us to be Premium, Gold or Platinum users in order to download without limits. The " Account Manager " section allows us to log in with our accounts. So we can take advantage of the benefits of being Premium when downloading from JDownloader (such as unlimited downloads, without waiting time and at full speed).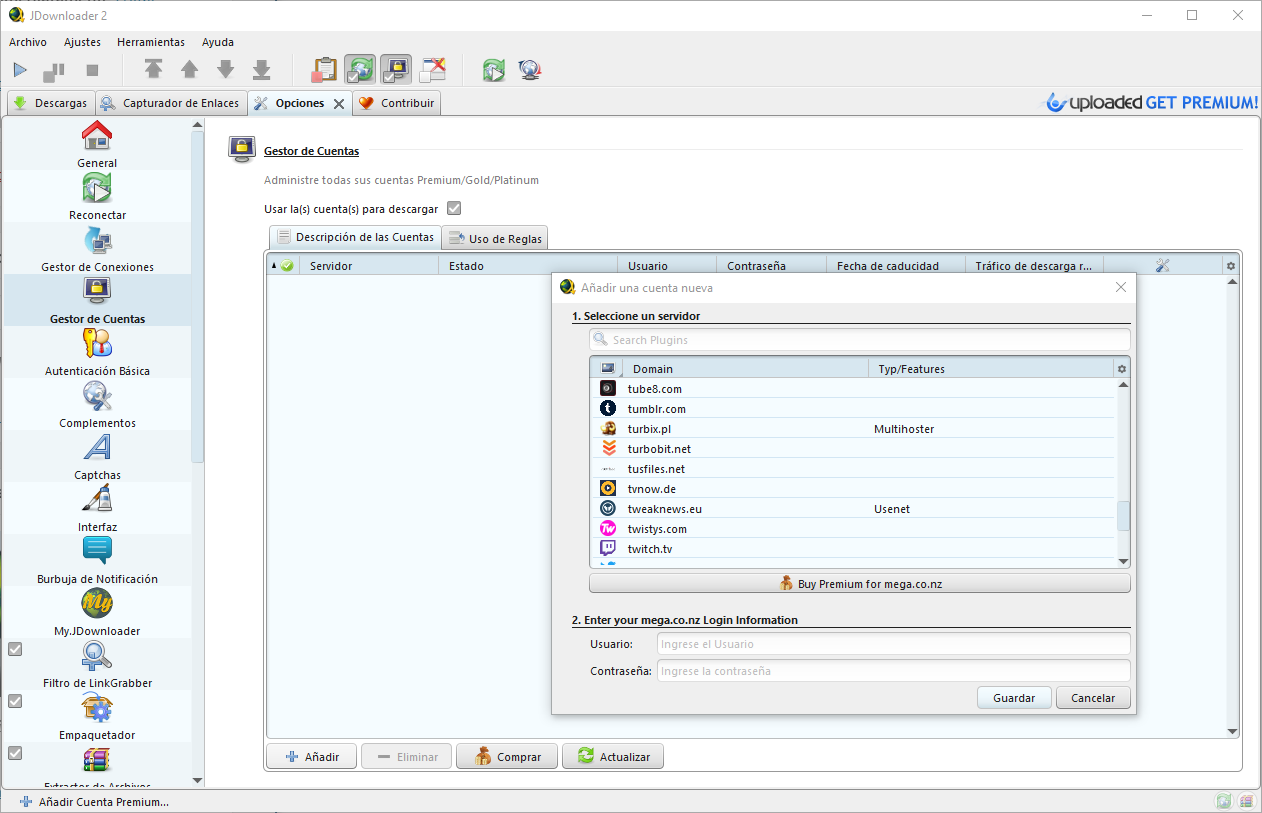 Basic authentication: login to HTTP and FTP
In case of downloading files from a server with login (username and password), we can add it from the « Basic authentication « section.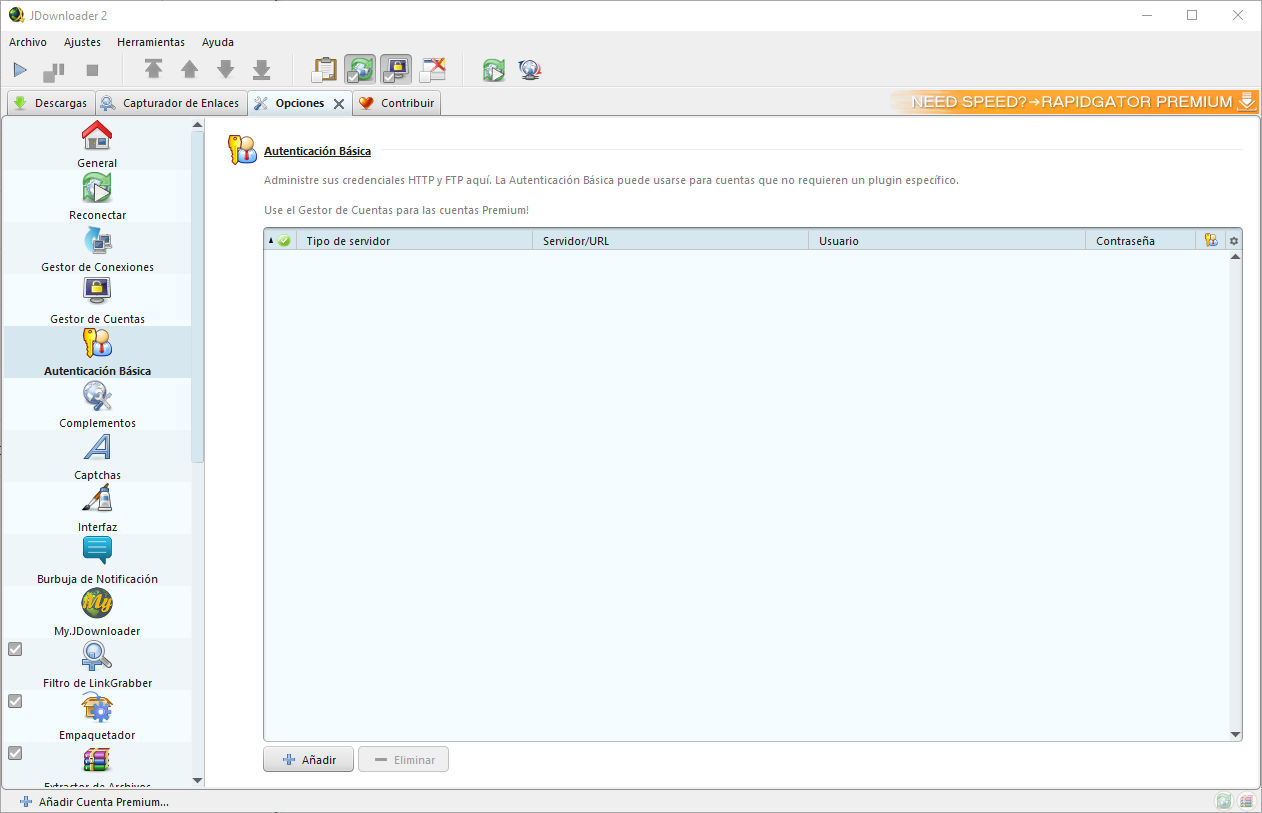 Plugins: configure the plugins of the program
In the  "Add-ons" section we will be able to configure the different options of the plugins that are installed in this download manager. These plugins are the ones that will allow us to download from websites like 1fichier. Normally, it is not necessary to do anything in this section.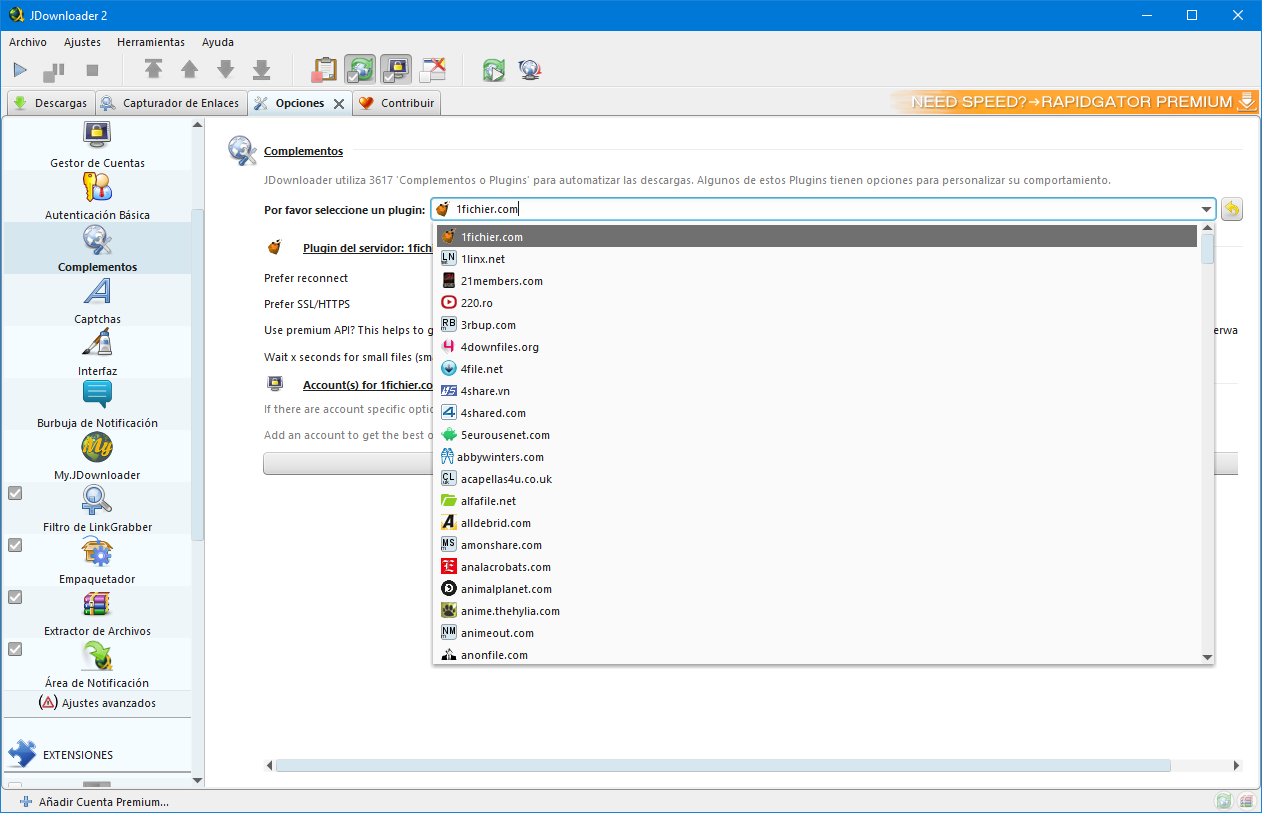 Captchas: solve anti-robot puzzles
The «Captchas» section allows us to install and manage add-ons designed to recognize the verification codes of some websites and fill them in directly. We can choose whether or not we want to use this function, and also activate, deactivate or configure the add-ons we want.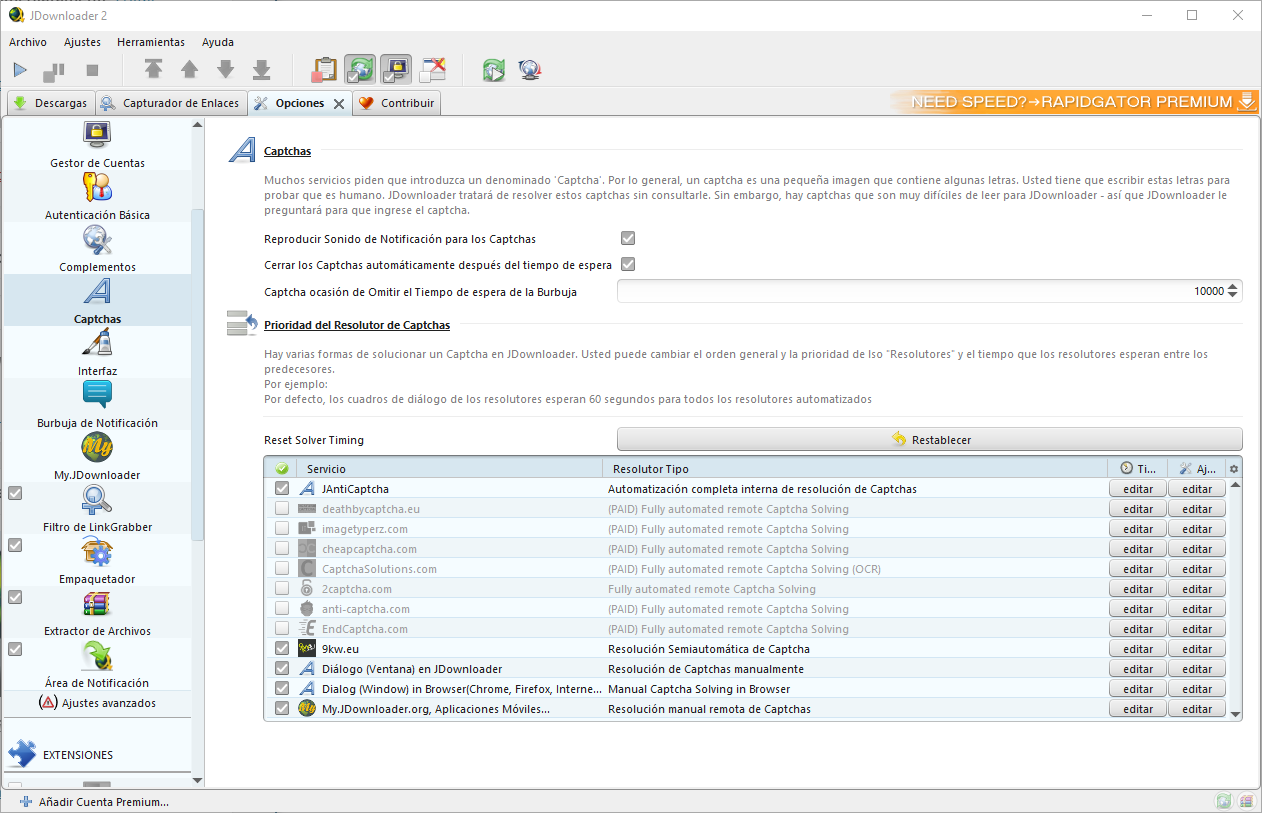 Interface: customize the appearance of the program
The "Interface" section is quite large and has many options. However, it is one of the most important as it will allow us to adapt the aspect of the download manager to our liking. Within this section we will be able to choose the language and all the elements that we want to see, from the main screen to the download window. Although there are many options, it is recommended to spend some time adjusting it to our liking.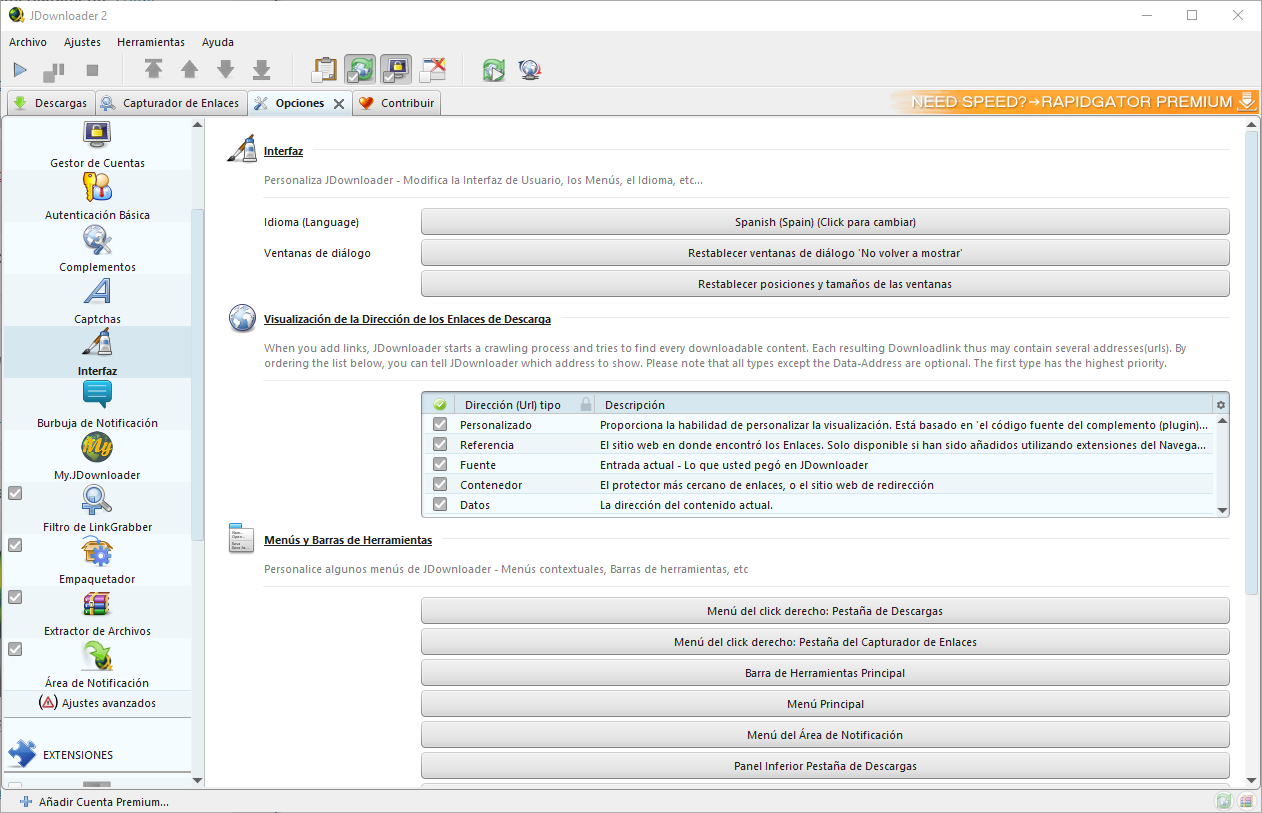 Notification bubble: avoid annoying messages
The " Notification bubble " allows us to choose if we want the well-known floating window of this program to appear with information about the downloads or not. If we have decided to make it appear, then we can also customize its appearance.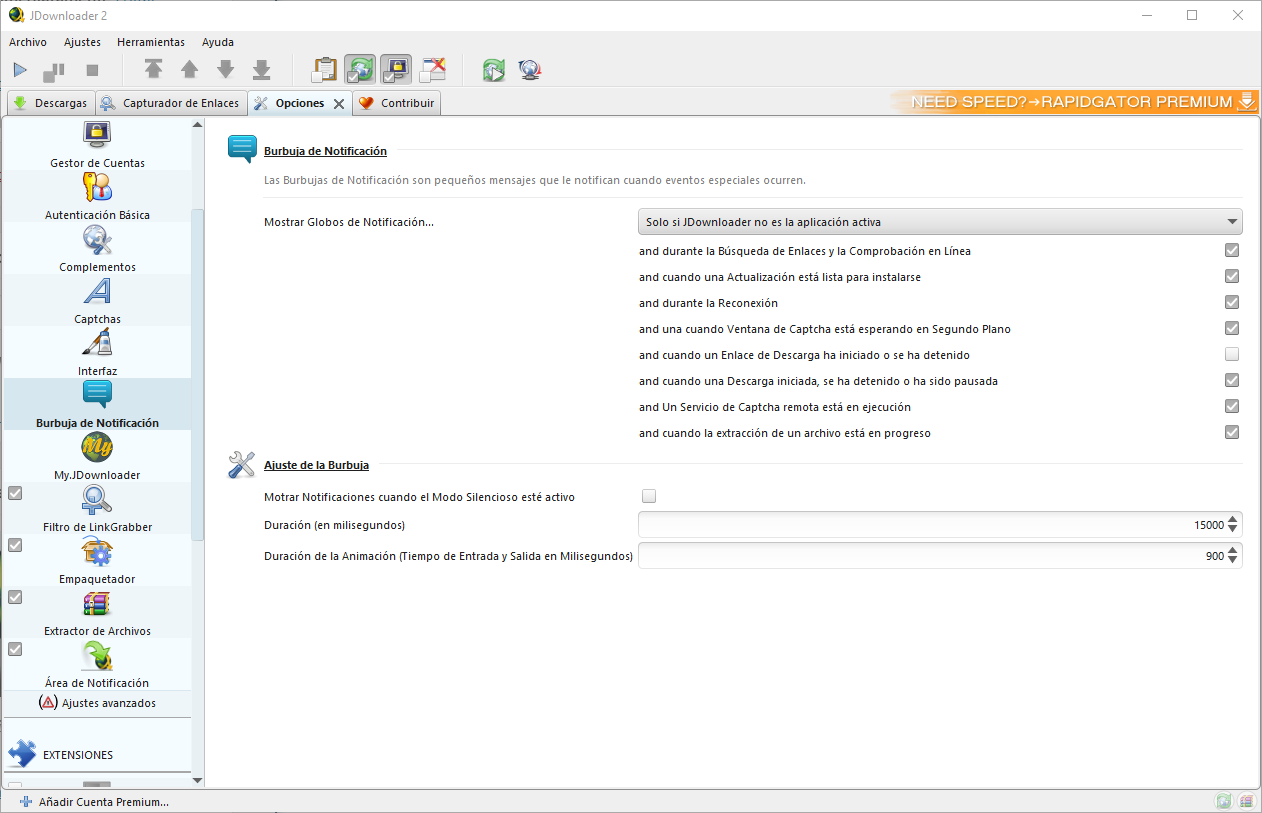 Other configurations
In addition to these options, which are the basic ones of JDownloader, we will also find other sections. These are the sections of the add-ons or add-ons installed within the download manager and they will allow us to configure each one of them. By default, the main installed plugins come (such as the packager or the file extractor), as well as a list of disabled plugins that we can activate if we are going to use them.
We can add or remove add-ons to the program from the selection box or the + button that appears in the list.
Plugins usually do not need to be configured. Unless we have a specific need, it is best to leave them as is.
Download files with JDownloader
As we have seen, it is not that complicated to configure this download manager, although it is true that so many options sometimes overwhelm. Once we have gone through the configuration and have adjusted the program to our needs, it is time to start downloading files with it.
There are several different ways to download files with this program. On the one hand we have the  link containers . Similar to torrent files, these containers store a series of download links so that, when opened with this program, all the links to be downloaded are added directly.
To open a container of links we can either double click on it, or press the keyboard shortcut Control + O to open it from the program.
Another way to do it is by directly adding the links to the program. This can be done manually, as we will see below, or using the clipboard monitoring tool so that, as soon as a link is copied, it is added directly to JDownloader.

If we don't want to use monitoring, we can add the links manually by selecting the "Link Grabber" tab within the main JDownloader window and clicking on " Add Links ".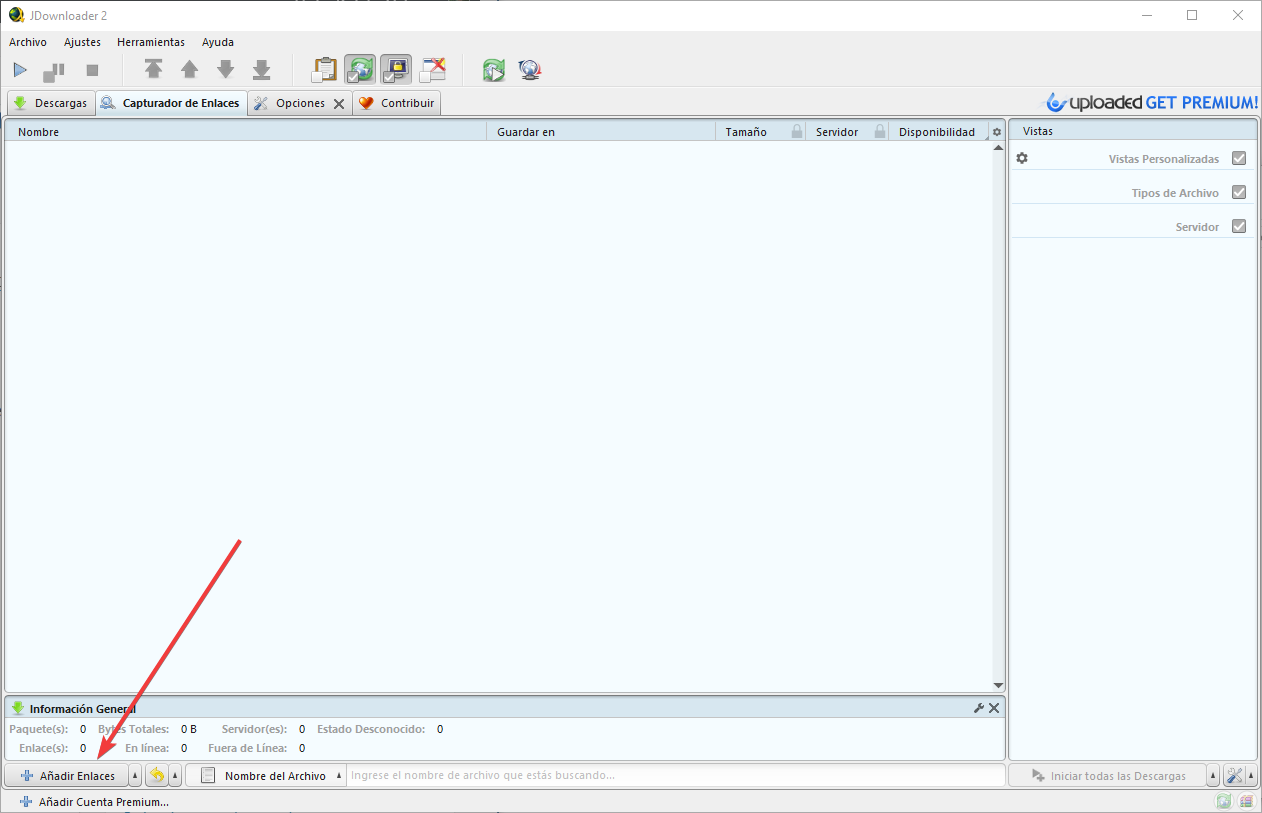 A new window will open from which we can add the links we want to download. In addition, we can choose where to save the downloaded files, select a package to have the downloads grouped, enter a password to access the download and even a password to directly unzip the file once downloaded.

We add the links that we want to download and click on «Continue». This download manager will automatically take care of analyzing the link, recognizing the type of download it is and adding it to the list. We repeat the process until we add all the links that we want to download.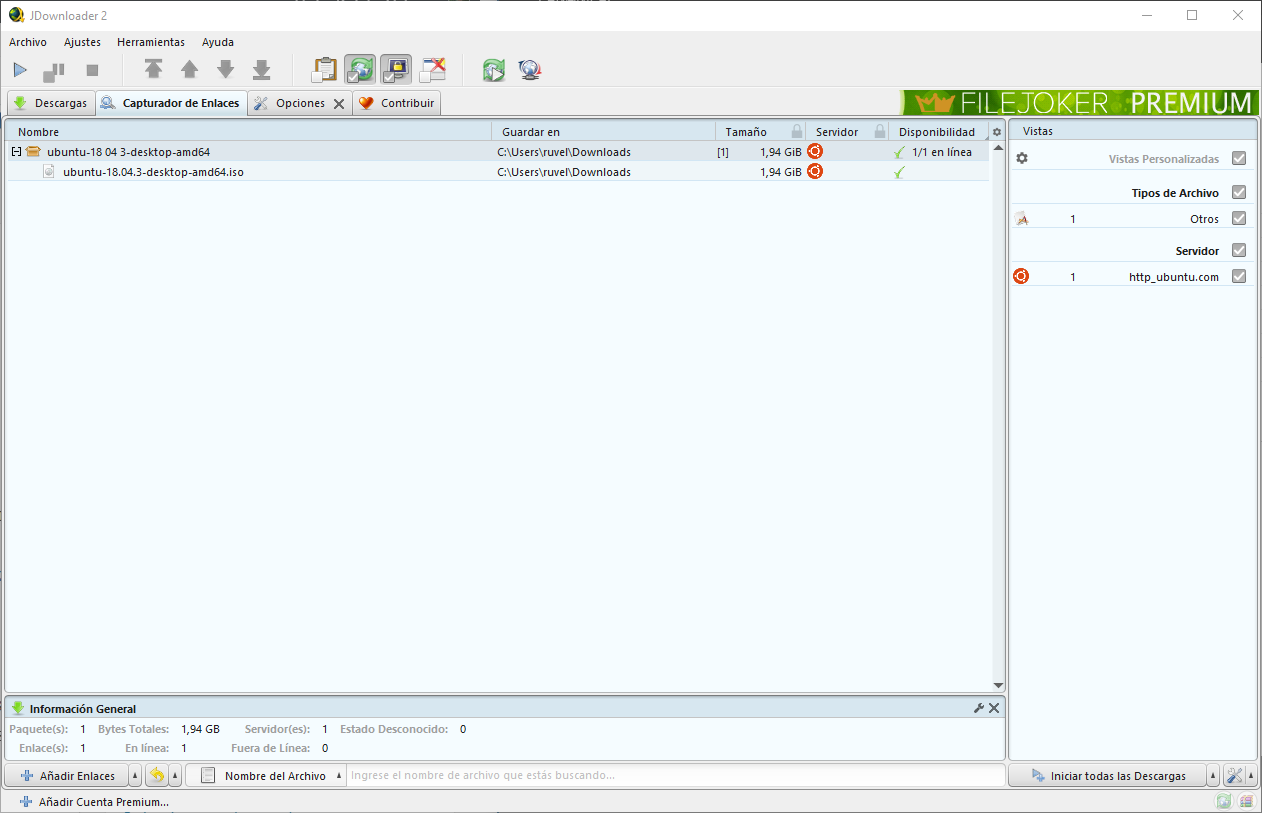 Once the links that we want to download have been added, we will simply have to click on the start button and the download of the files will begin.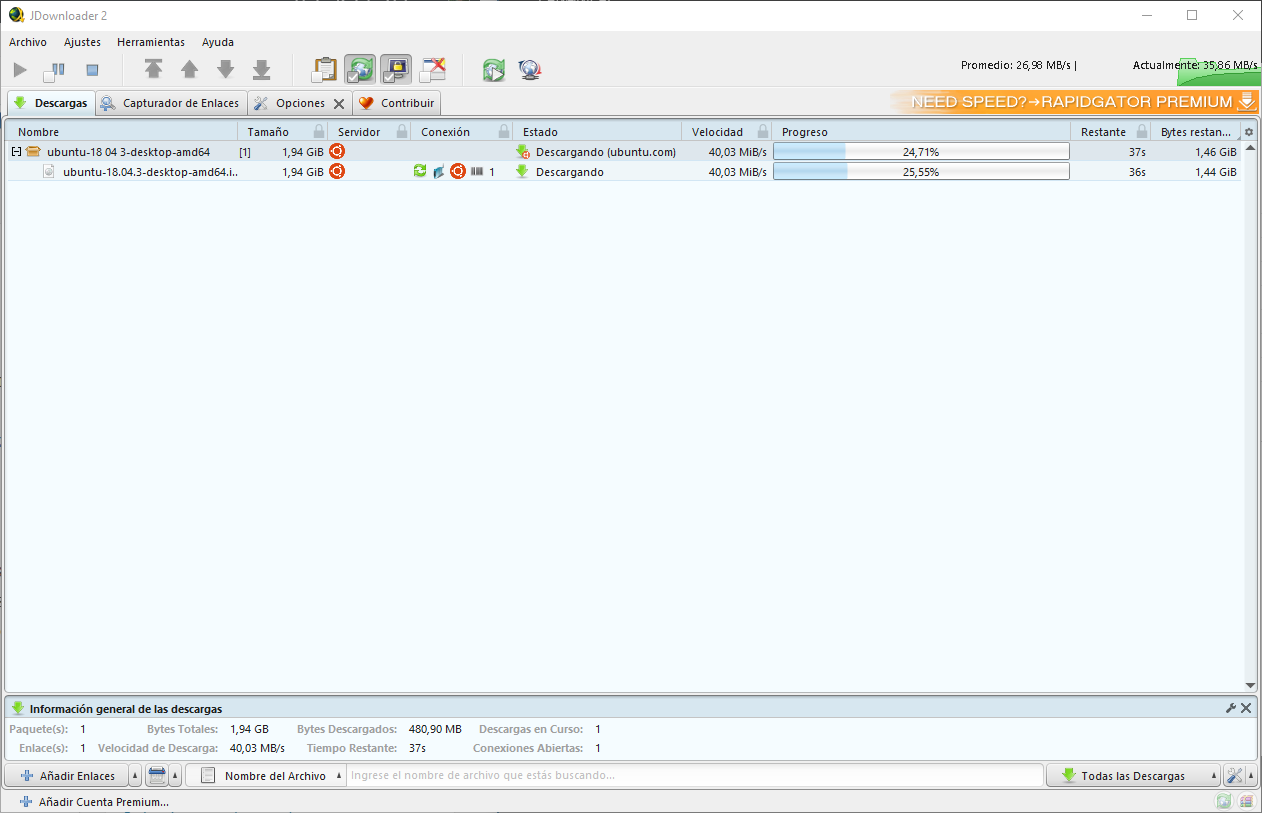 Now we just have to wait until the download is finished. Depending on the type of server, the limits and our Internet connection, the speed may be more or less high. If it is a direct download (without going through hosting) or with premium accounts, JDownloader is able to download using 100% of our connection.
When the download is finished we can find it in the folder that we have indicated. To keep the program clean, we can delete all the downloads already completed easily by clicking on the following button and choosing the option to remove completed links and keep the deleted files.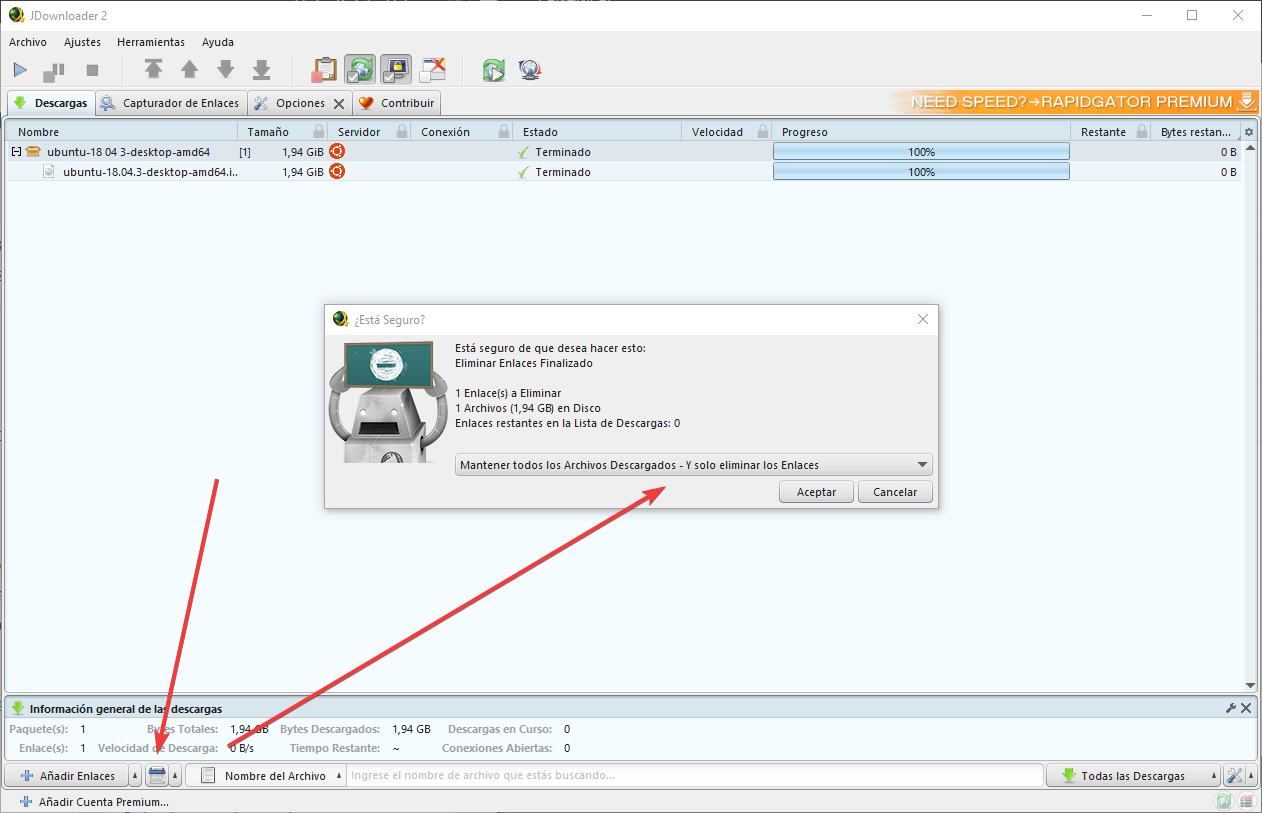 How to limit speed
So far we have seen the basic operation of JDownloader. However, something else has surely crossed our minds: how can we limit the download speed?
As expected, this download manager allows us to choose what bandwidth we want to use to download files from the Internet. To do this, we simply have to click on the bottom right of the window and from there we can set the maximum download speed (when we enable limited mode), in addition to other limitations (such as simultaneous downloads and parts) very useful especially not to saturate our router or PC.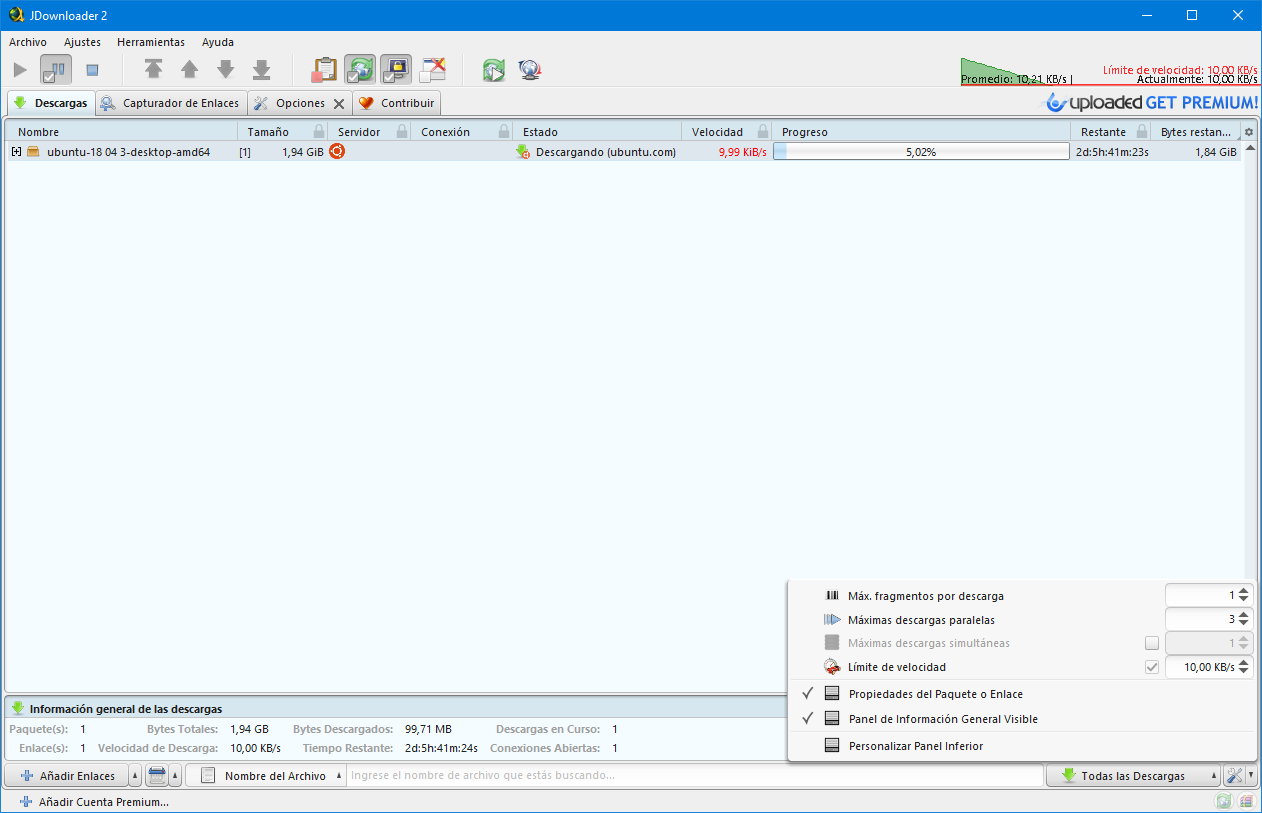 Now that you control JDownloader, enjoy this excellent download manager.
Download files from Google Drive without limits
Although Google Drive is a storage server that, in theory, does not apply restrictions to downloads, if we abuse it from this program we will find a problem: we cannot download more files for a while. This restriction is applied by Google to prevent bots and machines from abusing its cloud. And since JDownloader tries to download the files as anonymous, then it marks us as suspicious and prevents us from downloading unlimitedly.
Luckily, there is a very simple way around these restrictions: use the Google Docs plugin . We go to the "Account manager" section, which we have seen before, and we will add a Google Docs account using the server search engine.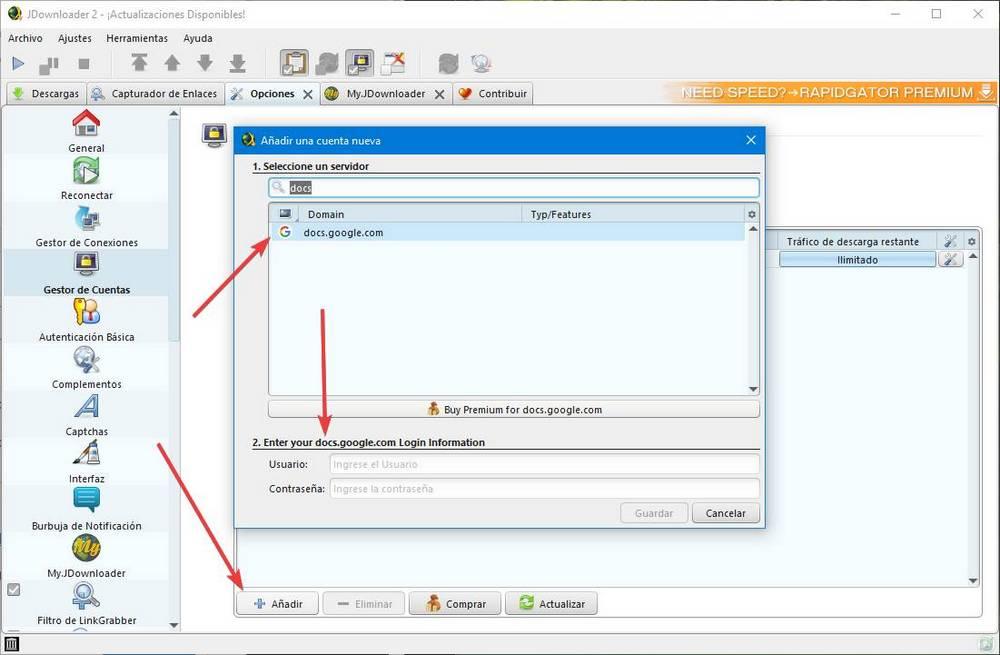 In theory, the username and password should suffice. However, in practice this is not the case. Due to the security limitations of the Google API, we cannot enter with the login, but we have to use the Google session cookie. To do this, we install the extension "EditThisCookie" in the browser, which we can download from here.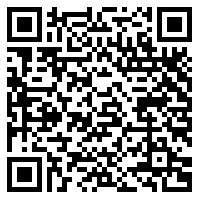 Next, we open the Google Drive website in the browser (with our session started), and once inside, we click on the extension that we have just installed, and then on the export cookie button, which we show marked.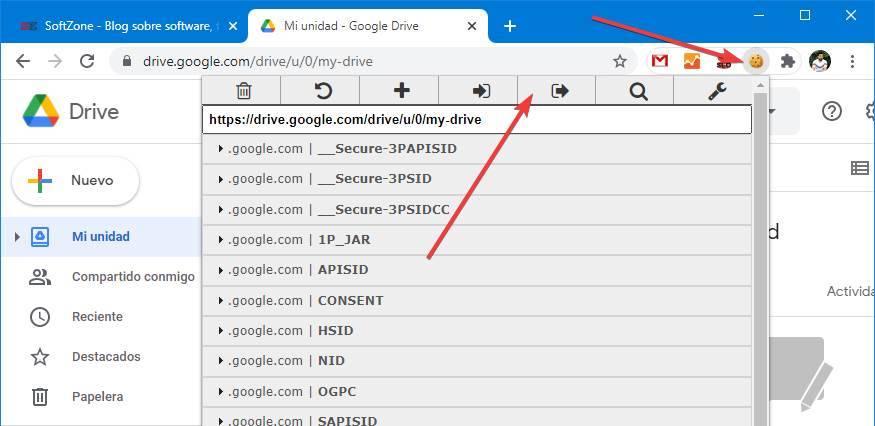 Chrome will copy the cookie to the clipboard. Now, we only have to go back to JDownloader, and in the Google Docs login, enter the Gmail email account as a user, and as a password, paste the content of the cookie that we have just copied. In an instant, we will already have the session started, and we will be able to download again in an unlimited way from Google Drive .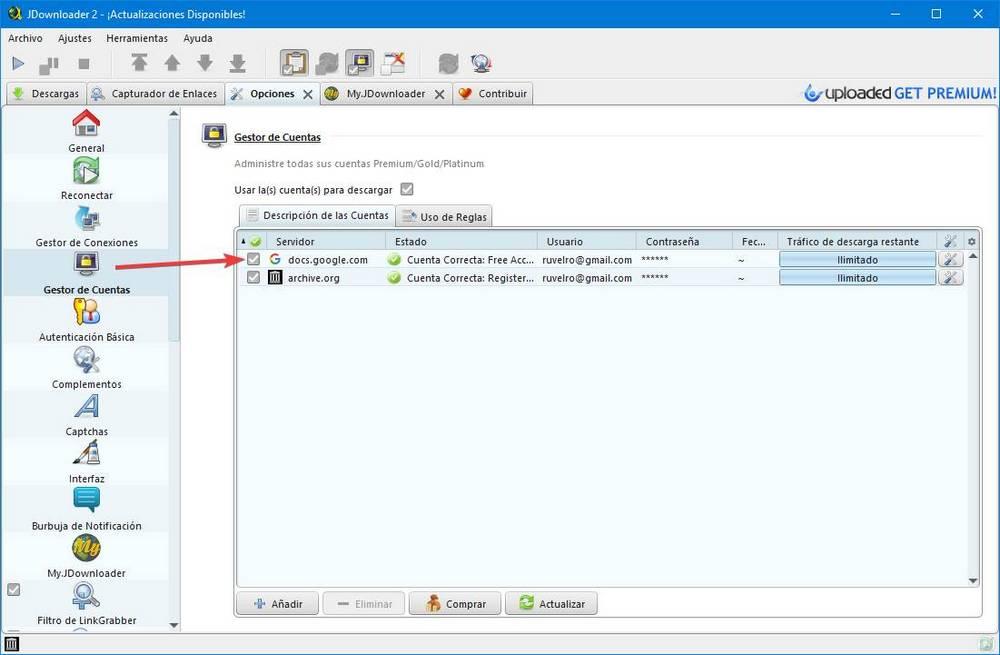 Download YouTube Videos with JDownloader
Another of the most interesting uses of JDownloader is the possibility of downloading any type of content from the Internet: files, images, HTML code … and even videos embedded in the pages themselves. Thus, for example, we can use this program to download, for example, YouTube videos.
All we have to do is go to the video and copy the URL, as if it were any other download link. And when we have it copied, we paste it into JDownloader. The program will analyze the URL automatically, and will show us all the elements that we can download.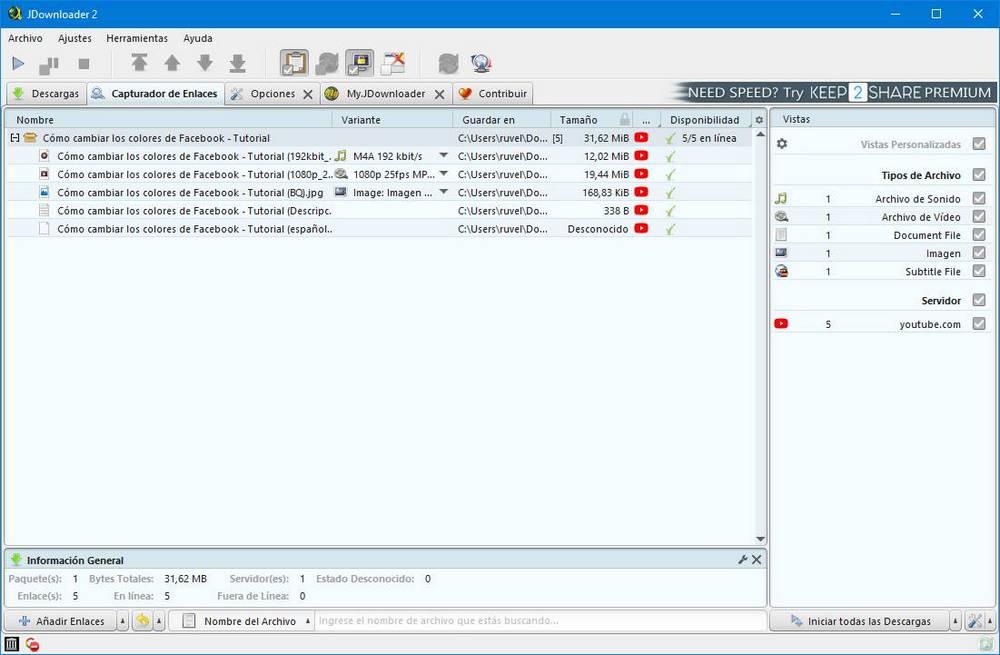 The program allows us to choose if we want to download only the audio, download the video (with the audio included) or download only the main image of the video. We will also be able to choose the resolution, both for the audio and the video.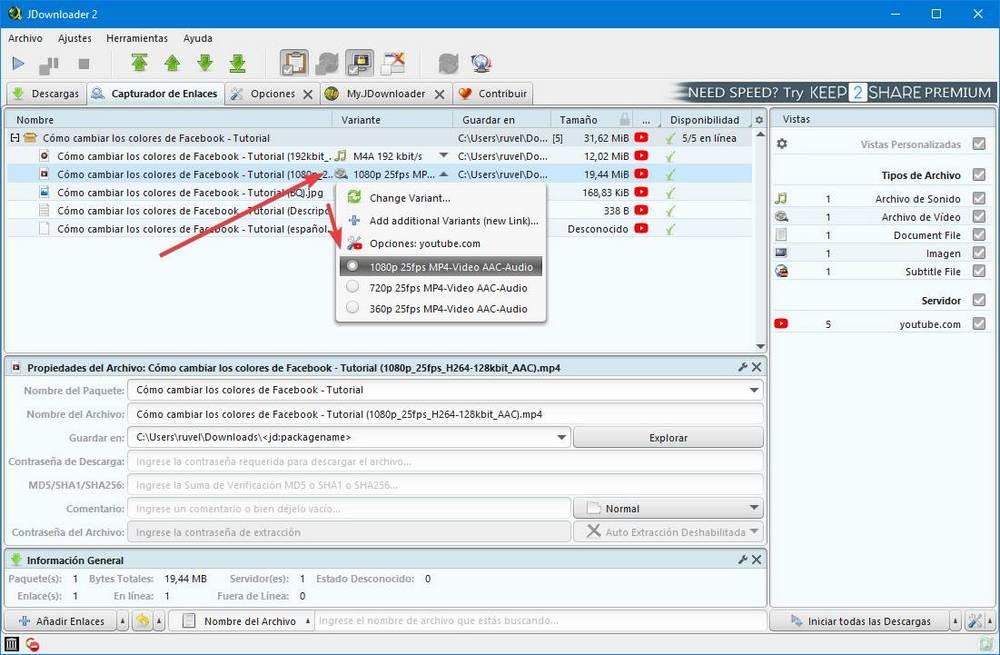 We can download everything, and delete it from the PC, or delete in the JDownloader itself the elements that do not interest us, such as the image and the audio, for example. When we are ready, we will click on the «Play» button to start the download. And the video will start to download like any other file with this program.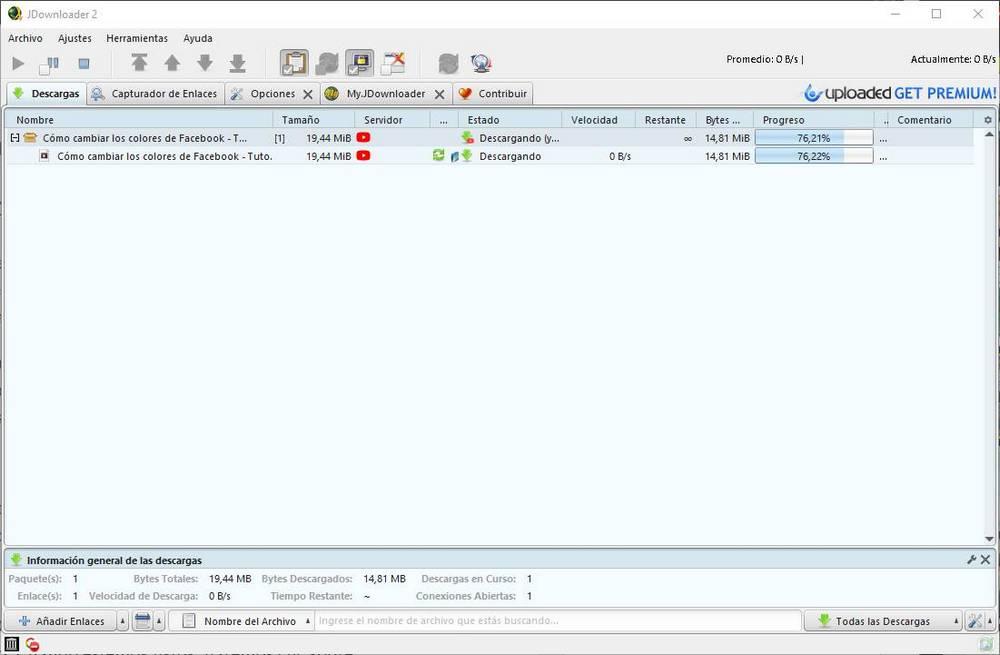 JDownloader takes care of everything. It will download the video to the indicated resolution, and if you have to convert the video to another format you will be able to pass it equally without problems. When the download is finished, we will have the video saved on the PC, and we can play it with the program we want, or simply save it on the PC.
Simpler alternatives
Jdownloader is an excellent OpenSource download manager, there is no doubt about that. But it has two serious problems. The first one is that it is written in Java, which can have many advantages, but that, among its disadvantages, we must indicate that it consumes many resources, so it can make our PC go very slow. The second one is that it is a very complex program, with many options, which can overwhelm some users.
Free Download Manager
Free Download Manager is also one of the best download managers that we can find for Windows 10. This program is also free (although not open source) and allows us to manage our downloads more efficiently, in addition to accelerating them so that they are downloaded more Quick. It has a simple interface and does not confuse users with different and complex menus.
uGet
If we are looking for a very lightweight download manager, then another option we should try is uGet . This program is also free and open source, and allows us to control file downloads from a very clean and easy-to-use interface.
DownThemAll
And if we don't want to complicate things, DownThemAll is an extension for Chrome and Firefox that allows us to turn our browsers into a complete download manager with all kinds of functions. A must-have extension that should not be missed by any user who usually downloads all kinds of files often.