Applications
It imitates the sound of a mechanical keyboard when writing in windows 10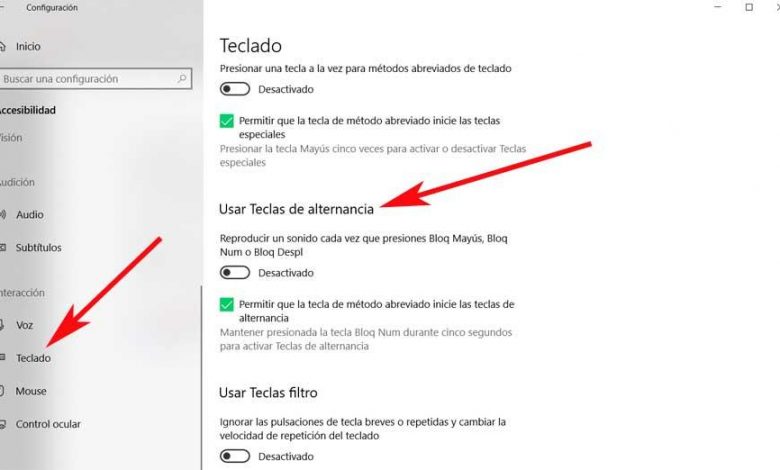 In the PCs that we use daily, there are several devices that we use together with them to improve the experience and usefulness of the equipment as such. Here we refer to products such as the screen, mouse, printer or keyboard.
Well, in these lines we want to focus on this last component, the keyboard and its corresponding keys. To begin with, we will tell you that, as you already know, devices with a touch screen usually have an audio system for when users write on them. This is generally useful in the absence of physical keys that can be touched or pressed, although many users prefer to disable the function.
Therefore, in the event that we want to be able to have this same audio functionality for a keystroke in Windows 10, we will need a third-party application . This will allow us to enable the typing sounds of the conventional keyboard that we use daily on the PC. The truth is that there are not too many applications that allow us to carry out this, but now we will talk about one of them.
Add sound to PC when pressing keys in Windows 10 with this application
Specifically for this we are going to recommend the use of MechVibes . This is a simple free application that you can download from this link . Thus, once we have downloaded and installed it on the Windows 10 computer, the program plays a short sound valid for each click on a keyboard key . One of the problems we found is that the interface that it proposes cannot be minimized in the system tray.
Similarly, it is also important to know that we cannot change the default sound unless we do it at the code level. This is something that more advanced users can do thanks to the fact that it is an open source solution .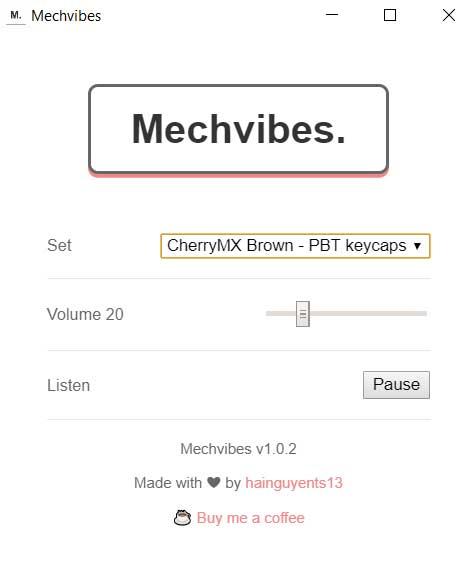 Therefore, as we can see, it is a fairly simple program to use, but it does its job perfectly. In fact, there are few customization options that it presents, since we only have one type of sound that we can use. Of course, what we can change is the volume of the sounds of the keys, or pause functionality without closing the program. This will allow us to stop hearing sounds when we consider that it is not necessary.
Mimic a mechanical keyboard with MechVibes
How could it be otherwise, at any time we can activate it again so that, every time we press a key, we hear a sound. Thus, one of the main objectives of MechVibes is to imitate the sound that would be heard if we use a mechanical keyboard. Of course, the result is not the same as those heard on a smartphone, for example, but it does what is asked to perfection.
In short, if you want to reproduce sounds when typing with your keyboard in Windows, MechVibes is an excellent alternative. In this way you can have audio when entering characters, as if we were working with a mechanical keyboard.
Use the Toggle Keys feature
As an alternative to this and in a more local way, say that Windows has a functionality in its Accessibility section that they call toggle keys. As they describe from the operating system itself, this will allow us to hear a sound each time we press on one of the special keys of the equipment itself. Elements such as Caps Lock, Num Lock, Shift, Ctrl, or Scroll Lock come into play here.
Obviously this is not as useful as the program described above, but it will be of some help, and without installing anything on the computer. Therefore, having said that, to enable the toggle keys to which we refer, we do this from the System Settings application.
How to access Windows 10 toggle keys
As we mentioned, in order to make use of this integrated functionality of Windows itself, the first thing we must achieve is to open the Settings application. In fact, this is where a good part of the customization options of the Redmond operating system are located. Little by little Microsoft is moving functions from the Control Panel that has been with us for so long, to Settings. Well, in order to open this that we are talking about, we only have to access it using the Win + I key combination.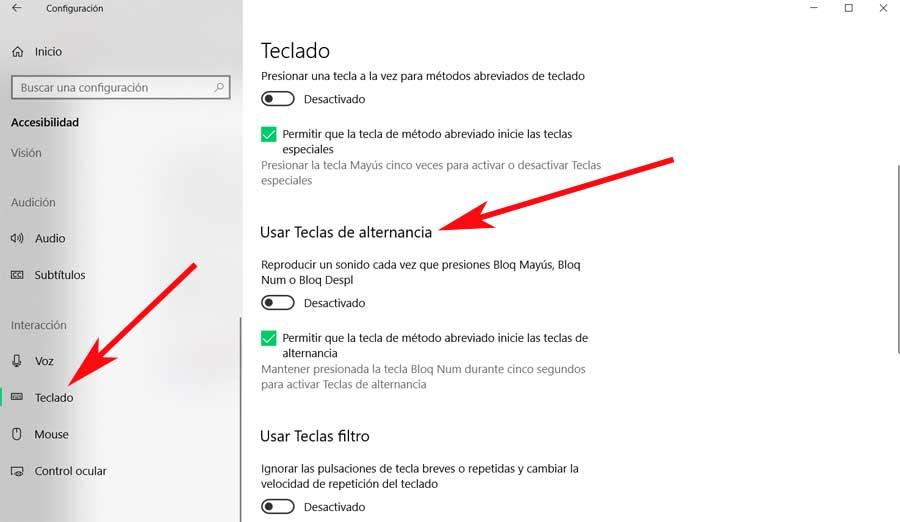 Then we find a new window in which we see several options, so in this specific case we opted for the so-called Accessibility . This will lead us to a section in which we find several parameters that help us to use Windows more effectively in certain circumstances. Therefore, once we comment on this section, we select the Keyboard option on the left side of the window. Then it will be when we will be able to see the function that interests us in these lines, Toggle Keys . Therefore to finish we only have to activate the corresponding selector that is presented here to achieve the desired effect.