Applications
Improve torrent download on azureus / vuze with this setting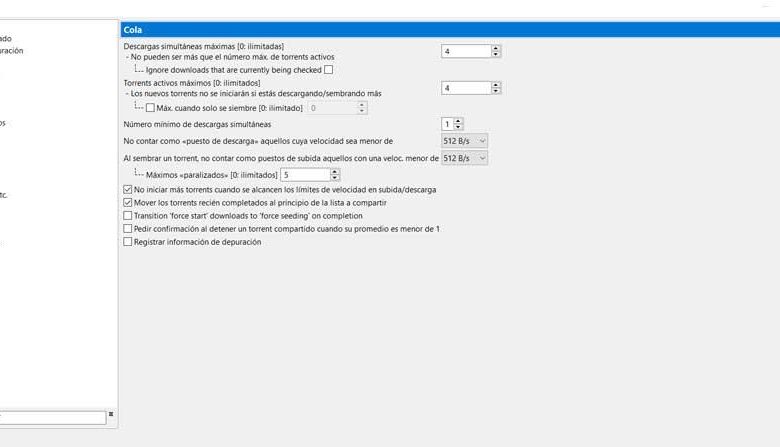 There are many programs that act as P2P clients that we can download and use at the moment, some more popular than others. But they are undoubtedly widely used applications around the world for a long time. This is the case of Vuze / Azureus, a solution of this type of which we are going to show you how to install and configure below.
It must be borne in mind that this type of software is initially configured so that we can put it into operation from the first moment. However, if what we want is for it to work in a more effective and faster way, it is best that we make some adjustments. By this we mean that users who wish to can make some changes to their configuration to adapt the program to their needs. For all this, the software itself usually offers customizable parameters, as is the case with Vuze / Azureus .
It is worth mentioning that this specific proposal has been with us for a good number of years, so its developers have more than enough experience in these conflicts. So let's see how to get hold of the program, put it into operation and configure it to improve its performance and download content faster. Of course, something that we must bear in mind is that at first, if we do not feel like complications, in the first instance and directly we can start using this application. With this, what we want to tell you is that we can start downloading content without having to configure anything. Thus, it will be enough for us to use the default parameters that its developers implement from the start and leave configured.
However, it is possible that many of you want to have a much greater control over the behavior of Vuze, as well as its appearance or data displayed. For this we have a multitude of configurable parameters that will help us, as we will see later.
Install Vuze / Azureus on Windows
As is usual in these cases, the first thing to do is download the program from the official website of its developers . It is true that you can find the same on third party websites, but it is always preferable to do it from the official one. Therefore, in this case we only have to access this link, where we find the corresponding download button.
At this moment we already have the executable that interests us in this case, so we double click to start the process. This is when the installation process begins with the window that welcomes us to the program as such.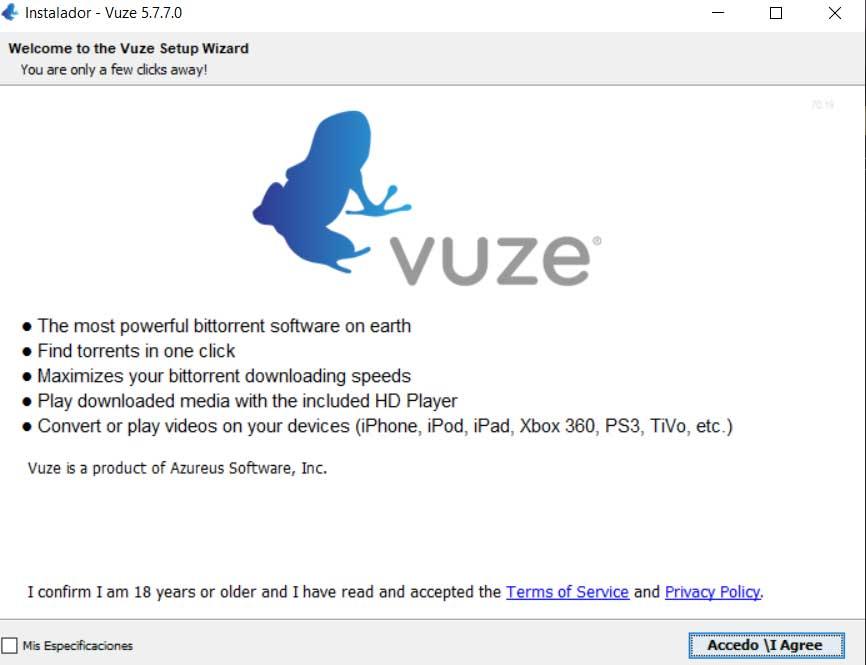 Next we will find a new window in which we are informed of the path in which the program will be installed, as well as its size. This is something that we can logically configure and change. In turn, here we also find a series of options that allow us to specify the shortcuts to create, as well as the general appearance of the user interface.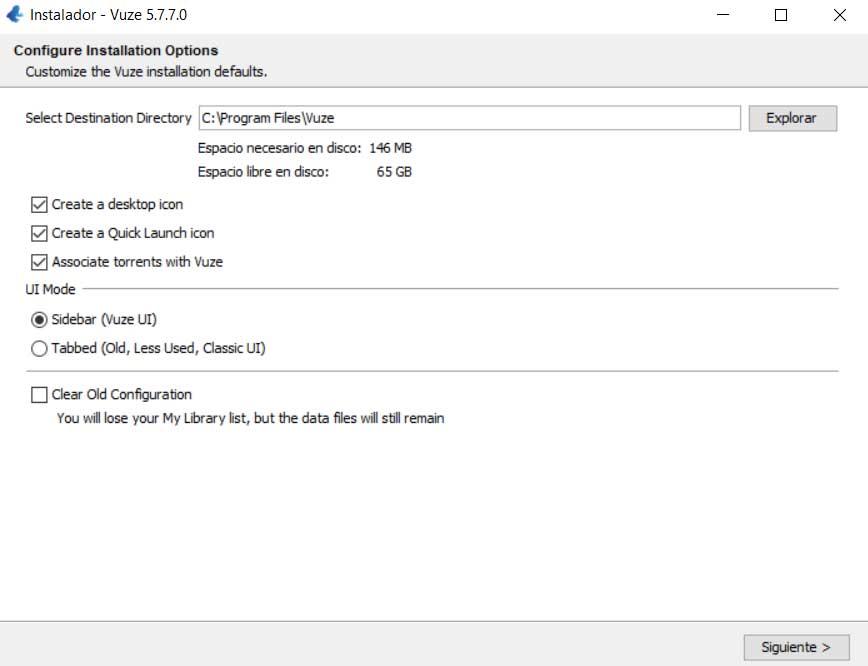 Keep in mind that this is a program that supports the installation of add-ons that increase its functionality . Therefore the same entry and in the installation process, it already offers us some of them that it adds by default and that we recommend you keep, at least initially. This is something that we can change later, as well as add new ones.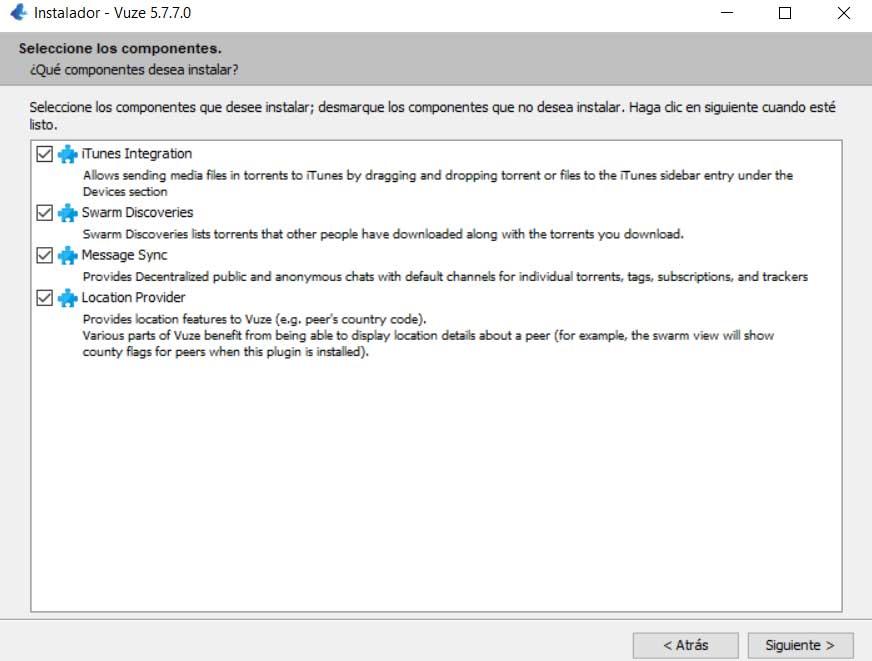 From that moment on, the installation itself will begin . In the middle of it, the program offers us the optional installation of its own web browser, something that we can reject if we already have another one that we use by default. Thus, after a few seconds, we will have Vuze / Azureus on the PC to be able to start using it from the first moment.
Get started with Vuze on Windows
As soon as we start the program for the first time, we will tell you that we have a fairly common user interface in P2P clients . To make everything easier, Vuze allows us to drag torrent files directly from the desktop or from Windows Explorer to its interface. At that moment and automatically, the download process will start automatically.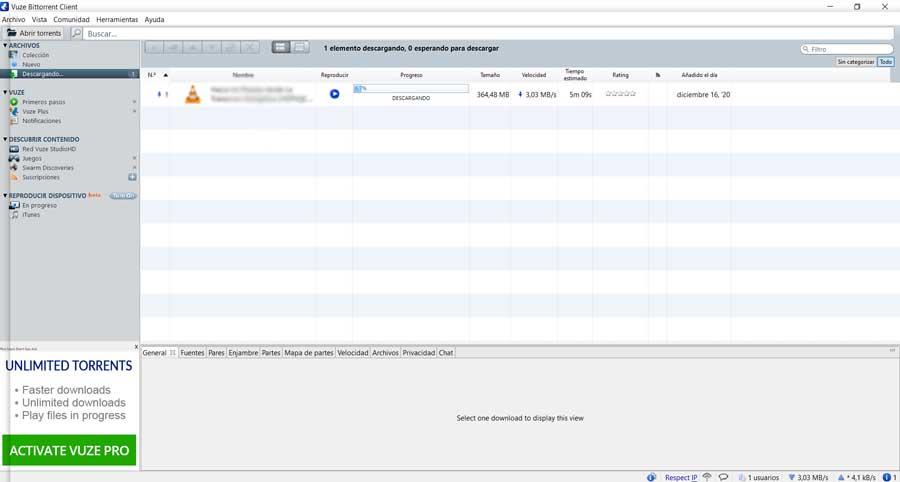 At the same time it is recommended that we take a look at the left side of this interface with which we find where the sections of the program are located. At first, the one that most interests us the most is the so-called Archive . And it is that from it we have the possibility of controlling the torrent files with which we are going to deal from here. So we see a New section for loading content, or Downloading to control this in real time.
It is worth mentioning that in order to better manage the torrent as such while it is being downloaded, what we can do is right-click it. This will give way to a series of options so that we can see its details or the download and upload limits established for it.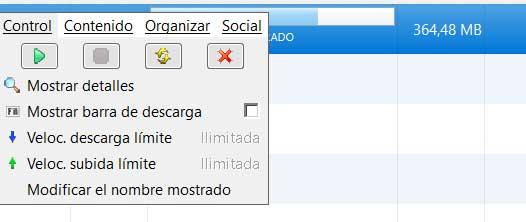 In the same way, we will have the possibility to assign it its own category, add tags, choose a thumbnail for it, etc. In this way what we really achieve is to have much more control over the file once it has been fully downloaded. Also, if we normally deal with a lot of content of this type, we can organize them in a more orderly way for later location or reproduction .
Other sections of the main interface
But in addition to the aforementioned File section, here we find others such as the one called Vuze that gives us access to the paid version of the program with some additional functions . We also find a section that gives us direct access to additional content.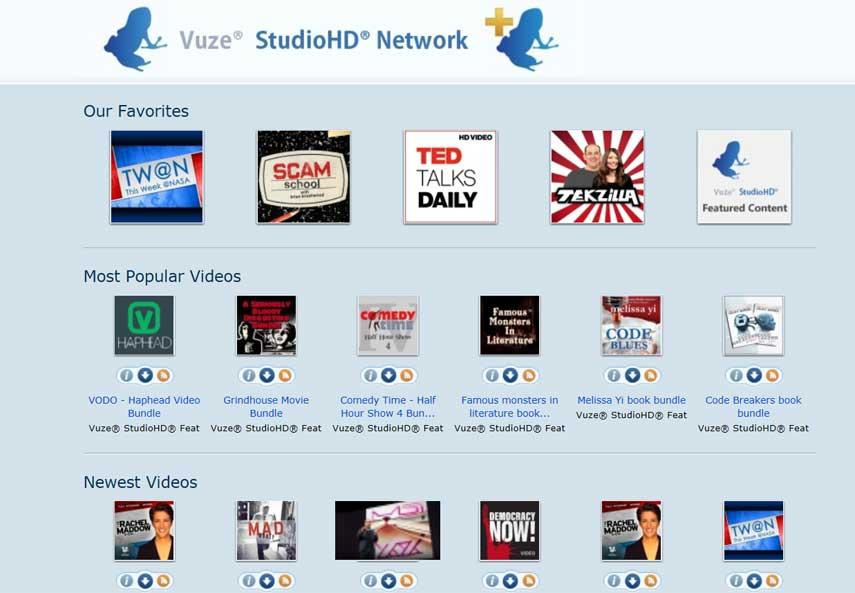 As we told you before, this is a P2P client that by default is already configured so that we can start using it from the first moment. This allows us to start torrenting without having to do anything else, but of course, this does not end there. And the software itself presents us with a series of customizable parameters that will allow us to further refine the behavior of Vuze / Azureus.
Therefore in these lines we are going to show you how to optimize and configure all this that we tell you in the best way. For all this, the first thing we must do is take a look at the menu options that we find at the top of the main interface . Thus, what interests us in this case is in Tools / Options.
Configure Vuze / Azureus step by step
This that we have just commented to you through the program menu, will lead us to a new window, the program configuration window.
Mode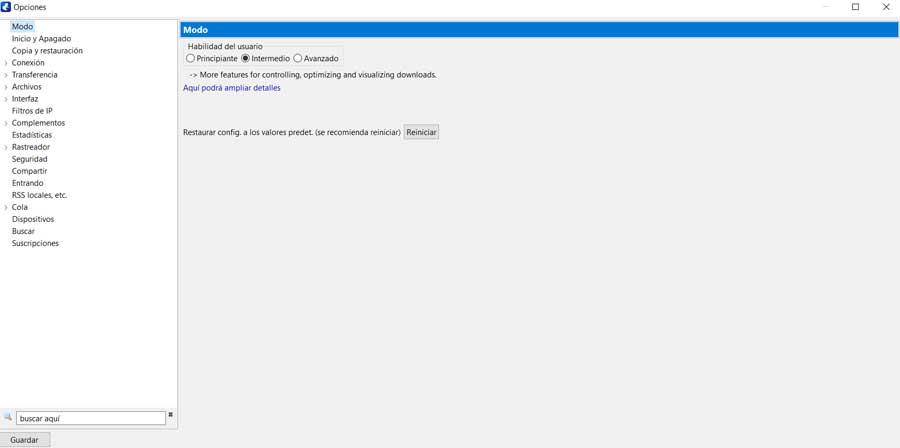 The first thing we see in the Mode section is that we can choose the type of user we are: beginner, intermediate or advanced. Depending on the option chosen, we will have more or fewer parameters at our disposal .
Startup and shutdown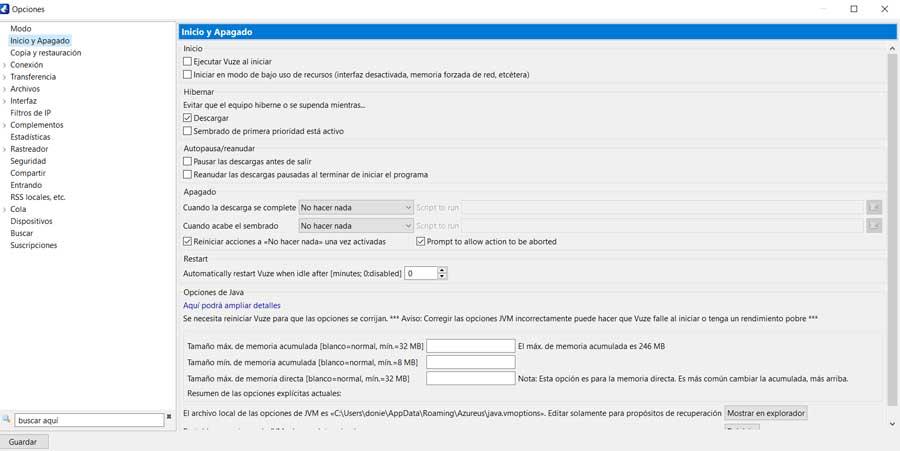 On the other hand we find the Start Off section, from which we specify the initial behavior of the program. This also affects the operating system itself, since from here we prevent Windows from suspending or hibernating when we are downloading something. We can also make the computer turn off only when the download of content in Vuze / Azureus ends or run the application together with the start of the system itself.
Connection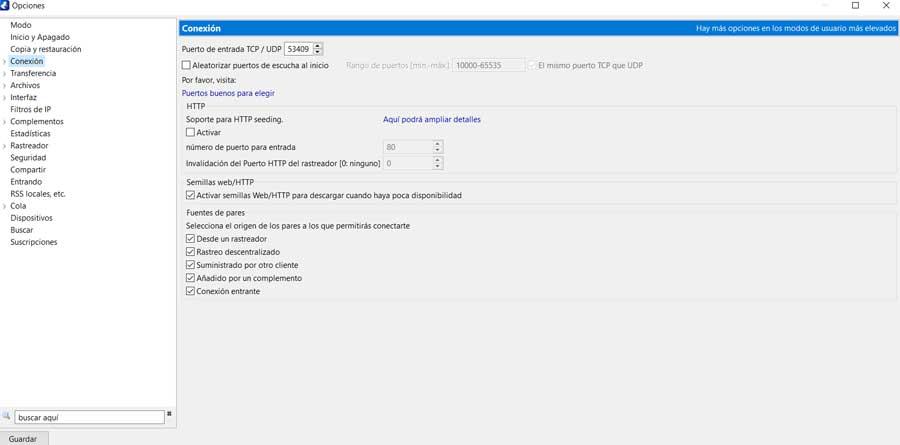 When configuring and optimizing the operation of this specific program that we are talking about, one of the most important sections is the so-called Connection. And, as you can imagine, this will allow us to get the most out of our downloads based on the connection we have. Therefore, here we can configure the ports that we want the program to use for these tasks that we are commenting on.
Thus, we specify the TCP / UDP input port that we are most interested in using here, or we can set them as random. We can also activate the support for HTTP also indicating the positions for all this. Here it is also recommended to enable the Enable Web / HTTP seeds box so that the download is faster if the availability of the torrent is low. On the other hand, we can customize the use of the peer sources.
Transfer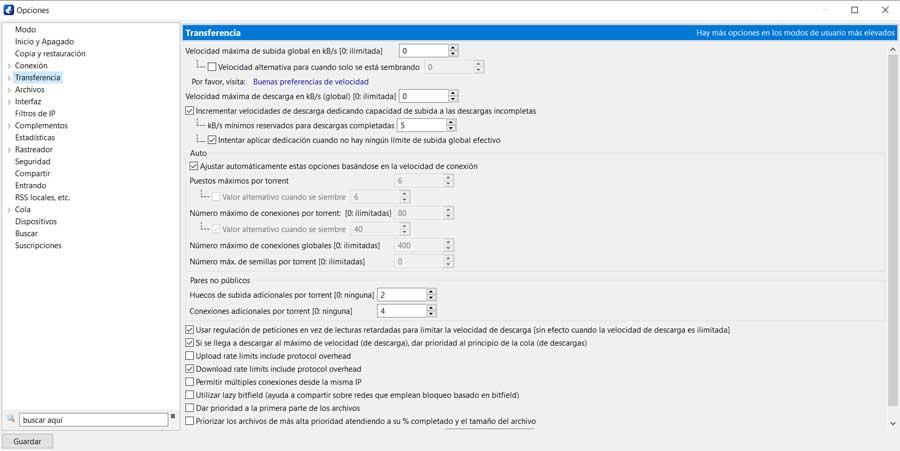 As in the previous case, this is another of the configuration sections to which we must pay close attention. And it is that from here we will have the opportunity to customize the maximum speed of uploading and downloading content from Vuze / Azureus. This helps us to give more or less priority to these tasks here, in case we are using the Internet in other Windows applications at the same time. These parameters must be adjusted based on the total connection we have, as well as the use we make of the rest of the equipment at a given time.
We can also specify the maximum number of seeds and global connections that we are going to use. The truth is that these values ​​are somewhat relative for each user, team and circumstance, so it is advisable to try to find the best configuration in this regard.
Files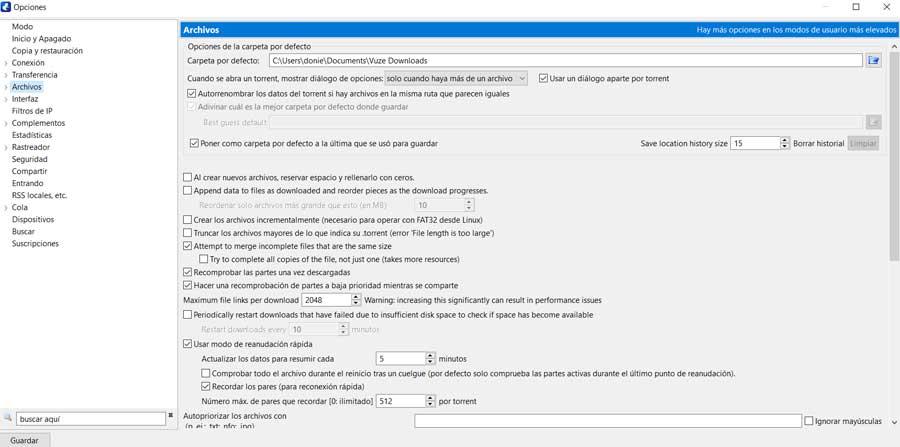 As you can imagine, from this section what we customize is the behavior that the torrent that we load here will have. We indicate the default folder for downloads, how they have to be named once downloaded, their format depending on the system, name size, etc. All this will also help us to organize much better the torrent that we download from here, especially if we deal with a good amount of them.
On the other hand, we can indicate to the program the types of extensions that we will be able to preview from here.
Interface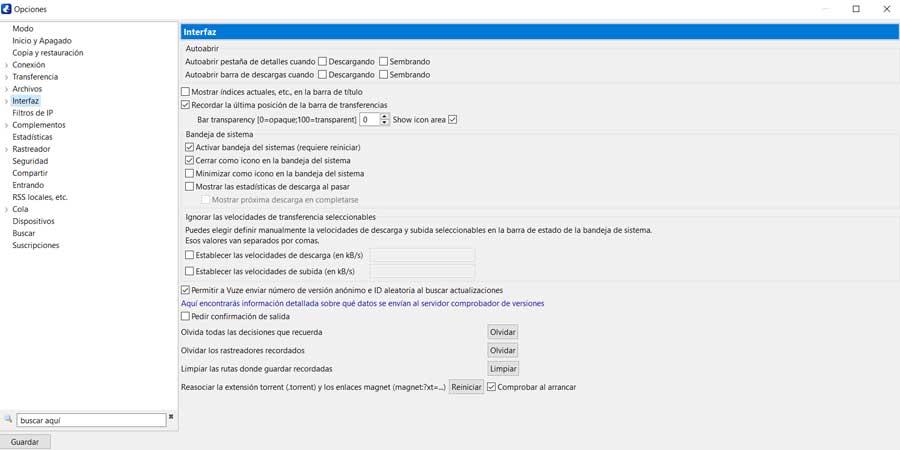 One of the elements that we are most often going to work with in this program, Vuze, is with the interface window. It allows us to interact with the files that we load here in the best and most comfortable way as possible. Therefore, from this section of the configuration, we have the possibility to customize the data that we want to be visible, and those that are not.
Accessories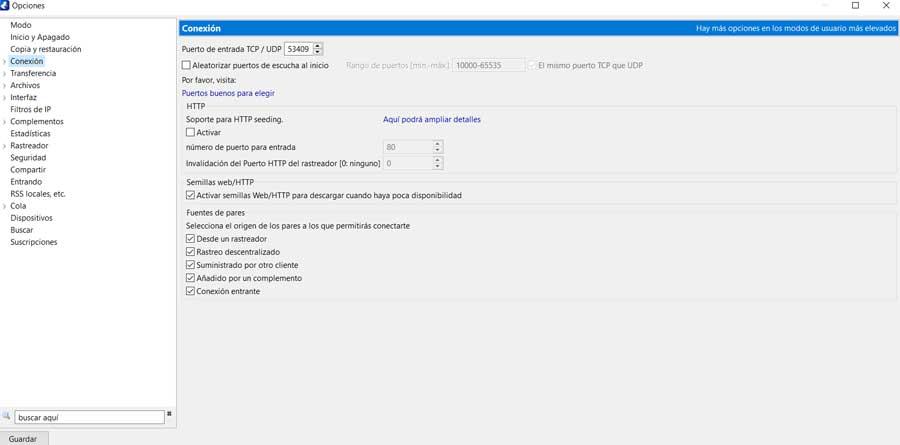 As we mentioned before, Vuze / Azureus is a program through which we can use additional add-ons. With these we substantially increase the functionality of the program to adapt it to the needs of each one. Well, both to add and to remove these elements that we are talking about in these lines, we can use this section.
Here we are going to find a long list of these elements so that we can select those that we want to be part of the P2P client. It is worth mentioning that we also have the possibility to search for new ones of these online add-ons just by clicking on the Search for new add-ons button . This is at the bottom of the window. Next to each of these elements we find a marker that tells us if they are active or not.
Statistics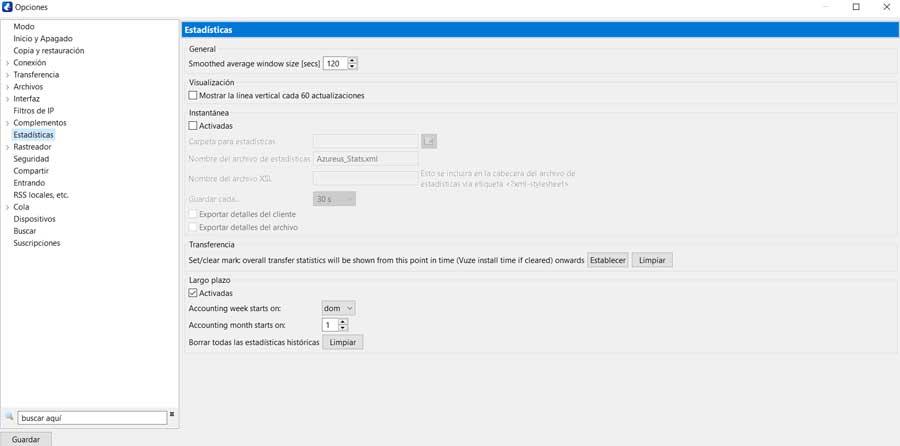 In the event that we work regularly with this program, having maximum control of its state and its behavior can be key. This is something for which all the information that the main interface of the program presents us helps us greatly . At the same time we can manage the operation of the downloads that we have active at that moment, all in real time.
With everything and with this and if we want to personalize all this data in order to adapt it to our needs, for this we have the Statistics section . From here we can configure the update of this information, delete the passes, save them in a file, or the way in which they are going to be displayed on the screen.
Safety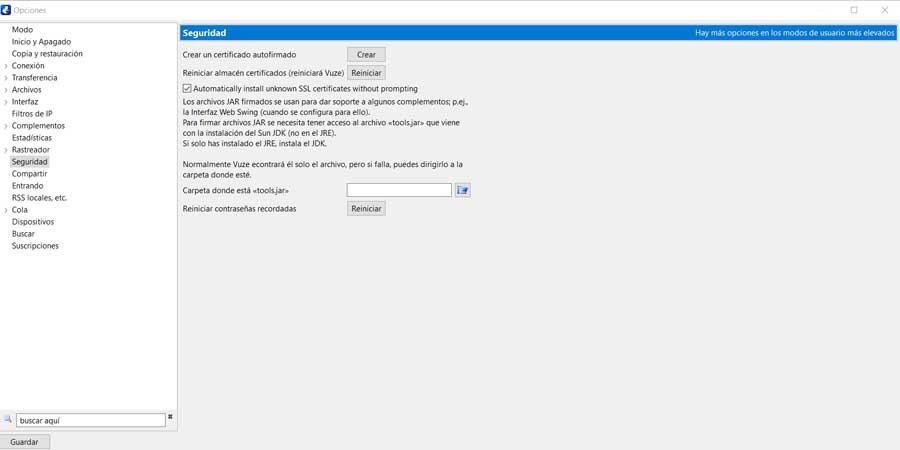 To give us a rough idea, what we are going to achieve from this section is to create and manage our own certificates to use in the torrent. Because we must bear in mind that these programs not only help us to discard content from other users, but also to share our own with the rest of the world. Therefore, on certain occasions, these own certificates can be very useful to us.
Share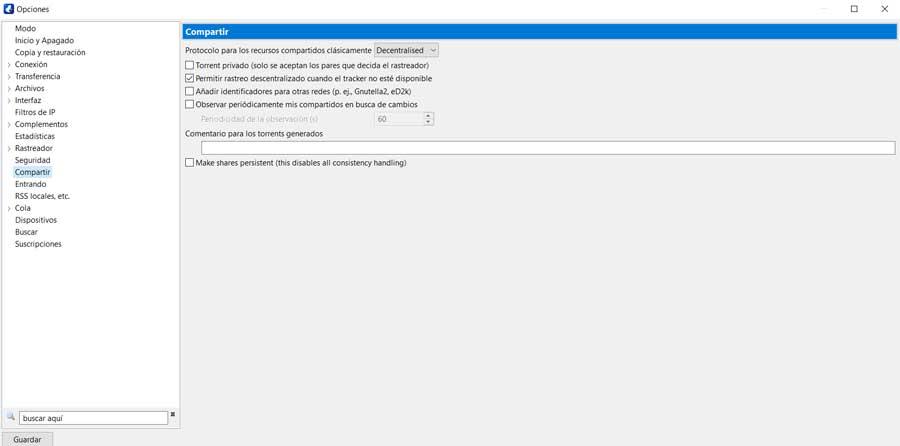 As with the aforementioned section, this Share focuses on adjusting certain parameters when we upload our own content. Thus we can indicate them as private, add identifiers for other P2P networks, or allow and deny the tracking of our torrent by others.
Tail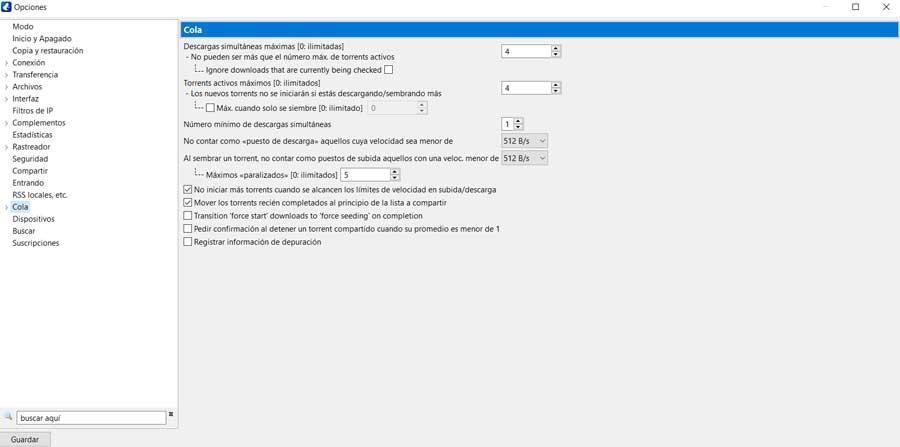 This is another section that we will generally have to pay special attention to. This is something that is mainly due to the fact that from it we will have the opportunity to indicate to the application the number of simultaneous connections that we want to use. This will directly affect the bandwidth that will be used for each download, as well as the number of torrents that we can download at the same time.
Hence precisely the connection that we have in each case is basic here so that we can squeeze it to the fullest if we wish. We can also optimize the behavior of Vuze / Azureus so that it is not a nuisance for the rest of Windows applications.