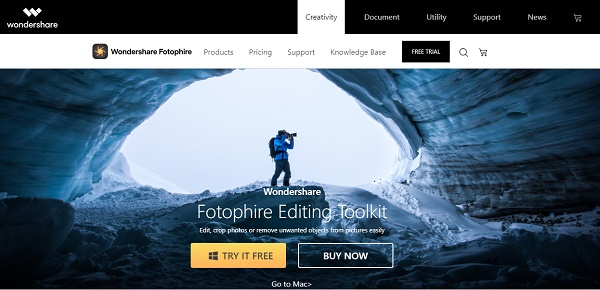 To remove a watermark from an image you have to resort to online platforms such as Inpaint, Pixlr, Apowersoft, among others. Similarly, you also have downloadable software on your computer such as Photoshop, HitPaw Watermark Remover, Photo Stamp Remover, etc. When using any of these programs you will have to upload the file, select the watermark and delete it according to the components provided by the tool.
Watermarks are used by photographers, designers or artists to identify a photo and indicate who has taken the photo. However, to properly view the image, it is necessary to remove this element. If the stamp is in a part of the photo, there are several programs that will remove it easily. Therefore, in this article you will see how to remove the watermark from an image through online and downloadable tools.
Using online pages
In the following sections you will detail the best online pages to remove the watermark from an image. This is a fairly simple option in case you want to perform this procedure on a few photos quickly and without many complications.
With Inpaint
Inpaint is an excellent website for removing watermarks. Its interface is in English, but it is intuitive and easy to use. In addition, you can translate it through the browser of your choice. To use this program, run the following procedure:
Access the Inpaint web portal through thislink and click on " Upload image ".
Find the photo on your computer.
Choose the first option on the toolbar called " Marker Tool."
Shade the watermark and hit " Erase ".
Then, click on the " Download " button in the upper right corner. So that the platform does not charge you absolutely anything, choose " Download Low Resolution ".
With Apowersoft Online Image Watermark Remover
This is an online page from the Apowersoft photo and video editor. Its platform is in English, but you can translate it with the help of a browser (it is advisable to use Google Chrome). To remove watermarks from photos with this tool, follow these steps:
Go to Apowersoft Online through this link and click on " Remove watermark from image ".
Find the image on your computer and press " Enter."
Select the watermark with the blue box and press " Delete ".
To download the image, press " 1/1 complete, download images ". The image will be downloaded in JPG format.
Note: The modified image will be downloaded in JPG format. This program is recommended for use on small watermarks that are not in a diagonal position, since it creates a blurry and cloudy effect on the watermark to hide its appearance.
With Pixlr
Pixlr is a website for online photo editing. With it you can remove the background of an image, add filters, correct colors, adjust brightness, etc. It also has the option to erase the watermark of a photo as follows:
Enter Pixlr through thislink. Click on " Open the image " to search for the photo in the folders on your computer. However, Pixlr also supports URLs.
Select " Fill." You will see that a circle appears with which you will have to click to begin to blur and erase the watermark. To increase the size of the circle, press the period (.) Key. To reduce it, press the comma (,).
When you're done removing the watermark, go to " File " and choose " Save."
Choose the name, download format, quality and press the " Download " button .
Note: It should be mentioned that this program is suitable for images with uniform or semi- uniform backgrounds and that the watermark is not so large. In case the image has many reliefs or structures, it will be really difficult to remove the watermark with this tool.
Using downloadable programs
If you are a photographer, designer or artist and you need to remove the watermark from several images, it is best to use a downloadable program for your computer. If this is your case, in the following sections you will see the best downloadable programs to remove the watermark from an image.
With Photo Stamp Remover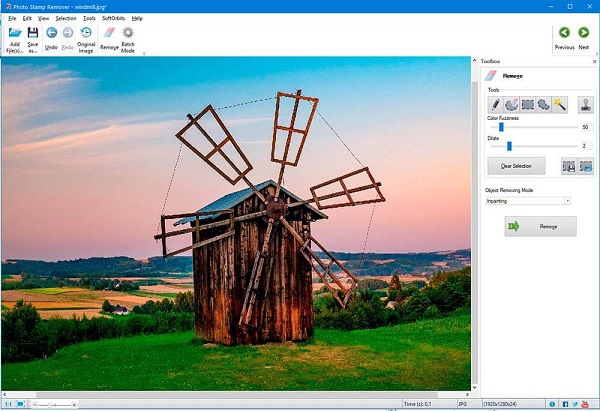 Photo Stamp Remover is a Windows compatible software whose objective is to remove any watermark, logo, object or date that is inside the photograph. In the same way, it works as a photo editor with which you can correct brightness, cover imperfections without leaving visible marks, restore colors, among others.
Its use is quite simple since the steps to be used are similar to those that have been explained in the online tools. You just have to select the watermark for it to be removed automatically. If you want to download Photo Stamp Remover on your computer, click on this link: https://photo-stamp-remover.uptodown.com/windows to get it.
With HitPaw Watermark Remover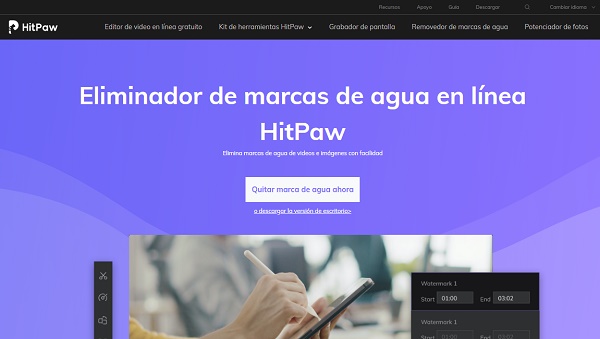 This tool has an online version and downloadable software compatible with Windows. It works to remove watermarks on photos and videos. Therefore, if you are looking to quickly modify images or erase dates, logos or texts from a video, HitPaw Watermark Remover is a good option.
Its interface is also in English, but it is translatable with the help of a browser. Once you have the software downloaded, you have to run it and upload the file with the watermark to be removed. You will see that you will have an instructive manual in which you will be explained how you should use the editing tools properly. If you want to use this program, click on this link: https://www.hitpaw.com/remove-watermark.html
With Adobe Photoshop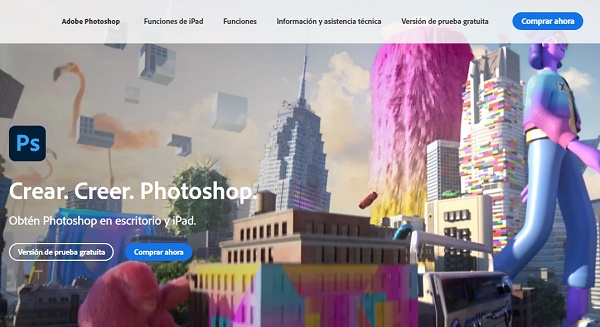 Adobe Photoshop is characterized by being a program for professional use and is positioned among the favorites thanks to its multiple tools for designing, editing and composing photos. With Photoshop you will not only be able to remove watermarks from an image, but you will also add effects, correct colors and apply other tools to obtain a high quality image.
The process to remove watermarks with Photoshop will be a bit more complicated, since its interface is entirely in English and the steps will vary according to the version you purchase. Therefore, it is essential that you have basic knowledge to be able to use the steps properly. If you want to use this program, click on the following link https://www.adobe.com/la/products/photoshop.html to enter its web portal.
With Fotophire Editing Toolkit
/h3>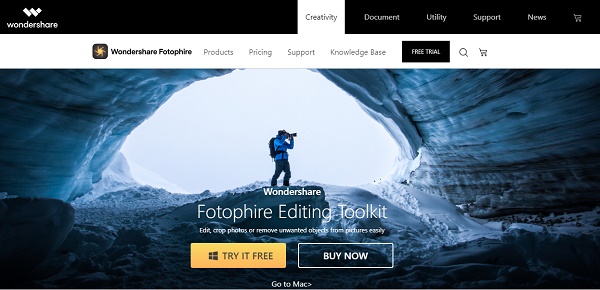 This photo editing software will allow you to remove the watermark from the largest to the smallest. Similarly, if you want to erase people, traffic signs or any other element from the photo, you can do so through the image editing and correction tools. However, it is worth mentioning that this software has a free (limited) version and a paid version.
Once you download the program, you have to load the image from your computer and select the watermark with a custom brush. In this way, you will erase that component of the photo and you can save it in the format of your choice. To access the Fotophire Editing Toolkit website, click on this link: https://photo.wondershare.com/photo-editing-toolkit.html
You have several programs to remove the watermark from an image quickly and easily. Everything will depend on the immediacy and the number of images from which you want to erase this element. It is best to try several tools to compare their usefulness and choose the one that best suits what you need.