Applications
How to lock and unlock my mobile phone with a fingerprint? Step by step guide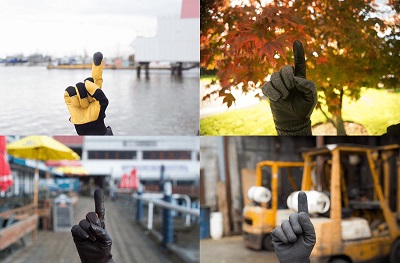 Currently, it is very easy to have a mobile device, since not only have they become essential in our day to day, but they have also become vital when it comes to communicating with our family, friends or loved ones . These devices are like a complement to oneself, so having them safe is extremely necessary, even more so when they evolve and incorporate various methods to protect them.
We are always looking for a suitable locking system and we ask ourselves many times, which would be the best of all? Among the large number that exists, is the fingerprint reader. This works with a sensor built into the equipment that has the ability to scan the owner's fingerprint by simply placing the finger on it.
Currently, they propose a more comprehensive support to capture them, making it easier to lock and unlock a terminal. If you want to apply it, in this article we will teach you how to configure it step by step so that you can have even more security, since it is always with you and no two are exactly alike.
Steps to configure the fingerprint sensor to lock or unlock the screen of my Smartphone
Do you have a mobile device and you don't know how to configure it to activate your finger unlocking system? Do not worry in this section you will see how you can do it either from an Android or iPhone device. You can also see how to do it safely and easily, just by following the steps indicated below.
For Android phones
This configuration may be different due to the various models that exist today. However, you will see one of the methods that will work for you on most Android devices.
Go to the menu of your mobile device.
Go to "Settings" or "Tools" .
Find the option for "Lock screen settings" or "Security and privacy."

* Note: Keep in mind that this may vary depending on the version and the equipment you have.

By accessing the "Security" section, you will see some of the classic blocking options such as: "Slide"

"Pattern"
"PIN"
"Password"
"Fingerprint"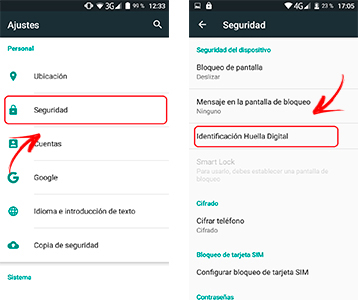 You may see everything on the initial screen or you may have to enter " Lock screen ".
It only remains to follow the steps that it requests. In this case, it will ask you to create a pattern or password so that you have an information backup.
After this you must enter your fingerprint and in moments you will have it activated.
If you want you can add a secondary method at the time of unlocking, such as a pattern, PIN or password for greater security.
For iPhone smartphone
It should be noted that with this method you can protect applications, gallery and messages. In the same way, with Apple's recognition system, Touch ID, you can make online purchases, for this you only have to activate the option in the system management and allow access to applications such as the App Store, Apple Play and iTunes Store .
Particularly in this you can add up to 3 different fingerprints per user, this for greater ease and comfort, since depending on the type of iPhone you have, the position of the detector varies. Here we explain the step by step of how to activate your finger lock.
Before carrying out the process, the iPhone operating system will ask you to create a code.
Most important of all, is to make sure that the start button and your finger are clean and dry so that the process can be done effectively and you do not get errors when reading it.
Then you will have to go to the iOS menu.
Go to the "Settings" to look for the "Screen lock" option .
As in this case, what you want is to activate the "Touch ID" is the option that we are going to select. Upon entering, the code you created at the beginning of the steps will be asked.
Select where it says "Add a fingerprint" to capture it.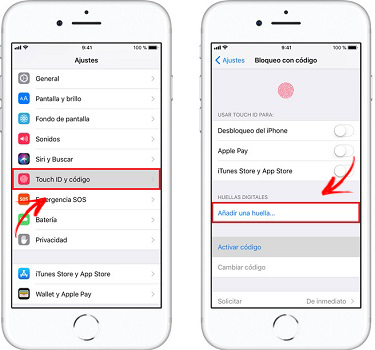 Subsequently, you are going to place the finger you want to register to unlock the mobile device. To do this you must touch the "Start" button without pressing it. This varies according to the type of iPhone you have by the location of the reader.
You should keep your finger in that position until you feel a vibration or until it is indicated by the finger .
You are going to repeat this step of placing your finger on the button but this time slowly so that you go by slightly modifying the position of the finger mark.
The screen will show you that you adjust your finger, for this you just have to hold the mobile device as you normally would to unlock it. Touch the button "Start" with the tip of your finger , so you finish configuring it .
From there, your iPhone must already be configured to unlock with Touch ID.
From that moment you just have to press the main button with the finger you registered and it will be ready to unlock.
Is it possible to add more fingerprints to lock or unlock the phone?
There are situations in which unlocking the screen of our Smartphone with a single fingerprint is not enough to feel safe. This is why there are other methods such as adding more than one. People usually use the thumb for this system, ignoring all the others, but the secret of the sensor to have them even more protected is to play with versatility, that is, you can perform a combination with the thumb of the right hand and the index of the left hand.
Most of the Smartphone are similar in terms of their menus, applications, tools and options, but remember that not all contain the same graphical interface, so with the help of this orientation along with your insight you will be able to make this modification.
On the Android cell phone
You must enter the menu of your mobile device.
Go to the "General settings" and look for the "Security", "Lock screen settings" or "Privacy" section, this will depend, as in many cases on the mobile and Android version.
You will see the option that says "Fingerprint".
When entering, you must be asked for a password that is the confirmation password, which you must have created when you activated the lock with the mark of your finger.
When accessing you will see that there is a registered fingerprint, since it was the first one you entered, below this there should be an option to "Add Fingerprint".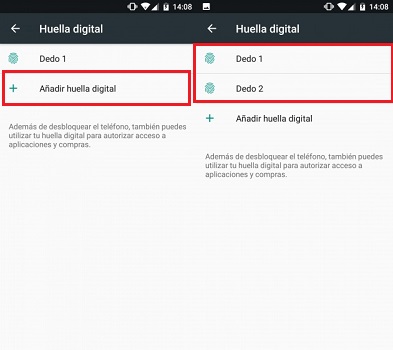 There you will be asked to register the new one you are going to add. You are going to carry out the steps you did at the beginning, that is, run your finger over the sensor until it confirms you.
This will return you to the main window where you should now leave the two footprints .
In such a case that you do not see the second one, you must repeat the procedure.
On iPhone devices
Go to the menu of your iPhone.
Go to the "Settings" and look for the "Screen lock" option .
You are going to enter "Touch id passcode" or "Fingerprint configuration".
Then locate the section that says "Fingerprinnts or Fingerprints".
Below you will see that it indicates "Add Footprint".
You will only have to  follow the steps so that you have your second "brand" added.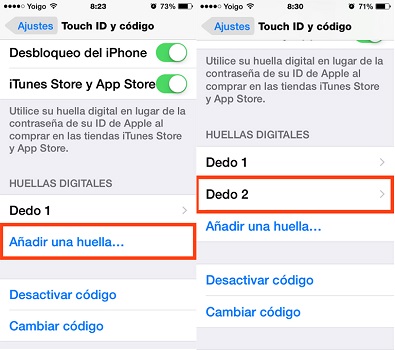 IPhones give you the option to add up to 5 fingerprints, where you can modify the name of each of them to identify them. Keep in mind that the more you add, the device will take a while to unlock while it is analyzing.
How do I unlock my mobile using my fingerprint if I have gloves?
In general, this is based on the fact that in some countries the climate is very low, therefore it is necessary to wear gloves almost all the time and it is a bit annoying to take them off every time you want to use the mobile. However, some companies have created very useful gloves to be able to withstand the cold and at the same time to be able to use the device without having to get rid of them.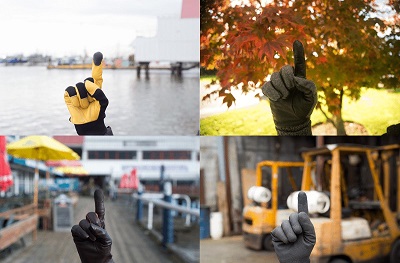 Although they have their disadvantage and that is that not all have the necessary fabric for compatibility with touch screens. Besides that the problem comes when we want to unlock it using the fingerprint reader. But, there is a very captivating way to do it and that is by configuring the registry again, but this with the gloves on. If you want to see how, keep reading.
First, you must enter the "Security" section  of your mobile device.
In the "Fingerprint" section, it will be up to you to select and add a new one (* you must do all of this with your gloves on).
Then you will have to configure it with the glove on, you should know that it is something quite cumbersome but you will have to do it anyway.
Upon completion of the previous steps, you will have a new fingerprint that you can use with your gloves on and that will help you unlock your device.