Applications
Give windows another look by changing its default icons
Many are the multimedia elements that we can use at the moment for our own projects on PC. Here the popular images, videos, animations or even the icons that we use so much in these times come into play. The latter can be used when creating your own website, designing a presentation, or to customize software icons such as Windows 10 itself . In fact, by changing the default icons that the operating system shows us, we can give it a much more personal appearance.
As we mentioned, in these lines we are going to focus on the aforementioned icons, multimedia elements that over time have been gaining in importance. Much of all this has occurred due to its increasing use in recent times. And it is that while only a few years ago, certain design or customization tasks were limited to a few professionals, today they are within the reach of the majority. This is something that the software solutions that we can use at this time are already in charge of. Similarly, on the Internet, we can find a good number of platforms that present these contents to us, often for free.
Yes, first of all, to be able to use them in our projects and personal plans, we must get hold of them. It is true that we always have the possibility to create our own elements of this type, but in most cases it will not be necessary. We tell you all this because on the Internet we can find a good amount of these elements in particular, as we will see below. What's more, in the vast majority of cases, that will not cost us a single euro, since they are offered completely free of charge.
That is why in these same lines we are going to talk about a series of Internet web pages that offer us a good amount of free icons. We are going to find them of all kinds and focused on a multitude of types of work. Everything will depend on the use that we are going to make of them, we will only have to navigate a little. Thus, as we mentioned, these can be extremely useful when changing the default appearance of Windows itself.
Websites to download icons and customize Windows
As we mentioned, in these same lines we will talk about a series of websites from which you will have the opportunity to download these elements to which we refer. As you can see, their design will be the most varied, all depending on the type of use we make of them.
777Icons, all kinds of icons to use in Windows
Let's start with 777Icons, a useful website that presents a series of very attractive and eye-catching icon collections for Windows. These can be used in all types of work and personal projects, as well as for toolbars and system menus. It should be noted that all icons are available for preview and download. There are both free and paid to access from here .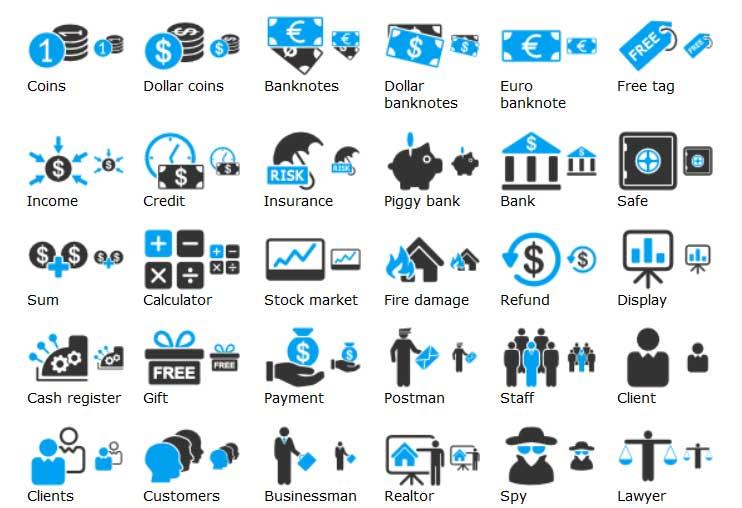 Iconarchive, a multitude of icon designs to choose from
And we are going to continue with a very interesting web proposal, since it offers us more than 730,000 samples of this type to view and download. In addition, in this case it should be noted that the web offers us a powerful icon search engine to quickly locate what interests us the most in each case. This will help us, how could it be otherwise, to quickly find what interests us.
On the other hand, say that at the top we see a series of categories that will help us move around the website in question. So we can access the most popular elements of the moment, the most recent, etc. We achieve all this by accessing its official website .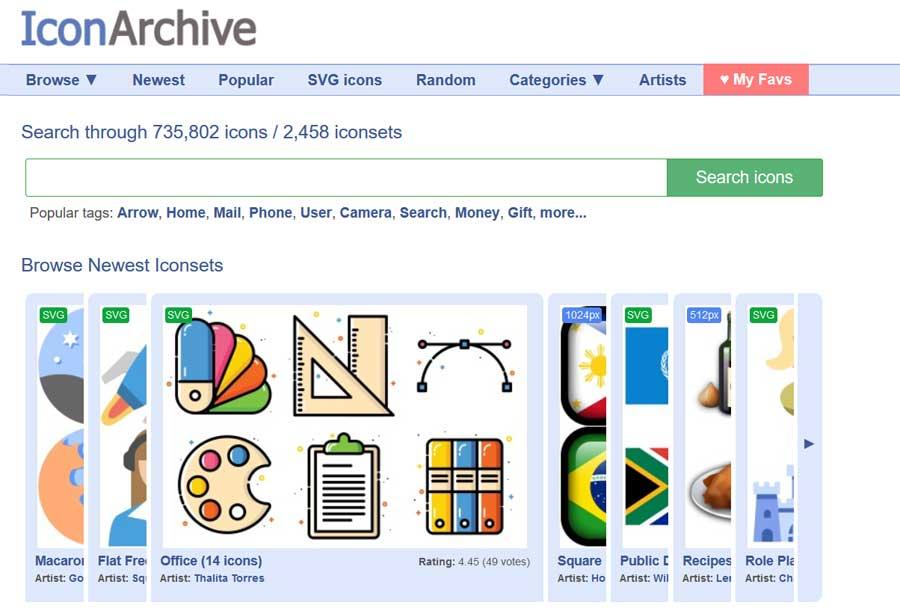 Iconbros, minimalist but useful icons
In the event that we opt for this proposal called Iconbros, we will also find a good amount of these elements. In this way we will have the opportunity to use them in all kinds of projects related to design. Specifically, we are talking about a website that puts at our disposal hundreds of icons for free use for our personal use if necessary.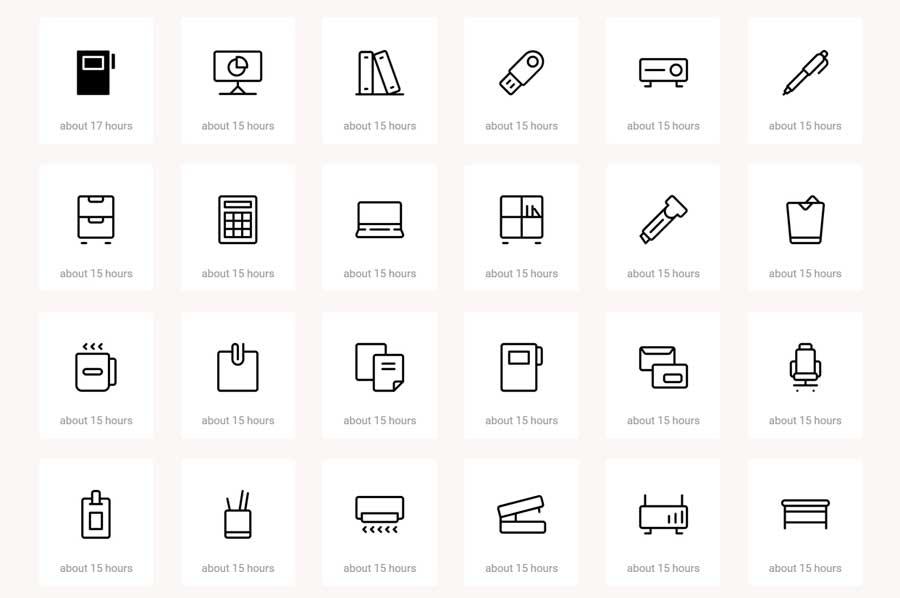 Spread out in its catalog, at the moment we are going to find more than 7,000 items of this type spread over a total of 166 collections. To be able to take advantage of all of them, we only have to access their website and start browsing.
Flaticon, one of the most popular icon platforms
But if what we need is a wide selection of icons to use in our personal projects, this is a great alternative. Specifically, it is Flaticon, a proposal of this type that offers us more than 2.5 million icons to choose from right now. These are separated by a series of categories that we find, in addition to its own powerful search engine. Thanks to all this we will have the opportunity to access all these contents to be able to use in our design work, website creation, or software customization such as Windows .
To access this wide variety of content, you can do it from here . It should also be mentioned that this particular proposal is one of the best known in this sector.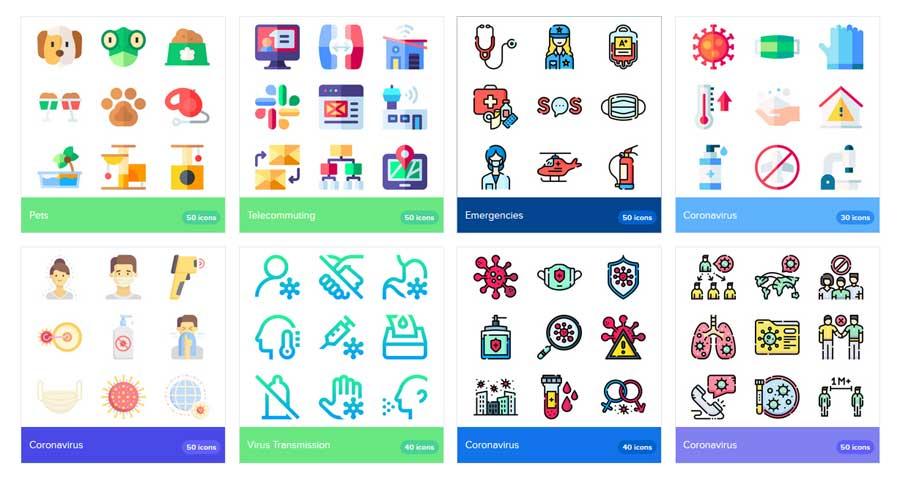 Feather, simple icons for your own projects
This is another proposal of this type that, from the outset and as soon as we access its official website, we can already see a wide list of icons to view and download. Most of them are valid to use in all kinds of personal design projects, since they are generally of a general nature. In addition, the web portal that offers us all this has its own search engine for elements of this type and for its download we will only have to click on them. If we want to see first-hand the content offered here, we can do so from its website .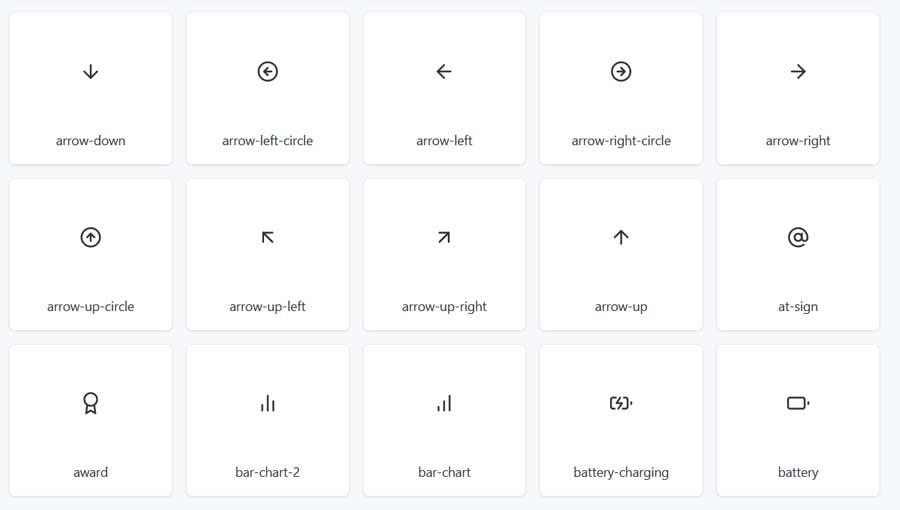 Illustrio, icons for more professional environments
Another clear example of all this is found with the proposal called Illustrio . This is a website that we can access from this link and that also makes a good number of icons available to us. Also here we can select the predominant color of the element of this type that we need, everything will depend on the needs of each case. It is worth mentioning that the design used here is predominant for the more professional market, although we can find a little of everything.

Useanimations, special animated icons for design
As its name allows us to glimpse, if something characterizes the proposals that we are going to find on this icon website, it is that they are elements of this type, but animated. We can access all this from this URL, and we will also have a powerful search engine to locate specific content. To get them started, we just have to click on the button next to each icon. This will be very helpful for us to get an idea of ​​what animation actually offers us.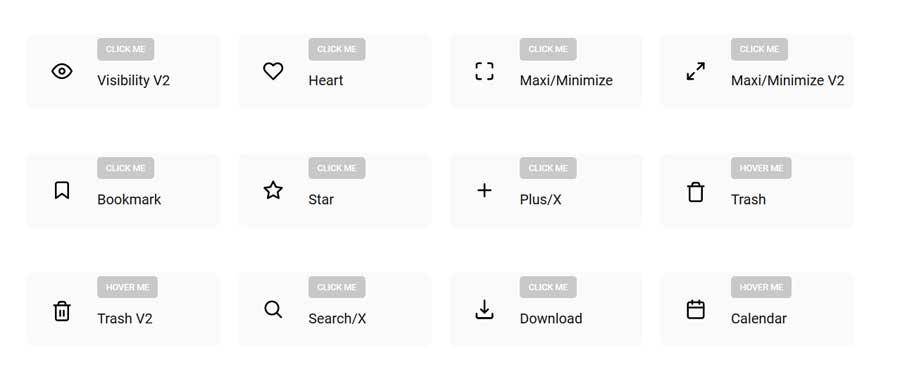 Iconspedia, attractive and eye-catching icons
And we are going to finish with this selection of icon websites with the proposal called Iconspedia. This is a proposal of this type that also presents us with thousands of icons to choose from so that we can use them in our own projects . For all this we only have to go to its official website and thus have access to all these elements first-hand. In addition, we can also take advantage of the search engine that the web makes available to us.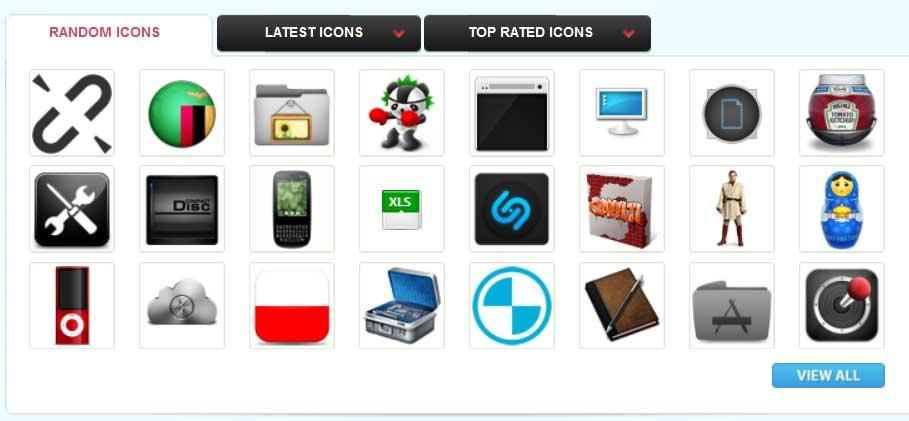 Therefore, as we have seen, we have platforms of all kinds for this that we are commenting on. We can use these icons, most of them, for free wherever we need them just by downloading them from the Internet.