Applications
Give voice and sound to your texts and documents in windows with balabolka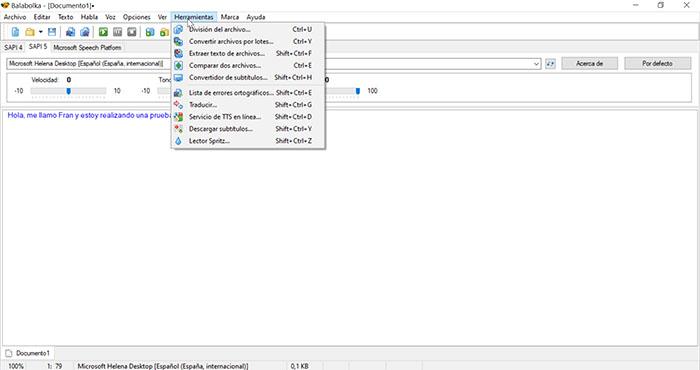 Sometimes we may not have time to read a text or document hosted on our computer, so if we could have the option of listening to it, it would be very useful. For this, there are programs capable of reading written text aloud, so that we can listen to it while doing other tasks. One of these programs is Balabolka, about which we are going to tell you more things below.
Balabolka is a Russian word, which can be translated as "talkative" and which is used to give a name to this program, called TTS or text to speech, with which we can read texts, having several voice configuration options. It is compatible with several versions of Microsoft Speech API (SAPI) that will allow us to adjust its tonality, speed and volume so that we can choose the one that best suits our needs. We can also define a list of words in order to improve their pronunciation in the text and use rules to correct the pronunciation of regular expressions.
This application also allows us the possibility of saving our read text files in MP3 sound files, so that we can reproduce it on any compatible device such as mobile phones or MP3 players. If we play it as an audio player on our computer, it will also show us the text simultaneously, as if it were the subtitles of a movie.
Main features
The text on the screen can be saved as a file in WAV, MP3, MP4, OGG or WMA format.
Compatible with documents in format: AZW, AZW3, CHM, DjVu, DOC, DOCX, EML, EPUB, FB2, FB3, HTML, LIT, MD, MOBI, ODP, ODS, ODT, PDB, PDF, PPT, PPTX, PRC, RTF, TCR, WPD, XLS and XLSX.
You can read text directly from the clipboard.
Customize the fonts and background color.
Control reading from the system tray or via global hotkeys.
It has a spell checker.
Allows you to download skins pack.
Read text and much more with Balabolka
Once we start the application we find a clean and quite intuitive interface . It is fully translated into Spanish which will help us to move through it quickly and efficiently. We will have a single voice in Spanish, Helena, which is activated by default, as well as one voice in English. At the top we find the classic toolbar with the options of "File", "Edit", "Text", "Speech", "Voice", "Options", "View", "Tools", "Brand" and help".
Starting to use Balabolka is as simple as opening a text file from the "File" tab and choosing the document using the "Open" option. We can also write directly the text we need to be read and click on the "Read aloud" button, defined as the classic Play icon in a green box that we can see below the toolbar. During the time that the reading lasts, we can adjust the speech, tone and volume, from its own dedicated bar.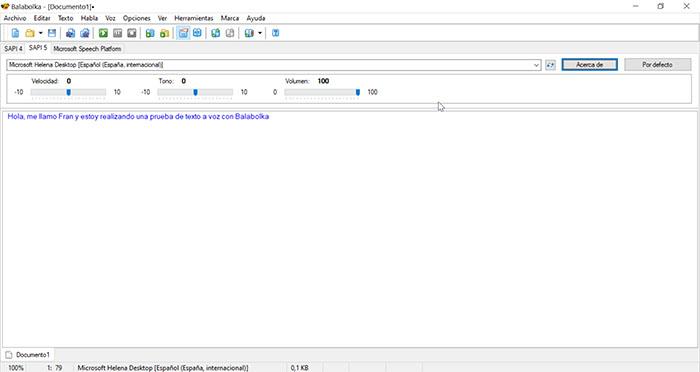 In the "Options" tab we find some functions that may be of interest to us with their respective keyboard shortcuts. For example, we have the "Spell Checker" of the text that we are going to read. In it we can mark if we want to highlight the words with errors, omit words with numbers and capital letters and highlight the errors in red.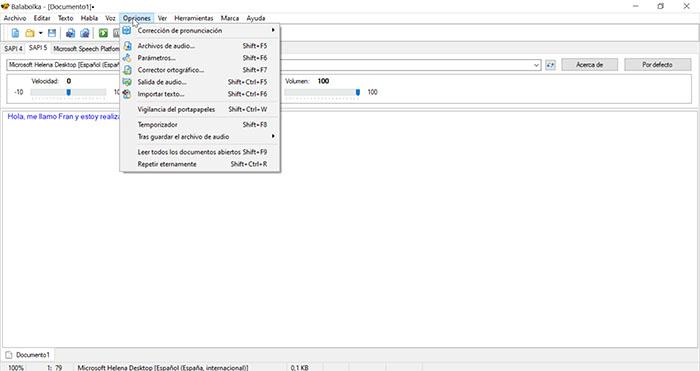 Also noteworthy is the «Audio files» function, which we can configure if we are going to convert text. From here we can choose the Audio Format and choose the bibrate and quality of the MP3, OGG, WMA, MP4, OPUS and AWB formats. It also allows you to create a playlist and has a section to create subtitles in LRC and SRT format, being able to select their maximum length and encoding.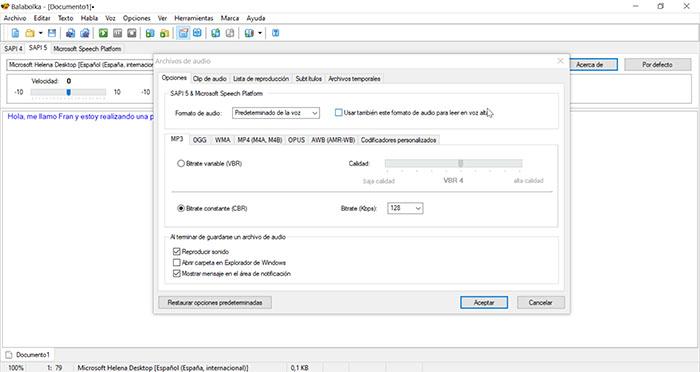 From the "Tools" tab, it is convenient to highlight the possibility of "Convert files in batches" . There is also the option to "Extract text from files", which will take care of extracting data from documents and saving them as plain text. Furthermore, it allows you to combine text from two or more documents into a single text file. Balabolka also has the «Translate» function in this Tools tab , using four types of translators: Google Translate, Microsoft Translator, Baidu Translate and Yandex Translate.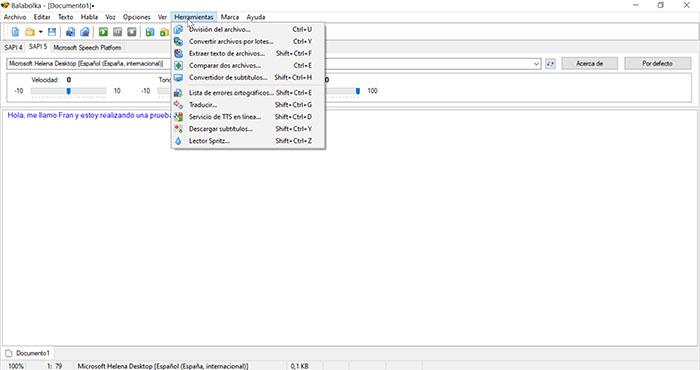 Download Balabolka
Balabolka is a program with a Freeware license, so it is completely free and can be downloaded from its website . It is compatible with the Windows operating system, in its versions of XP, Vista, 7, 8 and 10. Currently its version 2.15.0.753 is available , released on September 17, 2020, which gives a good account of the good support and policy of updates that it has from its developer. If we want to download this application we will have three types available:
Portable version : it does not require any type of installation and can be run directly from any external device such as a hard drive, a pendrive or a memory card. We must have at least one voice installed on our computer. It occupies a total of 20.2 MB.
Console application : it does not have a graphical interface and runs in text mode. Its operation can be adjusted via command line or through the configuration file. Its weight of 627 KB.
Program to extract text from the file : this program allows us to extract texts from files of different formats. It does not have a graphical interface and runs in text mode. It weighs 5.2 MB.
Alternatives to Balabolka
If you are looking for a TTS program with which you can read text-to-speech files, we leave you a couple of alternatives to Balabolka.
Panopetrer
It is an application capable of reading text aloud from files in TXT, RTF, DOC, PDF format, web pages and from the clipboard. It also allows you to convert text files into sound formats like MP3, OGG, FLAC and WAV, to play the audios on any compatible device. In addition, it supports a wide variety of languages, converts files in batches and allows you to adjust the speed of speech, volume and pitch. Panopetrer has a free version that we can download from its official website . If we want to enjoy all its functions, we will have to pay for its license, which has a cost of $ 32.95.
Wordtalk
This program to convert text to speech offers a very basic functionality, although it has support for SAPI 4 and 5 voices that we can configure. It allows integration with Microsoft Word as a toolbar and has support to read entire documents, paragraphs or words. In addition, it allows you to convert text to sound files in WAV or MP3 format. We can download Wordtalk for free from the developer's website .