Applications
Get free design work with these canva alternatives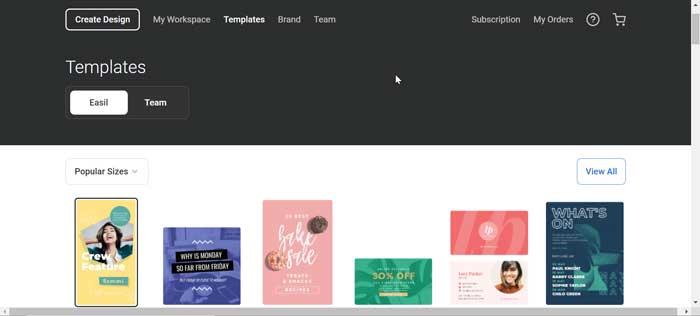 All those users who for professional or study reasons require graphic design work need a specific program to help them with this work. If we do not want to opt for software installed on the computer, there are web options such as Canva, which offers online tools with which to create our own designs for both leisure and work and which has gained great popularity.
Canva is a web application that includes its own image bank and various tools that can be used by both amateur designers and more experienced users. It has a collection of 8000 free templates for 100 types of designs, with which to carry out all kinds of work such as posters, labels, cards, collage. Of course, it also allows us to make our own designs from scratch, being able to add images and texts.
Although Canva is a great graphic design option, we can also find free web alternatives with which to design our work and that should be taken into account in case we do not know them.
Best graphic design websites as alternatives to Canva
Desygner, one of the most popular design websites
It is one of the most popular graphic design websites aimed at both casual and professional designers, which is a great alternative to Canva. With it we can create and edit graphics without having to depend on a designer or without design knowledge, but obtaining completely professional results. Work with layers, effects, and multi-image files, with the ability to change images, fonts, colors, and text. It also has all kinds of royalty-free images, icons, shapes and banners. Once our work is finished, we can export it in PDF, JPEG and PNG formats.
You can do design tasks completely free of charge with Desygner, just by accessing their website . For those who require more resources and needs, they can opt for the Pro + option that costs $ 4.95 per month.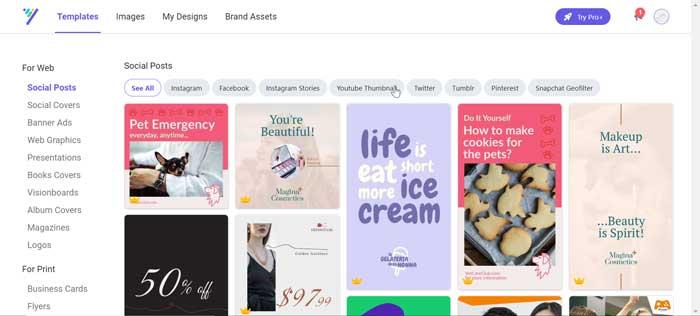 Fotor, performs all kinds of work focused on photography
With this web application we can perform all kinds of tasks, such as designing an image, creating a collage or editing photographs, being one of the most complete in terms of types of design. It is aimed at both novices and experts. It does this with thousands of professional design templates and canvases, as well as the ability to create designs on the fly. We will also have a library of tutorials, video articles, and a collage maker. Its operation is simple, since we only have to choose one of its 10,000 templates or create it from scratch to modify or create its design until we get it to our liking. It allows us to add our own images, change text, colors and background, in order to carry out a completely personalized job.
Using Fotor is completely free, and for this it is enough to enter its website . It also has a paid Pro version, with a greater amount of editing tool, for cases in which the free edition may fall short.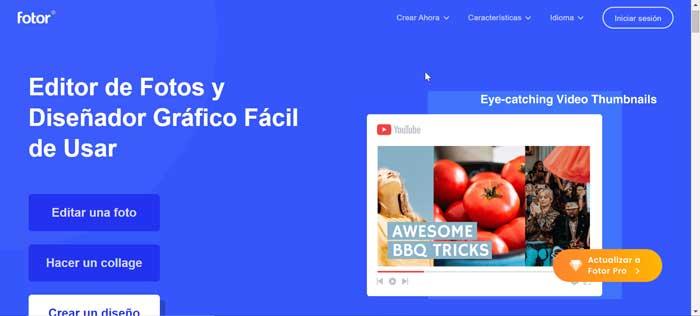 PicMoneky, easy to use with all kinds of templates
It is an online photography design and editing service that we can access from any web browser. With it we can create all kinds of designs, with templates, fonts, graphics, effects and file textures. In this way, it puts all the necessary tools at our fingertips so that we can create impressive designs such as slide shows, vision panels, book covers, photo collage and even memes, with which to stand out on Facebook and Instagram.
You can access the PicMoneky website for free to carry out design work. It also has an extension for Chrome and a mobile version. It has price plans that range from 7.49 euros for the Basic version to 30 euros for the Team Plan.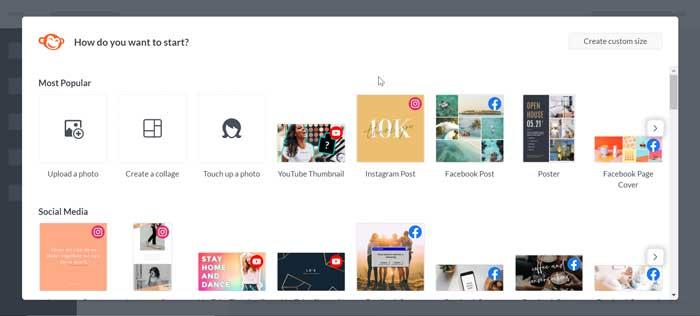 Easel.ly, perform complicated jobs in a simple way
This website is one of the best alternatives to Canva for photo editing, as it will help to turn any complex procedure into something simple to understand. It has a wide selection of templates with which we can create charts, reports, resumes, comparisons, presentations, etc. It also has vector objects with different shapes that we can add, resize and slide anywhere in the infographic. In addition, we can download our entire infographic for free without any watermarks.
Ease.ly has a free version that we can access from this link . This version offers a good number of templates, so it is recommended to start creating your own infographics. It also has a paid version with a greater number of customization options.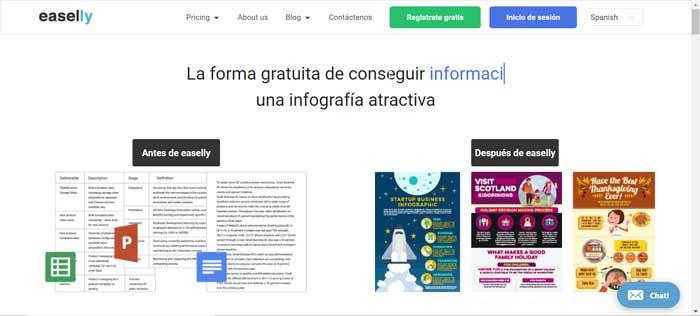 Adobe Spark, ideal for designers with Adobe experience
This application is an ideal Canva alternative for graphic designers who are more familiar with the Adobe Toolkit. Similarly, it can also be used by inexperienced users, as it has its own customizable templates . With it we can create from custom graphics for Facebook and Instagram to cover design for web pages. For this we will have access to millions of free images, icons and free GIFs and make customizations to apply our logo, colors and font, with surprising results.
We can access Adobe Spark for free from a web browser, or from the mobile where it has three applications. It also has pricing plans to take full advantage of its tools, ranging from 12 euros for the individual plan to 24 euros for the team plan.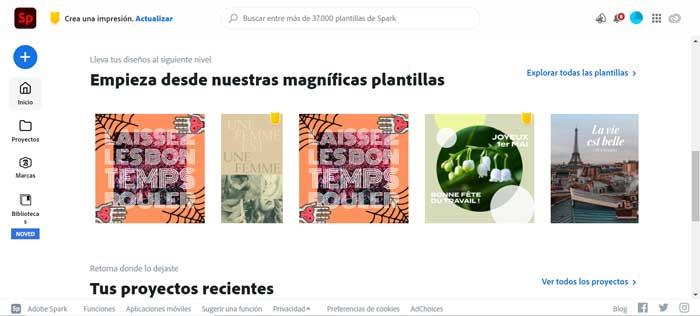 Visit me, create editing jobs and share it on social networks
Another website that is positioned as a clear alternative to Canva. Although it is somewhat more complex, it is equally useful, offering more than 500 templates and 900 different slides, as well as millions of photos, color schemes, hundreds of custom fonts and thousands of icons. With it we can create all kinds of presentations, graphics, networks, brochures, web banners, infographics and much more with completely professional results. It also allows adding maps, videos and audios to our designs to obtain the desired result. Once our project is finished, we can insert it in social networks, websites or other web applications.
Visme has a free version with which to carry out our design work, which we can access by clicking on this link . It also has paid versions for $ 15 or $ 29 per month, with which you can take advantage of all the resources it offers.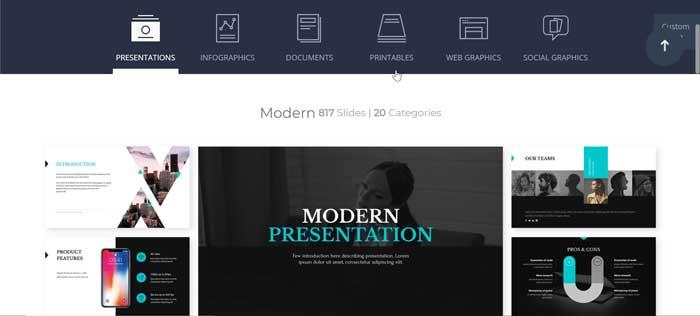 Infogram, create infographics from custom templates
It is a web tool that allows us to create infographics from templates and the addition of multimedia content such as audio, videos and images in order to share it on social networks such as Facebook or Twitter. It has all kinds of animated objects, interactive graphics and texts that will help us to obtain surprising and professional results. We will have more than 35 types of graphics of all kinds and that are combined with about 500 maps, more than a million images and 500,000 icons
Infogram offers a free plan with more than 37 types of graphs among other things, which we can access from its website . It also has payment plans that start at $ 19 a month, intended for users who need to get the most out of all its functions and tools.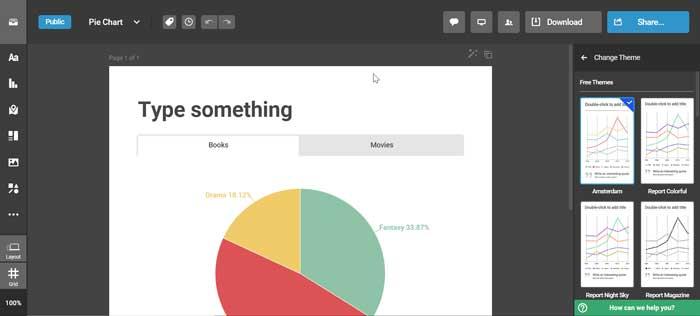 Easil, performs all kinds of work with templates and text tools
Another excellent website that we can use as an alternative to Canva is Easil. This online application offers thousands of personalized templates with which to create all kinds of publications, banners, infographics, posters, business cards, etc., although we can also create our own design from scratch. It also has text effect tools for more creative designs. In addition, we can upload images, include icons, classify designs by folder and export the result in PDF, JPG and PNG formats.
Easil has a free version that we can access by clicking on this link . It also has paid versions that start at $ 7.50 a month, in case the Free plan options fall short.