Applications
Find, download and manage tornt files with frostwire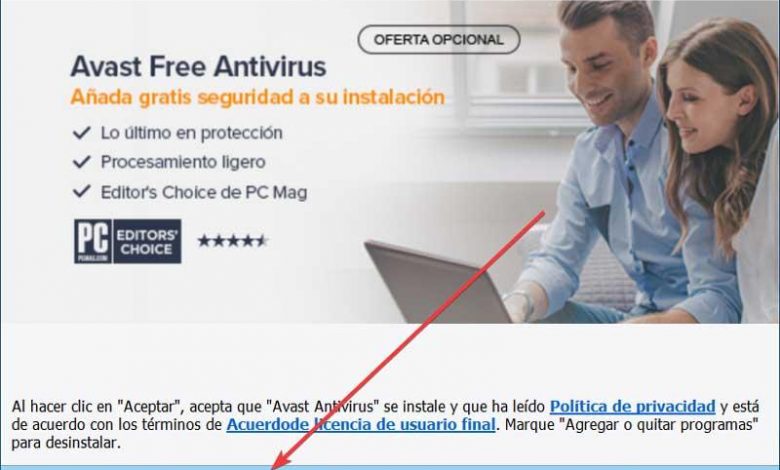 Since the Internet made its appearance in our lives, one of its most daily uses is found in content downloads through P2P networks, using torrent files. A quite controversial practice since it is linked to its misuse related to piracy. However, it can also be used to perform tasks in a completely legal way, and for this we can use a client of the famous BitTorrent network called FrostWire and about which we will talk next.
FrostWire is an open source P2P client compatible with the BitTorrent network and available for Windows, macOS and Linux, as well as for Android mobile devices. It was born in September 2004, as a fork of LimeWire, with which it has a lot of similarities and that will allow us to upload and download files for free. In addition, it also includes a player and support for importing songs downloaded from iTunes.
With this application we can connect to different torrent search engines, as well as sources in the cloud to find all kinds of files to download. BitTorrent media downloads can start playing before transfers are complete from within the application itself.
If this BitTorrent client is characterized by something, it is by its high download speed, being able to download torrent files as well as magnetic links, as well as by having an option called "direct connect". Through which, just by knowing the IP address of another person we can access their shared files. In addition, it has 8 different search engines and we can customize its appearance through skins.
FrostWire stands out for its interface and powerful search engine
Once we finish the configuration process and run the application, we find a friendly interface, compatible with a multitude of languages, including Spanish. It is made up of a menu bar, several buttons and some tabs that will allow us to interact with all its available options.
In the upper left we have a search engine that will help us find the desired content from the application itself. We just have to write the name of what we want to search for and the program will load to show us all kinds of related files. Thus, it will show us music files, videos, images, documents, programs and torrent files. Once the results have been shown, we can sort them by those with the greatest capacity for shared links, by name, size, website of origin or extension. To start the download, just click on the desired file and click on the "Download" button at the bottom of the screen.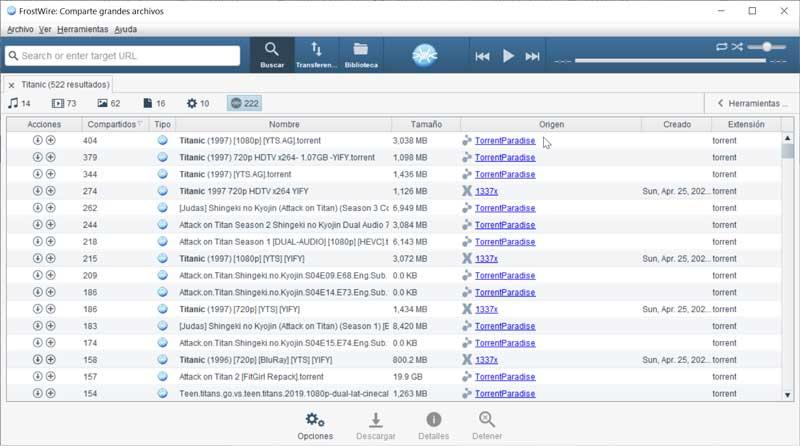 Once the download begins, the «Transfer» screen appears, where we can follow its entire process until the download is finished. At the bottom it has buttons to pause and resume the download at any time. It will also be possible to preview the file before it is complete. For this we have a «Play» button, in the «Actions» tab in the upper left part.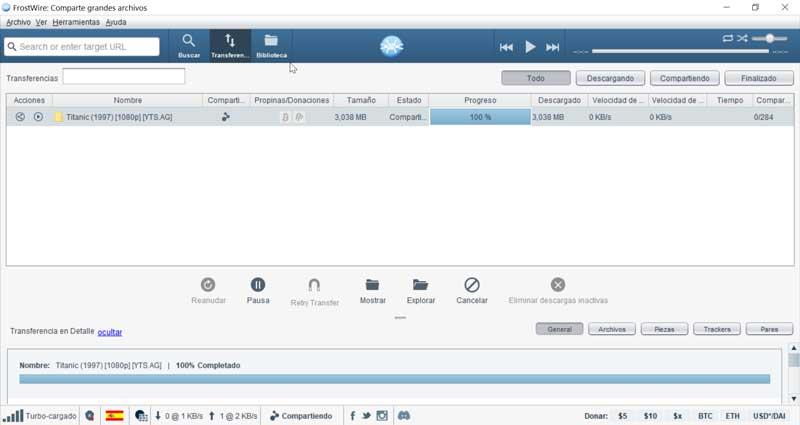 If we go to the Library folder, we can see all the downloaded files, as well as all our files stored on the computer, perfectly organized by categories. In the left column we can see the different categories depending on the type of file we download. We can see Audio, Video, Images, Books / Document Programs, Torrents and the Download Folder. We can also create our own playlist and mark those downloads that we want to show as Featured.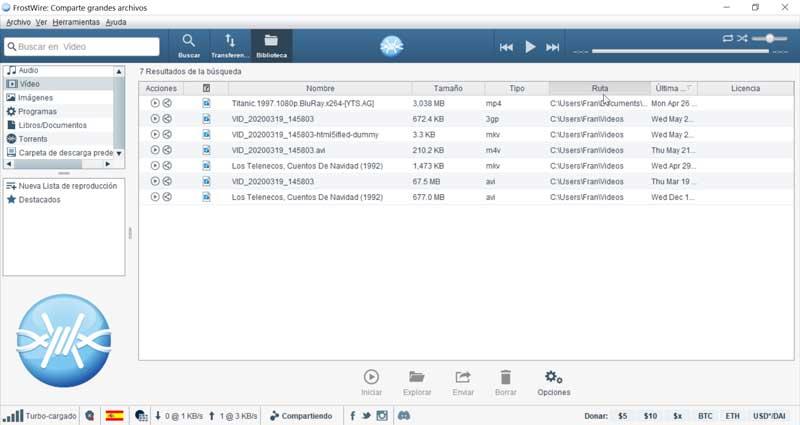 Conclusions
As we have seen, FrostWire is a good solution when downloading all kinds of torrent files. The download speed is frankly high, although this will naturally depend on our connection. It has a well-organized and Spanish interface, has its own torrent search engine, allows you to preview files during download and allows you to organize them by category. Without a doubt, a very interesting option to consider.
Download FrostWire for free
FrostWire is a completely free open source client for BitTorrent networks that we can download from its website . It is compatible with Windows, Linux and macOS operating systems, as well as mobile devices with Android operating system. For users of the Microsoft operating system, say that it is compatible with Windows, 7, Windows 8 and Windows 10, and even for computers with Windows Vista that have Intel processors. Its latest version available to date is 6.9.3 corresponding to April 8, 2021 thanks to the good support work that it has from both its developers and the user community.
The application installs quickly through its wizard. Although, it is worth mentioning that during the installation it will try to install other additional unwanted third-party programs as well as shown in the image. To avoid this, we must click on the "Skip all" button.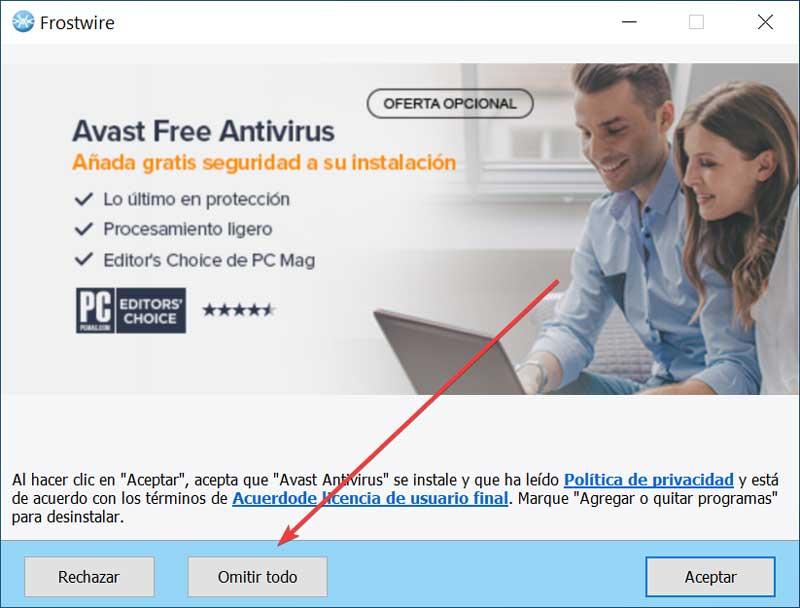 Alternatives to FrostWire
If we are looking for an application with which to download from the BitTorrent network, we suggest some alternatives to FrostWire that we must take into account:
BitComet
It is a download manager for the exchange of P2P files, which will allow us to share and download all kinds of files for free at high speeds. It also has support HTTP and FTP , sharing and anonymous download Torrents. It supports BitTorrent protocol , Multi-tracker, DHT, utf-8 extension and UDP v2 tracking protocol. We can download it for free from this link.
PicoTorrent
We are facing an open source client that will allow us to download files through the BitTorrent network. It is a privacy-oriented client supporting I2P, SOCKS4, SOCKS5, and HTTP (S) proxies, as well as strong encryption. In addition, it has a portable version so it will not be necessary to perform an installation. We can download it for free from its main website .
BiglyBT
Another good alternative as a client to download torrents with some differential characteristics. On the one hand, it has support for its use in BitTorrenet v2 networks, and on the other it makes use of SHA-256 encryption that is responsible for replacing the usual SHA-1 ones. It also discovers for loading magnets much faster. I can do it for free from this link .