Applications
Establish remote connections without password or with a custom one in teamviewer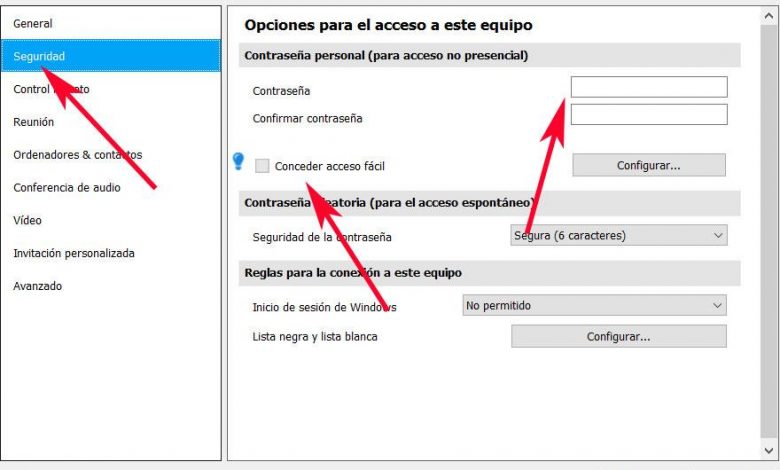 The use of programs focused on remote control of the computer has spread greatly in recent years. This has been due both to the improvement of the Internet connections that we have, and to the advances made by these applications.
As many of you may already know, these are tools that allow us to connect to other computers remotely. What we can do after that is to control it without having to move from our chair and solve problems, for example. It is evident that this system provides us with many advantages that are used by a good number of users.
What's more, these kinds of remote connections are not only used by end users to fix a friend's PC, but also by businesses . And it is that there are many firms that use these remote desktops to access their clients' computers and solve problems or doubts. This is something that with these applications can be done directly, but each one from their workplace. Therefore, there are several solutions in the form of software of this type that we can use today.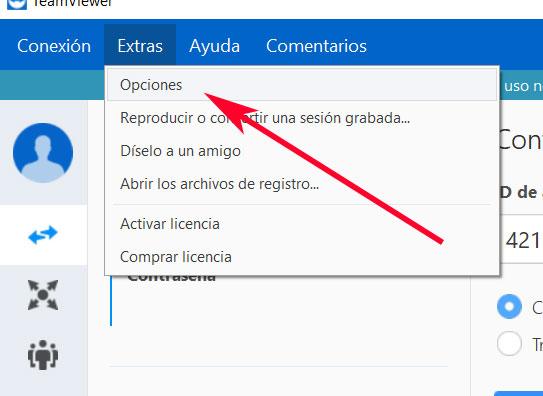 Although Windows 10 has its own remote desktop feature, one of the best known is TeamViewer . It is very possible that many of you have already used this application on occasion, since it is characterized by its efficiency and simplicity of use. We say this because it allows us, in a few seconds, to connect to a computer remotely in a very simple way.
Use TeamViewer to establish remote connections
TeamViewer stands out for being a multi-system application , so it is compatible with Windows, macOS and Linux, as well as on mobile devices such as Android and iOS. You have a wide range of options such as remote control, transferring files, sharing desktops, as well as accessing another computer by running TeamViewer from a web browser. That is why it is an ideal program to work and share all kinds of information with another user who is in any other place in the world.
This application has the advantage of not requiring a long and complex installation, since it is all quite simple. Nor should we open ports or carry out difficult configurations so that it flows perfectly. In addition, it offers a help box at all times every time we pass the mouse pointer through some of its functions, so that we can quickly know what it is about and what it can be used for.
Therefore, today we are going to check how we can customize the remote connection mode to another PC with TeamViewer, something that we can do with a few simple steps.
Customize remote connection mode to another PC in TeamViewer
Therefore, as you will remember, when making a remote connection with another computer, or that is done on ours, the program provides us with a random password . This is carried out by default every time we connect with another or someone connects to ours, where the password varies with each session. However, in the event that we are going to make a secure connection, or many times with it, we can customize this access security system .
With this we want to tell you that TeamViewer itself gives us the opportunity, either to eliminate the password request, or to establish a fixed one. As we say, this is a recommended change with users of total trust, otherwise it is better to leave the default parameters . Well, if you want to modify this authentication method in the program, once started we go to the "Extras / options" menu.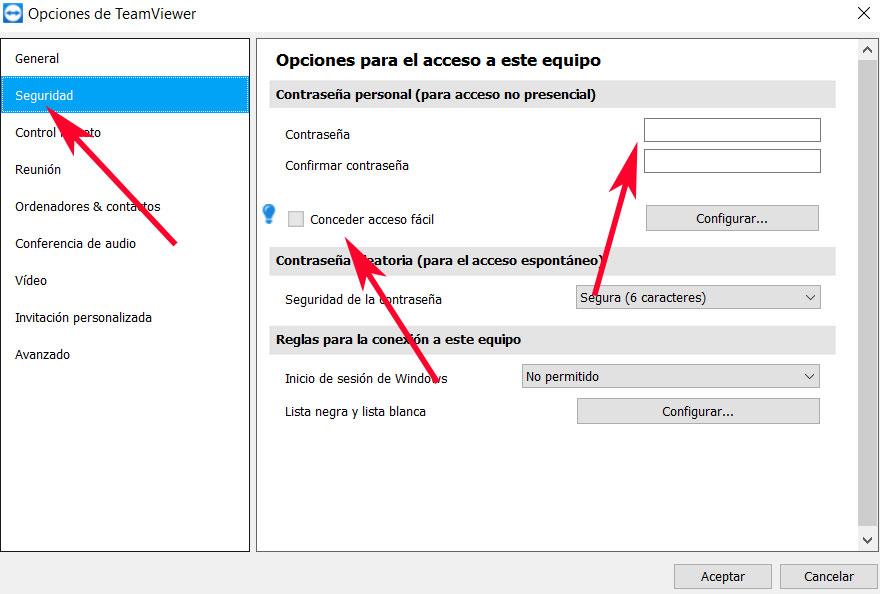 Thus, when the new window that we will see appears, on the left side of it we find a section called "Security", which is where we are. Well, here we will see that we can already establish a fixed password, for example, to provide someone who will access our computer when we are not in front. At the same time, we will also have the opportunity to establish that a password is not required, all by simply activating the "Grant easy access" option and indicating the other user's email .