Applications
Enjoy your books in digital with the best epub readers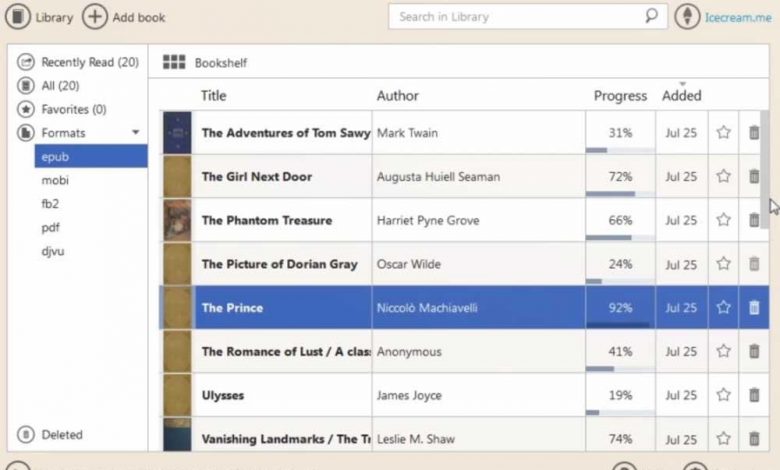 If we are fond of reading we may think that there is nothing better than the pages of a good book. If we have space problems in our home, accumulating a large number of books can be a problem, in addition to the large outlay it entails. For those users addicted to reading nothing better than the option of going digital with the help of EPUB readers .
An EPUB (Electronic Publication) is a file format created by IDPF (Digital Publishing Forum) as a specific format for viewing books . This type of file allows it to be read by any compatible reader or tablet, being the favorite for the publication of electronic books. This is due to the fact that it presents a resizable format, capable of adapting to different types of screen and font size. In addition, they allow the inclusion of video and sound in addition to text and images.
If you are thinking about going to the digital world when reading books, we recommend these ebook readers in EPUB format for your Windows computer. We are going to find all kinds of them, some more complete than others. All of them, however, offer us a series of basic actions focused on our electronic books in EPUB format. In addition, there are solutions of this type that will help us to carry out additional functions that will surely be appreciated by most of the lovers of these reading files.
Caliber, the most popular
This application was born as a tool to catalog our ebooks on the computer, although over time it has become one of the most popular and popular EPUB readers for Windows. With it we can read any type of ebook format, allowing us to read full screen, change the font and navigate through the chapters. In addition, it has all kinds of functionalities, offering us the possibility of downloading EPUBS, downloading covers, managing metadata or converting books from different formats.
It also has a portable edition so that we can use it from any external storage device such as a pendrive or external disk. Along with EPUBs, Caliber also allows you to read comics and magazines. Additionally, we can use the application to search for news, but it is not possible to do so with all websites, only with those that have collaboration agreements and that are in English such as the BBC or The New York Times.
You can download Caliber for free from its website for any computer since it is multi-device.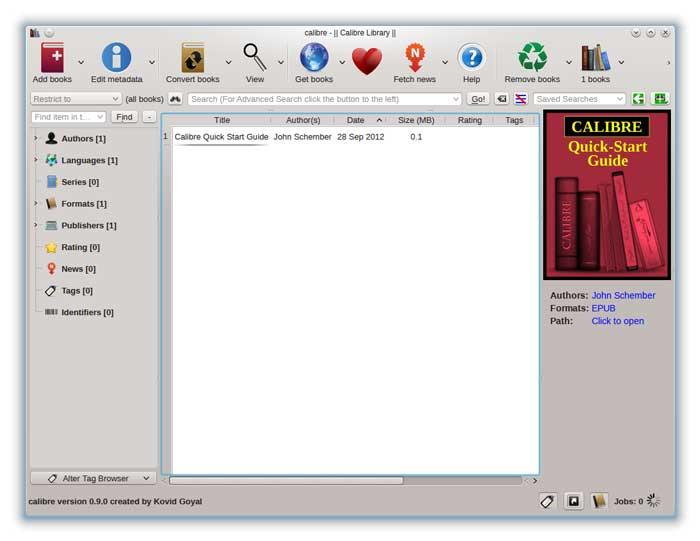 Sumatra, simple but effective
We are facing a fairly simple and simple application, which we can say that its main mission is that of a PDF viewer, although it has other reading formats such as EPUB, MOBI, CBZ and CBR, so we can also read comics. Sumatra is a very light, fast and, above all, functional program, ideal for computers with few resources. This application is only compatible with Windows computers unlike other competing softwares that are multi-device. It also has few customization options which can be highly advantageous for those who are only looking for a tool to read ebooks, as a negative for those who seek the opposite and hope to find more personalization.
Sumatra is a free and open source application for Windows that we can download from this link .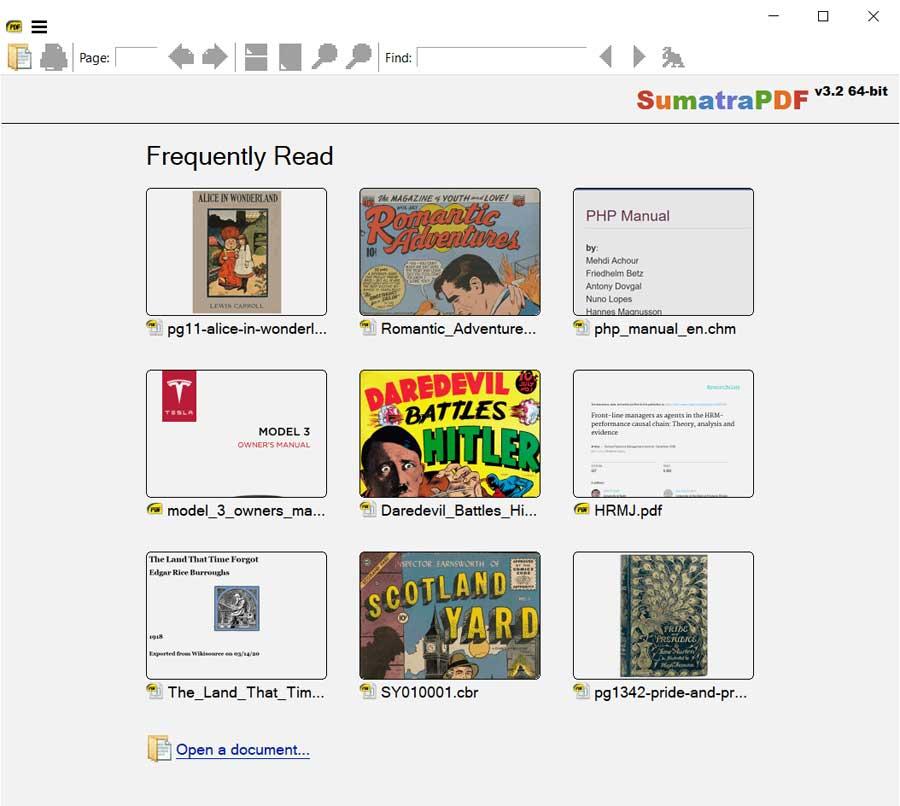 Freda, read and download books in EPUB format
Another interesting option that we can find to read ebooks is Freda. It is a free program for Windows that allows us to read books in EPUB format, along with other formats such as FB2, MOBI, HTML and TXT. This program also offers us customizable controls, fonts and colors, as well as the possibility of making annotations and markers. In addition to being able to read our ebooks in EPUB format, this application is in charge of organizing, cataloging and searching our entire electronic libraryall its content, so that it is very easy for us to find what we want to read. In addition, it offers the possibility of being able to download books, along with the sources to obtain them. Of course, it should be noted that the translation into Spanish is not complete and that these sources do not offer the possibility of downloads in Spanish.
Freda is an EPUB reader for Windows 10 that you can download for free (with ads) from the Microsoft online store.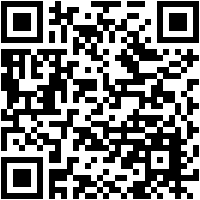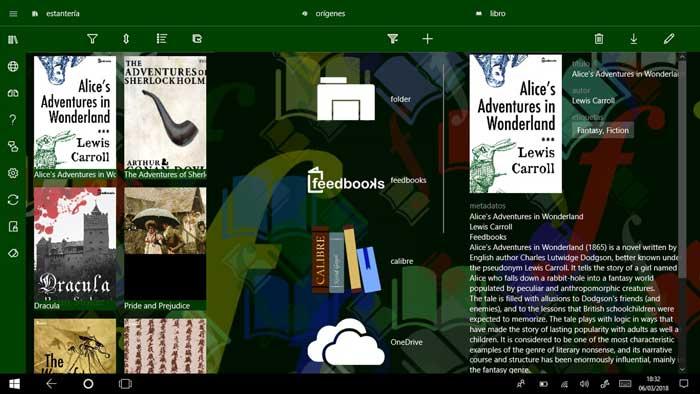 Bibliovore, stands out for its organizational functions
Another good option to read our EPUBs on a Windows computer is Bibliovore. Beyond the possibility of reading our ebooks, the program is characterized by offering a wide number of organizational functions with which to manage our library of books. We will also have the ability to edit the metadata of the books and change the font parameters. Another feature to highlight is the possibility of using a reading mode depending on whether it is day or nightfor the benefit of our eyes. It also has support to download books to your library from where we can organize them. Its main disadvantage is that it is in English and it does not have any kind of help available. Despite this, given its simplicity, we should not have problems using it.
If you want to start reading your EPUBs from Bibliovore, you just have to download it for free from the Microsoft Store.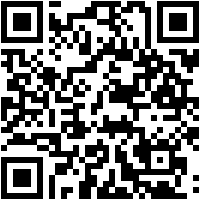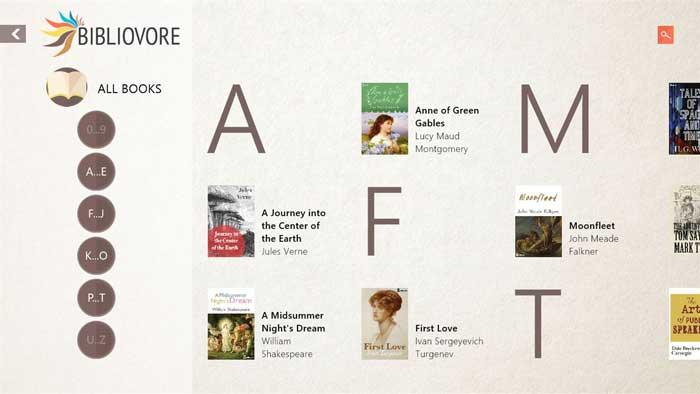 Adobe Digital Editions, for renting and reading ebooks
The popular firm Adobe also has its particular EPUB and PDF reader for Windows with which to read our favorite books. Its features include the possibility of renting or borrowing the EPUB version of books from public libraries, as well as using bookmarks. We can also organize the books by folders, mark our favorite pages, add notes or search for text fragments. Its use for reading is very easy to use, allowing our reading to be comfortable. For this we can increase or reduce the size of the text we are reading or access a specific page. Perhaps, its main drawback is that it does not have many more compatibility with other types of reading files andnor does it allow full screen viewing .
If you are looking for a good and complete reading experience, you can download Adobe Digital Editions from its official website .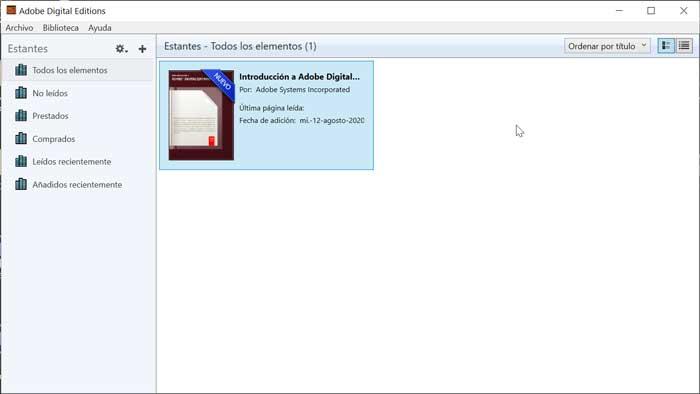 FBReader, compatible with virtual hard drives and online libraries
This ebook reader is compatible with FB, EPUB and DJVU formats, so it becomes a good tool for our electronic readings. It is a multiplatform application so we can use it on different devices beyond our Windows computer. Among its features we can highlight the possibility of connecting to virtual hard drives and online libraries, so it will not be necessary to have our EPUB downloaded to be able to read it as long as we have an Internet connection. For a comfortable reading of our books, the program allows the rotation of the page at 90, 180 and 270 degrees, allowing us to change the font and the background color. Among its drawbacks, we can highlight that it does not have such basic tools as page marking or the ability to add notes.
You can download FBReader for free from its website.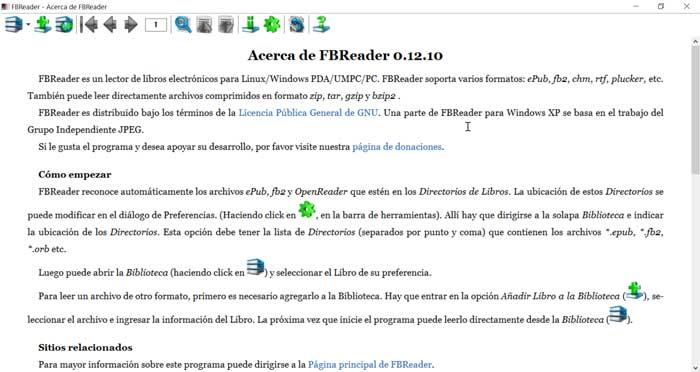 Booknizer, simplicity above all
On the other hand, we find a program that will be of enormous help to us when organizing our libraries for all types of electronic books. It allows us to manage both books in paper format, ebook, or even audio books. This opens up a wide range of possibilities, as you can imagine.
This is a proposal that therefore stands out for being able to deal with the main current electronic book formats. Of course, the popular ones, EPUB, could not be missing here, but we can add PRC, MOVI, PDF, FB2, etc. In turn, for managing audiobook files, we also find that we can work with MP3, WMA, or M4b files , among others.
Well, this useful application alone is responsible for showing us the exact location of any book so that we can organize our library by various parameters. Among these we find the most common such as gender, rating, authors, languages, etc.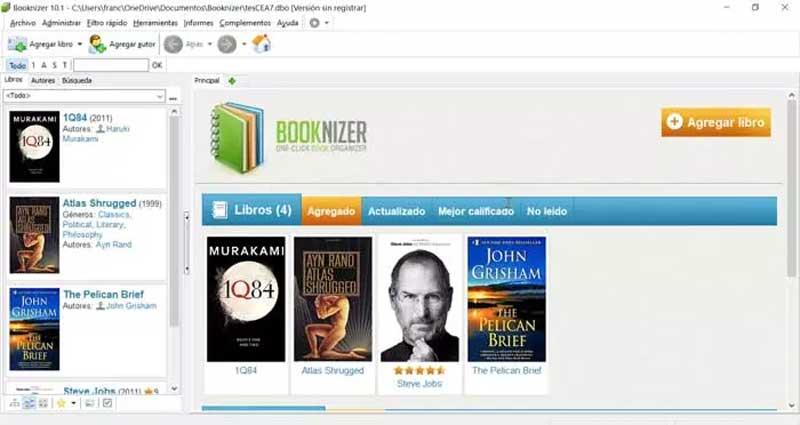 To all this that we comment on, it is worth highlighting some of its most significant characteristics such as organizing our EPUB library, remembering the argument of a book or our tastes, it has information about different authors, or it allows us to synchronize with content with hardware devices of reading. It also has an interface completely in Castilian and visually quite attractive and easy to use. At the top of it we find the different options in the form of menus to quickly access everything that Booknizer presents to us. We have the possibility to try all this that we tell you from this link .
Cool Reader, in its simplicity is the essence
This is a very popular application to read ebooks thanks to its versatility and simplicity . Its features include its text search engine, table of contents, list of previously read books and list of favorite pages. It is also compatible with a wide majority of formats such as FB2, FB2.ZIP, TXT, RTF, DOC, HTM, HTML, EPUB, CHM, MOBI, PRC, AZW, PDB, PML, ZIP. So that we obtain a comfortable reading of our ebooks, it includes configurable fonts and letter sizes and allows the possibility of zooming and full screen. Therefore, we are facing an interesting application, but not perfect, since it has a quite improvable design and its additional functions are quite limited.
If you want to try Cool Reader, you can download it for free from here .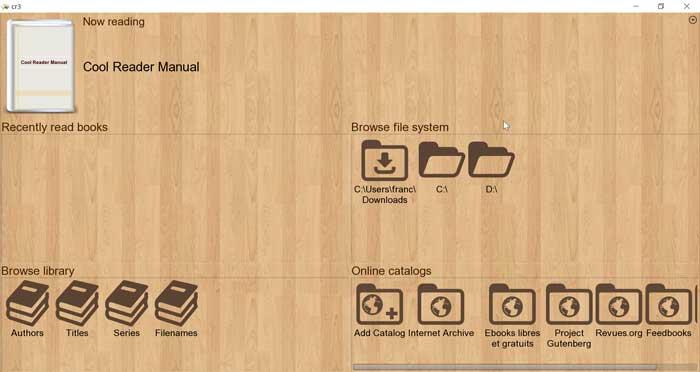 Azardi, with online and desktop version
This ebook reader belongs to Infogrid Pacific who distributes it for free under a Gnu / Linux license. The application has both an online version that we can view from any computer and a desktop version . This application offers the possibility of reading and managing our electronic book libraryoffering different configuration options including a powerful search engine, changing the background color, adding notes and using various keyboard commands to navigate the application. The application can be used by all types of users thanks to its simple and intuitive interface, although it is in English and may turn some users back, the truth is that there should be no problems for its correct use.
You can download Azardi for free from the developer's website .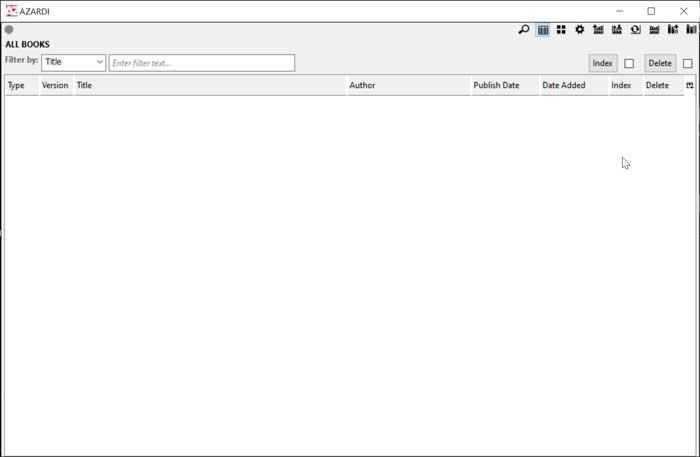 IceBook Ebook Reader
Another of the proposals that you can use in order to read your electronic books in the best way, is with IceBook Ebook Reader. Here we find powerful software in a multitude of languages ​​and with support for most of today's formats. We are actually referring to a software that acts as a free ebook reader for Windows.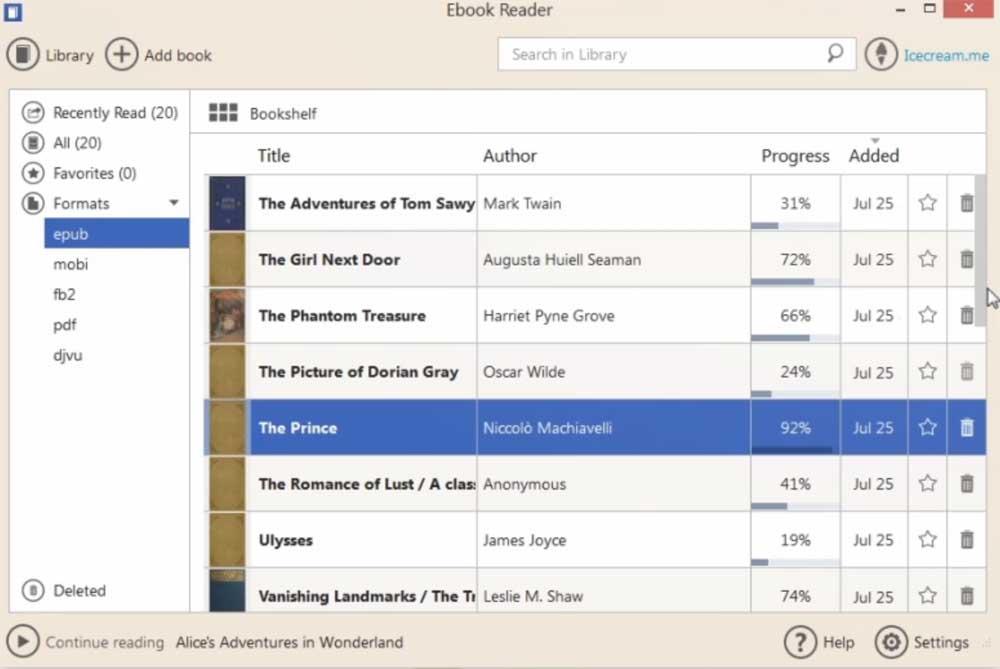 What it does is transform the PC screen into an electronic book reader from where we can also manage our digital content library in a simple way. As regards the reader as such, we find useful elements such as personal notes, being able to translate texts, use bookmarks, etc. With all this, what the developers of the application want is to improve the experience of using the program. In addition, this is very simple, even for those who have never used a software of these characteristics. To test it first hand, you just have to download it from this link .