Applications
Emule: find and download any file over the p2p network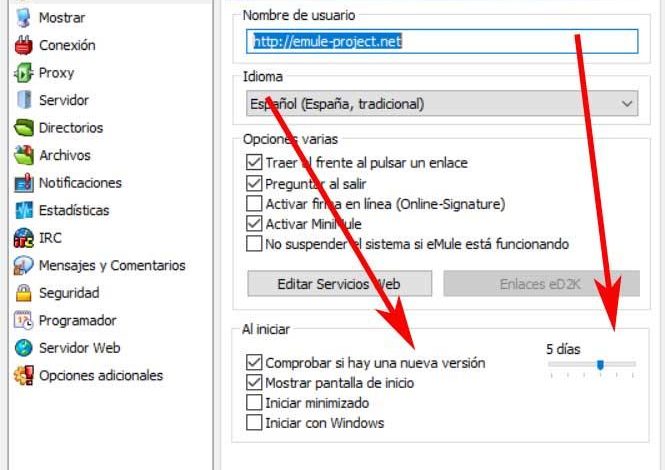 Any user who has been interested in Internet file downloads, especially in the early 2000s, is surely familiar with eMule. This P2P exchange program marked a before and after when it came to exchanging files over the Internet. And, despite having been highly persecuted and running since 2010 without updates or new versions, it is one of the best programs from which to find all kinds of files.
When we talk about P2P downloads we can talk about many protocols. P2P is any connection that is made between two users (two points) without using any centralized server. The point-to-point connection is direct. It connects, the information is exchanged and the session ends. Torrent download clients use this technology, just as eMule does, both with its ed2k connection and through the KAD network .
Although everyone can use this program for free, and without any commitment, eMule has a credit system . These "credits" serve to benefit customers who upload more files. In this way, if we usually share many files through this program, we will be able to advance faster in the download queue and start downloading before those who do not pay. Credits cannot be bought or impersonated (they carry an RSA key). They are only achieved by sharing files.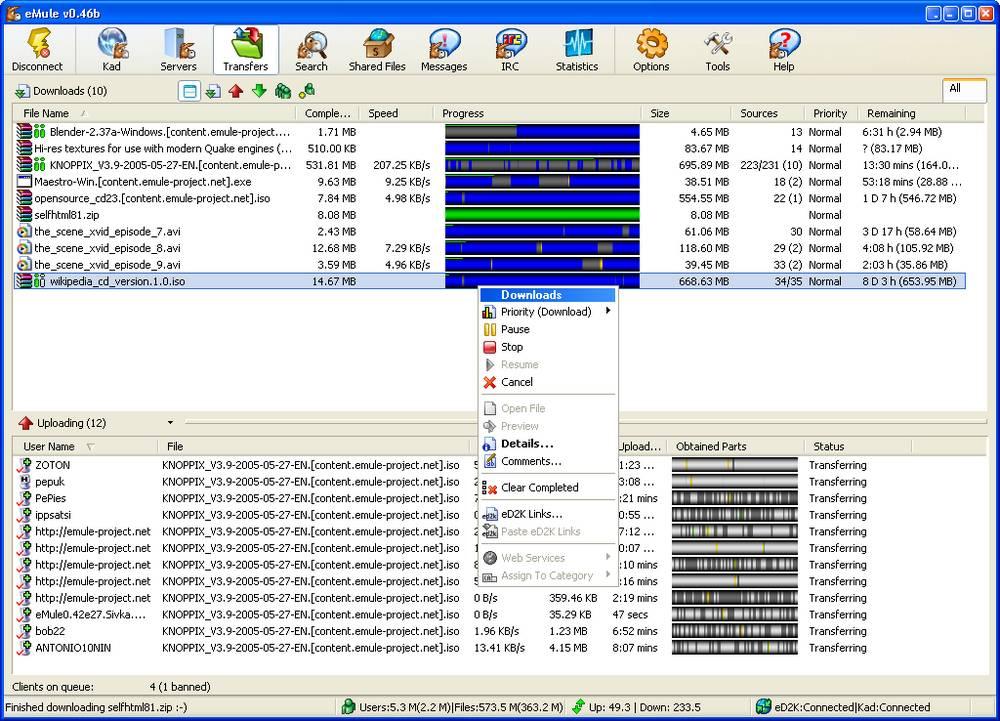 The main characteristics of the mule
The main purpose of eMule is to share files over the Internet with other people. Each user who connects to the same server as us will be able to see all the files marked for sharing from all the users who have connected to the same server. And if we connect to the KAD network, we can see all the shared files of all users without depending on a server.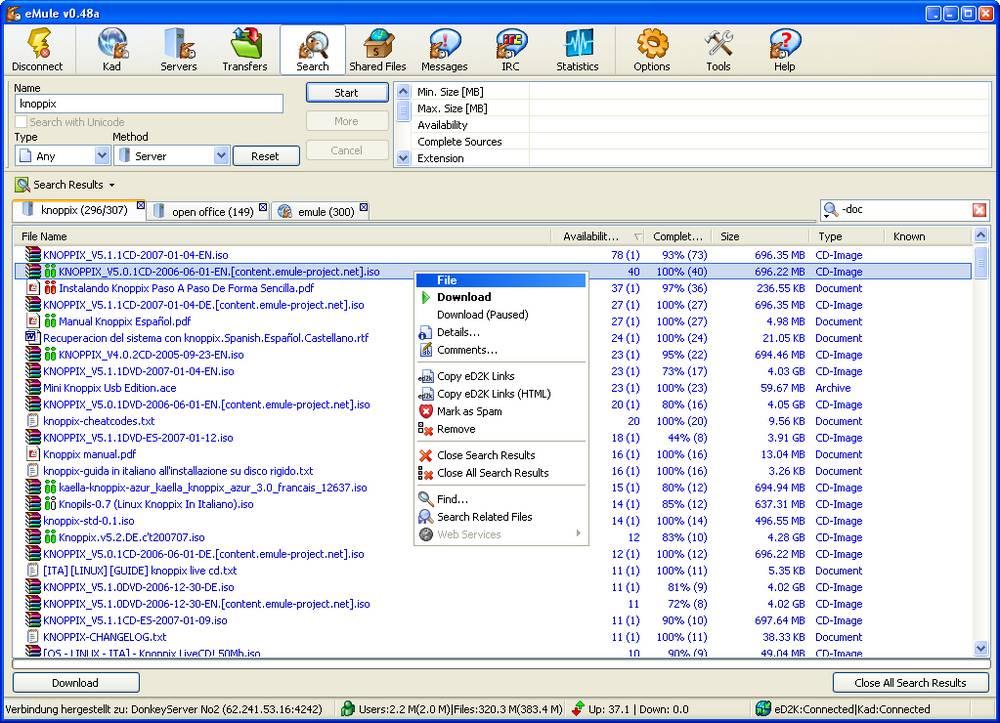 One of the best features of the mule compared to other P2P exchange programs is its great ability to recover corrupted parts. Whereas a corrupted part in another program, or in direct download, forces the entire file to be downloaded again, eMule is capable of downloading and replacing the corrupted part, maintaining the integrity of the entire file.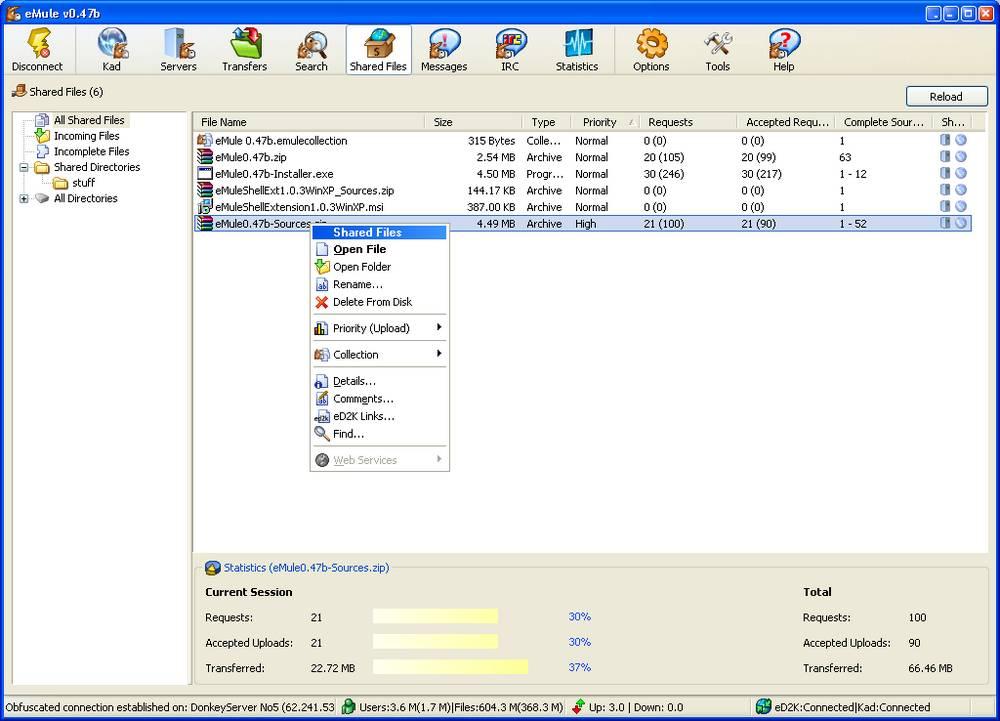 Although this program is intended for download, it also has chat functions. We can send messages to other users on the same network, and even use its integrated IRC client to search for information or any other type of help.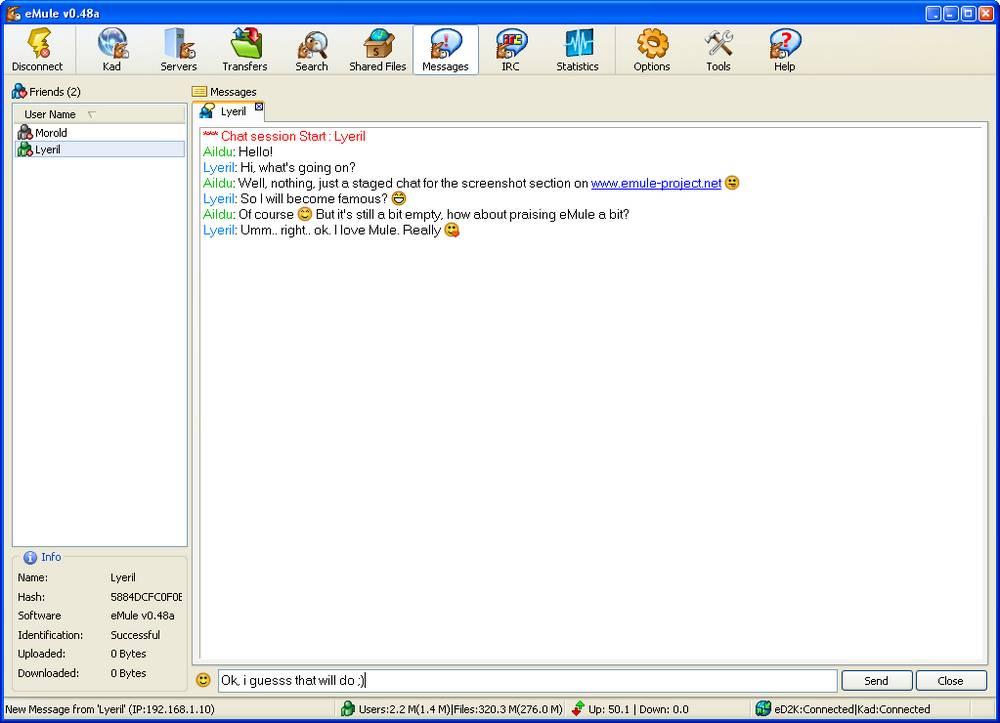 The key features of downloads
eMule has always been haunted by the industry. For this reason, its developers implemented a series of functions and characteristics over time to ensure the correct functioning of the network and, in a way, the anonymity of users. All eMule connections travel obfuscated in a way that prevents them from being detected and blocked by the operators.
In addition, it also has a reputation system based on comments that allows us to see if a file is trustworthy, dangerous or a fake.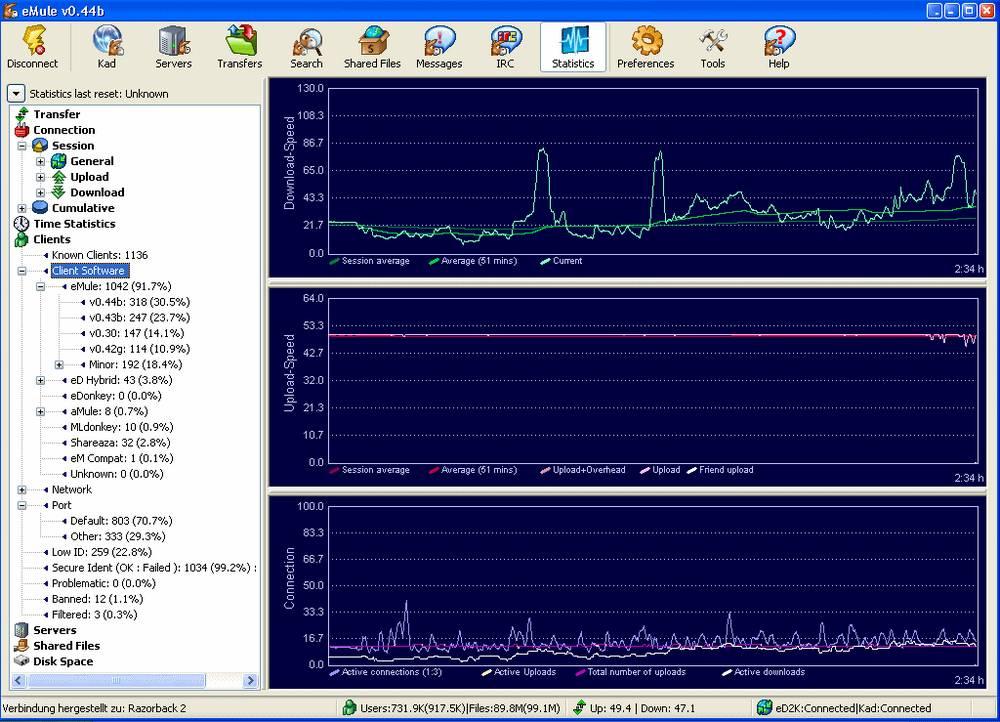 Transfers have an error detection system that guarantees a correct download. The downloads are compressed to save bandwidth, in addition to having functions integrated within the program, such as a multimedia player, which allows us to preview the files while they are downloaded.
Servers vs KAD
EMule was originally designed to be used over a network of ed2k servers . The only thing we need to know is the IP of the server (there are lists of eMule servers) and, when we connect to it, we will be directly connected to the other users within that same server. But not with the users of other servers. We can explore the files of all users and download what we want.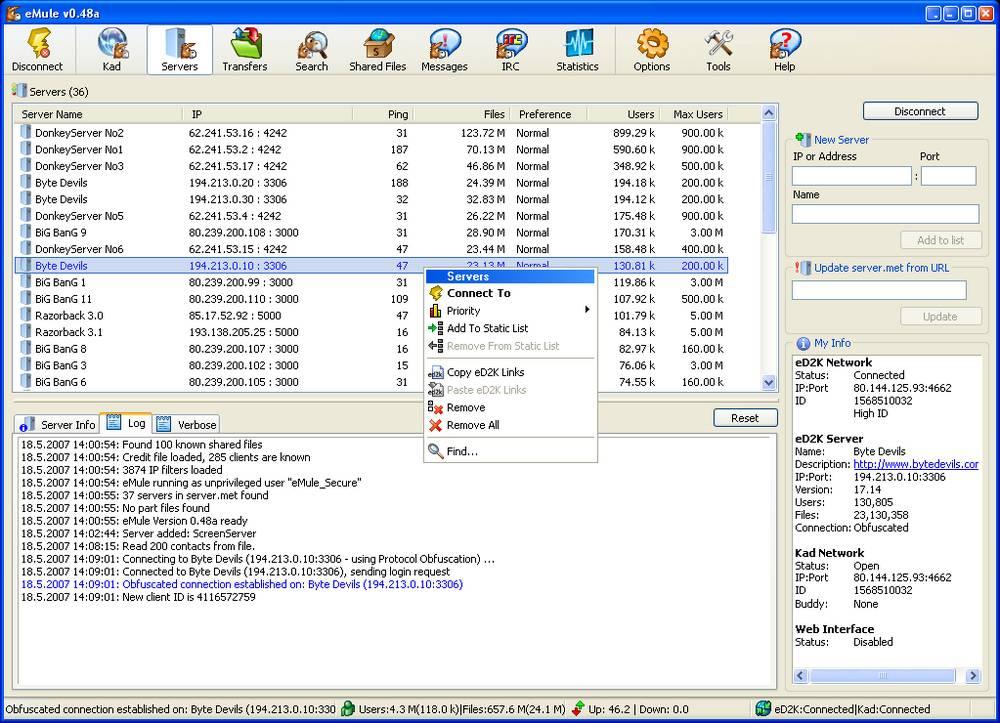 Servers usually assign different grades to users based on certain aspects:
High ID : everything works correctly and we will have maximum download speed.
Low ID : connections are not working properly. The server may be full or we have the ports closed on the router.
There are fake servers, usually created by companies in favor of copyrights, dedicated to collecting information from users and subsequently taking legal action. Therefore it is recommended to always use reliable servers.
KAD: a fully decentralized network
To put an end to server problems (for example, in the event of a shutdown or crash) the KAD network was created . This is a fully decentralized network in which each user is a node, without depending on any server. All content shared by all users on the KAD network is available to everyone.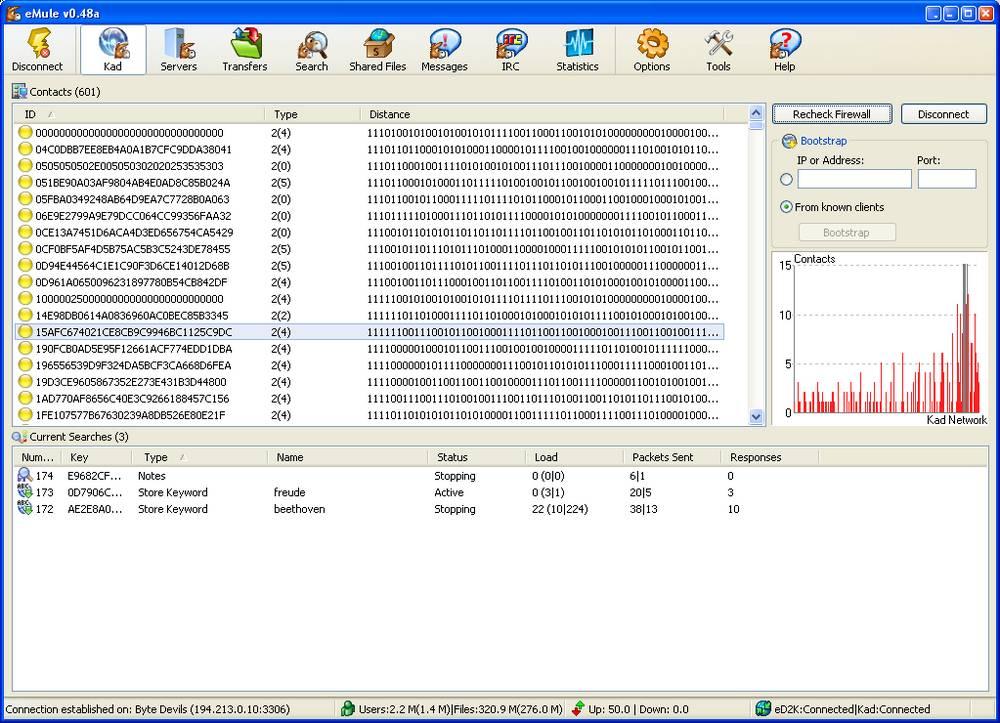 When we are going to download a file from this network, all other nodes that index it are searched, and the transfer begins automatically. At the search and download level, it is the same as the server network. Although it can be more difficult to find certain types of content on this network.
Download eMule
The latest version of eMule is 0.50a. Although this version was released 10 years ago, today it is still fully functional (even in Windows 10) and all users can use it without problems.
There are many web pages that offer us the possibility of downloading eMule. But be very careful, since we do not know if these versions are reliable or may have been modified to hide malware or other threats. If we want to download eMule safely, we must do it from its website .
EMule mods
Mule is open source software. This has allowed other communities to create their own versions or mods of eMule by adding or removing features and functions according to their preferences. The condition, due to the GPL license, is that all of them are free, open source and share the same license (or a more permissive one).
One of the most popular eMule mods is the Community Officer. This mod is a faithful version to the original but maintained by the eMule project community itself, currently in version 0.51d . This version can also be downloaded from the main eMule website. Or from your repository on GitHub .
In addition to this mod, we can also find other very interesting ones, each of them with a series of features and improvements, such as:
eMule Plus : a version faithful to the original, but focused on improving the interface, being more stable and consuming fewer resources.
MorphXT: the main purpose of this mod is to improve and simplify the program's interface.
Stullemule – New mod created to improve and better organize the user interface.
ScarAngel: this mod this mod unites the improvements of MorphXT and StulleMule in a new P2P client.
Dreamule: mod created to improve the original version of eMule with new functions.
There are also versions of eMule designed for other operating systems, such as lMule, xMule or aMule, as eMule clients for Linux. These keep more or less the same features as the original client, but are compiled to work on other operating systems.
How to update eMule to always have the latest version
In addition to everything related to the functionality of the program, as it happens in many others, for security reasons we are always interested in having the most recent version of eMule . With this, what we want to tell you is that we must keep the application updated at all times. In this way we take advantage of both the latest releases from its developers, as well as the latest security patches.
Well, if necessary, you have to know that this is something that we can do manually on the one hand, or automatically. To begin with, we will tell you that to update eMule manually, we only have to download the program from its official website, specifically from this link . With this, what we achieve is to download the latest version to our hard drive to install it over the old one. Of course, we must see that the program maintains the settings that we had made in the previous version.
But in order not to have to be attentive to releases, this is something that we can also automate. To do this, in eMule, we have to go to the Preferences / General menu.

Thus, in the new window that appears, we take a look at the When starting section that is located at the bottom of the new window, we mark the option to Check if there is a new version. Say that here we also have a sliding bar that tells us how many days we want this verification to be carried out.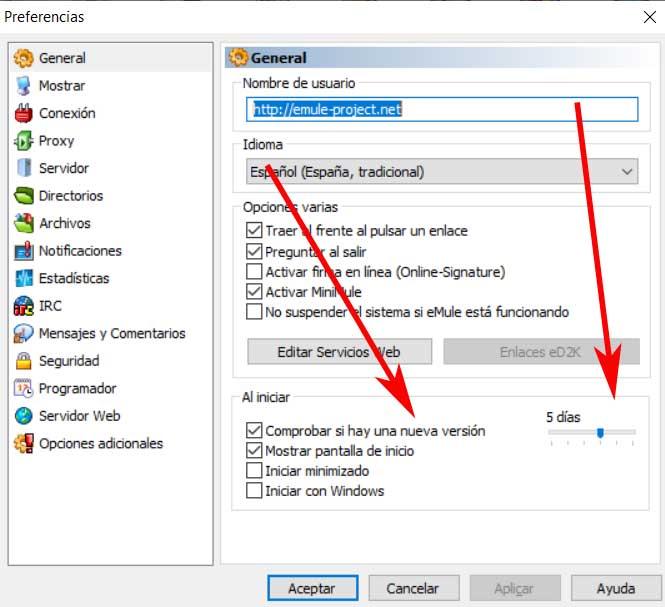 In this way we ensure that the program has the most recent version installed, at all times.