Surely on more than one occasion we have had to deal with some type of ISO file. These files are also known as disc images and are complete duplicates of the content of an optical disc such as a CD, DVD or Blu-Ray. To be able to handle them efficiently, there are programs like PowerISO that will allow us to carry out all kinds of activities such as editing, creating, mounting, emulating, compressing or encrypting virtual CD and DVD images.
What is PowerISO and what is it for
PowerISO is a powerful all-in-one tool for processing CD, DVD and BD image files, which will allow us to open, burn, extract, create, edit, compress, encrypt, divide and convert all types of ISO files . It will also help us to mount ISO files with an internal virtual drive, being able to process almost all the most used image files such as ISO, DAA, NRG, BIN, MDF, BWI, CDI, etc.
This program has all kinds of features such as the ability to open and extract any ISO file, as well as create them from scratch. We can edit all kinds of images by adding or deleting files and burn ISO images on CDs, DVDs and Blu-Ray discs. It is also possible to create our own audio discs from MP3 files or rip audio CDs in any sound format. There will be the option to mount ISOS on virtual drives and manage the recording of ISO images on several recorders at the same time.
Another interesting option is the possibility of being able to divide any file or image into small parts of 1.4 MB, 650 MB or 700 MB, which is very useful if the single file is too large.
Navigating PowerISO
When we run the application for the first time, we find a simple interface, although at the same time a bit outdated, which is completely in English, something that may not be to the liking of many users. At the top we find its main tools organized by icons, so that we have easy access to all of them.
Mount ISO files to CD / DVD
PowerISO incorporates a virtual drive that will allow us to mount both ISO files and other image files on a CD / DVD without the need to install any other additional software. We can assemble it very simply because we will only have to access the main menu. On the top toolbar using the Mount button . Later we click on the pop-up virtual drive and we will choose our ISO file that we are going to mount. Finally, we will click on Open to mount it.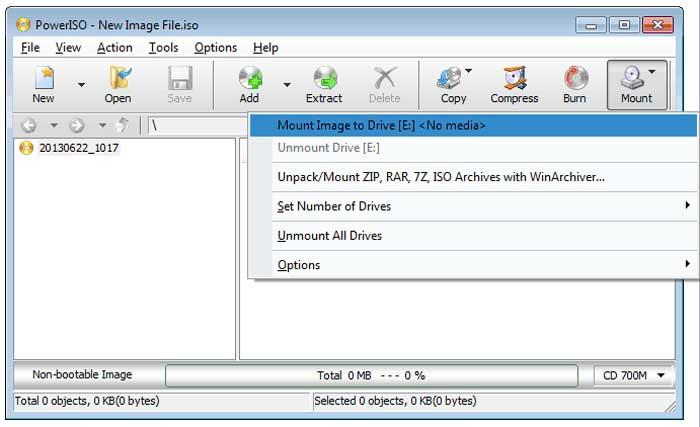 Burn Image Files to CD / DVD
With PowerISO we can also burn all kinds of images to CD / DVD from the same application. To do this, we must click on the Open button on the task bar at the top to open an existing ISO file by clicking on it. Next, again in the task bar we must click on the Burn button (Burn).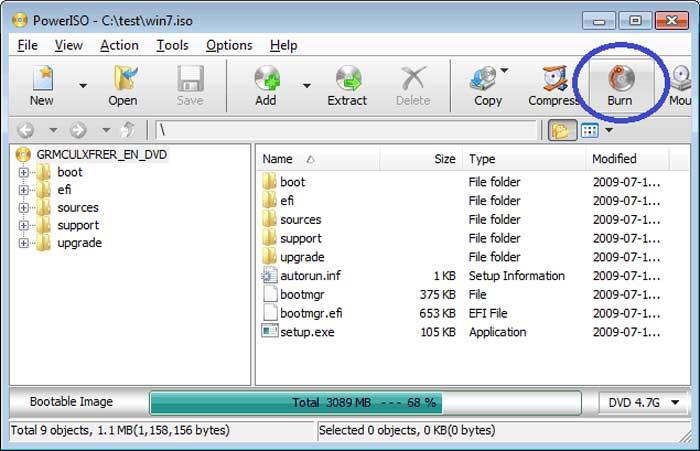 Now a dialog box will appear where we can set the recording speed that our recording unit supports. We will check the Very written data option to verify the files after burning. Lastly, click the Burn button to start burning the ISO file.
Rip an audio CD
PowerISO also allows us to extract an audio CD to APE, FLAC, WMA or WAV files. To do this, we must go to the Tools menu at the top and click on Rip Audio CD … (Extract audio CD). Next, we will select the drive that contains the disc that we are going to extract and select the audio tracks. Now we click on the Rip button on the toolbar and the Rip Audio CD dialog box will appear. Here we must choose the output folder and configure the output format in MP3. Finally, we click on Ok to begin the extraction of the files.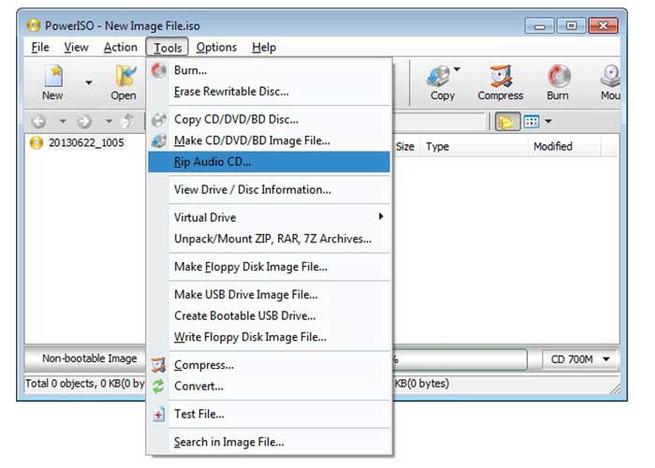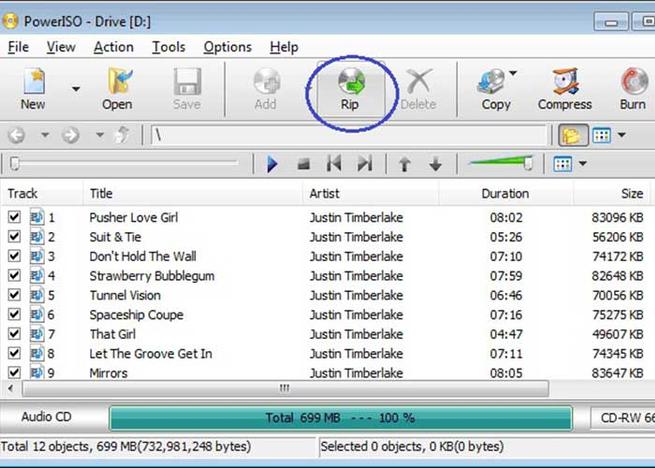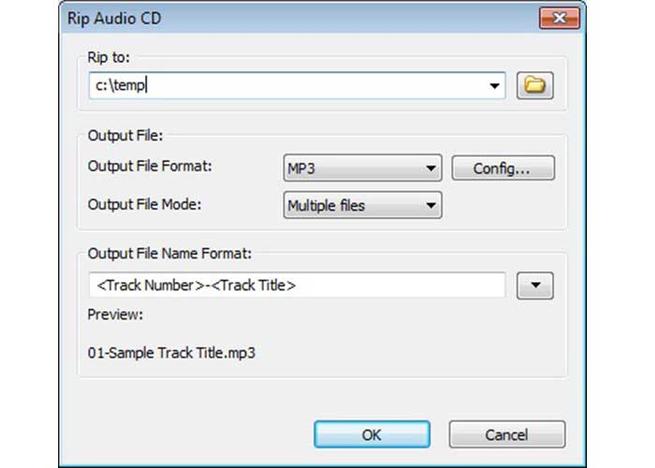 Download PowerISO
PowerISO is a paid application although we can download a free demo version from its website to test the program and determine if it suits our needs. Once installed, it will show us a dialog box in which we will be instructed to register. Among its limitations, we find that we will not be able to create or edit image files larger than 300 MB.

The purchase price for PowerISO is $ 29.95 . We can make the payment through the main forms of payment, including PayPal, credit or debit card, bank transfer or checks. In case we are not satisfied, we will have a period of 30 days from your purchase to return the money.
Alternatives to PowerISO
PowerISO is a complete program to work with ISO images from our PC, but you can also take a look at some alternatives that we present below:
MagicISO
This program will allow us to extract, edit, create and burn disc image files, with the possibility of converting between ISO and CUE / BIN in their own image format. This application has a cost of 36.03 euros. It also has a trial version that you can download from here .
ISO Burner
It is a useful and simple tool with which you can easily burn an ISO image. It is available completely free of charge, and can be downloaded from this link .
UltraISO
It is a tool that will allow us to work with ISO images, being able to edit their content, extracting files or inserting new ones. The application has a cost of $ 29.95 and has a free trial version that we can download from its website .
Alcohol 120
It is a great application that will allow us to create and mount an ISO image, as well as virtual drives and make backup copies on CD and DVD. It is a payment software that we can buy for 39 euros. It also has a free trial version that we can download from here .
Daemon tools
This program is considered one of the best for creating ISO images on CD, DVD or BluRay. It has the ability to create, manage and extract the content of any ISO image. It is a payment application that we can purchase from 24.99 euros. It has a trial version that you can download from this link .