Applications
Download youtube videos up to 4k and free with this program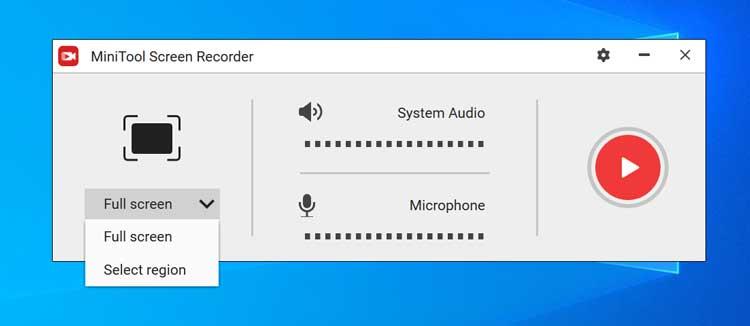 YouTube has now become one of the most important Internet platforms, as it is used by millions of people around the world. In it we can find all kinds of videos of almost any theme that comes to mind. Be it tutorials, mobile analysis, cooking recipes, video games, courses, etc. Its main drawback is that it does not allow you to download videos natively to be able to enjoy them without being connected to the Internet. To solve this we can use a free tool like MiniTool uTube Downloader, which we will talk about below.
We cannot deny that downloading YouTube videos is one of the weaknesses of a large number of users, since that allows us to enjoy them anywhere and on any device without having to depend on a good Internet connection or spending our fee. data on mobile. Since Google does not natively allow the videos of its streaming platform to be downloaded, you have to use third-party applications to do so.
MiniTool uTube Downloader is a free application that contains three main functions: download YouTube videos, audio and subtitles, make screen recordings, and batch convert audio and video files.
On the one hand, it allows us to download videos, audios and subtitles from YouTube without ads in MP4, WebM, MP3 and WAV formats in high quality. It also includes tools to record everything that happens on the screen of our PC, admitting output formats such as MP4, WMV, MKV, AVI, MOV, FLV and TS. In addition, it allows us to convert audio and video files in batches, admitting the import of the main audio and video formats, being able to edit more than 1000 output formats with ease.
Everything you can do with MiniTool uTube Downloader
Once we execute the program, its main menu appears with a simple interface as well as easy to use, although it is completely in English. At the top we find the three functions that this program boasts such as "YouTube Downloader", "Video Converter" and "Screen Recorder". In this way we can access any of them clearly and with a single mouse click.
YouTube Downloader
Without a doubt, it is the star function and the reason why we will download and install the program and it is the one that will appear by default when we start the application. Here it stands out especially over other similar software due to the inclusion of its own browser where the YouTube page already appears directly to us. In addition, it allows us to log into our account, explore our lists of favorite videos, download them and queue them in the download center.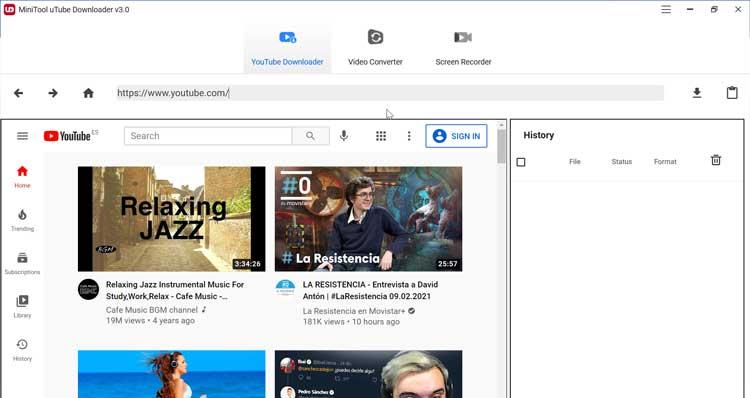 From the browser we can also search and view any YouTube content, as well as download all its content with different quality rates, including 4K. Alternatively, we have the option to directly copy the URL of the specific video, being able to configure the exact number of maximum downloads that we can perform simultaneously. In addition, if we are not interested in the video, we can download only the audio directly.
Downloading any video is very simple. We will only have to find or copy the URL of the desired video and click on the download button that we find in the upper right part. Next, a window will appear where we can select the desired format and quality, informing us of the size of the file download. We can also select if we want to add the subtitles. Once selected, click on «Download». Then the download will appear in a column to the right of the interface from where we can follow the entire process.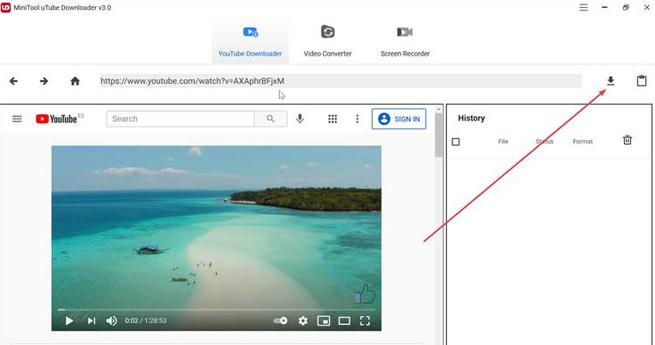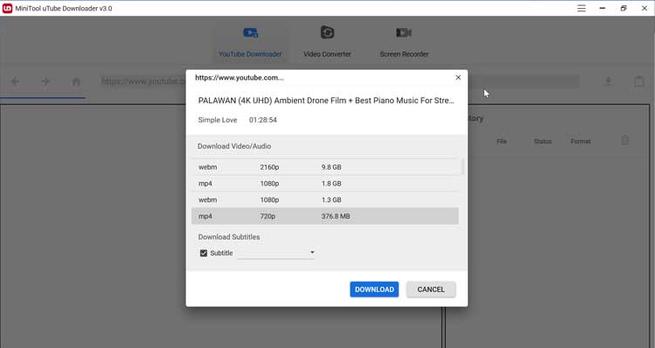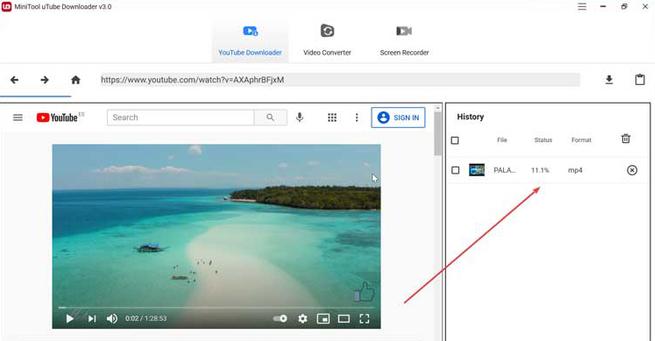 Video Converter
The following function allows us to convert videos to different formats in bulk up to 4K quality . To do this we will only have to add the file or folder by clicking on the "Add File / Folder" tab. We can add as many files as we want as it supports batch conversion. Next, we will select the desired format and quality by clicking on «Convert all files to», at the bottom right. Finally, we only have to choose the path where we want the conversion to be hosted from the "Output" section. Now we just have to click on «Convert» within each file or if we want to convert all files at the same time, click on «Convert All», within the blue icon located in the lower right corner.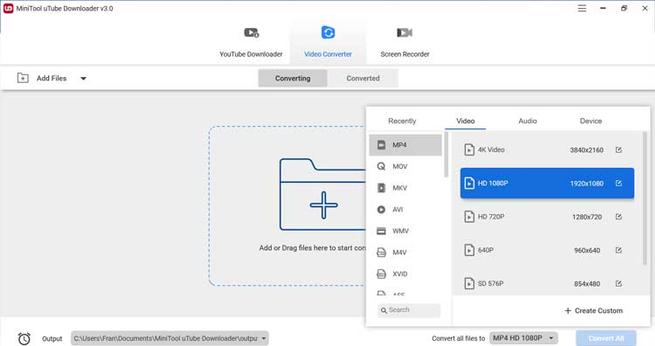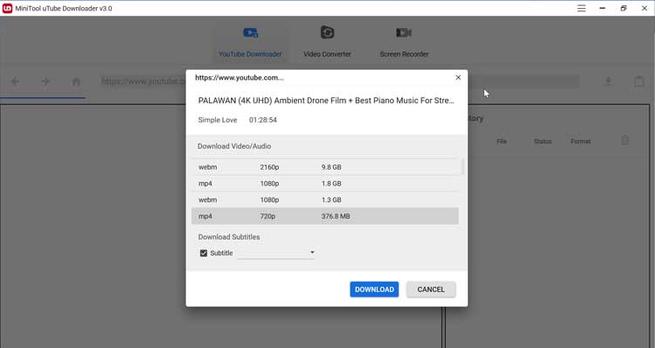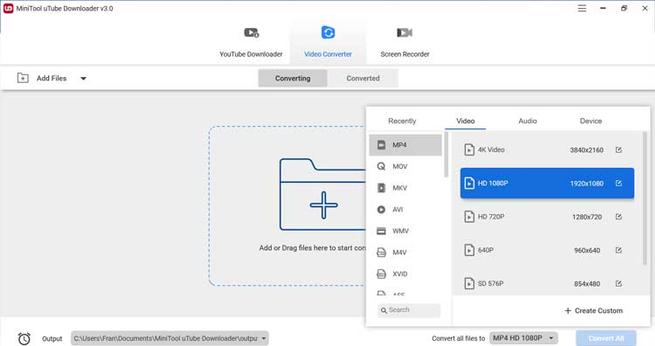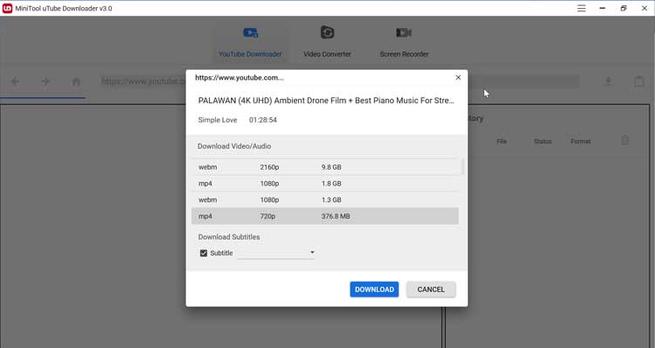 Screen Recorder
Last but not least, we have the function to record the screen of our computer in different ways and without a time limit. We can record everything that happens on the screen of our PC in high quality, adjust the recording area, configure the audio settings and play the videos in the most popular formats. All you have to do is press the "Click to record screen" button and a new window will appear, where, after making the necessary adjustments, click on the red Play button to start recording.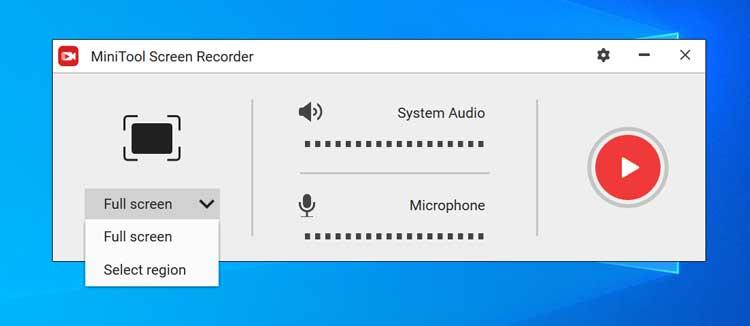 MiniTool uTube Downloader free download
MiniTool uTube Downloader is a completely free application that we can download directly from its website . It allows unlimited YouTube video downloads, supporting high speed download, conversion and recording. We will only have to download its installation file, which only occupies 1.94 MB . The installation of it is done quickly and easily through the wizard, without it trying to sneak in additional unwanted software.
Alternatives to MiniTool uTube Downloader
If we like the possibility of downloading videos from YouTube, we suggest a couple of alternatives to consider:
Snappea
This website will allow us to download any type of video from YouTube and from 100 other platforms and different websites quickly and easily. We can download the videos in MP4 format, or only the audio in MP3 format. All this without the need to install any software on our computer. To start using it, we just have to enter its website .
Freemake Video Converter
In this case, it is a video converter that has compatibility with more than 500 formats. Its functions also include the ability to convert and extract videos from YouTube, Facebook, Vimeo and other platforms. It also allows us to extract audio from YouTube or convert videos to MP3, MP4, AVI, WMV, MKV, DVD. It has a free version that we can download from its website .