Applications
Download youtube music and videos in mp3 or mp4 with snappea

We cannot deny that YouTube has become one of the most important social networks on the entire Internet. Millions of people upload all kinds of videos to this platform every day: musicals, videogames, personals, diaries, didactics, manuals … The amount of videos that we can find on this network is impressive. However, it has a very important drawback: we need to be connected to watch the videos, since it is not possible to download them. At least in theory.
Downloading YouTube videos is something that has always caught people's attention. Being able to save these videos on the computer, and being able to always carry them with us on our mobile phone so as not to depend on the Internet is, of course, very practical. However, there are two problems. The first one is that Google does not allow, legally, to download videos from its streaming platform . And the second, that many applications for this purpose, either are paid, or hide malicious programs or unwanted software.
Luckily, there are always alternatives that, in addition to being reliable and 100% free, allow us to download any YouTube video in seconds and in the simplest way possible. This is Snappea .
Snappea: the fastest way to download music from YouTube
Snappea is a totally free tool designed to allow us to download any type of YouTube video as quickly and easily as possible. This tool, also known as "Snaptube online", will allow us to access videos from YouTube, and from 100 other platforms and different websites, in order to download them directly to our computer.
This website will allow us to download the videos directly in MP3 format, or keeping the video when using the MP4 format . In addition, the quality that we will obtain in the conversion is maximum.
Its main strengths are:
Web-based application, that is, we will not have to download or install anything on our PC.
Compatible with all browsers on the market.
It is compatible with any song or YouTube video. And also from other pages.
Powerful online converter.
Simplified interface to the maximum. We just need the URL and one click, nothing more.
How does it work
In order to use this tool, the only thing we will need is an updated web browser and the link to the YouTube video. Nothing more. To download music from YouTube, or any video that we want, we simply have to enter its website and enter the URL of the video that we want to download at the top. In a few seconds we will be able to see the video loaded in the program, as well as the different download options. We can choose the quality of the audio that we want to download, in case we want an MP3, and the quality of the video if we want to download it completely.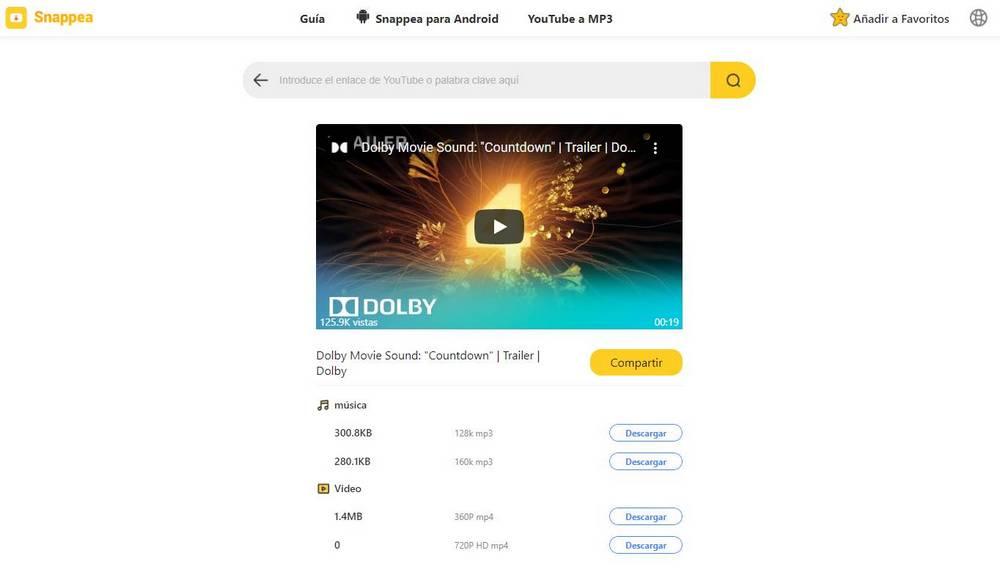 We simply have to click on the " Download " button of the option we want and voila, the converted file will automatically begin to download to our PC.
A website that cannot be missing from your bookmarks
Without a doubt, Snappea is one of the best websites that we are going to find to download free music from YouTube. A very simple to use website, totally free and that will allow us to download any video from this social network in a matter of seconds. A reliable page that never hurts to have on hand.
At the top of the page we will find a button called " Add to favorites ", with a star. If we click on this icon we can see the necessary instructions to save the page in favorites. Basically it will be to use the keyboard shortcut Control + D, although it could vary depending on the browser and operating system we use.

The best thing about Snappea is that, as we have said, it is a very simple, fast and totally free to use page. In addition, since it is web-based, we will be able to use it from any browser, be it Windows, Linux, macOS and even mobile devices. Snappea will work on all of them without a problem. Of course, we can also use it on Android and iOS, but for mobile devices we have specific applications that will allow us to take much better advantage of the program.
In addition, on its home page we will find the most popular videos of the moment. So we won't even have to waste time looking for them.