Applications
Download torrent files in a more personalized way with tixati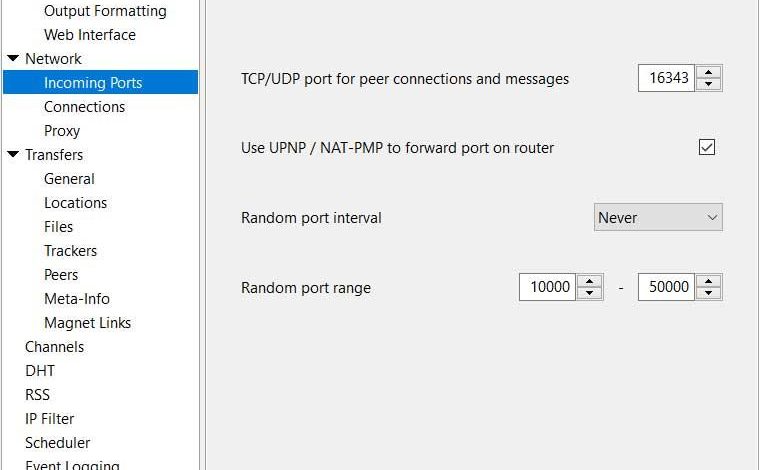 Downloading files in torrent format has been the order of the day for many years, as it is a file format that presents us with a multitude of possibilities. For this, in most cases we are obliged to use specific clients for this, as is the case of Tixati.
These programs to which we refer are those that present us with everything we need so that we can upload, download and share all kinds of torrents. In fact, there are many proposals of this type that we can use at the moment, we just have to look for the one that best suits our needs. And we must know that when downloading a file from the Internet, we can do this in several different ways.
We generally do it from the browser by direct downloading, or through an FTP server, or from P2P networks, which is what we are dealing with now. At the same time it is worth knowing that within this last category we have several protocols. One of them is eMule, which although it still works, its use has decreased considerably in recent years. Therefore, for some time now, the BitTorrent network has gained great popularity and is the most used at the moment.
Thus, to download torrent from this network we only need two requirements that are essential. On the one hand, we must have the torrent file as such, either through a magnet link or with the file itself. In addition, on the other hand, we must have a torrent client on our PC that allows us to download the file.
Start-up and first steps with Tixati
As we mentioned before, there are a large number of torrent download clients that we can use. Within this variety, each one has functions and characteristics that make them unique, although their general operation is usually very similar. Most of these are free, although there are with or without advertising, with many functions or very simple, etc.
Once we know all this, here we will talk about Tixati, a client for the BitTorrent network that was developed in C ++ and that can be used on Windows and Linux- based computers . As soon as we install it, in the process it asks us if we want to use it as a default in this type of task related to torrenting. This is something that we mark, or not, to continue with the installation process.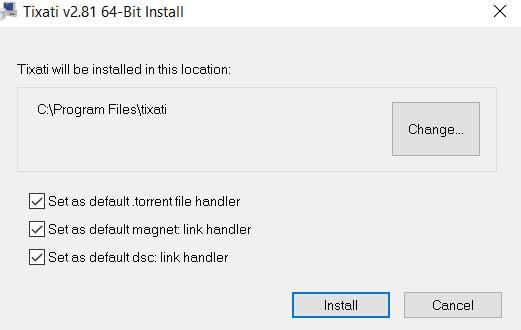 After that, once finished, we can start working with the program as such. This proposal has been around for a good number of years and is compatible with Windows since XP. Furthermore, if something characterizes Tixati since its inception, it is that it aims to be simple, while being light due to the few system resources it consumes. Proof of this is that as soon as it has finished installing, it presents us with an intuitive window for the initial configuration of the program. But of course, if we are not experts on the subject, we can always leave everything as it comes by default.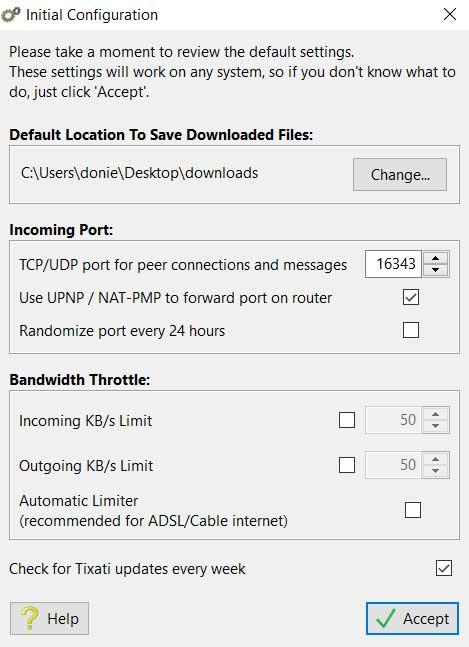 Advantages to get the most out of the P2P client Tixati
Something that we should also know is that this client has many of the standard functions of a BitTorrent client. At the same time it integrates other somewhat more exclusive and proprietary ones such as chat rooms, or private messages with other users that are also shared encrypted. As we say, if something characterizes this proposal is its simplicity of use, therefore in principle to load new content, we can directly drag it to its interface. In the same way we can make use of the Add button that is located in the upper left corner.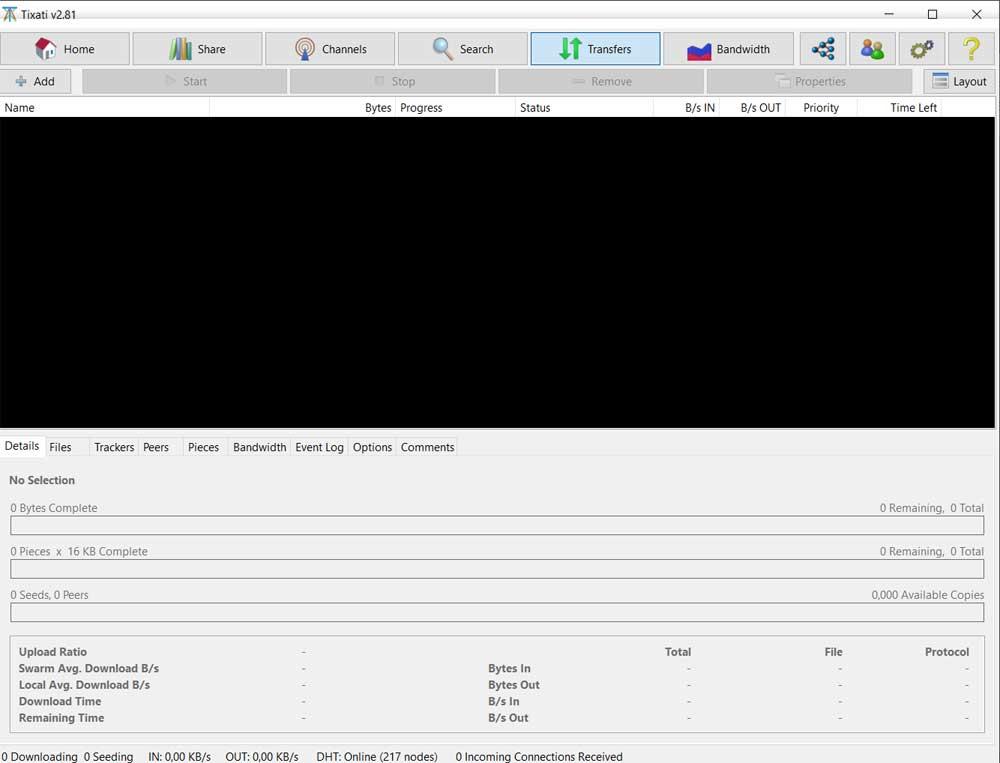 Once we have loaded the torrent into the program as such we are talking about, it presents us with a new window to be able to specify some previous parameters. Here we are going to find the possibility of indicating the download folder, the actual composition of the torrent, or the contents that we want to download from it.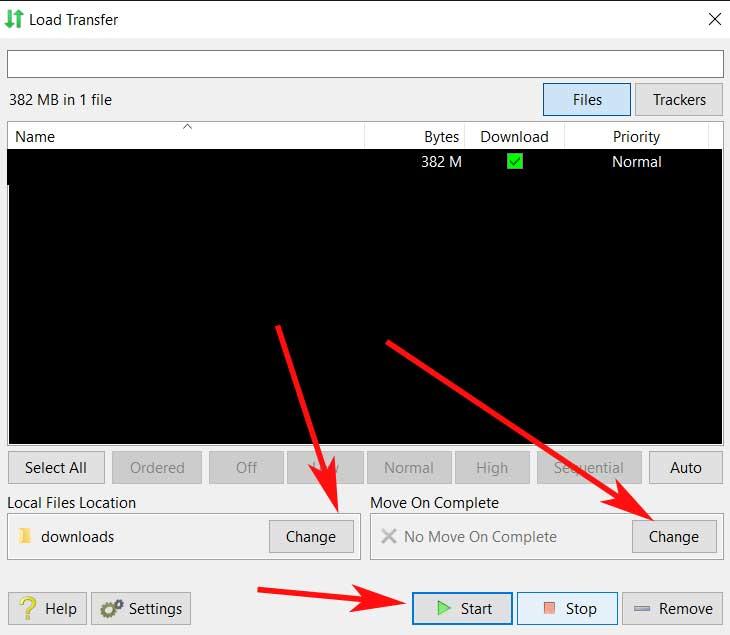 At that moment, once we specify these sections, the download process itself will begin. But during it we can also interact with the torrent loaded at that moment. Just click with the right mouse button on it to access its context menu. From it we have the possibility to indicate the bandwidth to be used for this download, the limit of seeds and time in the upload and download, or the location of the local files.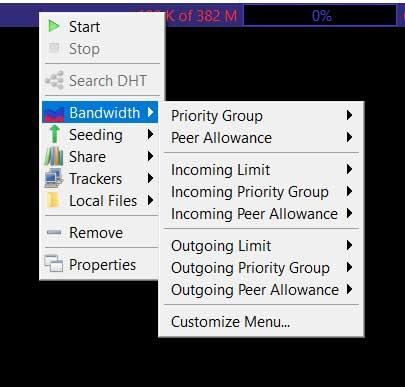 You should also know that this program supports DHT, PEX and Magnet Link, in addition to allowing us to manage personalized RSS subscriptions.
Additional torrent client features
A good part of its control functions can be found in the main interface of the application. These will help us to know and customize the torrent download process as much as possible. Surely these will be very appreciated for new users in these struggles. However, the more advanced can also delve more deeply into the deeper configuration options of the application.
We can access them by simply clicking on the button in the shape of a cogwheel that we see in the upper right corner of the main interface. This will give way to a new window full of categories, all of them with their corresponding parameters. All of this will allow us to fully customize the behavior of the application as such and its internal functioning .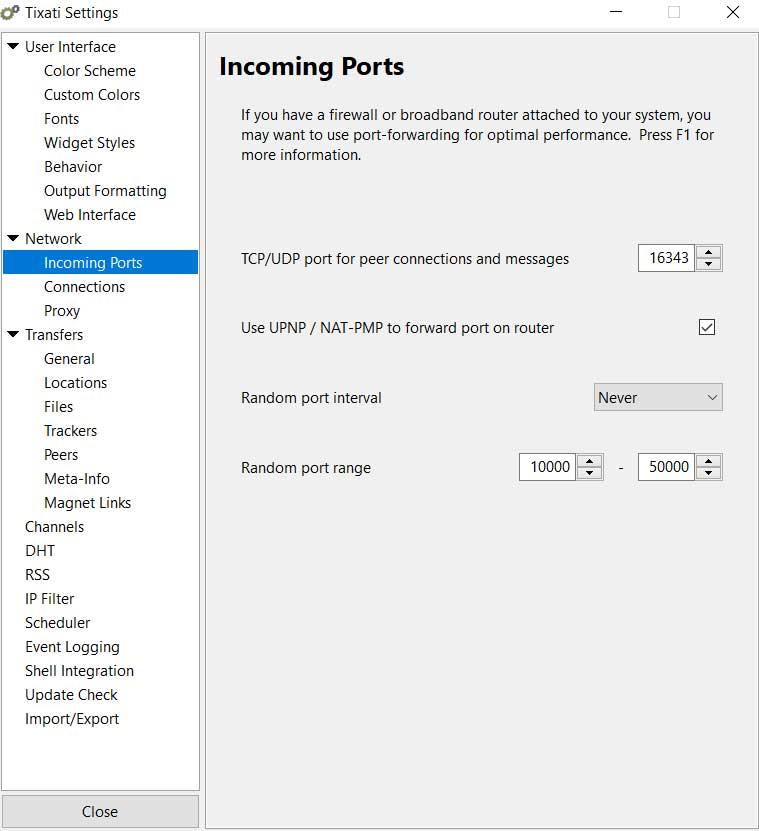 Here we find a huge amount of possibilities, suitable for the most advanced users in these subjects. But perhaps newbies in all this prefer to leave those that come by default, which are usually more than effective in most cases.
How to download Tixati
As we have told you, this is a torrent client that is characterized by how light it is. Valid for all types of users, we can use it completely free of charge just by downloading it from this link . We found a version for Windows-based computers with 32-bit or 64-bit architecture, in addition to one for Linux systems.
Other alternatives to Tixati
uTorrent
This is one of the best known proposals of this type around the world. It is characterized by being very simple to use and offering all the necessary functions to download these files without any difficulty. Of course, the program offers us a free version with advertising in the client and some of its functions are limited to Premium users. We can test this program from here .
qBittorrent
This is another powerful alternative that is characterized by having an interface similar to that of uTorrent that we discussed before. It puts in our hands everything necessary to be able to work with the upload and download of this type of files in particular. It is considered a more than stable client and works on all types of computers, even the most limited ones. We have the possibility to download the application from this link .
Deluge
Another of these proposals that may be of interest to you is Deluge, one of the most customizable torrent clients with a multitude of additional functions. It has its own encryption system and a very simple and intuitive interface. At the same time we find a section of plugins with a large number of extensions that allow us to expand the functionalities of the program. You can try all this from here .