Applications
Download filks fast with internet download manager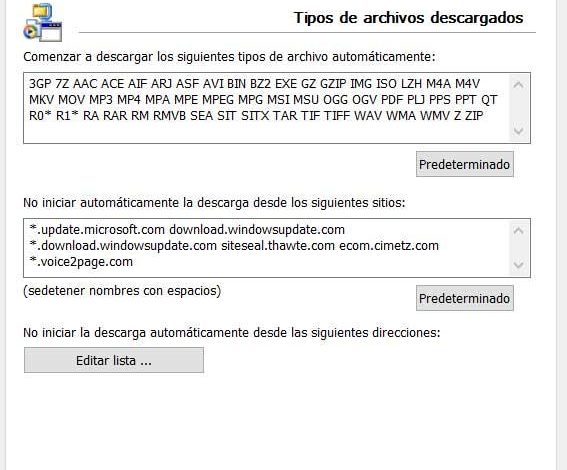 There are many uses that we make of our connection when we are online from the computer, for example, based on Windows or Linux. We play, we work, we watch movies via streaming or we simply download programs. To say that the latter is one of the most common and widespread modes of use, for which Internet Download Manager or IDM will be very helpful.
Windows, as with many other alternative operating systems, comes with some programs already pre-installed. But from there, most users then download their favorites from the Internet, all depending on the type of use we make. In the same way, downloads of other types of content are more than common, sometimes almost constantly. This is where multimedia content downloads such as photos, videos, audio files, etc. come into play .
The same happens with documentation of the most diverse nature that we can find on websites and that we want to store after downloading it. It is true that current Internet browsers, in one way or another, offer us their own functionality that allows us to manage and personalize these content downloads to which we refer. But we must also admit that they leave much to be desired and are quite limited.
Advantages of using Internet Download Manager to download from the Internet
To all this we must add that in most cases we will want these download processes to be carried out as quickly and smoothly as possible. We are always going to find ourselves with the limitation of the bandwidth of our connection, yes, but we can improve these downloads . Thus, one of the most common and useful solutions in this regard is using a manager for these issues. This is precisely the case that we are going to talk about in these same lines.
Specifically, we refer to one of the most used and popular proposals in the world, such as Internet Download Manager . In fact, we are talking about a software solution in the form of a download manager that has been around for a good number of years. Therefore, its developers have enough experience to propose a program of great quality and reliability. In fact it keeps getting better and new and more powerful features keep coming right now.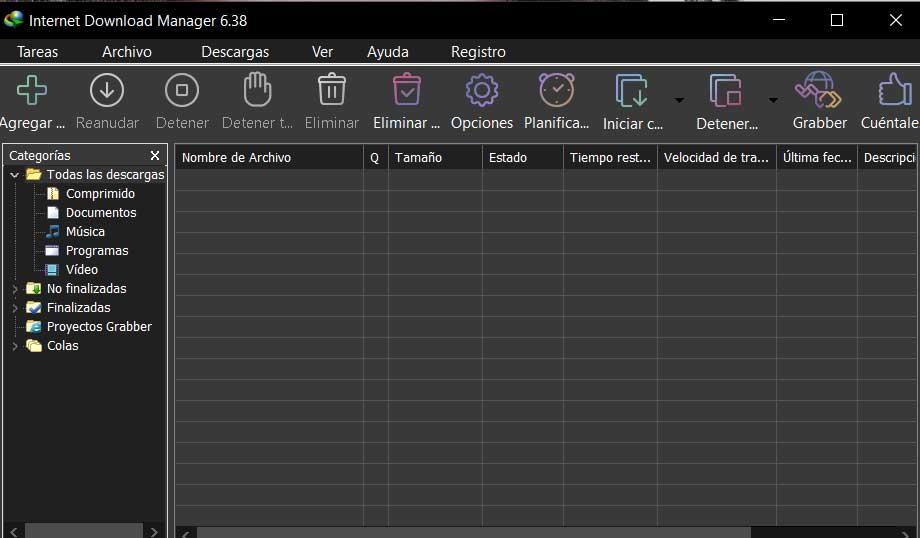 Also, if something has characterized this program for a long time, it is its enormous functionality, together with its stability and customization capacity. We say this because its use is suitable for the newest users, as well as for the more advanced ones.
IDM user interface
For all this, it presents us with an intuitive user interface that is divided into several well-differentiated sections. On the one hand we find the central panel which is where we will see the download processes running at that time. On the other hand we find the left panel that allows us to keep a more exact control of them. And it is that from it we can see the finished downloads, the queues, the ones that are yet to be finished or the categories where they will be stored.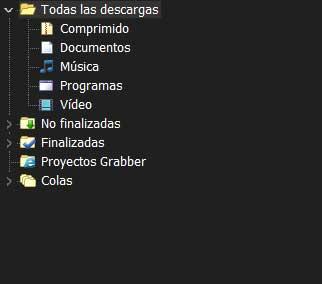 For its part and as usual, at the top we find a series of shortcuts that allow us to add tasks, delete them, plan them, etc. That is, we can carry out the most common tasks directly. We must also bear in mind that the program allows us to add download tasks in different ways. So we can do it from the Add button, dragging the URL or directly from the Windows clipboard.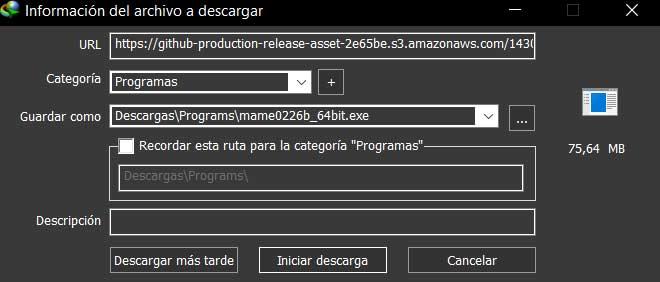 Manage downloads from the Internet Download Manager
It is also interesting to know that every time we load a new download in the program, we automatically find a window that allows us to customize it. In this way, we can easily specify the path where it will be saved, we will see the source URL, if we want to add it to a category, its size, etc.
On the other hand, and how could it be otherwise, during the process itself, we will also obtain a good amount of additional information. We can see all of it on the screen just by clicking on the corresponding entry located in the central panel of the interface that we mentioned before. Thus, first-hand and in real time, we will see data such as file size, current speed, time remaining, packets received, etc.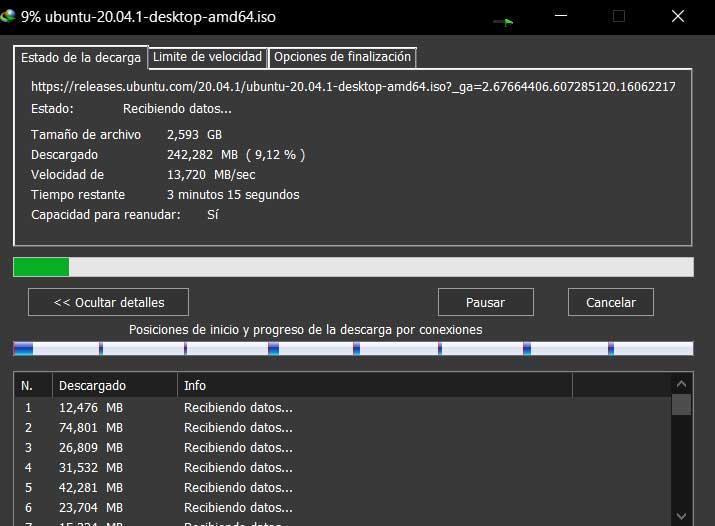 In addition to all this that we comment on, as is logical we add the possibility of managing multiple simultaneous downloads, pausing some, or eliminating their contents. In the same way, and from the Plan button, we have the possibility of loading the sources of the files to download, and specifying to the program when we really want them to be downloaded. With this we achieve that that bandwidth is used when we do not need it for other tasks, for example.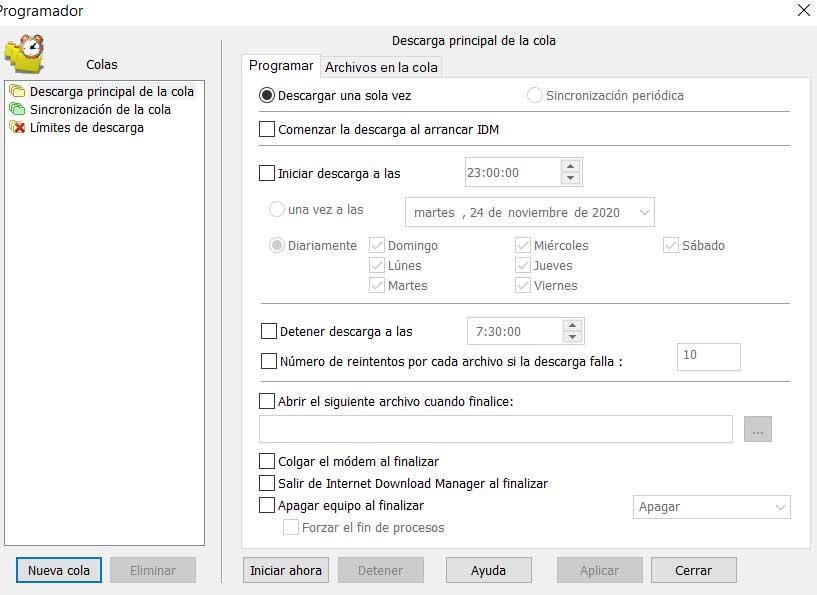 At the same time, it should be noted that automatically, if the Internet Download Manager is running, we will be able to download streaming videos from the websites we visit.
Download manager configuration options
For most users, and for those who don't want complications, the default options that come with IDM are more than enough. But perhaps the more advanced need to go a step further. That is why this download manager offers us some interesting functions that we can adapt and customize to our liking.
For all this, we just have to click on the Options button that we see at the top of the main interface. Here we find a series of tabs belonging to a multitude of sections of the Internet Download Manager. Thus, we can configure the bandwidth limits, the browsers that use the program, default routes, compatible formats, or type of connection, among many other parameters.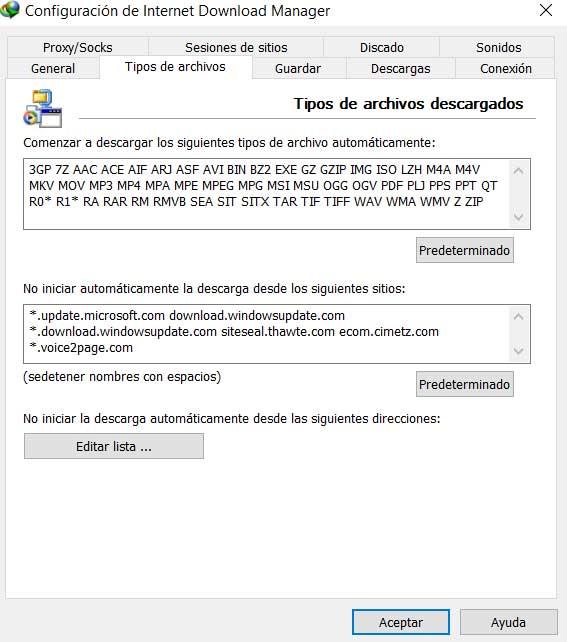 Alternatives to Internet Download Manager
HTTP Downloader: this is another similar proposal when it comes to managing and accelerating the downloads of our files. We can test it from this link and it presents us with a series of interesting functions for these tasks that we will comment on. In fact, it presents a user interface similar to the one we have described previously.
DownZemAll: on the other hand, we can use this other alternative for managing Internet downloads . We can do with it from this link and it is worth mentioning that it is a very interesting open source project.
How to download Internet Download Manager right now
Once we have reached this point, say that this is a program, Internet Download Manager, that we can try for free for 30 days for free from here . Then, once that time has passed, we will have to pay for one of the versions proposed by its developers. These versions range from the basic one with a license for one year for 9.95 euros, to the lifetime license for 20.50 euros.