Applications
Download files from the internet at maximum speed ​​with eagleget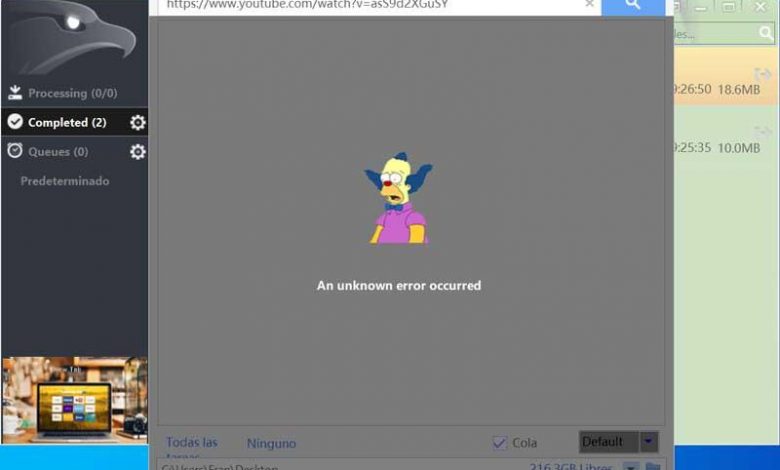 One of the options that we use the most when it comes to being connected to the Internet is to download all kinds of files from different web pages. This is something that we can do directly from our browser. However, in the event that we need to perform constant downloads of large files, we also have the option of opting for a download manager such as EagleGet, about which we are going to talk to you next.
EagleGet is a download manager and manager for Windows. Through which we can accelerate all our file downloads from the Internet, as well as have full and exhaustive control over them. From its intuitive interface we will be able to manage and schedule downloads, and even resume those that have given us an error during the download, remembering the exact point where it was interrupted so that we do not have to start from the beginning. In addition, it also checks the integrity of all downloaded files to ensure that there have been no errors.
This download manager is compatible and integrates with the main web browsers on the market such as Google Chrome, Mozilla Firefox, Internet Explorer and Opera. This will allow us to download any file just by selecting the download link. It also allows the downloading of videos from platforms such as YouTube, Facebook and Dailymotion, being compatible with the HTTPS, MMS, RTSP and FTP protocols .
This is how EagleGet works
Once we run the application we will find a fully customizable interface, so that each user can adapt it to their tastes and needs. Although it appears in English, the program is multilanguage, so we can put it in Spanish, from the "Options" icon, located at the top.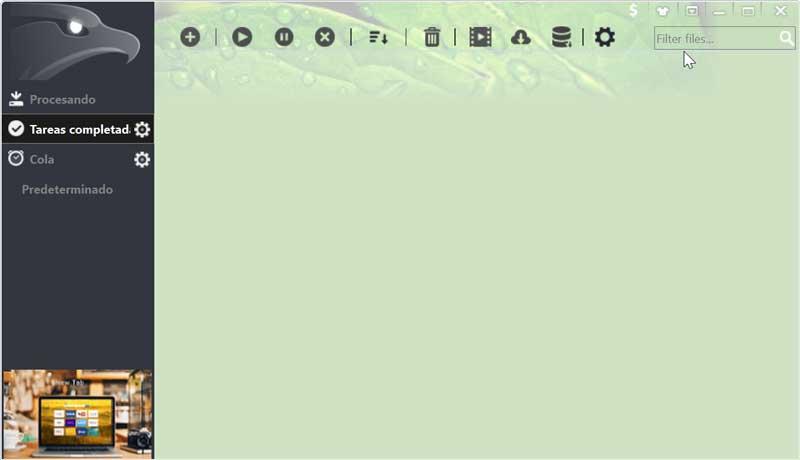 The interface has integrated tools to monitor the content of the Clipboard and navigation links, automatic, manual, batch downloads and different categories to be able to automatically classify the downloaded files. It also includes a scheduler to perform automatic tasks after downloads are completed, a utility to verify the MD5 and SHA1 checksum, as well as a completed or failed task cleaner.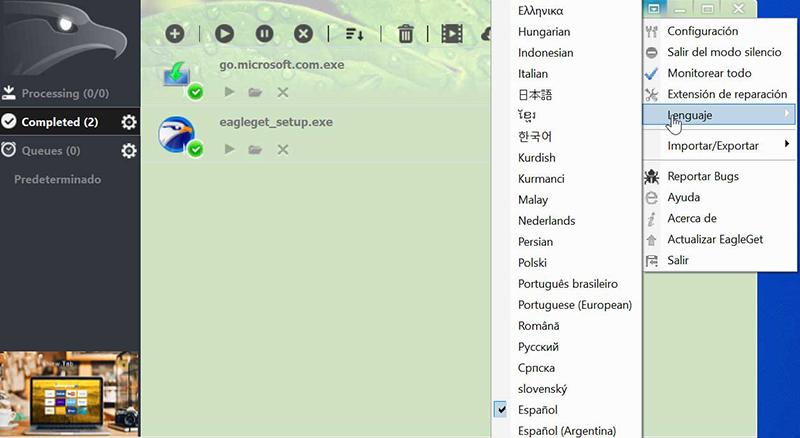 Add files for download
To add a new task, just press the plus button (+) at the top of the interface. Next, a new window appears where we must indicate the URL of the file. In general, once we have it copied to the Clipboard, it will appear automatically. We must also choose the place to store the file and start the download automatically, manually or queue. Finally, click on OK to add the download.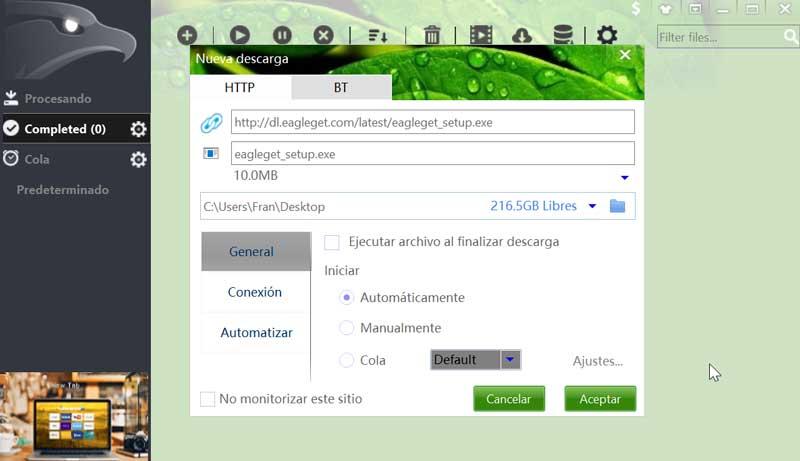 In the toolbar at the top we find the buttons to be able to start, pause and delete any download, as well as order them. Next to each download it will show us the date and time in which we made it together with the total capacity that each file occupies. In addition, it has a button that will allow us to clean tasks, so that the interface is completely clean again
Make adjustments from the Settings menu
From its Settings menu we can make all kinds of adjustments to have the application configured to our liking. We can choose the number of maximum downloads allowed, set a speed limit and resume automatic downloads on restart. It also allows us to monitor both the clipboard and the browser, check if it has a virus when completing the download and even establish an order when the transfer is finished (Shut down, Suspend, Hibernate, Exit).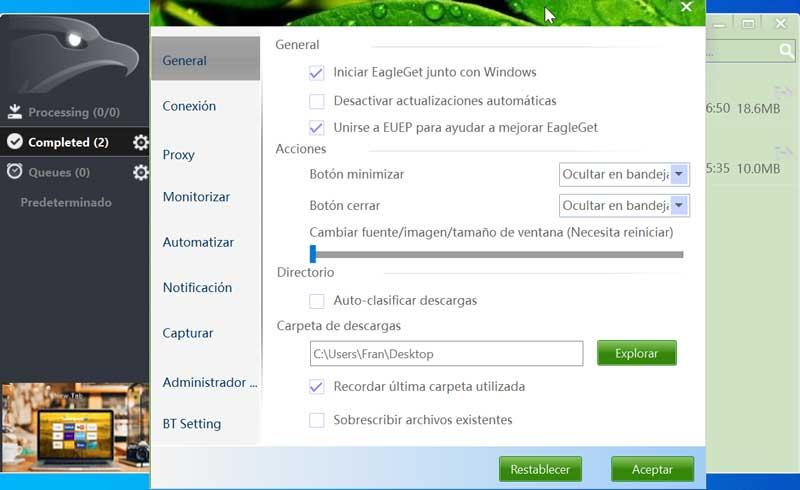 Another interesting option is to configure a Silent Mode which allows us to deactivate all kinds of notifications so that they are not annoying if we are doing other tasks with the computer.
Failed to download files from YouTube
This download manager has the possibility of downloading videos from platforms such as YouTube, however, we have encountered problems to be able to do it. As soon as we are on the platform and we copy the URL of a video, it is automatically copied to the Media Grabber section. But when we access the section we get an error message that prevents us from downloading.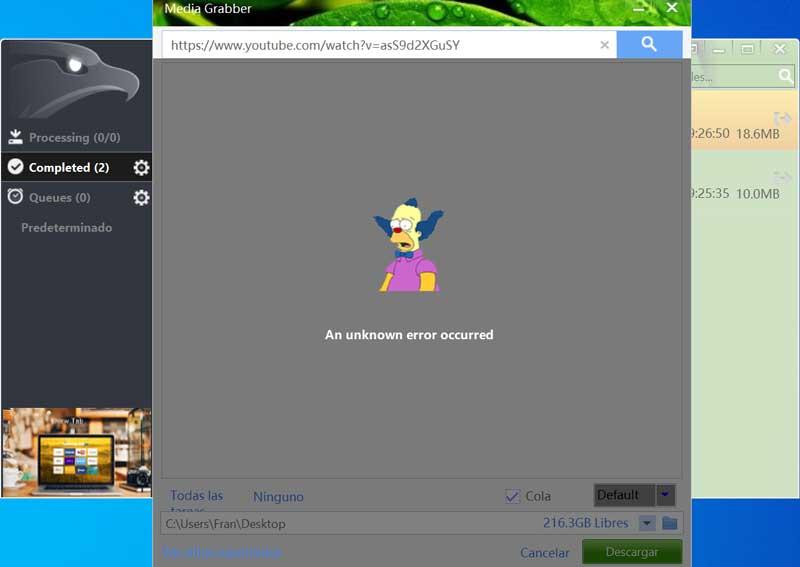 Conclusions: is it advisable to use EagleGet?
We can consider EagleGet as one of many download managers that we can find on the Internet. For the file downloads we have had no problem, recognizing the links and making the downloads at high speed. Where if we have had problems is when trying to download videos from YouTube because this process has given us an error with each attempt. But there is something that we miss is its compatibility with torrent files, something that we can find in other competing applications and that can be decisive when choosing it for its use.
EagleGet free download
EagleGet is a 100% free download manager that we can get directly from its website . It is compatible with Windows XP, Windows Vista, Windows 7, Windows 8 and Windows 10, both in 32-bit and 64-bit versions. This application has both an installer version and a portable version . The latter will allow us to launch the application from an external storage device such as a hard drive or a pendrive without the need to leave traces in the Windows registry.
Alternatives to EagleGet
If we are looking for a manager that allows us to manage our downloads and perform them at maximum speed, we propose some alternatives to EagleGet to take into account:
DownZemAll
It is a multiplatform download manager that will allow us to organize all our files downloaded from the Internet. It will allow us, add links, pause, cancel downloads or resume them when it suits us. It also has add-ons for Firefox and Chrome, from where you can send any content to be downloaded automatically from DownZemAll. We can download it for free from this link.
Persepolis Download Manager
We are facing an open source and multi-system download manager, which has an Aria2c graphical interface to obtain the maximum speed of downloads. It has integration with the most popular browsers and allows the programming and massive downloading of files. It also offers compatibility to download videos from YouTube, Vimeo and Dailymotion, being possible to program the shutdown of the system after downloading. We can download Persepolis Download Manager for free from here.