Applications
Do you work with pdf? Edit and convert them with pdf candy desktop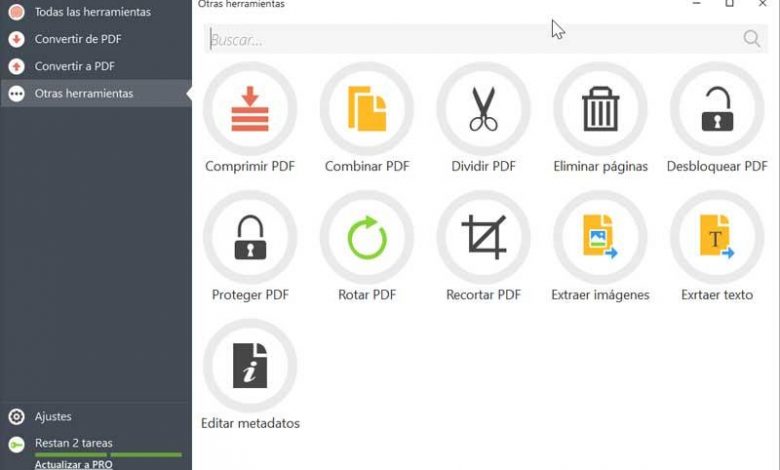 The use of PDF files on our computer is becoming more and more popular, being used mainly as a reading file. But sometimes we may need to carry out conversion tasks that allow us to transfer our PDF file to another format such as a Word or image file or to carry out editing tasks. For this, it will be necessary to have a specific program such as PDF Candy Desktop, which we will talk about below.
If a PDF file is characterized by something, it is that they never lose their shape, so they will always maintain their structure, whether we have shamed it or someone else has sent it to us. Inside they can incorporate all kinds of texts, graphics, signatures, and even multimedia files and link to web pages.
PDF Candy Desktop is a complete and versatile tool, created by Icecream Apps, a software developer that specializes in PDF and other programs for Windows PC. This application will allow us to convert, divide, merge, extract images and unlock PDF documents with just a few clicks. It will be possible to convert to various compatible formats, convert documents, electronic books and images to PDF, as well as perform other tasks since it has a total of 35 tools.
We must bear in mind that this program is not designed to function as a PDF viewer, as it does not have this possibility. Instead, it can be used to convert these files to more accessible formats and perform other useful editing tasks.
The all-in-one solution for PDF files
Once we run the program we find its main menu with a modern and elegant interface that we can put in Spanish. It is designed as a board, so we can access the exact function quickly. On the right side we can find all the options to be made with various configurations to choose from. In the left panel we find All tools, or organized by Convert from PDF, Convert to PDF and Other tools.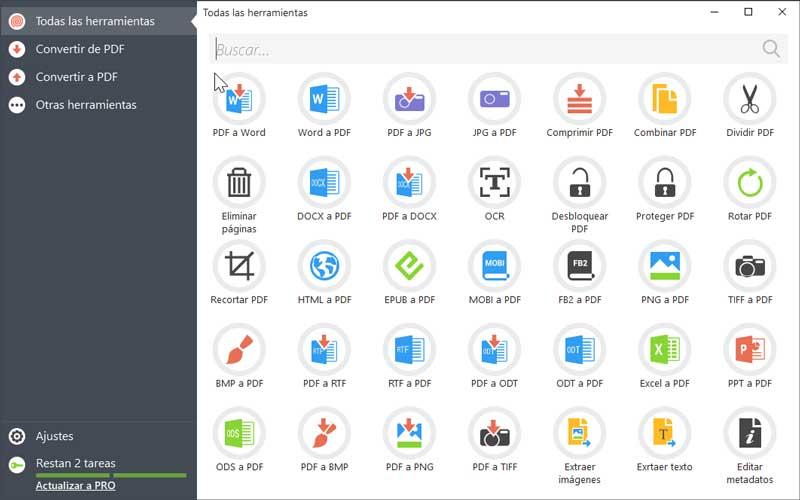 Convert from PDF
In this section we can find the different options we have to convert PDF files to other formats such as Word, JPG, DOCX, RTF, ODT, BMP, PNG and TIFF. In addition, it supports OCR technology, making it possible to convert scanned PDF files into editable and searchable free text documents. It will only be necessary to click on the button we need to open the Windows File Explorer and select the file we want to convert.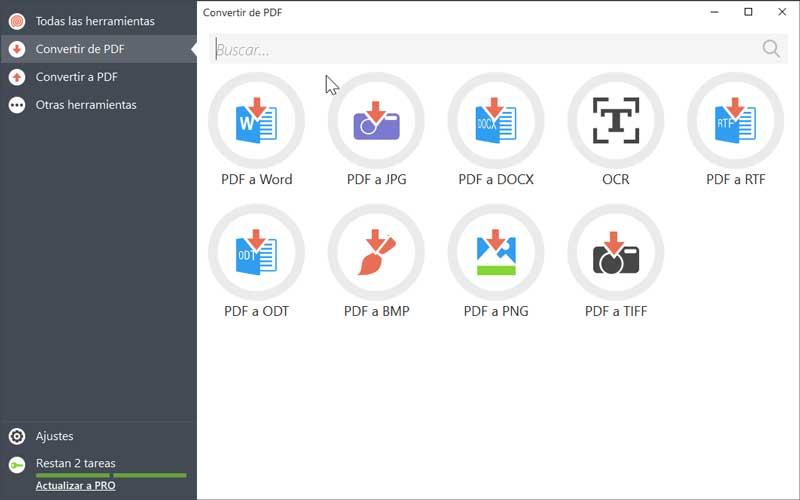 Convert to PDF
From this menu we can find all the functions to convert files of different formats to PDF files. In this way it is possible to convert files such as Word, JPG, DOCX, HTML, EPUB, MOBI, FB2, PNG, TIFF, BMP, RTF, ODT, Excel, PPT and ODS to PDF. The process is carried out in the same way as the previous one, just by choosing the file from Explorer, and in a couple of clicks we will have our conversion done.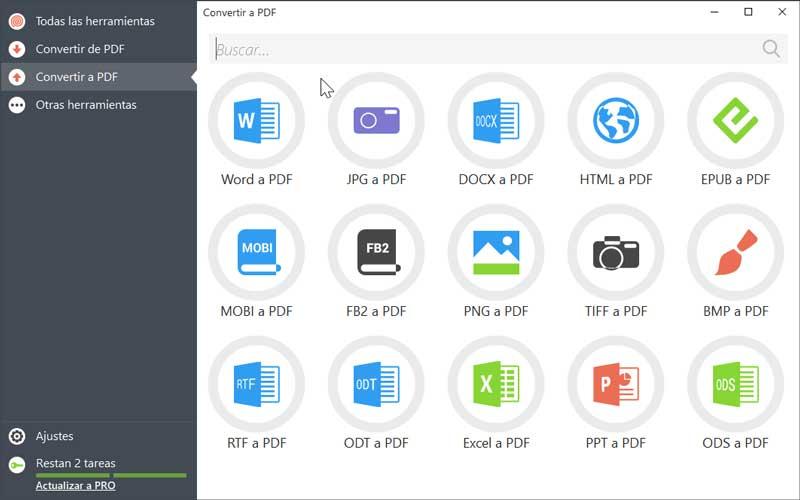 Other tools
Beyond the conversion work itself, in this last block we find our own tools for editing any PDF file. In this way we can change the permissions to edit the permissions so that the document that we are sharing with other people is modified. We will also have the ability to compress, combine, divide, delete pages, unlock protected files, protect with password, rotate, crop, extract images, extract text and edit the metadata of any PDF file.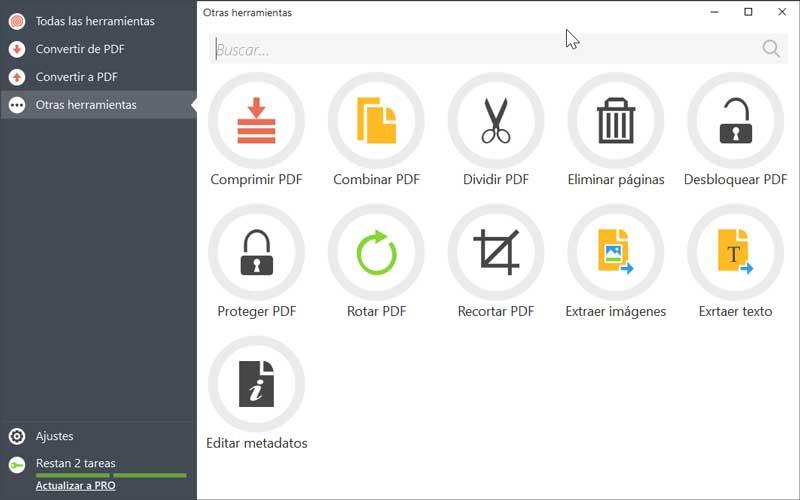 Conclusions Is it worth using PDF Candy Desktop?
If we are users who must work on a daily and constant basis with PDF files that we need to share with different users, PDF Candy Desktop will allow us to perform practically any task that we need quickly in just a couple of clicks. What we must be clear about is that this application does not work as a PDF viewer. Instead we can use it to convert PDF files to other formats or vice versa, as well as perform various editing tasks.
Download PDF Candy Desktop
PDF Candy Desktop is a commercial application, so in order to enjoy all its features we will have to pay for its license. However, it will be possible to download a free trial version that we can download from its website . This version will allow us to perform 2 tasks, as well as convert a maximum of 4 files at the same time. In order to remove the restrictions, it will be necessary to purchase your license. Its price is 99 euros and covers a lifetime license without limits, free updates and commercial use. PDF Candy also has a web version that we can access for 6 euros per month, or 48 euros per year.
The PDF Candy Desktop installation file is quite large, about 130 megabytes, so we must be sure that we are going to meet the system requirements before downloading it to our computer. These requirements are:
Processor: Intel Pentium, AMD or equivalent to a 1.33 GHz CPU (or better).
Memory: 512MB RAM minimum (1GB recommended).
Operating system: Windows 10, 8.1, 8, 7, Vista (32-bit or 64-bit).
Alternatives to PDF Candy desktop
If we are looking for a program with which to work with PDF files, either to carry out file conversion and editing, we suggest some alternatives to consider:
Wondershare PDFelement
It is a professional program to edit PDF, with which we can perform all kinds of tasks. It allows us to create a PDF from scratch or from another file, as well as edit it, encrypt it or combine different files, among other functions. It also has the ability to convert a PDF document to Word, Excel, EPUB, or an HTML web page, as well as to a text-only document or an image. We can download a trial version from this link . The price of your license starts at 79 euros.
Soda PDF
This powerful software will allow us to create PDF documents from more than 300 different formats, as well as modify all its content and customize its structure. Its functions include the ability to convert PDF to Word, transform scanned documents and images to PDF, and offers compatibility with Optical Character Recognition (OCR). A trial version can be downloaded from here. Its paid versions start at 6.75 euros per month