Applications
Do not put your pdf documents at risk and learn how to protect them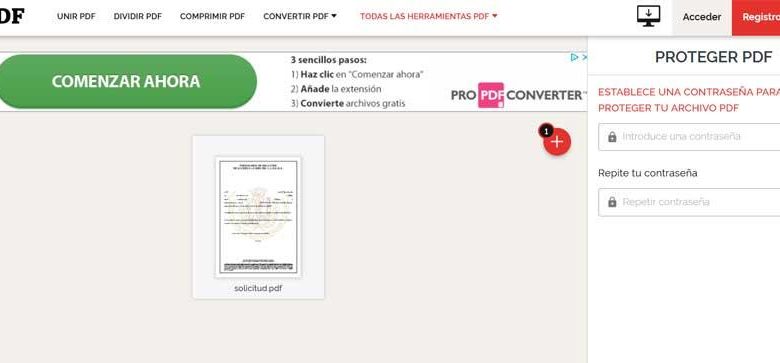 In the office automation sector, there are several types of files that we can come across on a day-to-day basis with our PC, but in a few years now, PDFs have not stopped growing. And this is a format that we can use in all kinds of environments and types of work, from personal, to professional or for official documents.
It is for all this that we find this type of files more and more frequently when we deal with documentation. In addition, it must be taken into account that they can not only host texts, but we can also add images, graphics, hyperlinks, signatures, buttons, etc. Thus, sometimes these are used even when writing, sharing or storing official documents.
In addition, due to this huge amount of content that we can use from here, sometimes we find files that are somewhat sensitive. In this way we have at our disposal a good number of software solutions to use to work with these PDFs . There are both generalists with a huge number of built-in functions, and more specific for one or two tasks. Thus, we have the opportunity to read them, convert them, modify them, change the order of the pages, etc.
But in certain cases, such as the most private ones or with sensitive content, what we may be interested in is protecting them. In this way, what we achieve is that no one else has access to their content, something that can get us out of more than one trouble. Therefore, in these same lines, we will talk about a series of solutions that will be very helpful in all this that we are commenting on.
Protect a PDF file from Word
The popular program that is integrated into Microsoft's office suite , Word, allows us to open and edit these files that we are talking about in PDF. In this way we will have at hand a powerful software solution with which we can manage and work with these files if we wish. For example, to open one of them, we just have to do it as with any DOCX . That is, we go to the File / Open menu and select the corresponding PDF.

This will open on the screen with all its contents so that we can modify them as if it were a conventional text file. But in the case at hand, what we want is to protect them. This is something we can do directly from here. To do this, the easiest thing is to use the File / Save As function. When the usual window in which we select the disk path appears, click on the drop-down list marked Tools / General options.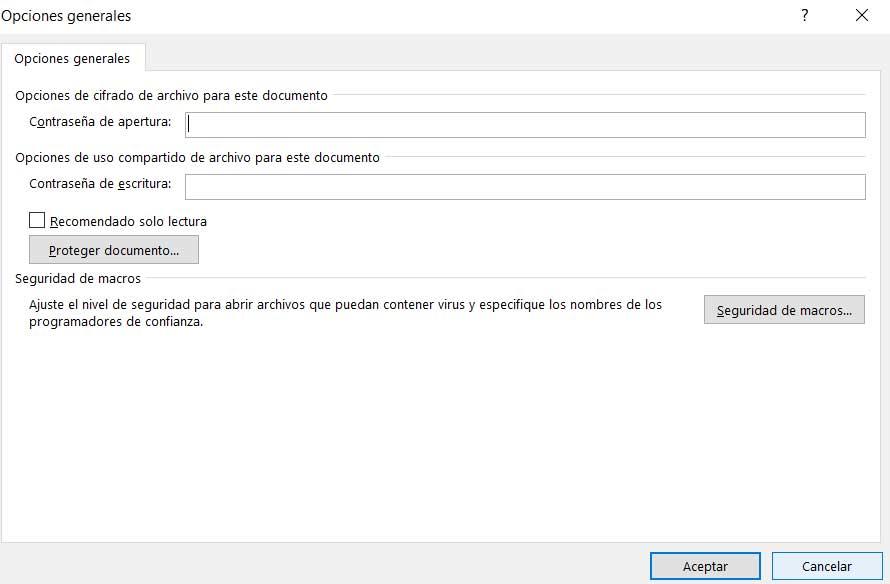 At that moment, a window will appear on the screen in which we have the possibility to add an access password to the PDF document that we are saving. In this way we can already control the people who will be able to access your content from now on. Actually only those who have said password .
Protect a PDF through Adobe Acrobat Reader
When we talk about the Adobe Acrobat Reader application , we are actually referring to one of the best known and most important solutions for these files . Not in vain the Adobe firm is the owner of the format we are talking about here. Say that this is a program that we can download from this link to use it on the PC.
How could it be otherwise, this program presents us with a huge amount of built-in functions to work with these specific files. But in this case we are going to focus on protection, which is what we are looking for now. To do this, in the initial interface of the program, click on the Open file button to load the file in question.

At that moment the document will appear on the screen as such so that we can start working with it. At the same time, in the upper part of the main window, we see a series of tabs, so we go to the one called Tools. This will give us access to all the functions that we can use in this program.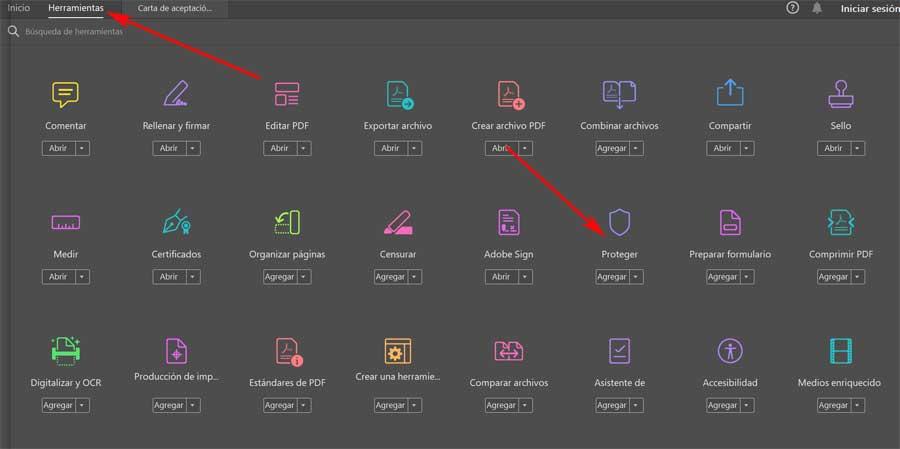 There are many functions built in here, some free and some paid . Therefore in this window we no longer have to locate the entry called Protect and click on it to set the password to access the PDF . As in the previous case, this will help us so that other users cannot access the content of this file.
Other programs to protect PDF
In the same way, we can use other alternative software solutions that will be very useful for this that we are commenting on. These usually have a multitude of functions, including protection that we have been talking about here.
Foxit PhantomPDF
We are going to start with a proposal that you can download from this link and with which we can carry out a multitude of tasks with PDFs. We have the ability to read and edit documents in this format, as well as being able to export it to other office applications. But if we go to what interests us in this case, in the security section of the program, we can encrypt the PDF files that we have uploaded here. In turn, it allows you to sign documents and thus allow the recipient to validate it with another digital signature.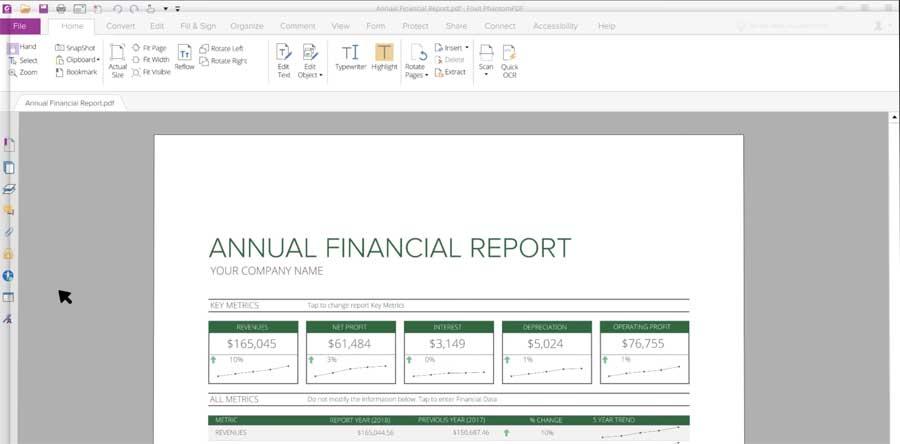 Ashampoo PDF
On the other hand, we can also use this other powerful software solution for handling files in PDF format. We can download it from this link and it has a multitude of functions to work with these files in particular.
In addition to protecting our personal documents with sensitive content, this application offers us 128-bit AES encryption . In this way, only those to whom we allow it and provide the password, will be able to enter the file. This is something that we achieve from the Document / Security menu.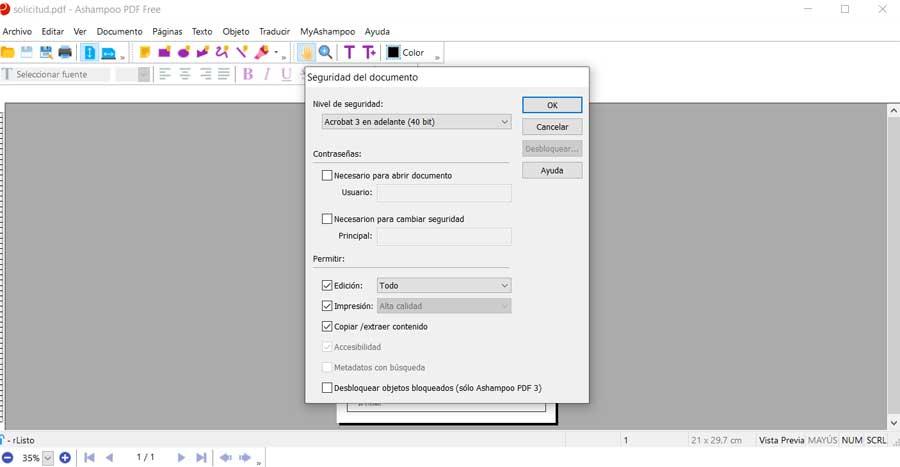 Webs to protect our PDFs
In the same way, we can use an online application with which to protect our files in this format, as we will show you below.
PDF2GO
The truth is that if you don't want to complicate things too much, this is a great option to protect your pdf. For this, all we have to do is access the official website of PDF2GO through this link . Next, we click on the Select file button and upload the PDF to the platform. After that we click on Start where we can establish the corresponding password.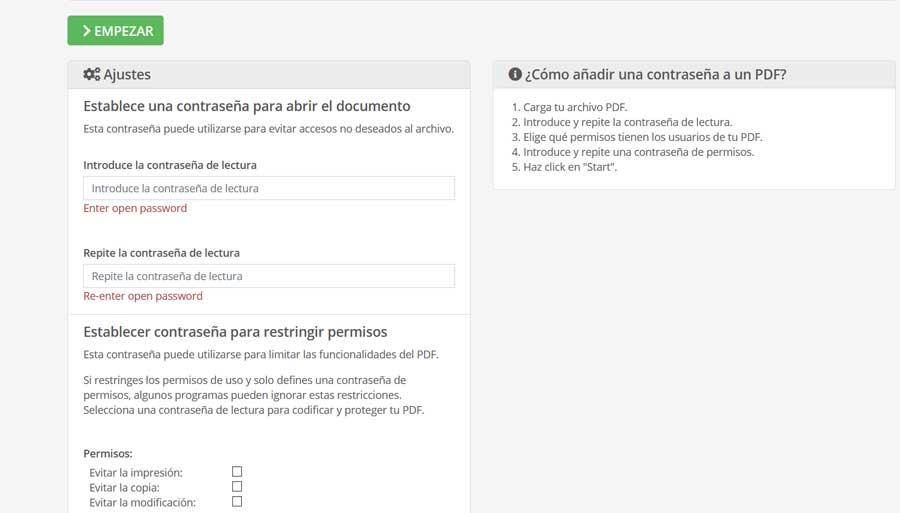 In the same way, we will have the possibility of establishing a series of restrictions for reading, copying or modification. Thus, with this, what we really achieve is to protect access to the file for certain actions, or for all of them.
ILovePDF
This is another online proposal of its kind to protect files in PDF format. We have the possibility to access it from this link . Thus, as in the previous case, the first thing we do is upload the file as such to the Internet platform.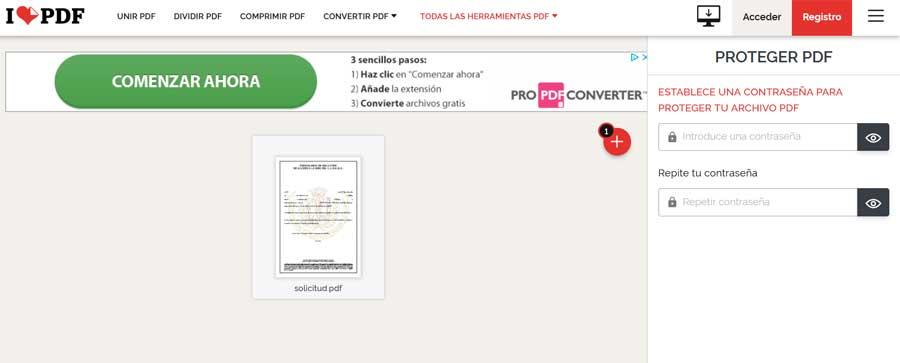 Therefore, in the new window that appears, we only have to specify the access password that we want to integrate to access the document. All this without the need to install anything on the computer locally.