Applications
Do not forget any appointment or event in windows with minireminder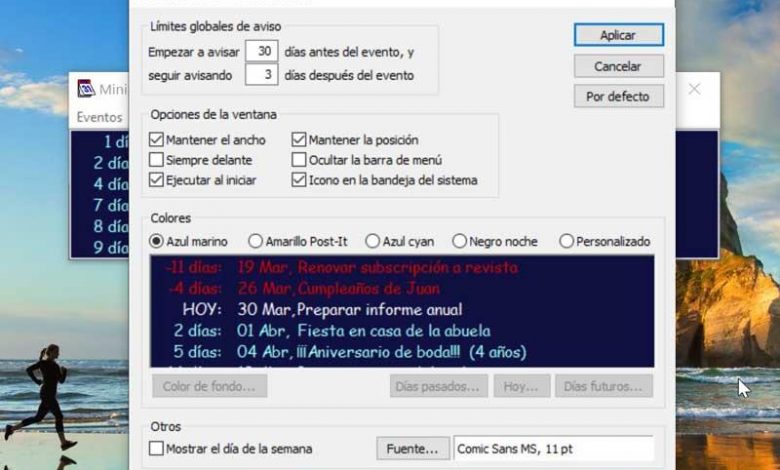 Today we have more and more things at home that cause important events such as a meeting, birthday, anniversaries, our dental appointment, etc. to forget us. For this, there are note or agenda programs where you can write down each appointment. The problem is that, if we do not consult it periodically, we can run the risk that we do not remember it either. Therefore, the ideal is to have a program that helps us remember important events such as MiniReminder.
Your events always organized with MiniReminder
MiniReminder is a small utility, compatible with both Windows and Linux, that will allow us to set reminders on the desktop for any type of event or important appointment that we do not want us to forget. The program is simple and hardly consumes system resources, always remaining hidden until it alerts us to the day when we have any notice stipulated. In addition, we can customize the colors of the window where the notices will appear, as well as the font and its size.
Once we execute it, its main menu appears , with a very simple interface and in Spanish, as would be expected from a program of this type. In it we will have a small toolbar at the top, with the Events and Help tabs. Below a panel where the different reminders that we will be adding will appear.

Add events
From the "Events" tab , we will have the possibility to "Add a new event". When we press a window will appear where we can configure all the content of the event. Here we will put the date, which we can mark so that it is repeated every year, the «Warning message», as well as «Notes», in case we want to add additional information. Below we must indicate the "warning limits for the event", which can be the ones we establish by default (which we can configure in the Preferences section) or use special limits for this appointment.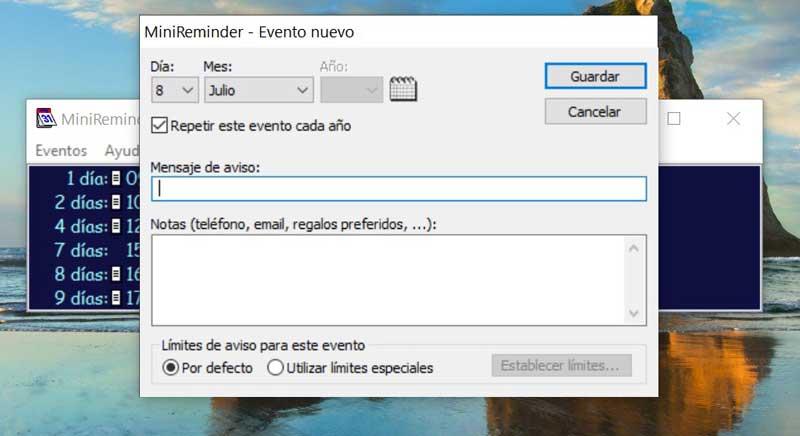 If we want to make special warning limits, we select it and click on «Establish limits …«. Next, another window will appear. Here we can enter how many days before the event we need you to start to notify us. As soon as the event is below that figure, it will appear in the main window. In case it is later, it will be hidden until then. We must also add how many days after the event we want you to continue to notify us of it. Once established, we only have to click on «Save», so that the reminder is noted.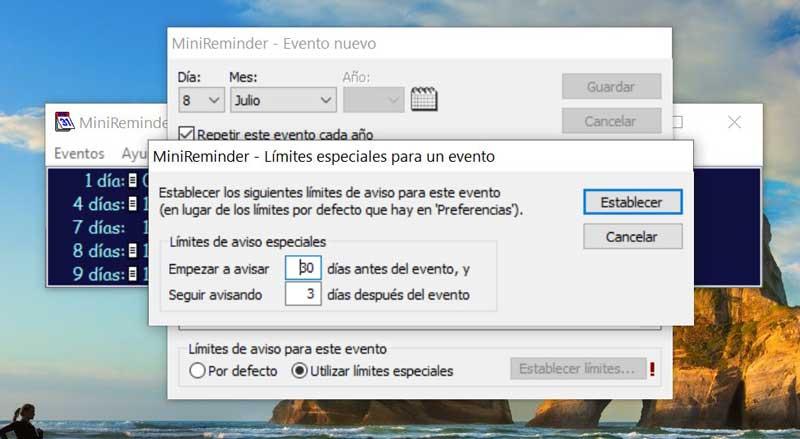 Modify or delete events
Once the event has been created, it is also possible to edit or delete it, from the same "Events" tab. On this occasion we must click on «Edit Events …» From here if we want to modify an event we will only have to click on it to mark it and then on Modify … When we press the same window will appear as when we want to add a new event, but with the saved data that we can modify to our liking. If we want to delete any saved appointment, all we have to do is select it and press the «Delete» button.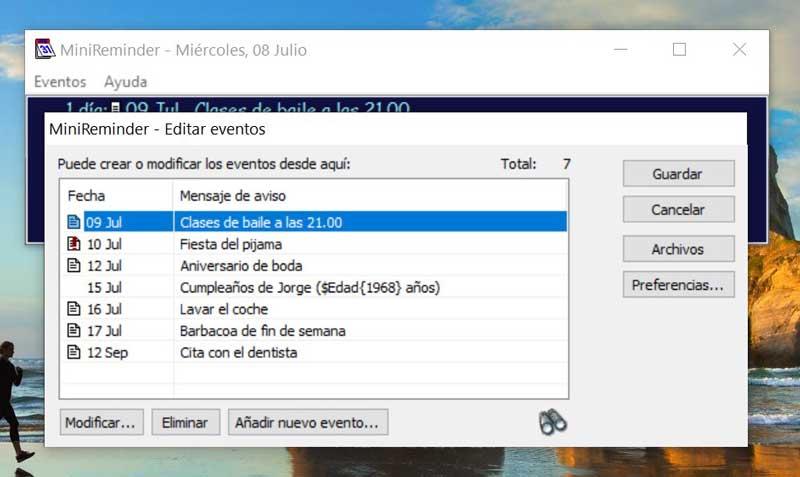 Look for
In this same window, we find in the lower right part the icon of some binoculars. If we click on it, a window will appear with the option of «Search». From here we can search for a specific appointment, being able to mark that only specific words appear in the results and / or match upper and lower case. We can also specify if we want the direction in which the results are displayed up or down.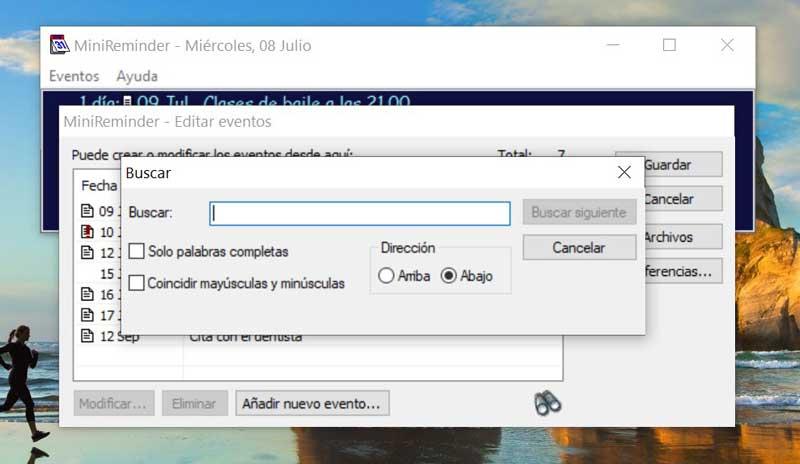 preferences
From the same Edit events window, or from the Events tab, we will have the option to configure the "Preferences" of the program. If we click, a new configuration window will appear, where the general rules that we will use by default in the reminders will be saved (we remember that from each new event you can establish your own as we saw previously).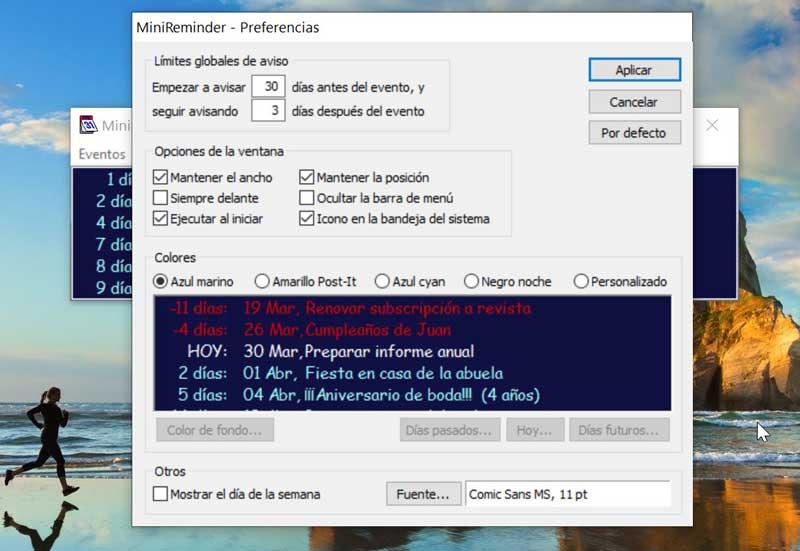 From this Preferences window we can configure the «Global warning limits», as well as the different «Window options». Here we can indicate if we want to Keep the width, show Always in front, Run when starting the computer, Keep the position, Hide the menu bar, or have an Icon in the system tray.
It is also possible to set the window colors, with the background to "Navy Blue", "Post-It Yellow", "Cyan Blue" or "Night Black". In addition, we will have the option "Custom", through which we can customize the colors of both the background and "Past days", "Today" and "Future days". Finally, we can also configure the "Font" as well as the font size and style.
Download MiniReminder
MiniReminder is a 100% freeware software to remember events , so it is completely free and does not have any use limitations and it will not even be necessary to register. We can download it from the developer's website. From here we download the installation file that has a weight of only 131 kbs. Installation is very simple and extremely fast, since the installed program only occupies 141 kbs. It also doesn't try to install any additional unwanted third-party software, the whole process is quick and clean.
Alternatives to MiniReminder
If you need a program to help you organize your events and appointments, we propose a couple of alternatives to MiniReminder that you can try:
Alarm Stickies
It is a notes application with which we can record notes and be notified automatically. It also allows you to record recurring events, and includes a handy quarterly calendar. Alarm Stickies is compatible with Windows and completely free that we can download from its website.
Free Alarm Clock
With this software we can establish and manage a series of alarms and warnings to organize our time, without fear of forgetting any important event or appointment, being able to embed in the system a floating window with a clock that will always be in view. If we want to try Free Alarm Clock, as its name suggests it is a free program that we can download from the developer's website.