Applications
Do not allow anyone to recover deleted data from your ssd drive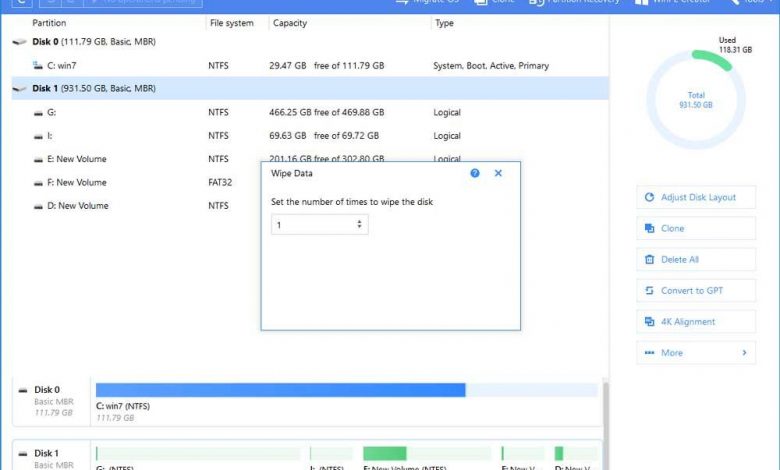 As with many other components of our PC, the disk drives are key elements for the operation of the whole. This is where we store everything we use on the computer, in addition to installing the system and its applications. In this specific case we want to focus on SSD disks whose growth does not stop due to their characteristics.
Over the past few years, this storage unit format has spread to computers around the world. Either independently or together with an HDD, SDDs are more than common in these times. As surely many of you already know, one of the main advantages that these discs present to us compared to HDDs is their reading and writing speed.
It is for this and for other reasons why, despite being a little more expensive than the HDD disks of a lifetime, little by little they are imposing themselves. This is something that we can see clearly both in the new mid-range PCs, as well as the high-end PCs that we can buy today.
When to safely erase an SSD
But sometimes we probably need to delete all its content, but without the disc itself being damaged. In an HDD we can use certain programs that by themselves overwrite data several times so that the originals are unrecoverable. But this process is not always valid on the aforementioned SSDs .
Therefore, in the event that we are about to sell the PC with one of these units, or change SSD to sell or throw away the old one, let's see how to make it unrecoverable. With this, what we want to tell you is that next we are going to see how to erase a disk in SSD format safely. With this, what we achieve is to ensure that the personal data it contained cannot be recovered. It is also worth knowing that this can increase its performance, as we will return it to its factory condition in some cases.
You also have to know that the durability of these solid discs is such that it is not uncommon to want to sell them on the second-hand market. But even if you format it in a conventional way, there are several ways to recover the data and that for privacy and security does not interest us. Let's see how to erase an SSD and make it impossible to restore its data.
Delete an SSD with the programs of its manufacturers
The first thing to know is that most SSD manufacturers have their own software. This, as you can imagine, helps us to safely erase it without the device itself suffering any damage. It is worth mentioning that for this, these programs make use of the ATA Secure Erase command so that the data is unrecoverable in the event that we detach from the SSD for whatever reason.
Thus, in these same lines we leave you a list with the main manufacturers of these storage components. so that you can download the one that interests you the most:
Use a Live Linux to safely erase
This is another interesting option that you can use to erase your SSD drive safely. In fact, we can opt for the Linux distro called Parted Magic. This is a highly recommended solution for these tasks that we mentioned, but if you have a somewhat outdated SSD . Actually we are talking about a Linux distribution that incorporates among its tools several that focus specifically on the erasure of an SSD drive.
Of course, we must know that it is not free software, it costs around 10 euros, but the license is forever. Also, if we really want to make sure we erase the drive safely in order to sell it, the investment is probably worth it. At the same time, we must know that Parted Magic is designed to install it on a USB memory and start the PC from it. In this way we will not even have to install it on the PC to get the most out of it.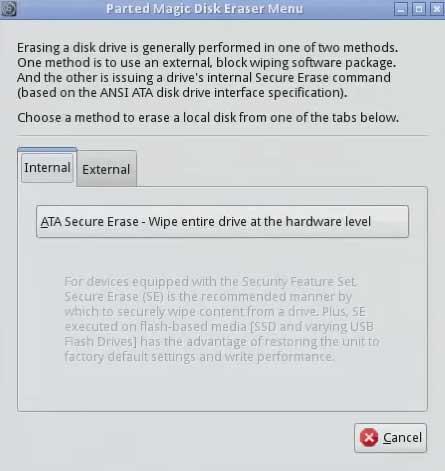 This is something that we achieve from this same link to be able to download it and later create a Live Linux . Once we have the system up and running, we take a look at the programs that are pre-installed by default. For example, we find the proposal called Erase Disk so that we can follow the secure erasure wizard.
SSD data erasure programs
Of course, there are specific programs that offer us some functions for the secure erasure of SSD disks. We already told you before that in this case not all of them serve us, or at least not all those that do the same with HDD units. Therefore, we must be a little careful, since otherwise we could damage the solid disk at a physical level and make it unusable.
Thus, below we will show you some useful software solutions that will be very helpful for this that we are commenting on.
AOMEI Partition Assistant
First of all we will tell you that this is a solution that we can download from this link in its Demo version. We have the possibility to boot the computer with a bootable USB memory with this software, for example, and AOMEI Partition Assistant will be loaded . Then we click on Safely Erase SSD to start the process as such after selecting the desired drive.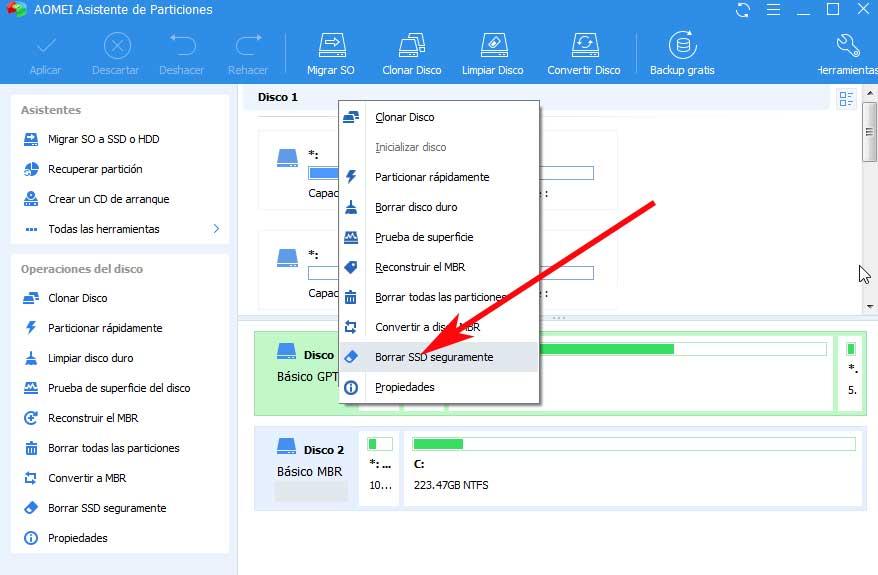 EaseUS Partition Master
This is another popular software that focuses on disk and partition management. Normally and for years we use them with HDD units, but in this case it will also be useful to erase SDD completely, safely and without damaging it. Say that the application in question can be downloaded from the link .
For all this that we tell you, this solution offers us Wipe SSD for the safe erasure of these units, we only have to download it, install it and run it on the PC.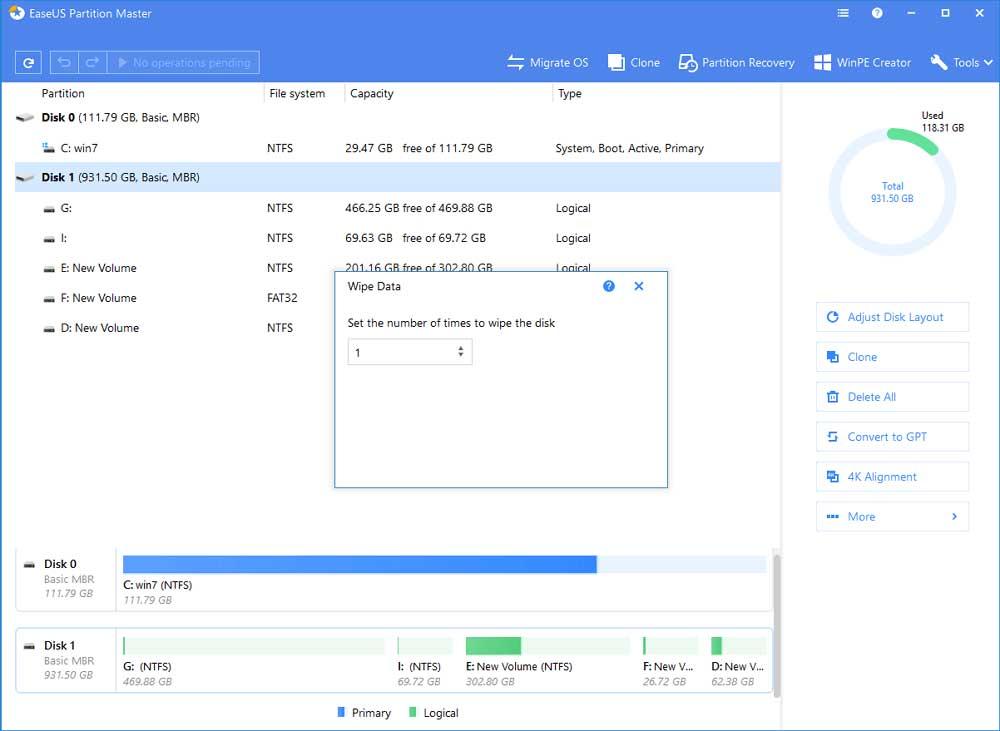 Whatever choice or solution we use in this regard, it will undoubtedly help us to improve the privacy of our data. In this way we make sure that no one else can access everything that we have deleted on the SSDs, in the future.